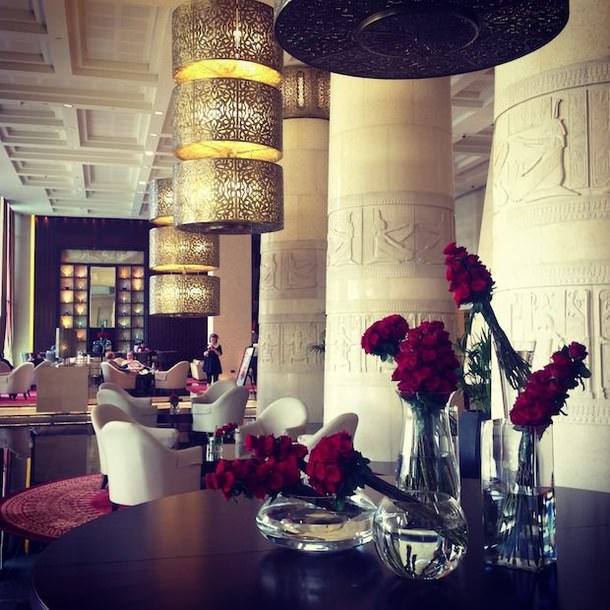 I can't believe it was only a month ago that I visited Dubai – life is so busy at the moment that it feels like it was a year ago. I'm going to blog a series of weekly posts on Dubai over the next month but to kick us off, I thought I'd try something different. So here are some of my favourite (unedited) Dubai Instagrams.
The top Instagram was taken in the foyer of Raffles Dubai – lots of gold, lots of Egyptian motifs, lots of heavenly dark red roses.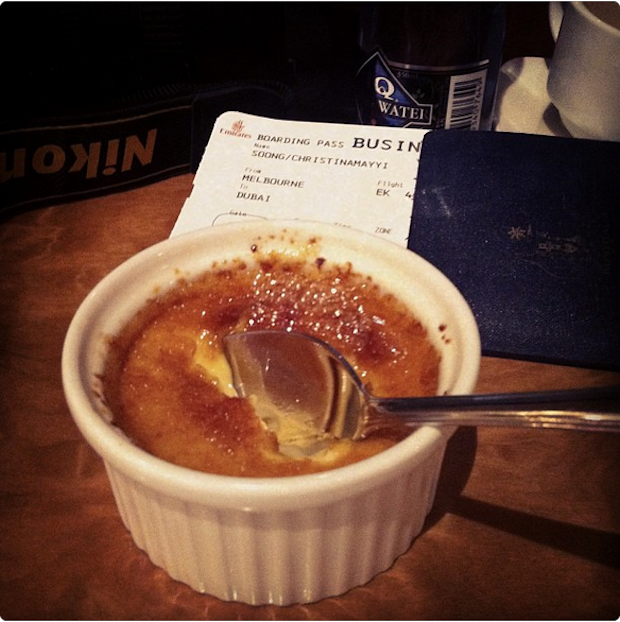 This was possibly the best creme brûlée of my life – the taste, texture, and mouthfeel was superb. It was the culinary equivalent of sinking into a pile of satin sheets and I ate it in the Emirates lounge at Melbourne Airport. A most unexpected and delightful surprise.
This is the view from the 2nd most expensive suite at the Burj Al Arab, billed as the word's most luxurious hotel. Yes, that's right, that's The World – those man-made islands shaped to resemble the continents of the world. If you want to experience waking up to that view — and it was jaw-dropping — it'll set you back a cool 60,000 dirhams.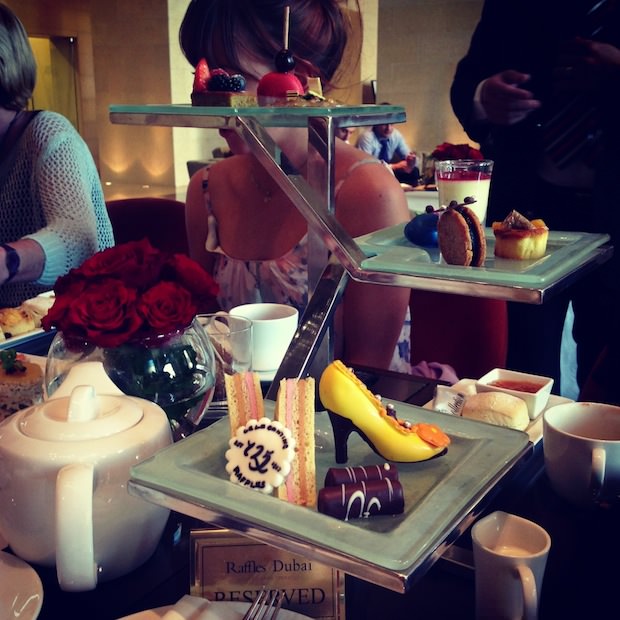 This was the fashion & beauty-themed high tea at Raffles Dubai. How adorable is that shoe? We were each given an extra shoe to take home, too, just like Cinderella in reverse!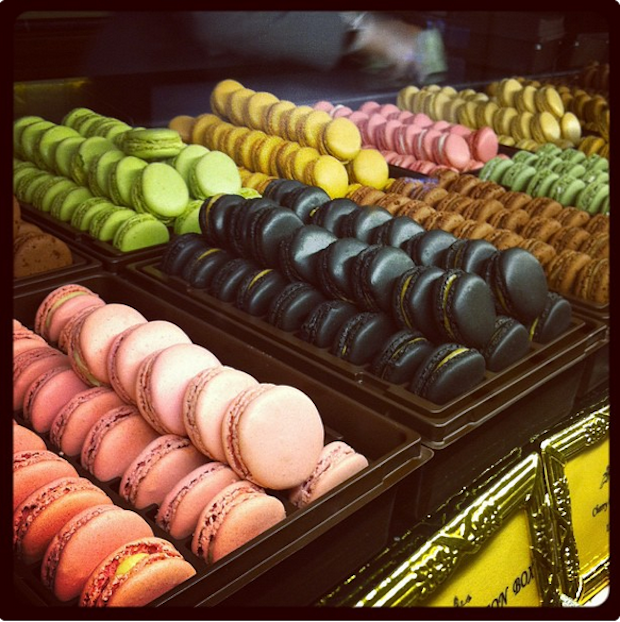 I visited the Dubai Mall three times in all, the final time at 11pm at night – it was the beginning of Eid so the mall was open 24 hours/day and it was jumping. Whilst navigating the miles of shops, I stumbled across Ladurée, which had recently opened in Australia (Sydney).

I ate two macarons — salted caramel and strawberry marshmallow fairy floss — and the resulting sugar high caused a blackout during which I bought a large bottle of my favourite perfume, Diptyque's L'Ombre dans l'Eau and went slightly mad at H&M.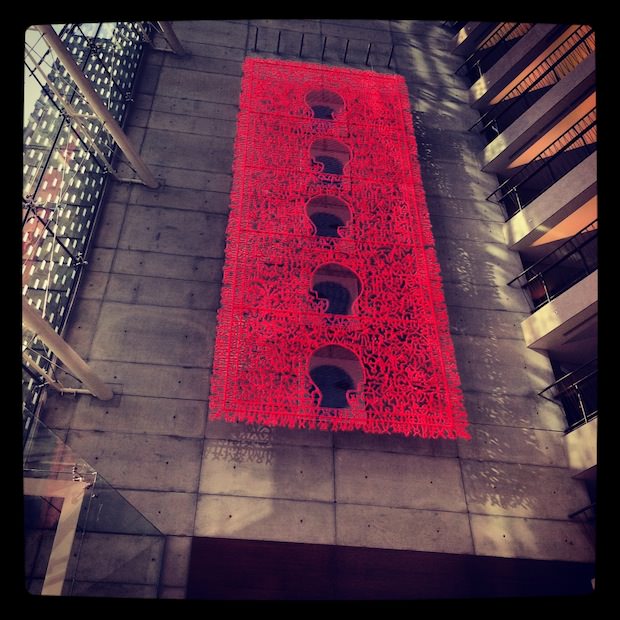 This was the striking artwork in the foyer of the Jumeriah Creek Hotel, where we stayed for our first few nights. I loved the way this newly opened hotel was decorated with hundreds of pieces of commissioned contemporary art.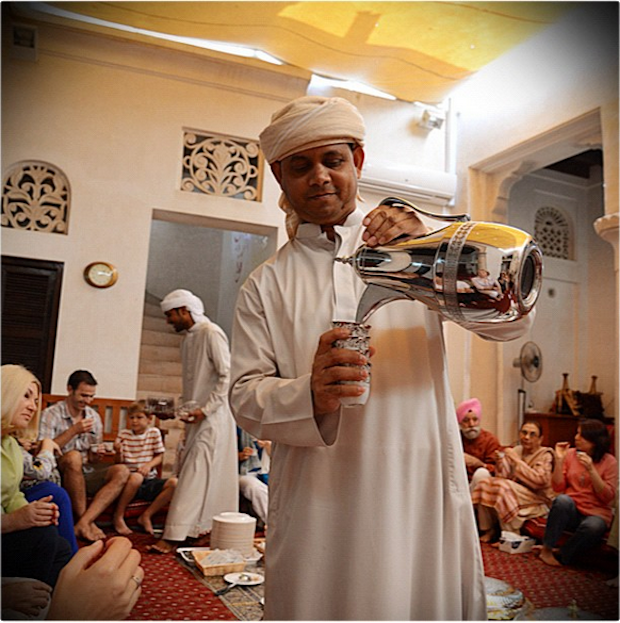 We had lunch at the Sheikh Mohammed Centre for Cultural Understanding one day and it was a fascinating experience. Our very charismatic and witty host explained some of the Emirati customs and traditions and answered our questions —  e.g. why do men wear white and women wear black? — before we ate a simple but delicious lunch together. If all important discussions were conducted over food I think the world would be a much happier place.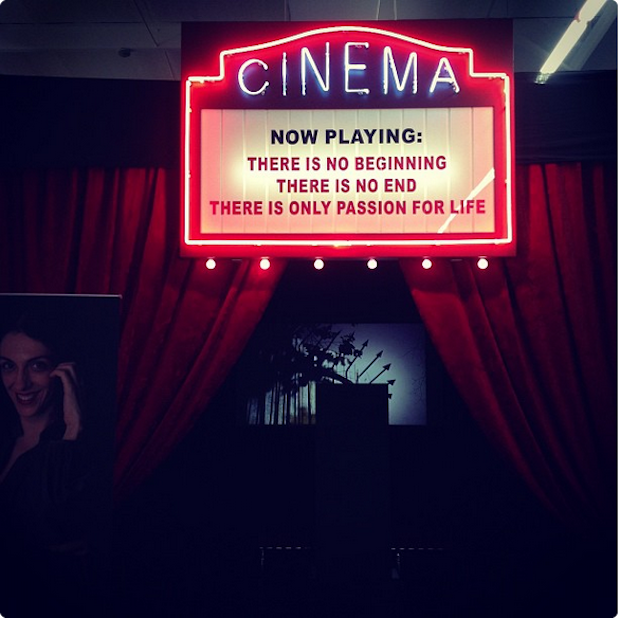 Lastly, I'll leave you with this detail of an installation that caught my eye at the very cool Salsali Private Museum in the très chic Alserkal Avenue gallery district, home to almost 40 creative spaces.
For those interested in learning more, over the next month I'll be blogging about dining out in Dubai, shopping, camel riding and desert safari (I kept spelling it 'dessert' on my Facebook page lol), the spice souk & gold souk, cultural centre, the fruit & vegetable market and flight and accommodation options.
PS Do you love Instagram as much as I do? Leave a comment below with your Instagram handle so I can follow you. You can also follow me on Instagram if you like.
Christina Soong-Kroeger travelled to Dubai as a guest of Emirates and Dubai Tourism. All flights, meals, accomodation and transfers were courtesy of the hosts. All shopping was courtesy of (Christina's) Visa card.