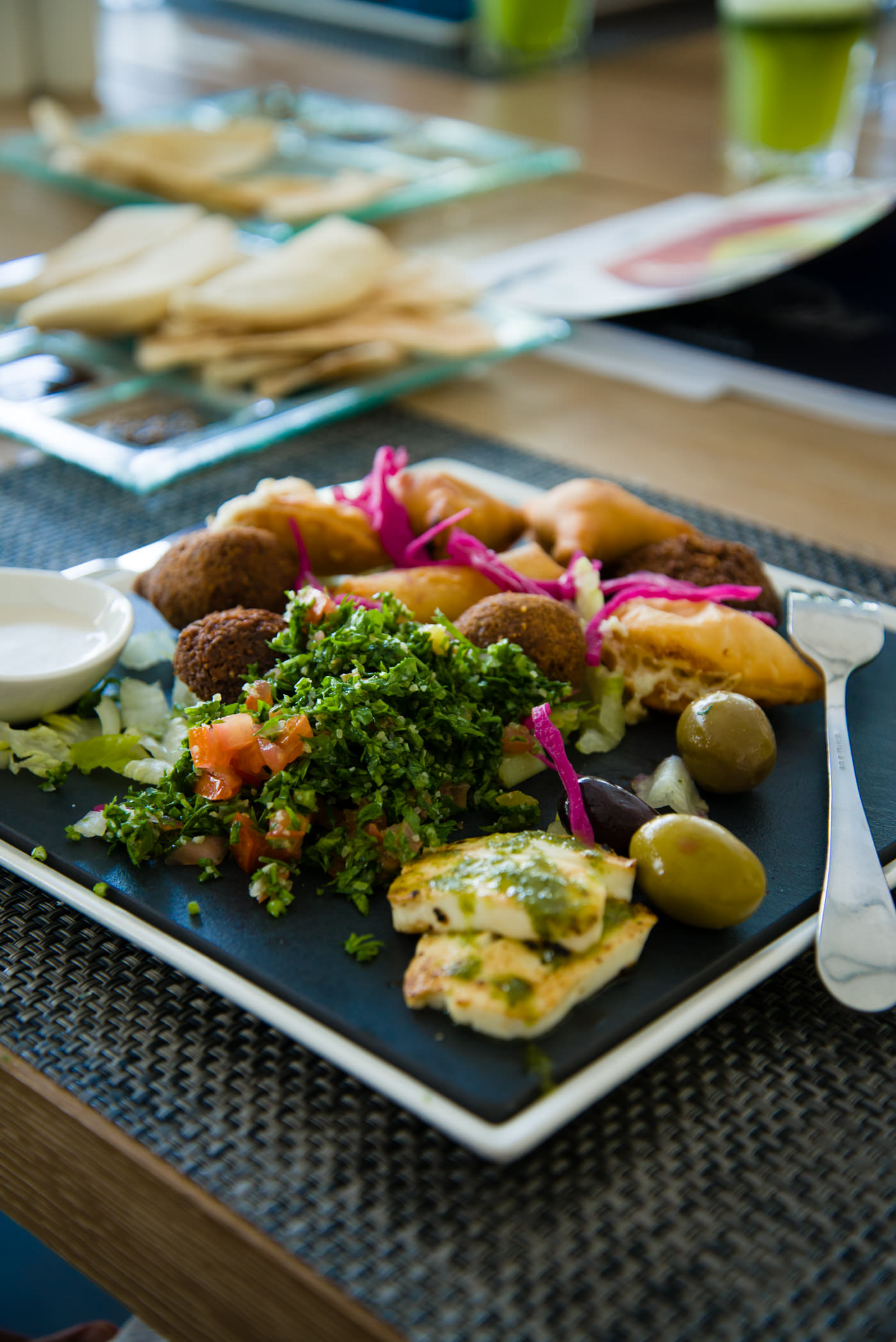 Last year I visited Dubai as a guest of Emirates and Dubai Tourism. This is the third post in my continuing Dubai series – you can also check out Dubai by Instagram and Dinner Under the Stars: Dubai Desert Safari.
High Tea at Raffles Hotel, Dubai
When life gets too busy, you need to stop to smell the roses. Luckily, at the Raffles Hotel in Dubai, I'm surrounded by them.
I'm with a group of Australian journalists at Raffles for High Tea, that English tradition of tea, sandwiches and dainty cakes enjoyed mid-late afternoon. It's not just any High Tea, either; Raffles is currently offering a Fashion High Tea so each of the dishes on offer today have been created to resemble fashion and beauty accessories. It's a rather brilliant marketing ploy as I've yet to meet a woman who didn't love food or fashion.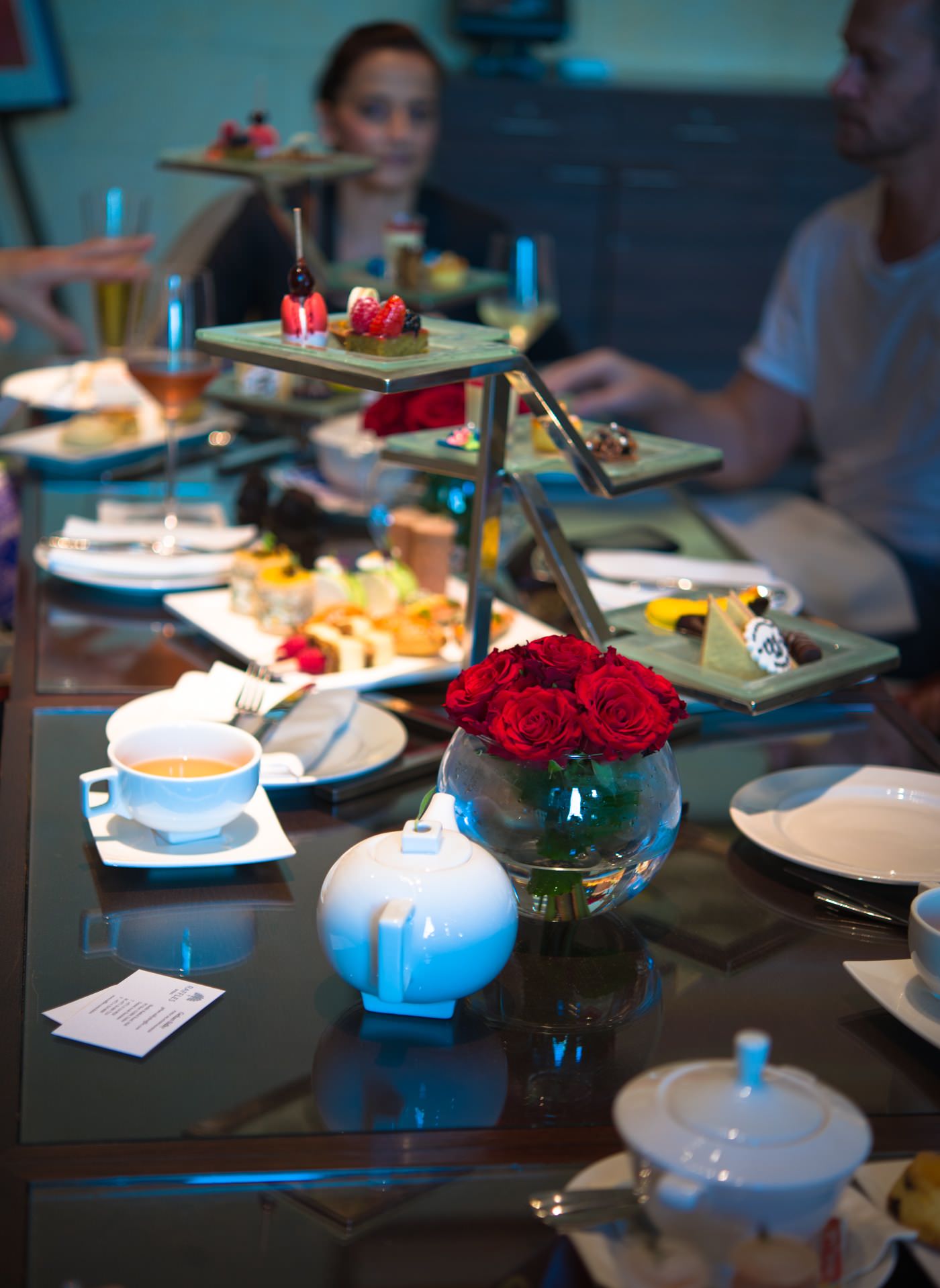 Happiness is a triple-tiered dessert platter and a pot of English Breakfast tea.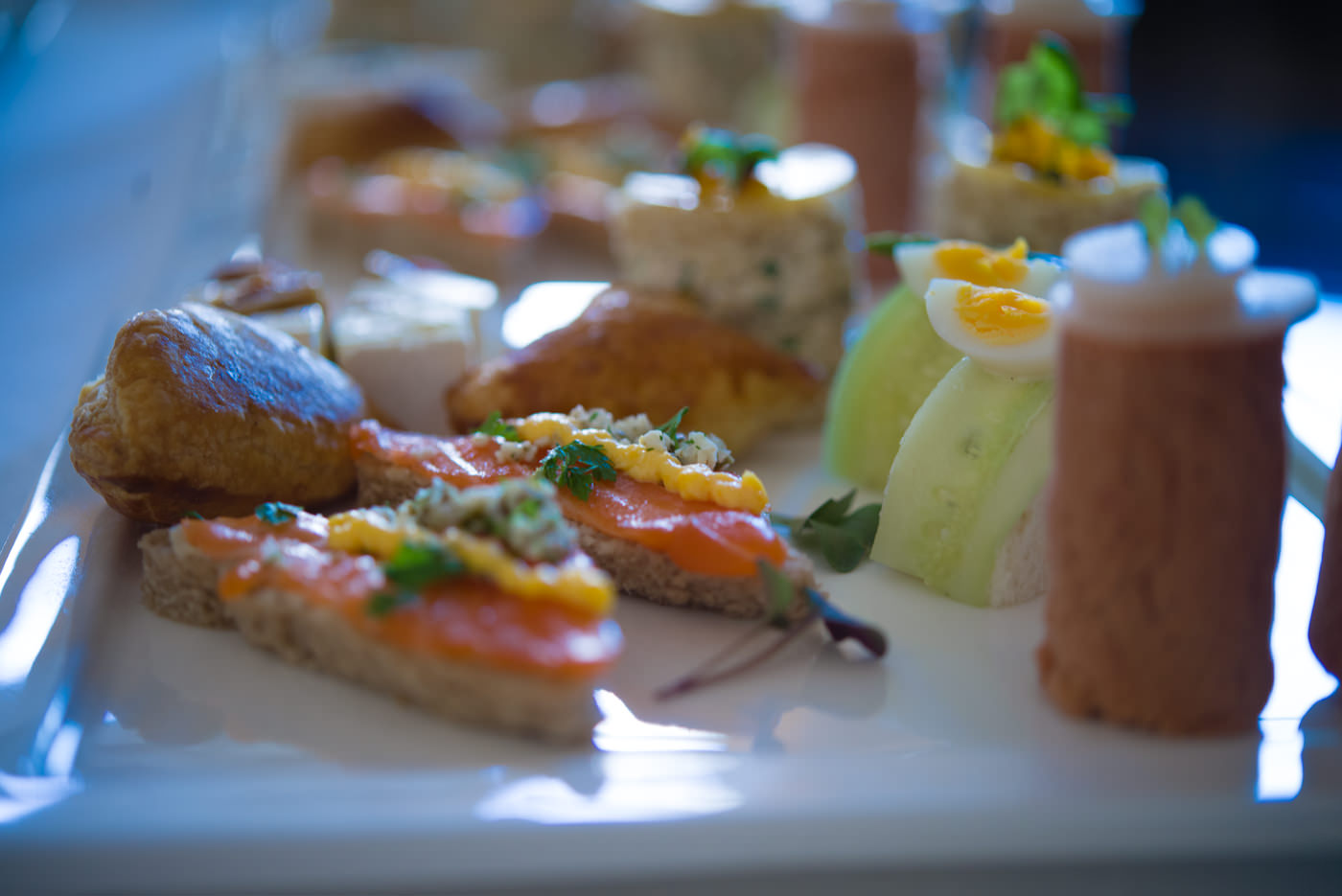 Even though I want to hit the desserts straight away I start with the savoury dishes. Above we have Mushroom, Caramelized Onion Puff Purse with Salt Crystals, Beetroot Cured Salmon Rain Hat on Rye Bread with Horseradish, Cream & Asparagus Roll Sandwich with Truffle and Quail Egg and a Beetroot & Goats Cheese Sandwich Roll Ring Holder with Poached Pear.
The Mushroom Puff is buttery and flaky and embellished with salt crystals that dance on my tongue while the delicately flavoured smoked salmon is so good I have seconds. I'm not entirely convinced by the Beetroot, Goats Cheese & Pear, however – the flavour combination feel a bit confused.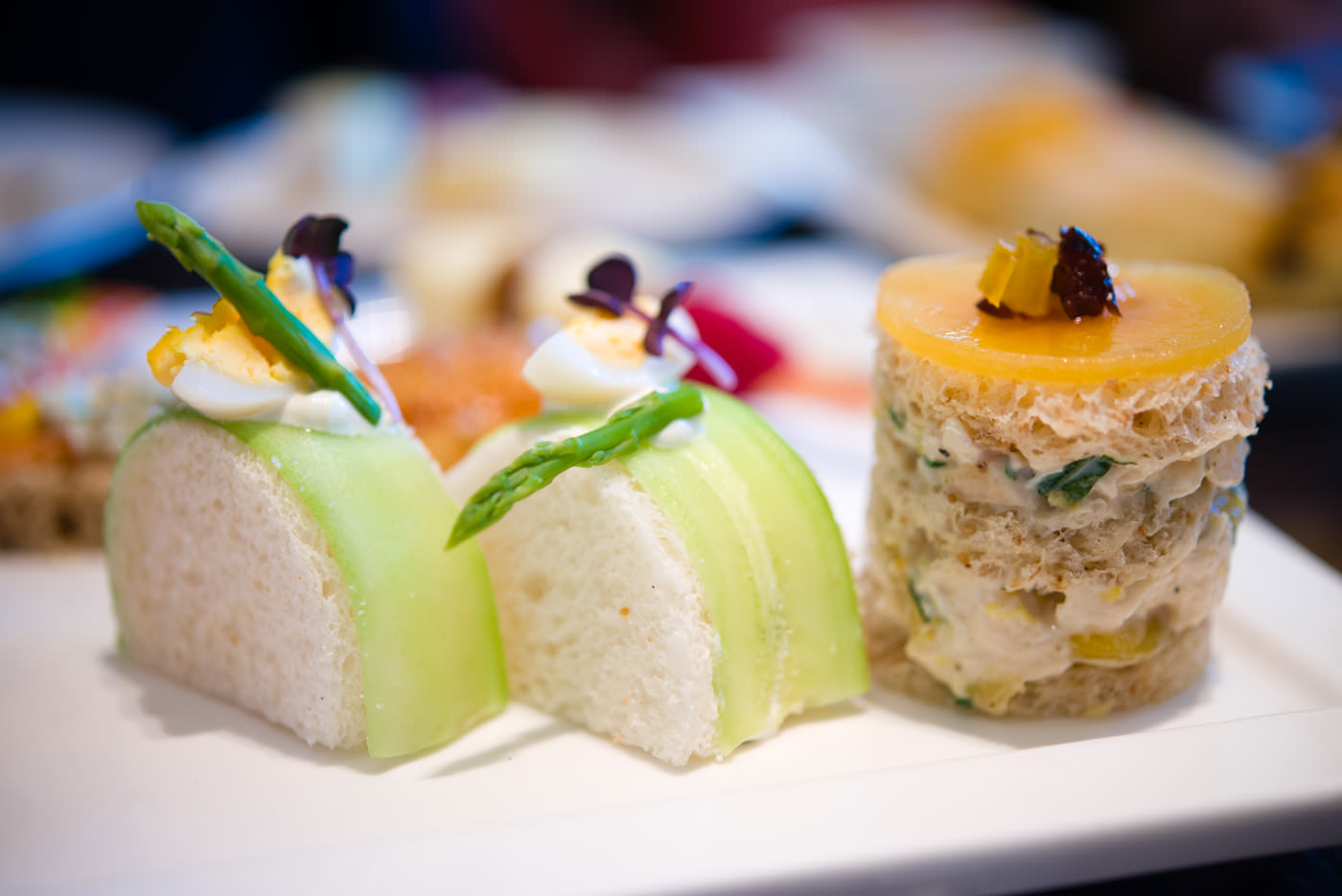 However, the Chicken and Apricot Sandwich Jewellery Box hits the sweet and savoury notes perfectly while the cream & asparagus sandwich is so good when I return to Australia I make up my own Asparagus, Truffle & Quail Egg Bruschetta as a sincere homage.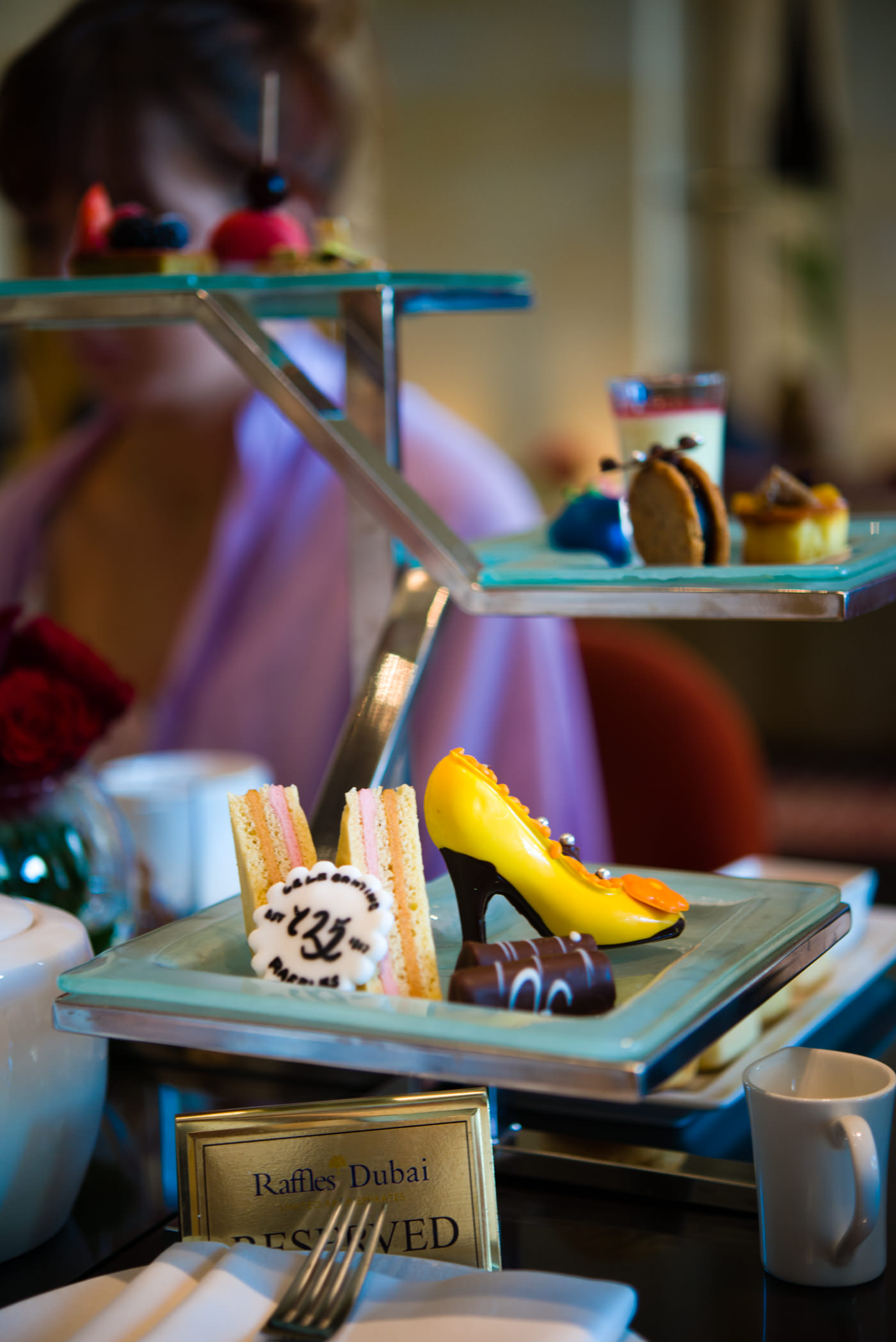 Then it's straight onto the sweets. Hurrah!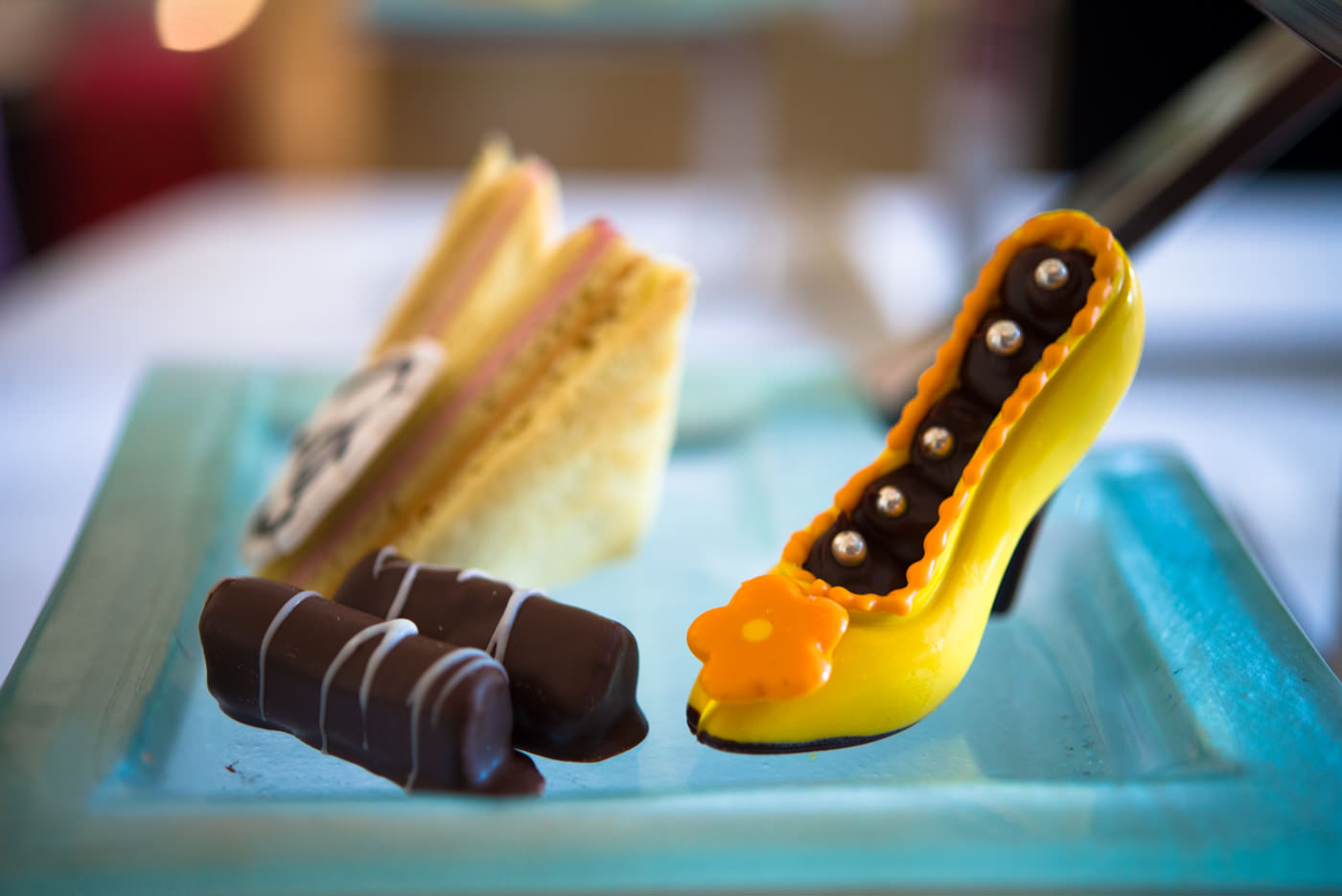 On the bottom rung we have the Raspberry Vanilla Club MakeUp Sponge Sandwich, the Winter Honey Praline Stiletto Encrusted with Pearls and the Truffle Log Hat Box. The sponge is fairly innocuous in taste but has an intriguing plastic sponge texture while the stiletto cleverly combines two of my favourite things — shoes and chocolate — with a stylish result. Amidst all this fashion finery, the truffle log hat box seems a little, well, last season, but I still manage two of them.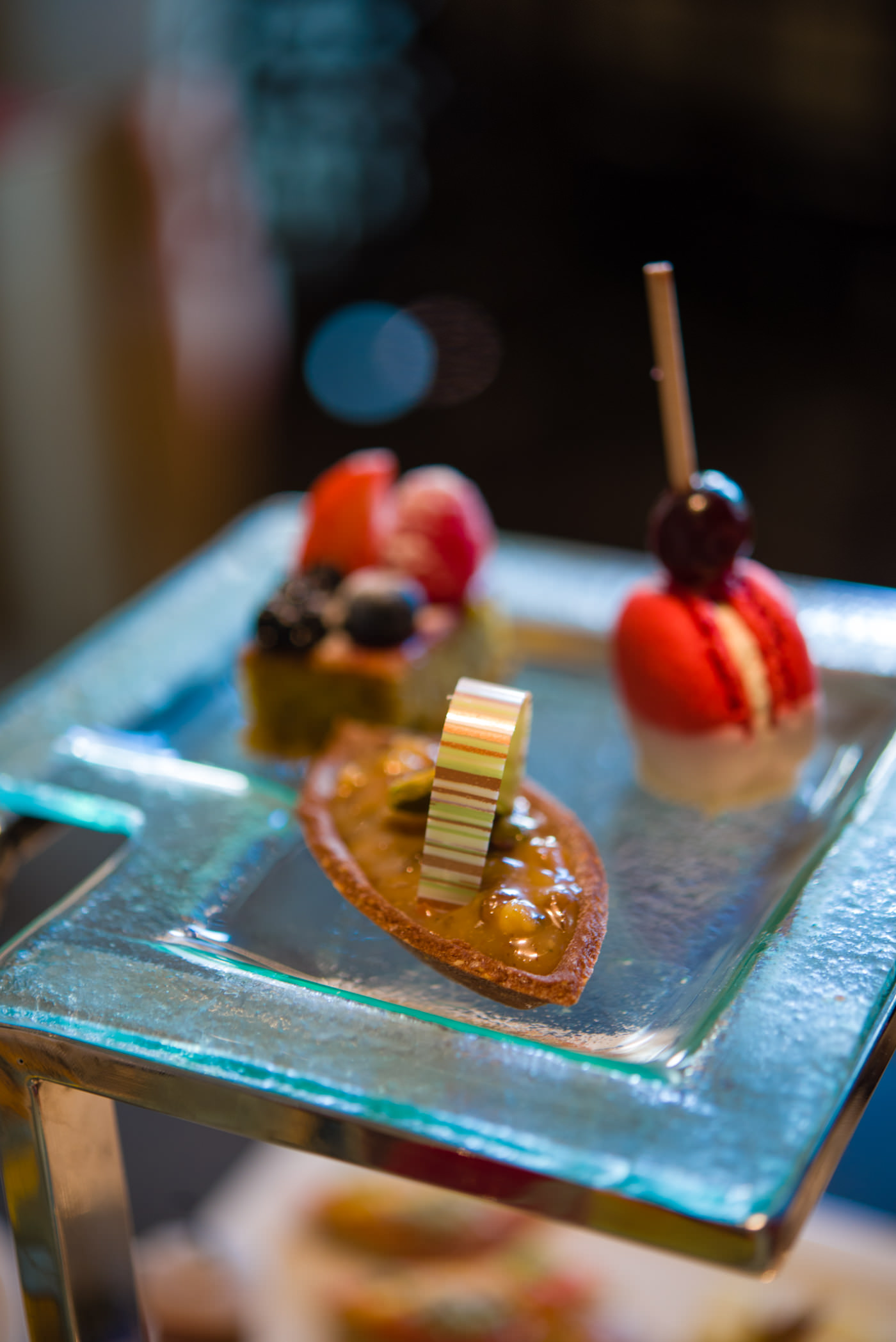 Next up is the Pistachio Red Fruit Square Corsage, the Walnut Pistachio Caramel Bucket Bag and the Amarena Cherry Lollypop Blusher. Neither of these nut morsels were that appealing to me so I was happy to let others at my table snaffle them up.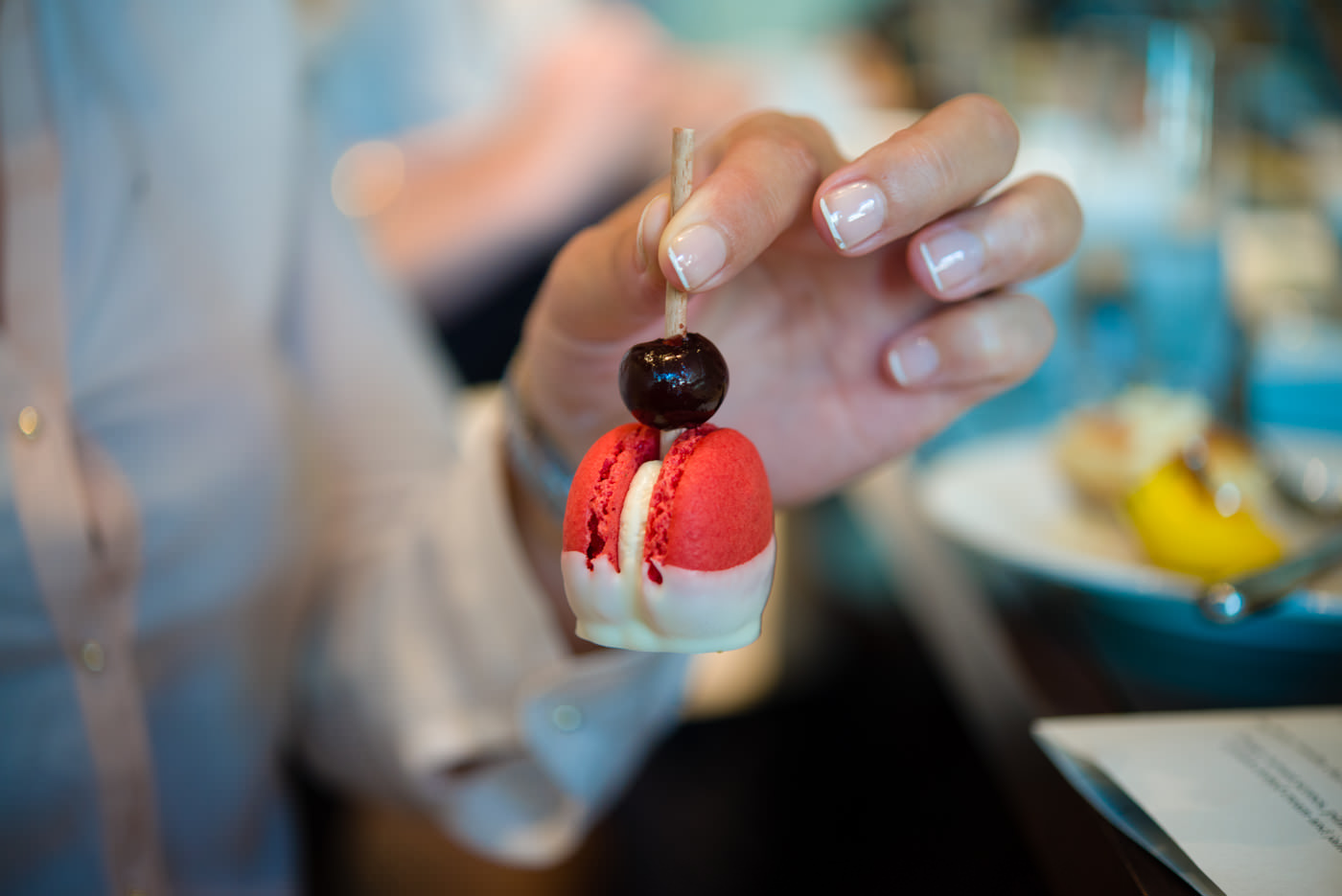 From a taste point of view, white chocolate on an already sweet cherry flavoured macaron is probably a step too far. However this macaron, sorry, Amarena Cherry Lollypop Blusher, is just too cute, isn't it?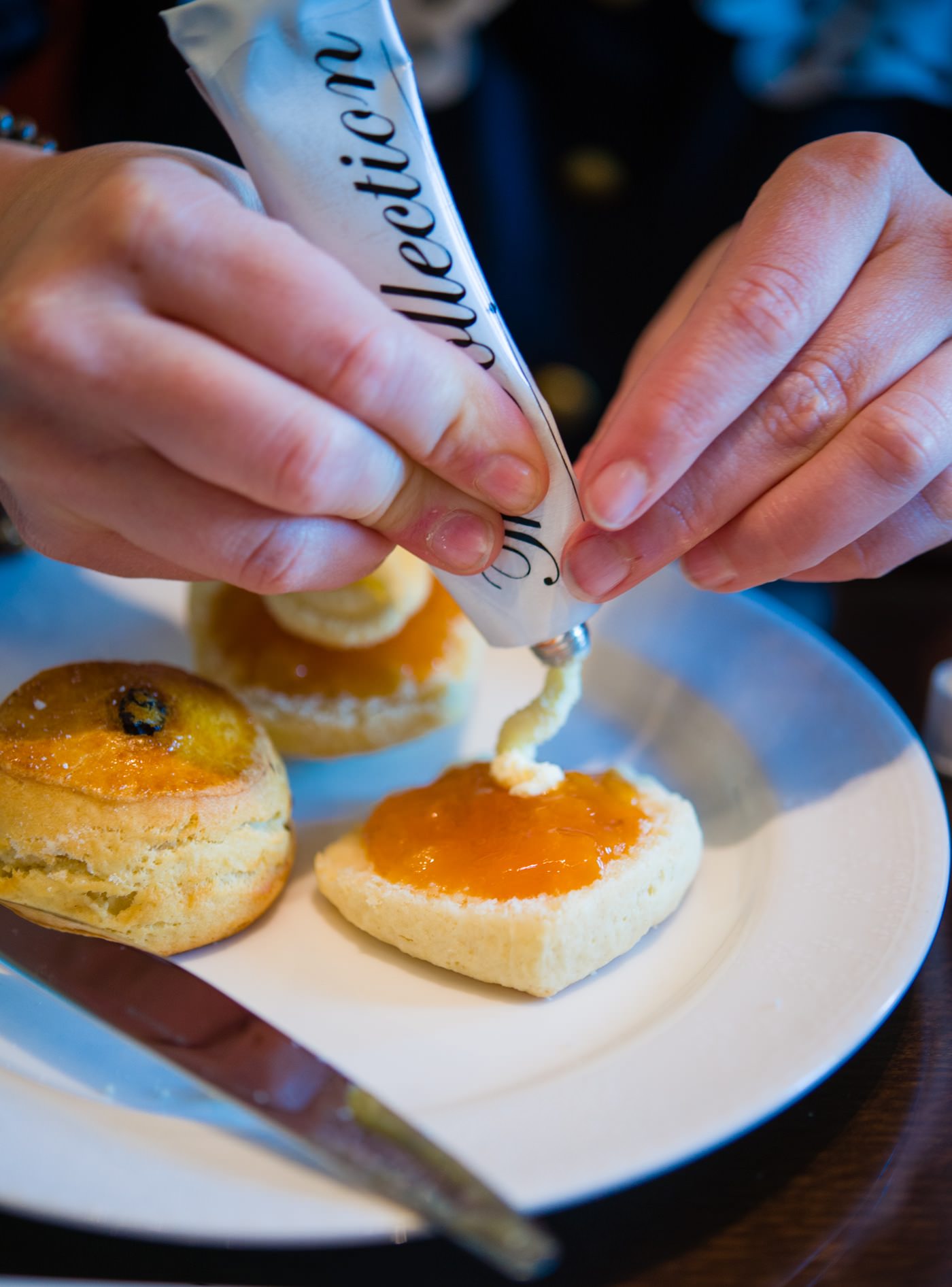 For me, the highlight of the Fashion High Tea are the various different types of scones and jam, served with Cornish clotted cream that you dispense yourself from a toothpaste-like metal tube. It is a gimmick but it totally works. In fact, I'm only going to eat cream (on scones with jam) like this from now on.
So it appears my travel bills are going to be rather astronomical in the future. Raffles Dubai, you have a lot to answer for.
Fashion High Tea at Raffles Salon
Sheikh Rashid Road, Wafi
Dubai, United Arab Emirates
Tel: +971 4324 8888
Email: dining.dubai@raffles.com
__________________________________________________________
Lunch at The Pavilion Downtown Dubai
Do you believe in love at first sight?
When it comes to relationships, I don't. Lust at first sight – definitely. Love at first sight – no.
But when it comes to restaurants, clothes and places, I happily fall head over heels.
The Pavilion Downtown Dubai is like all my favourite things combined together – food, art, books/magazines, computers, and interior design. Everything is gorgeous, as befitting a dual gallery/cafe space, and everyone is beautiful.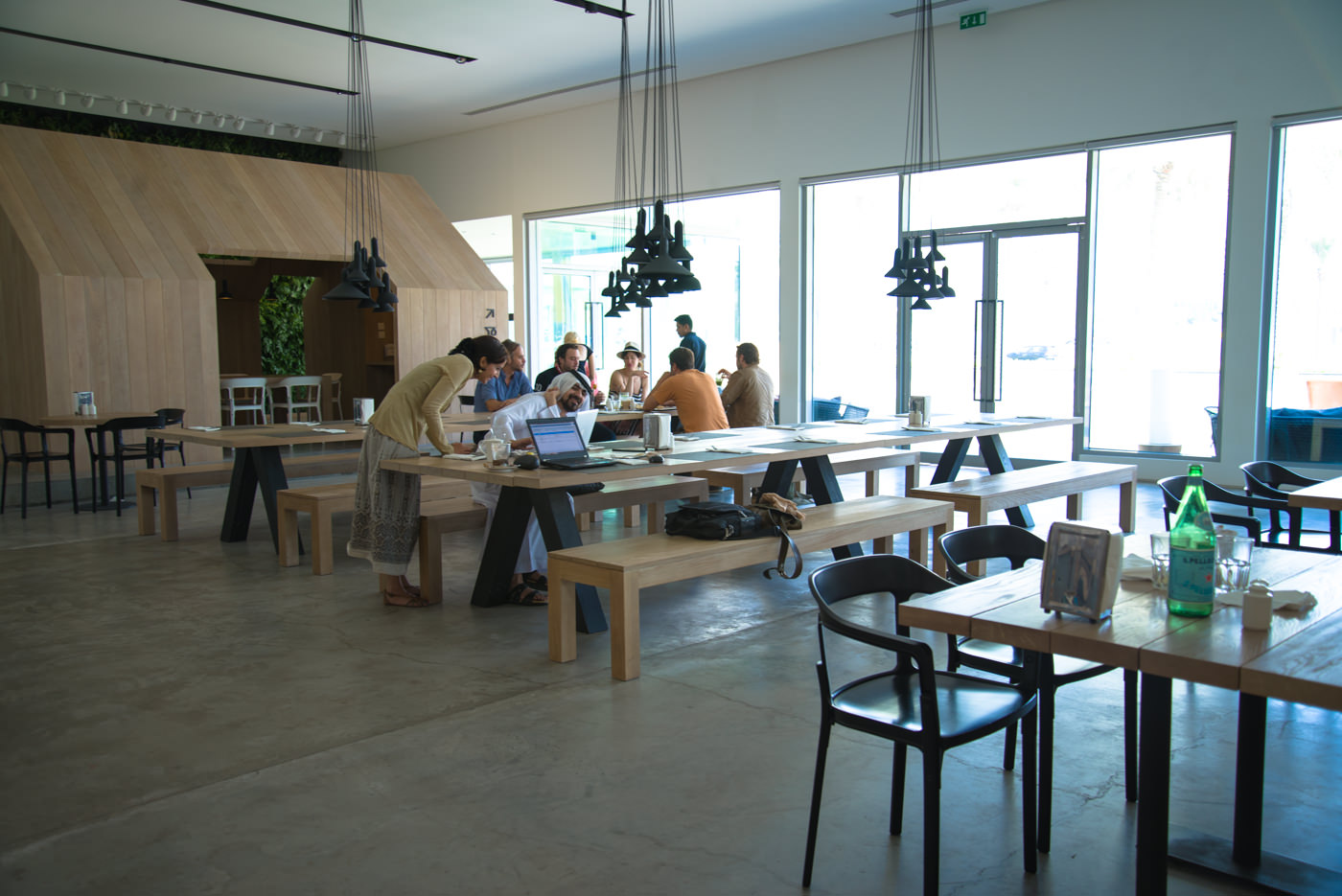 The Pavilion Downton Dubai is a not-for-profit contemporary art space showcasing works by local and international artists. The multi-purpose space is designed as a drop in space where people can meet, enjoy some art, grab a bite to eat and hang out.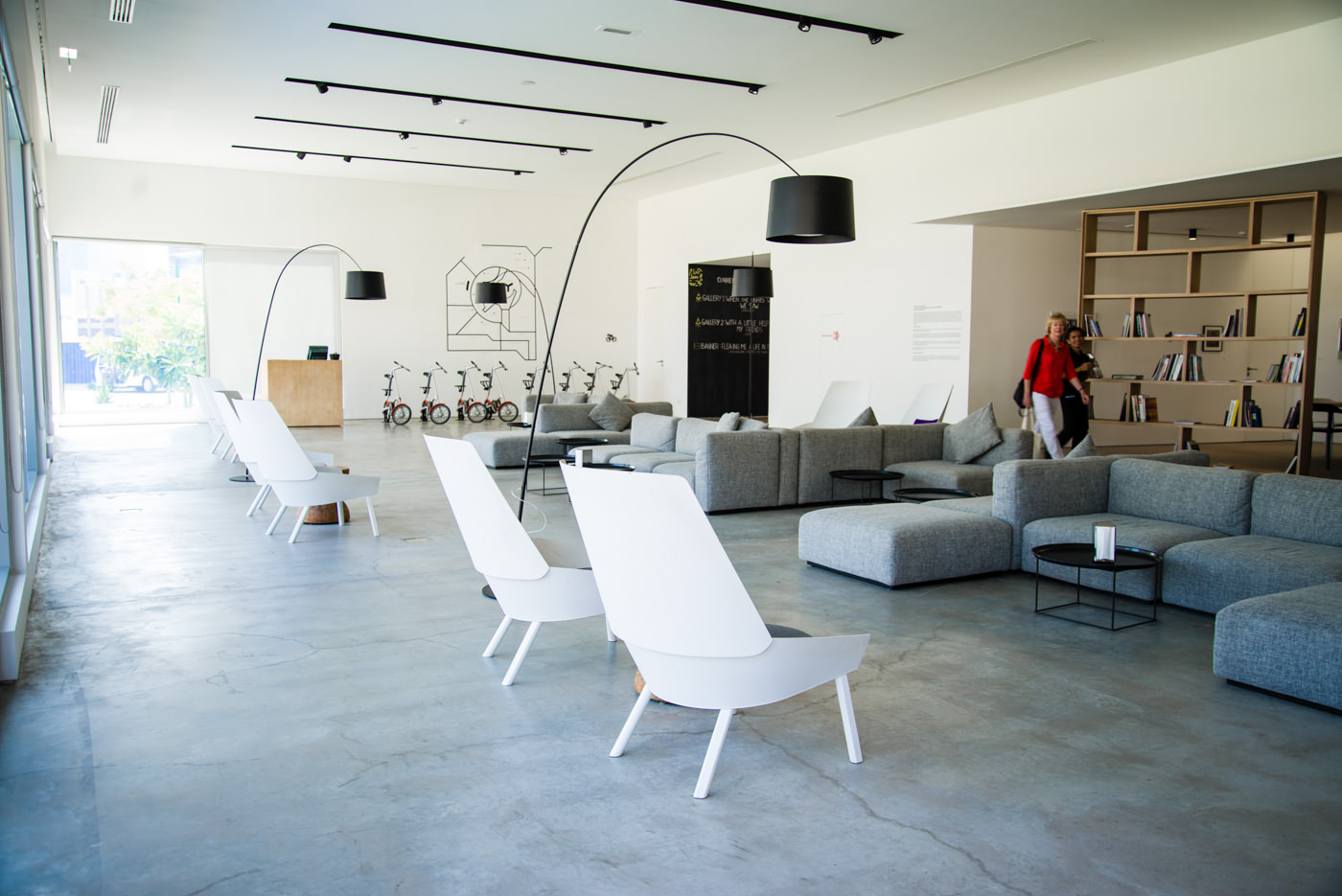 Check this installation out. Who wouldn't want a whole room to play remote controlled cars in?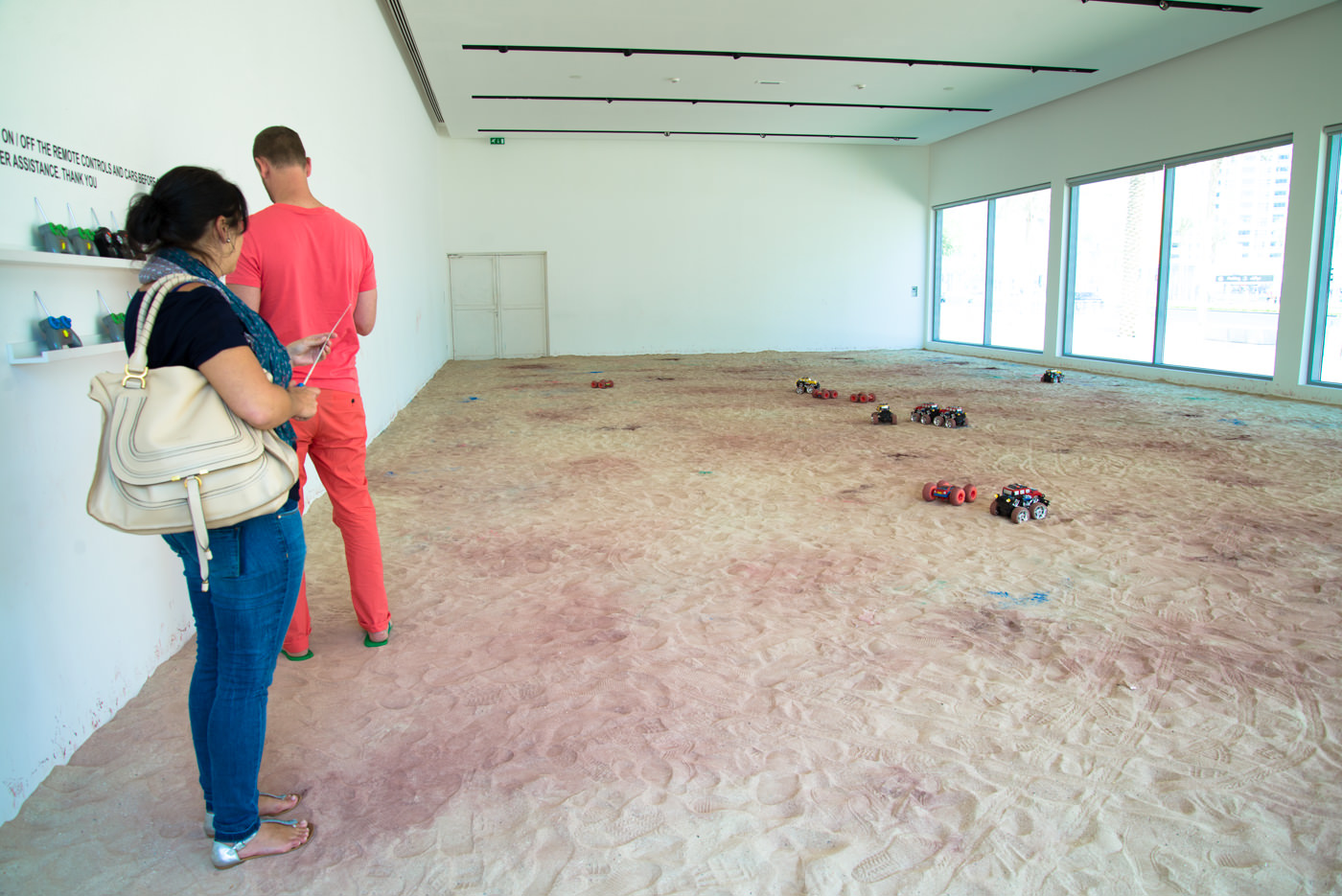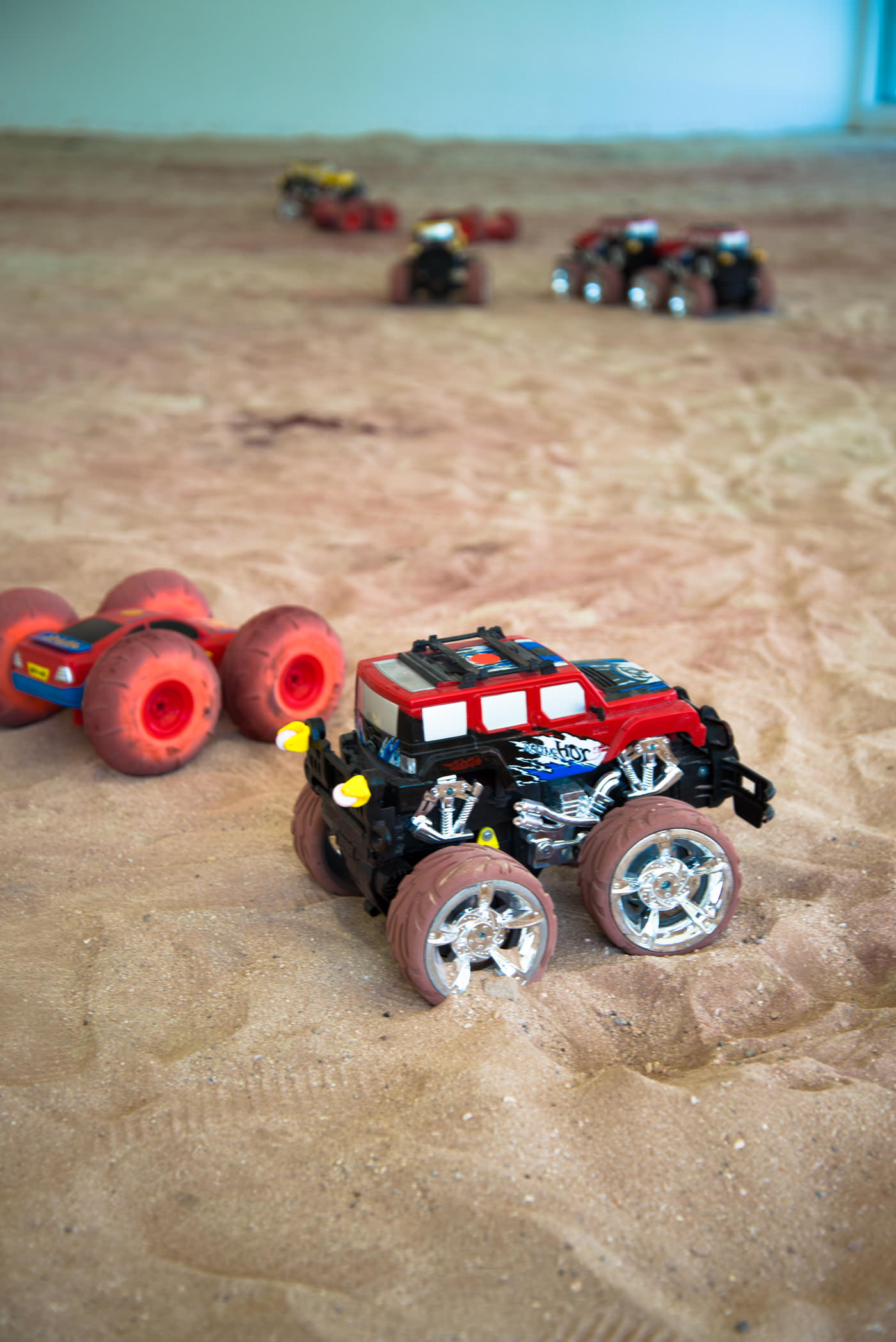 The staff are relaxed and friendly and they encourage you to borrow the gallery's art, design, fashion and food magazines and periodicals. In other circumstances I could happily spend hours reading and working here. But today we are here to lunch.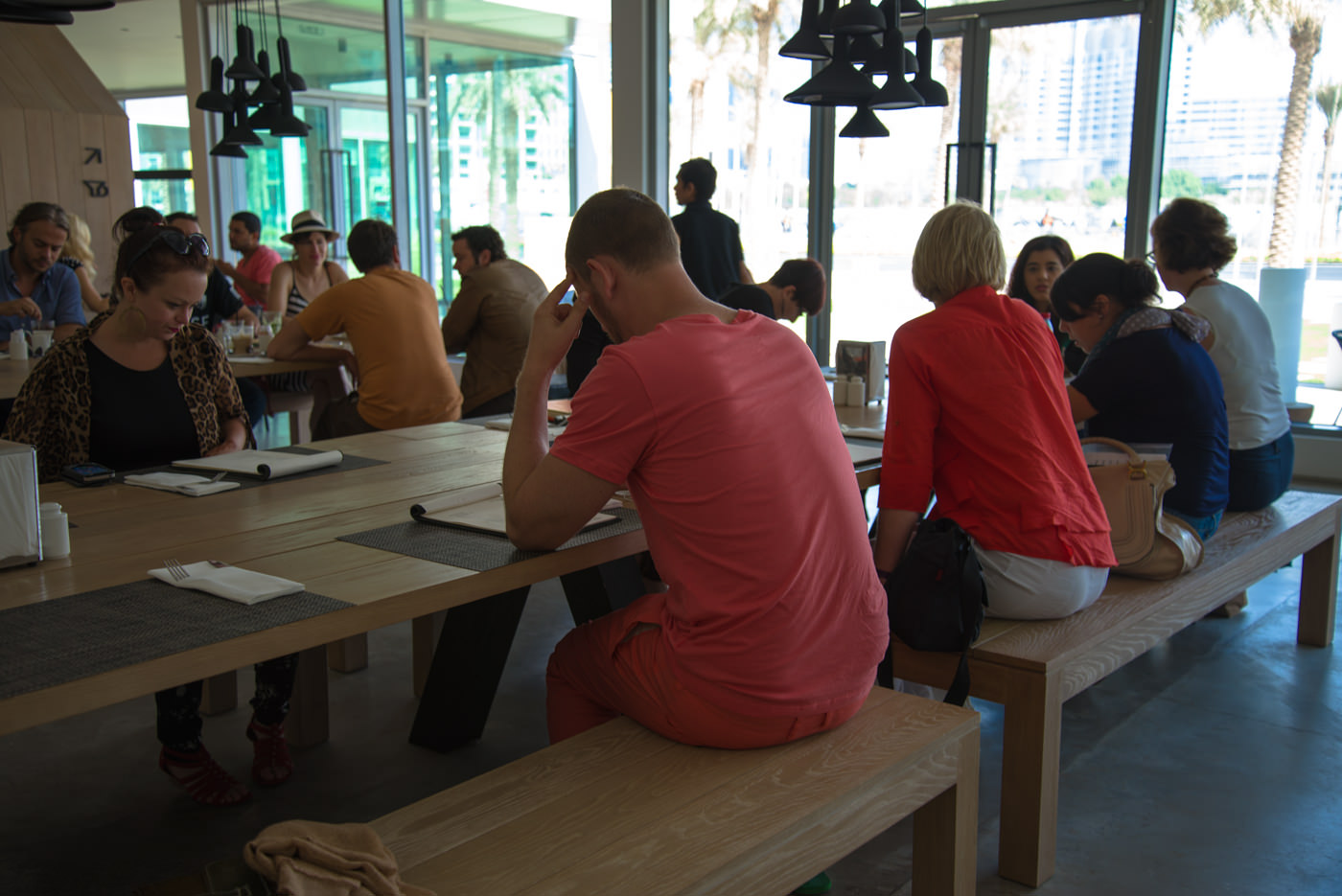 What to eat, what to eat…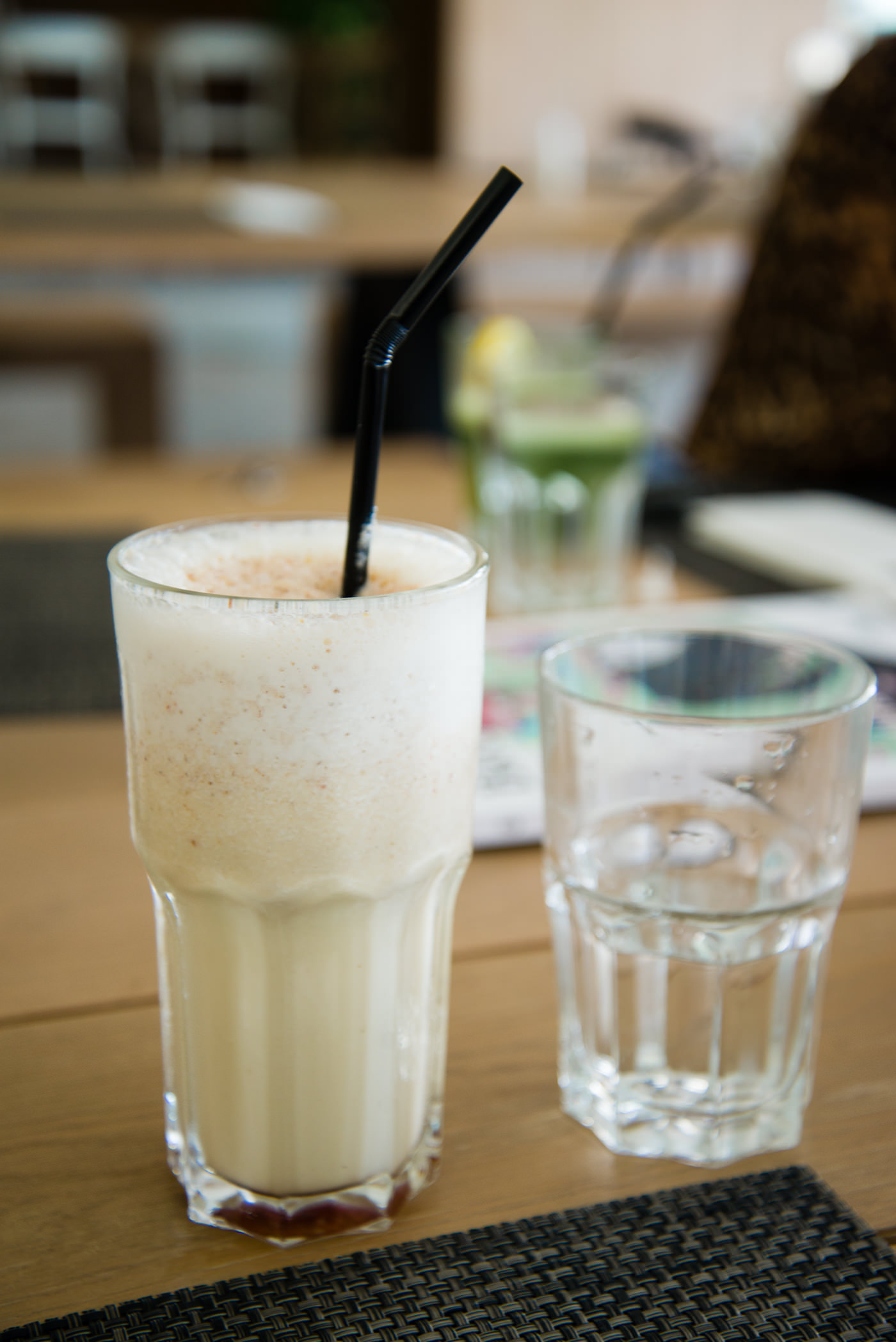 First up, I try a date and honey milkshake. Why have I never thought of making this gorgeous drink before? You can make this at home by blending some dried dates with yoghurt, milk (or soy, rice or almond milk), honey and perhaps just a teensy sprinkle of cinnamon. Remember to taste your drink before adding any honey as the dates are very sweet already.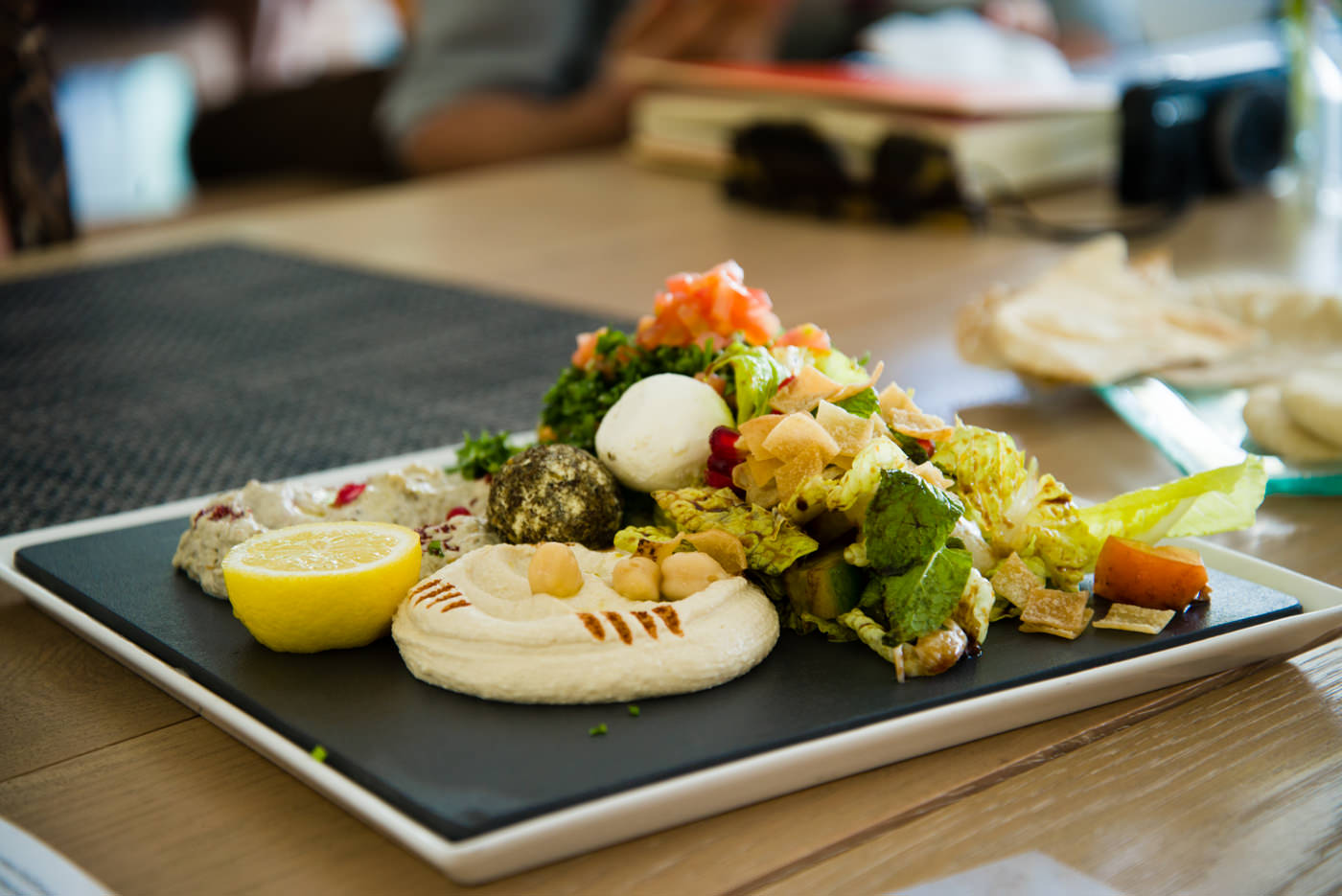 One of the journalists in my group orders the cold meze platter, which includes hommous, babaganoush, tabouli and fatoush salad.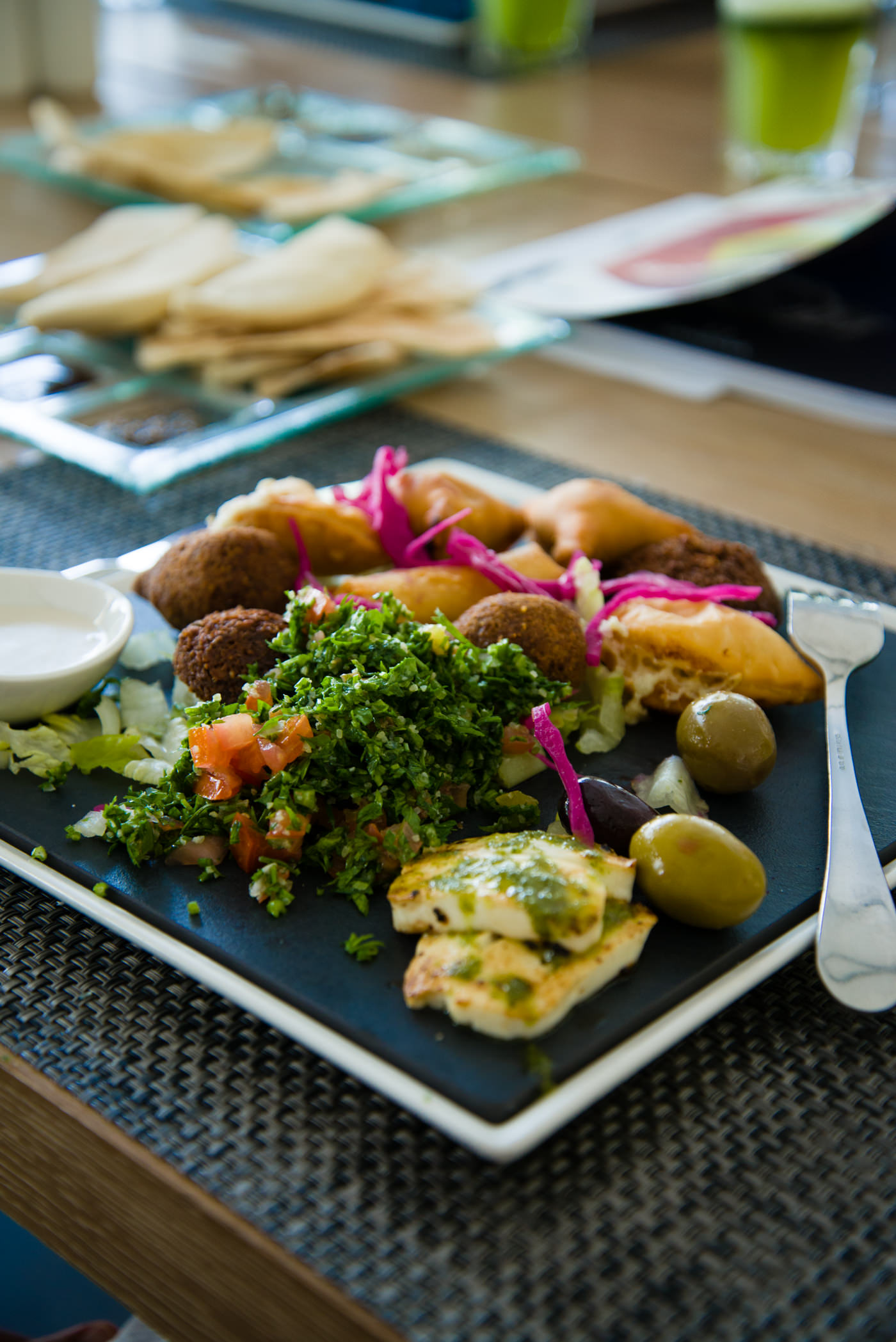 Another journo orders the hot mezze plate with falafel, halloumi, samosas, olives and freshly made tabouli. `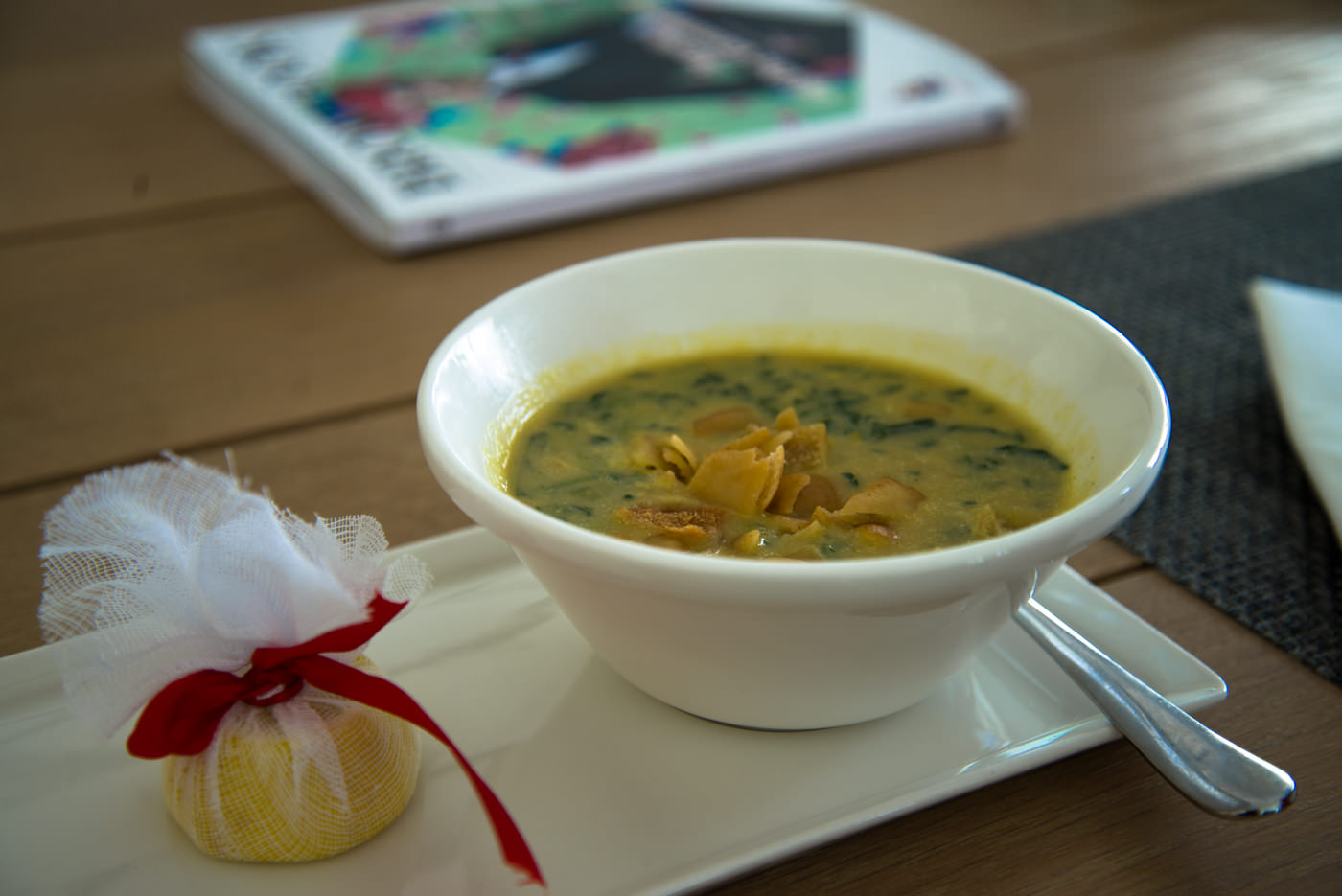 I start with the lentil and spinach soup, served with a fresh lemon half and fried flat bread as a garnish. It's sensational. The soup is rich, hearty and filling – almost a meal in itself.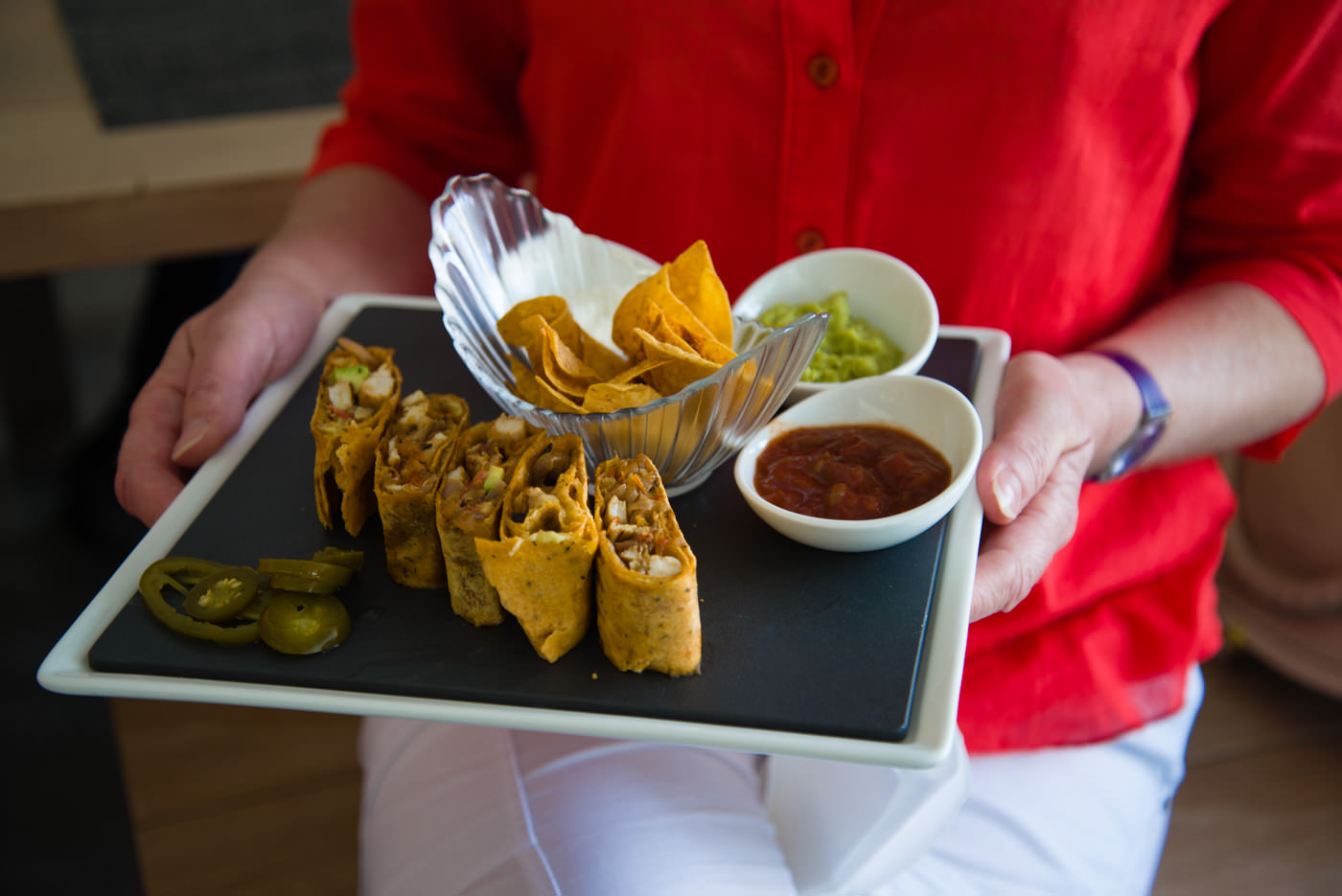 Nachos. I like the presentation here – the bowls look like little sail boats. The separate bowls also avoid the whole soggy mess that nachos inevitably become when the sauces and cheese have been sitting on the corn chips for too long.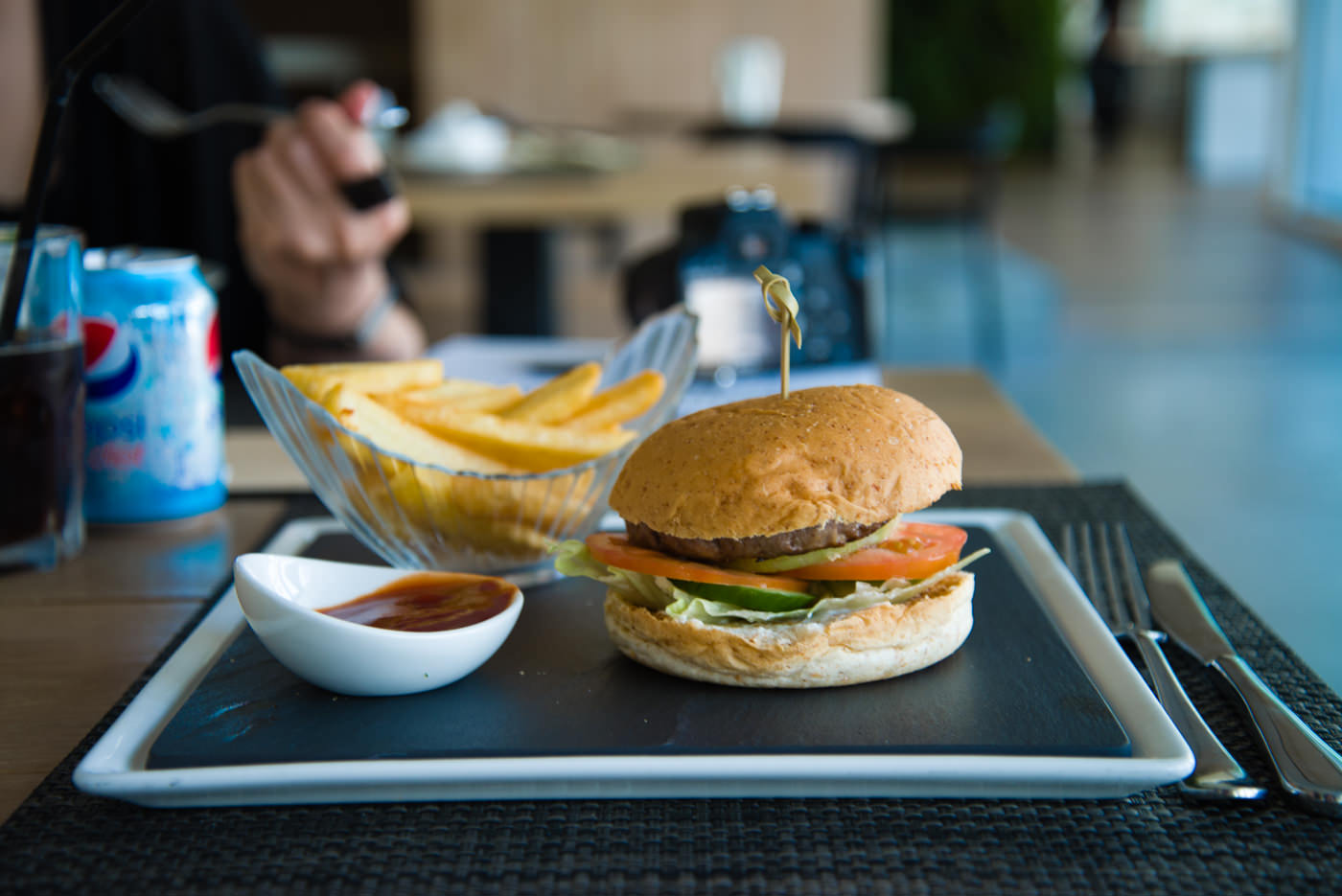 While I don't taste everybody's dishes, the feedback from the other journos is uniformly positive. However, I have to say that this is not the best looking burger I've ever seen – the bun is too wide for the patty, I can't see any melted cheese (a must!) and without any visible sauce, mayonaise or mustard the burger looks too dry.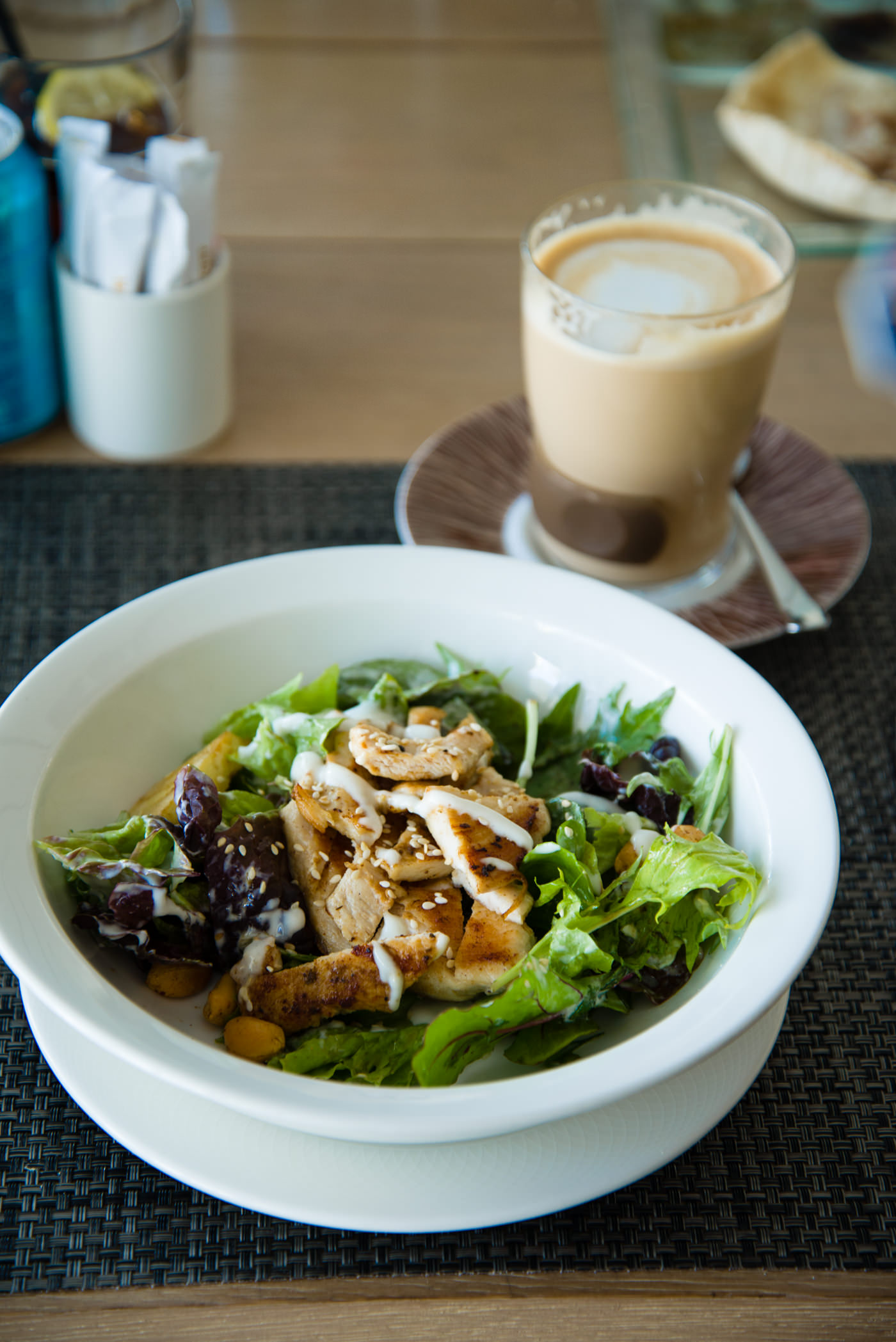 On the other hand, this chicken salad receives a thumps up.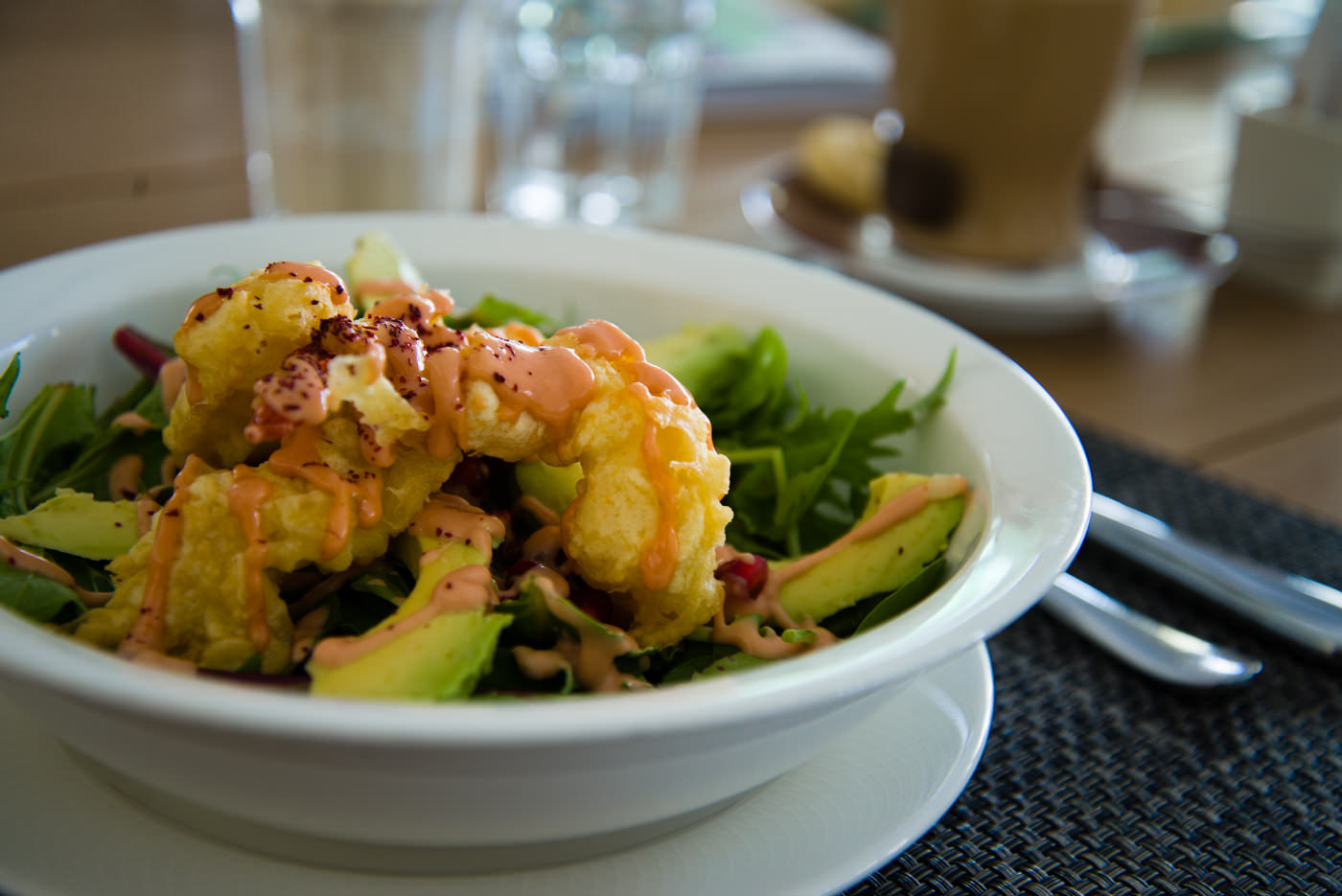 This was my main dish: tempura prawn salad. It's a pretty dish but I found it a little insipid; the flavours in the seafood sauce were not strong enough for me. Admittedly, it's not the type of dish I would usually order but I couldn't resist doing so when I saw it had fresh pomegranate in it. Pomegranates are not a fruit you come across everyday in Australia but they are cheap and readily available in Dubai so I feel compelled to order them whenever I can.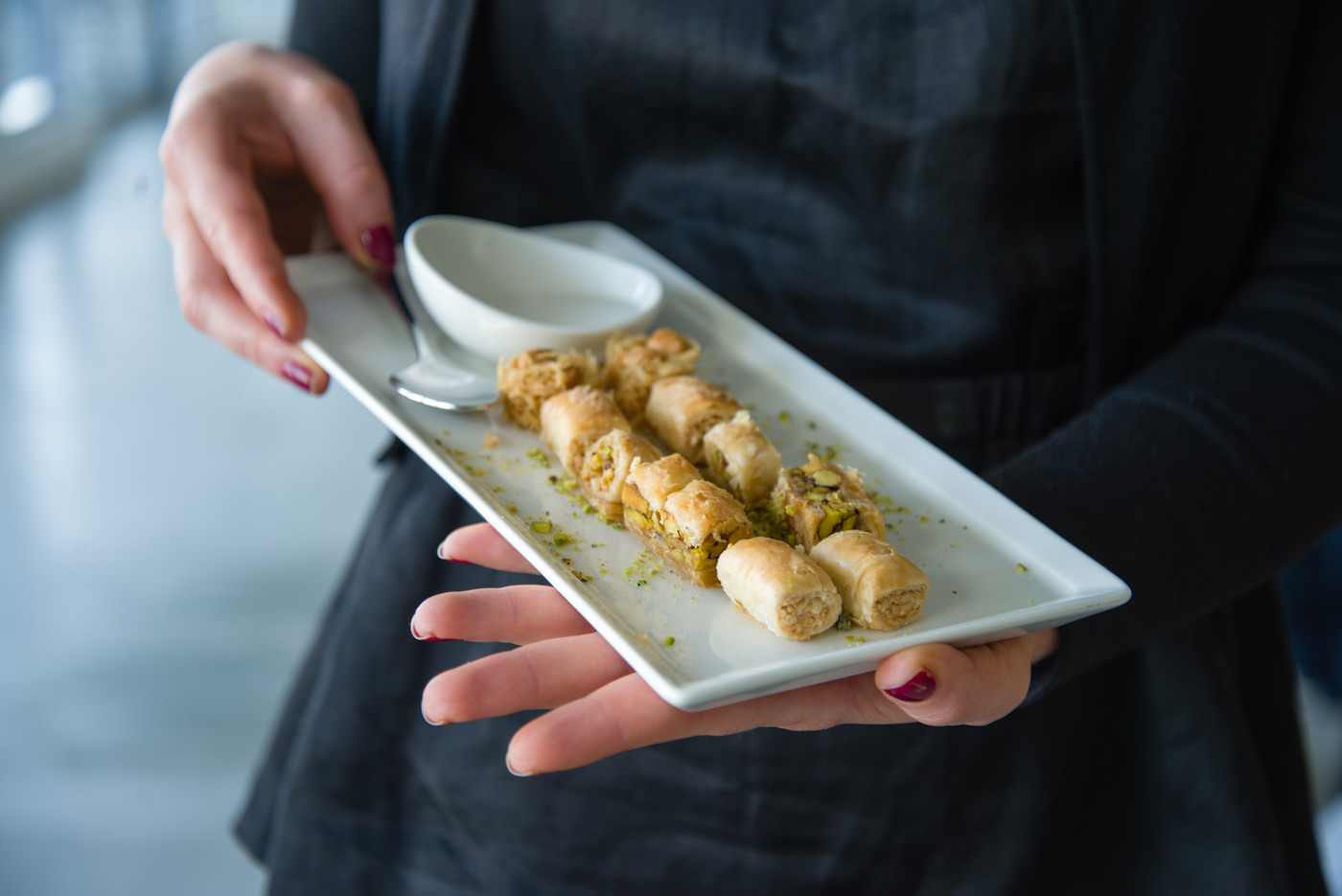 To finish, we share a plate of baclava that is teeth-achingly sweet and delicately flaky.
Even though I love dessert a little something sweet after a meal is often nicer than a large piece of cake. It's just enough to sweeten the mouth and hopefully your mood as you reach for the bill.
The Pavilion Downtown Dubai
Mohammed Bin Rashid Boulevard
Downtown Dubai UAE.
Email: art@pavilion.ae  or events@pavilion.ae
Tel: +97144477025
Opening Hours: everyday, 10am – 12am
Christina Soong-Kroeger visited Dubai as a guest of Emirates and Dubai Tourism. Emirates flies direct from Adelaide to Dubai. You can book online here.