I've always wanted to visit South Africa so I was thrilled when South African Tourism approached me to be part of their #MeetSouthAfrica campaign last year.
Over 10 days my group of bloggers (Dawn, Gaia, Aurelie and Adeline,) travelled by plane and bus around SA on an itinerary especially designed for newcomers: we ate traditional and not so traditional African cuisine, sampled locally made wines, visited stunning natural landmarks like Table Top Mountain, Boulders Beach, Cape Point, and Noordhoek, went on a sunset cruise, joined an Instawalk, stayed at a game reserve and got up close and personal with the local flora and fauna. 
Over the next few weeks I'll be sharing my South African experiences in Johannesburg, Cape Town, the Cape of Good Hope and Durban here on The Hungry Australian. But to kick off this series, let me tell you about the time I visited a free roaming game reserve. It's a long, photo-heavy post so settle in and get comfortable…
Gondwana Game Reserve
Situated in the heart of what is known as the Garden Route near Cape Town, the free roaming Gondwana Game Reserve covers a sprawling 27,000 acres of land in the Southern Cape.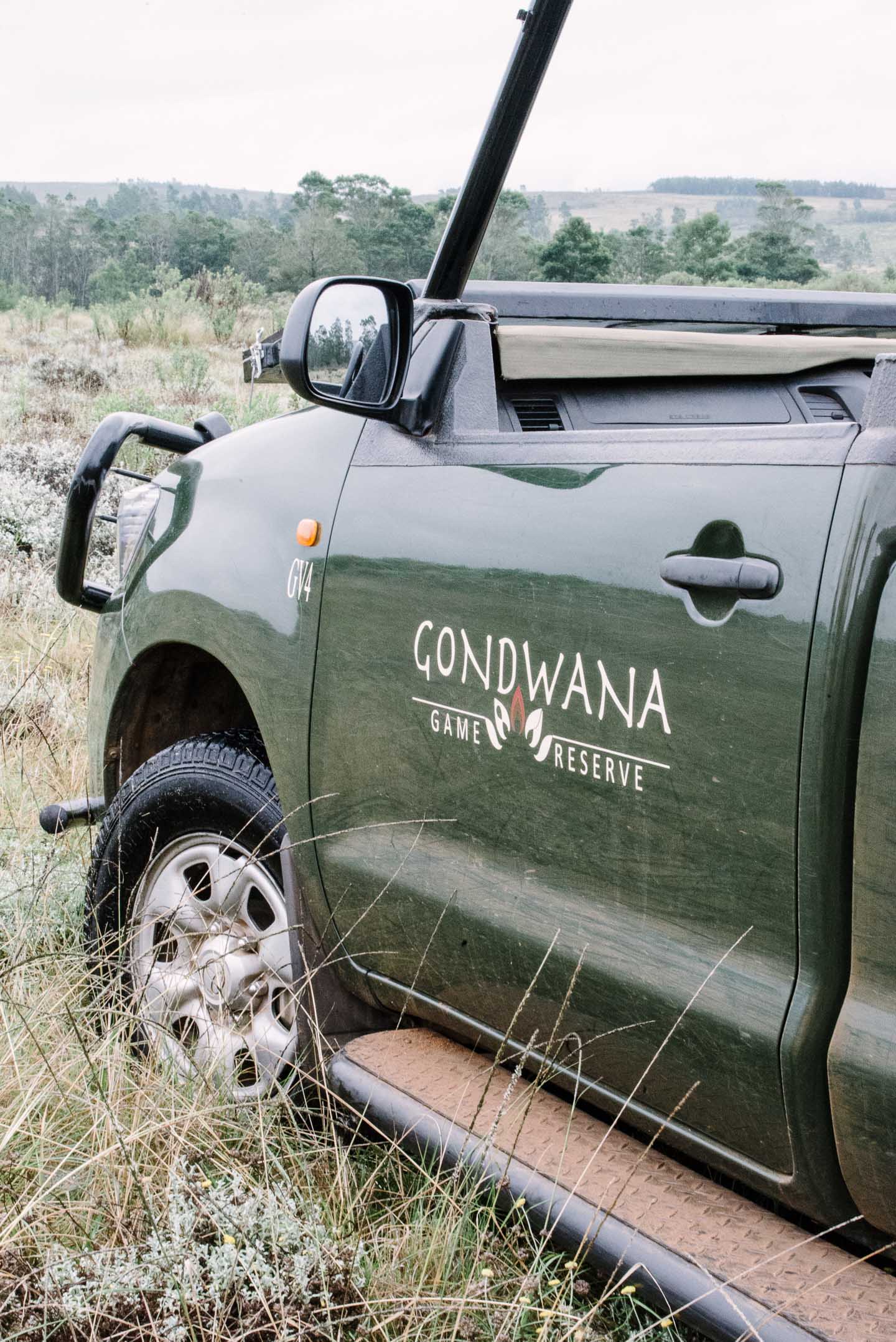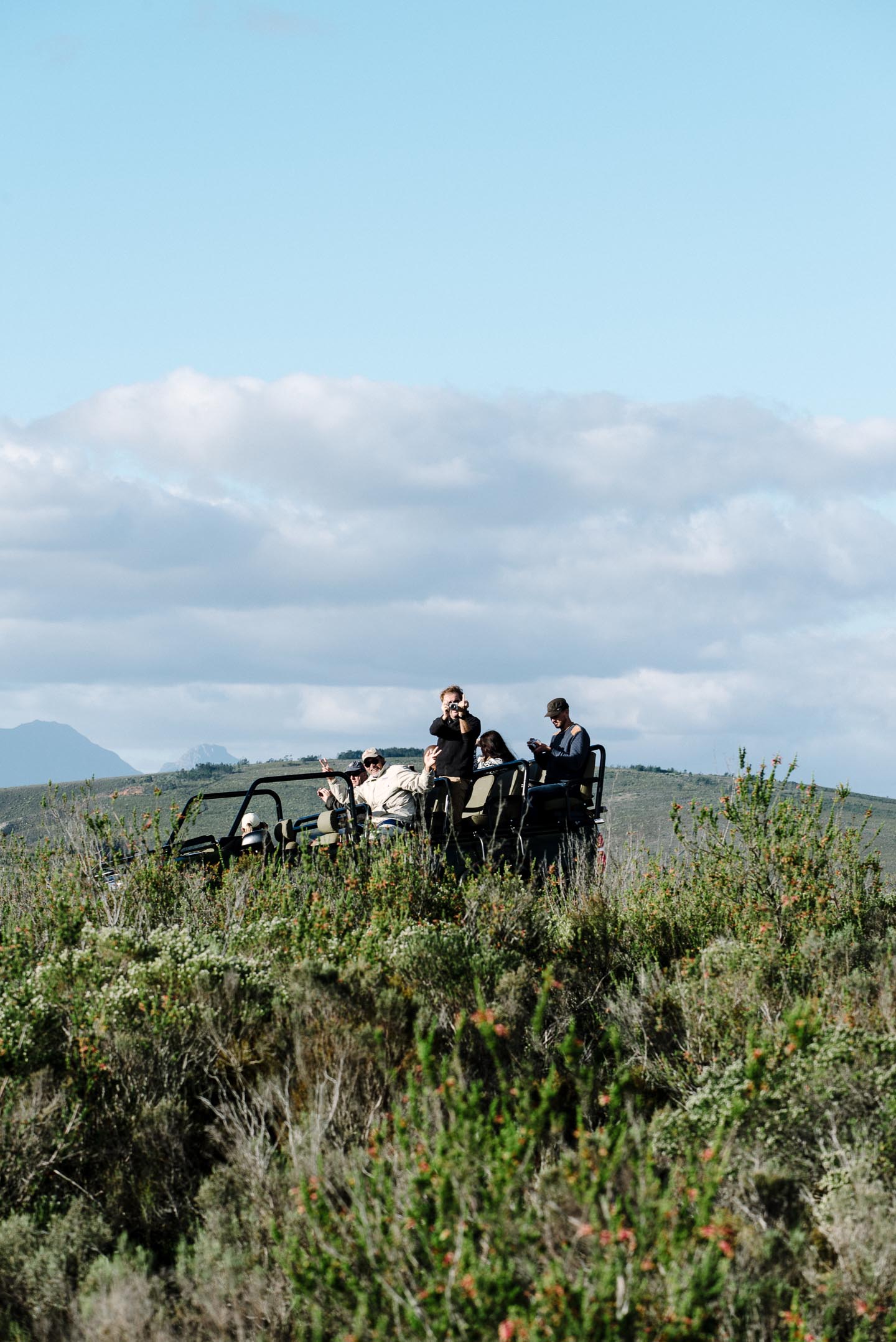 Visitors come to Gondwana from all over the world for the Game Drives,  hiking and bird watching.  During our three day visit we go out on game drives twice a day – once before sunrise, which is magical, and again mid afternoon. Each time we take a different route through the reserve so no drive is ever the same. Moreover, the game reserve is so spread out that we rarely see other cars but occasionally we run across another group – see above.
Amongst its wildlife, Gondwana boasts the 'The Big 5′ – that is, buffalo, leopard, lions, rhinos and elephants. While the 'The Big 5′ originally referred to the big game hunters' list of targets, nowadays 'The Big 5′ is thankfully more commonly used in reference to the non-intrusive observation of the game.
Because the huge game reserve is free roaming, with minimal internal fences, guests won't necessarily be able to see all the animals it contains. But this is part of the charm of this type of game reserve – you never what quite what to expect.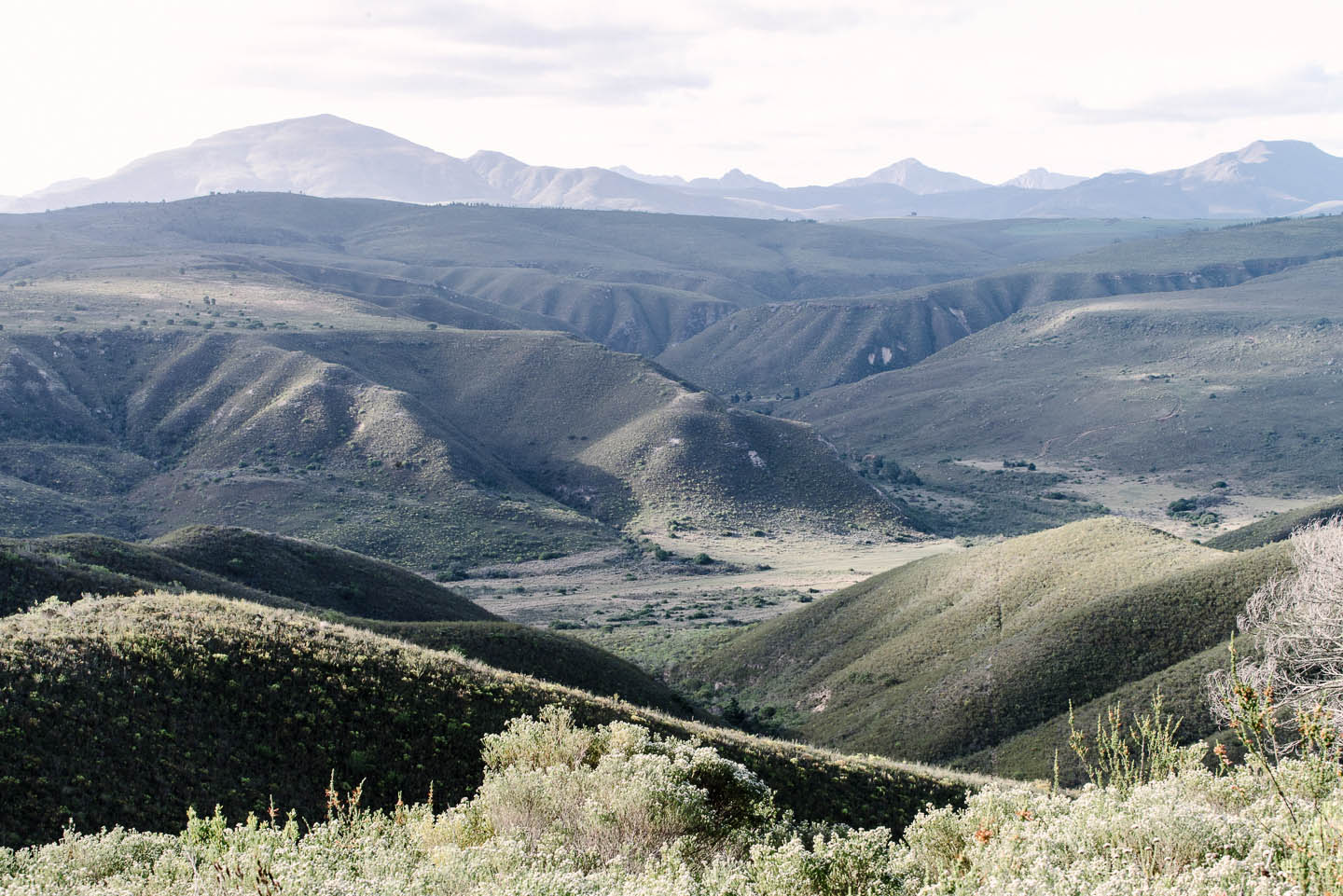 Being from Australia, I'm no stranger to the beauty of nature and wide open spaces but this land is quite extraordinary, with countless mountains, hills, ravines, gullies and valleys to explore.
Interspersed here and there by pockets of grass plain the plants and shrubs that cover much of the ground here are known as fynbos – "fine bush" in Afrikaans. Seen from a distance the fynbos resembles a lush, green carpet of wildflowers. Up close, some of the fynbos looks very familiar – these proteas are native to Australia, too.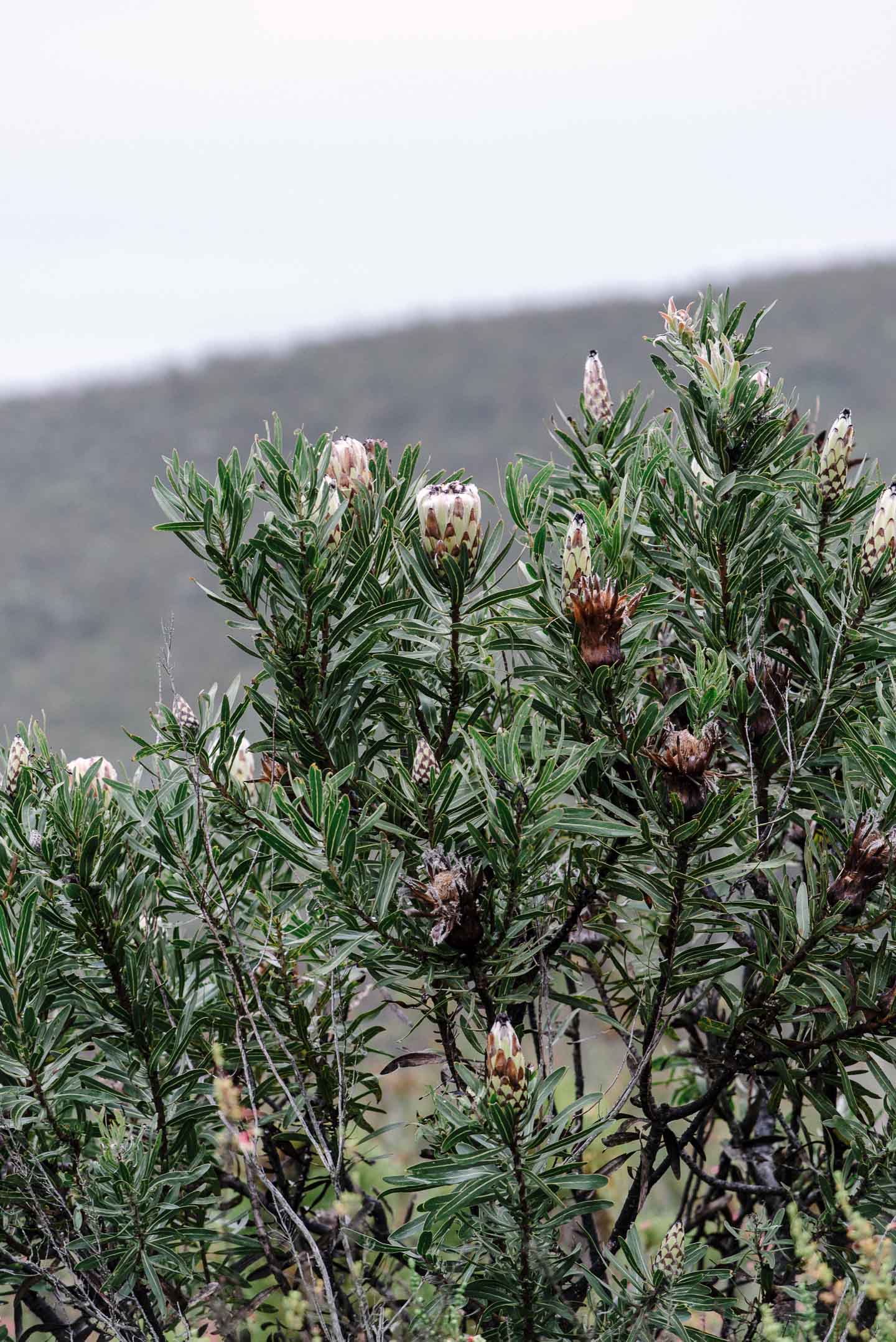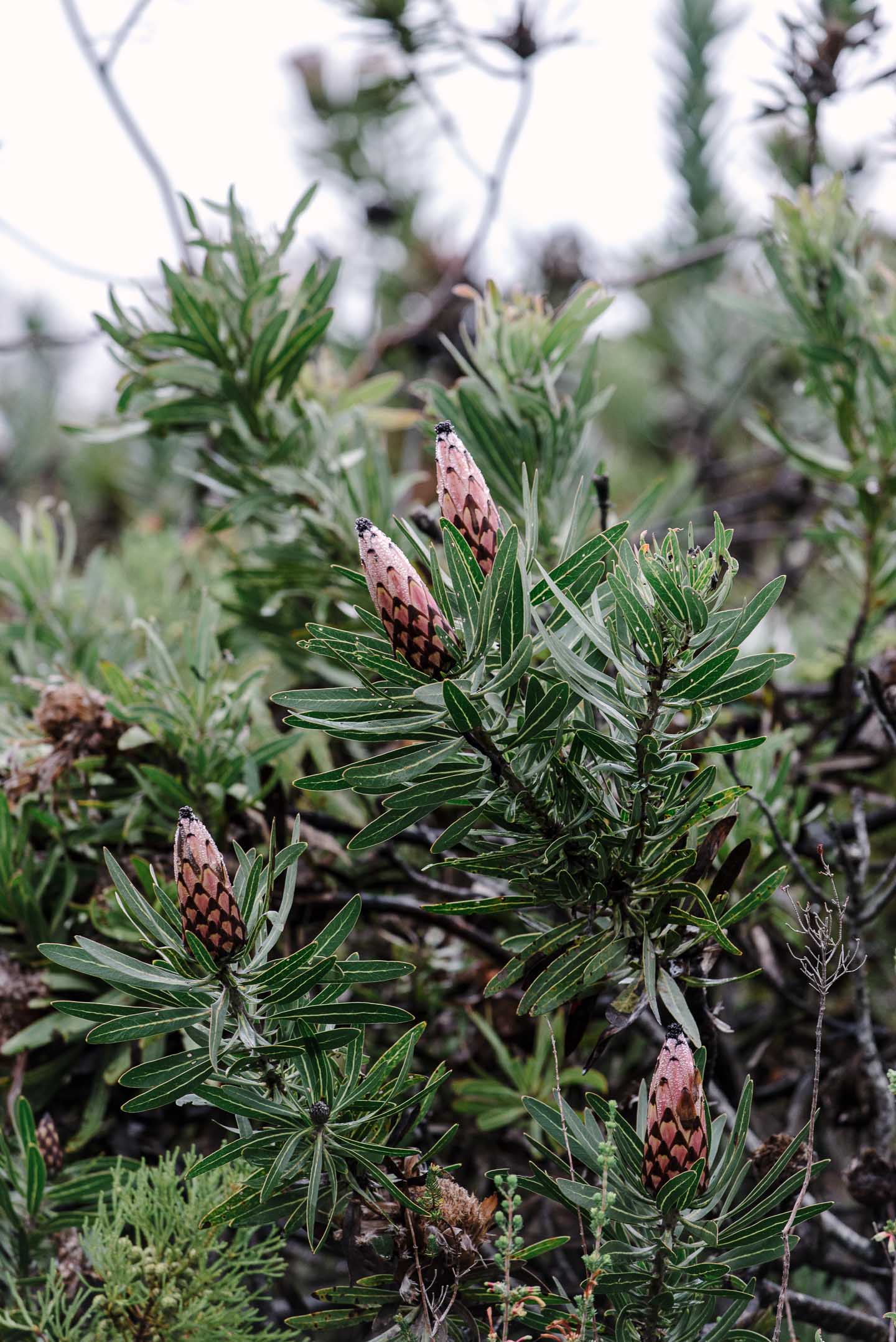 Each time we go out on safari we have the same guide, Melanie. As a young girl living in France, she dreamed about working with animals in South Africa so she is well and truly living her dream. Here she is telling us about the fascinating Acacia tree, which has developed extraordinary, 2-3 inch long spikes to protect itself against predators.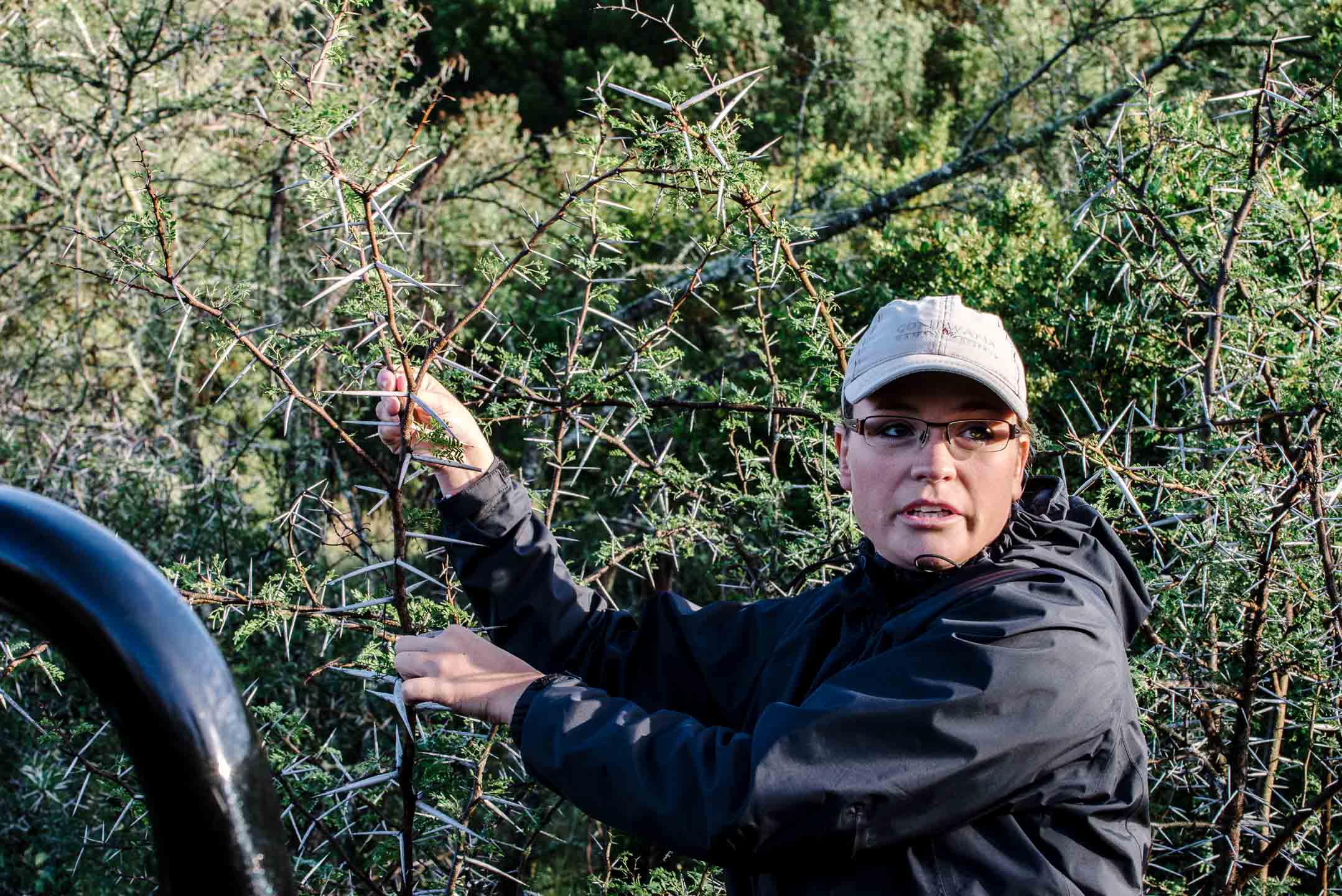 As we explored the enormous reserve, animals and birds regularly wandered in and out of our sight lines. As she drove, Melanie was constantly scanning the surrounds for wildlife and we stopped whenever and wherever she found something interesting.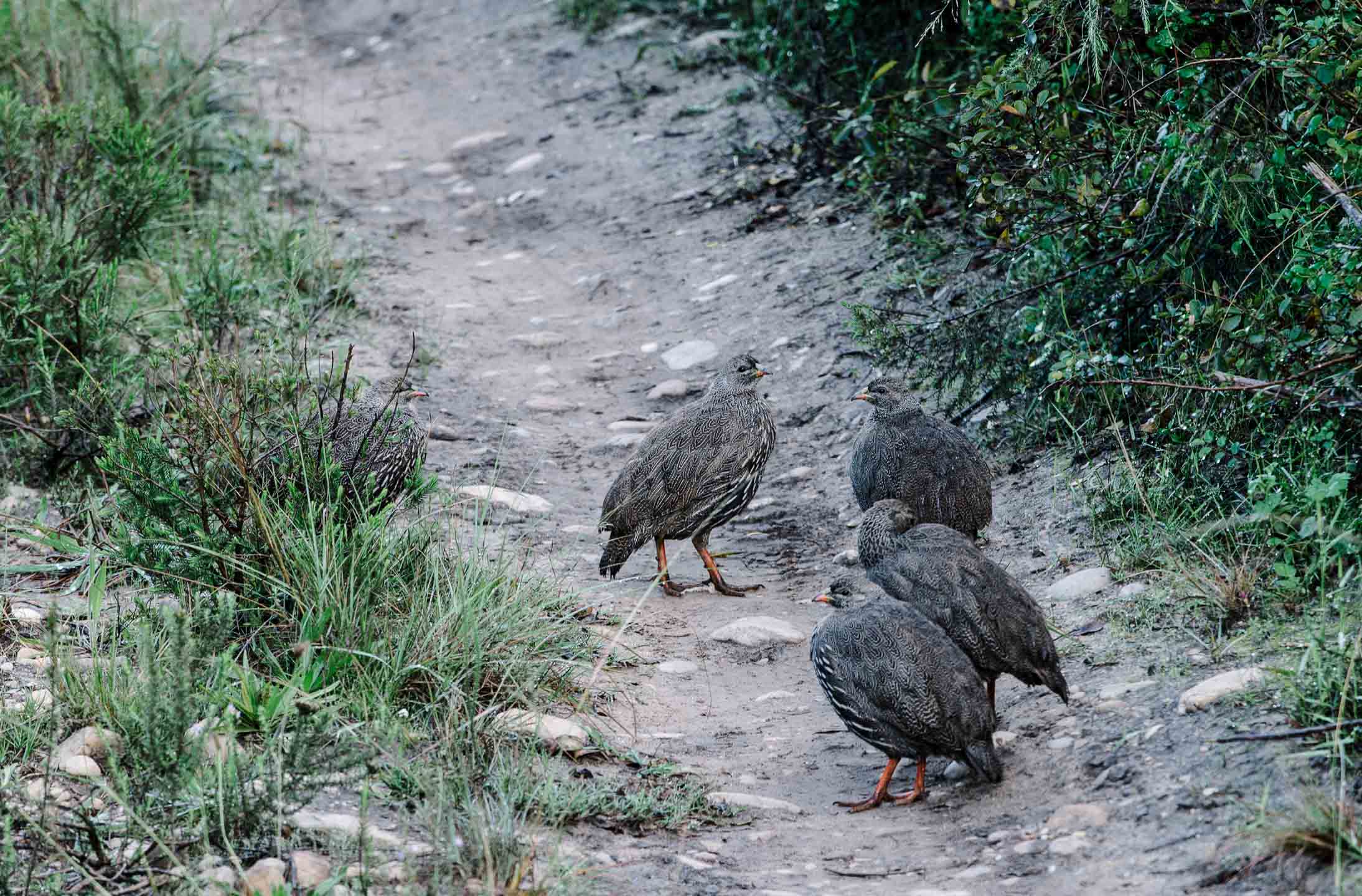 From my seated position in the car, I took hundreds of photos over our three day visit. Here are some of my favourites: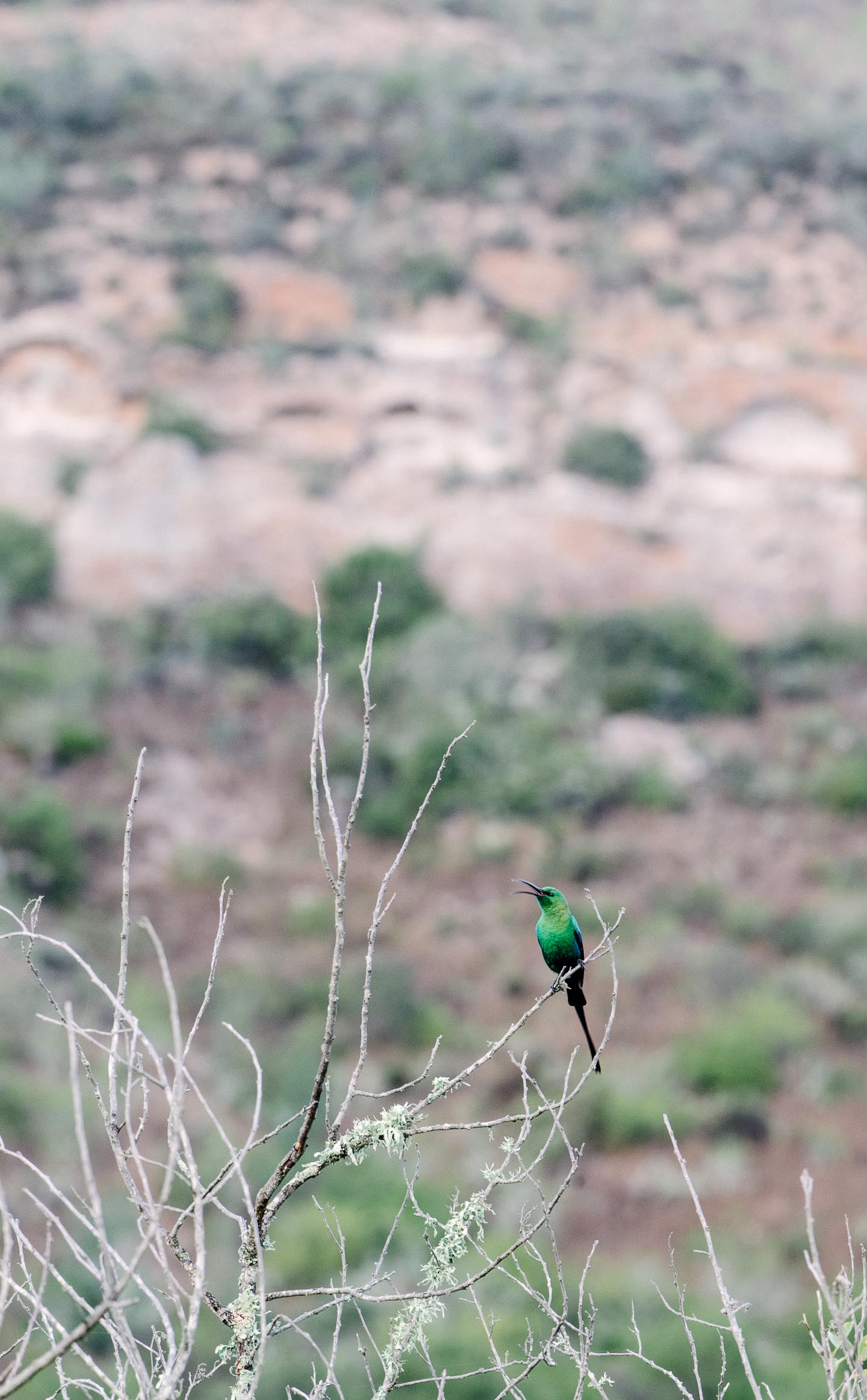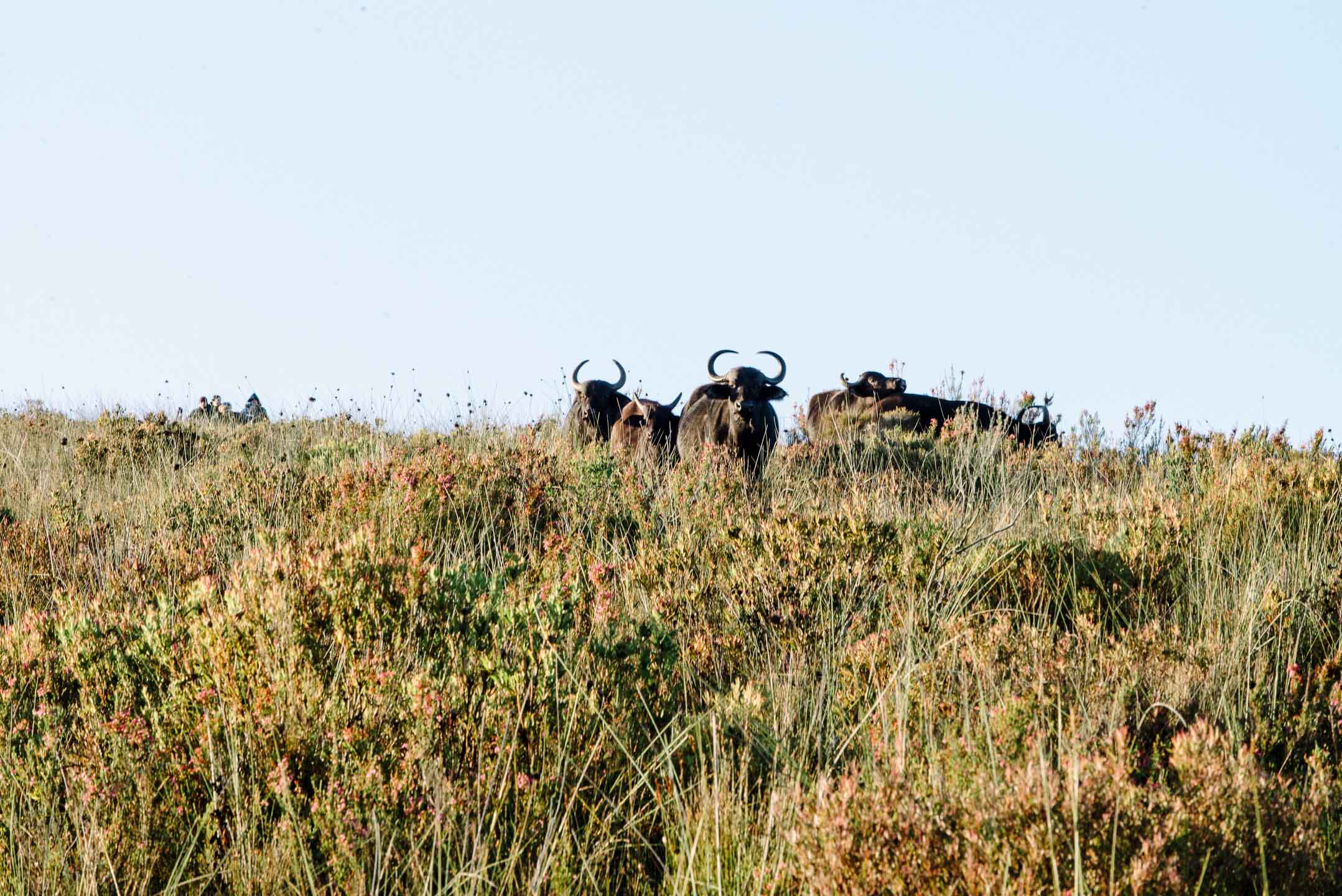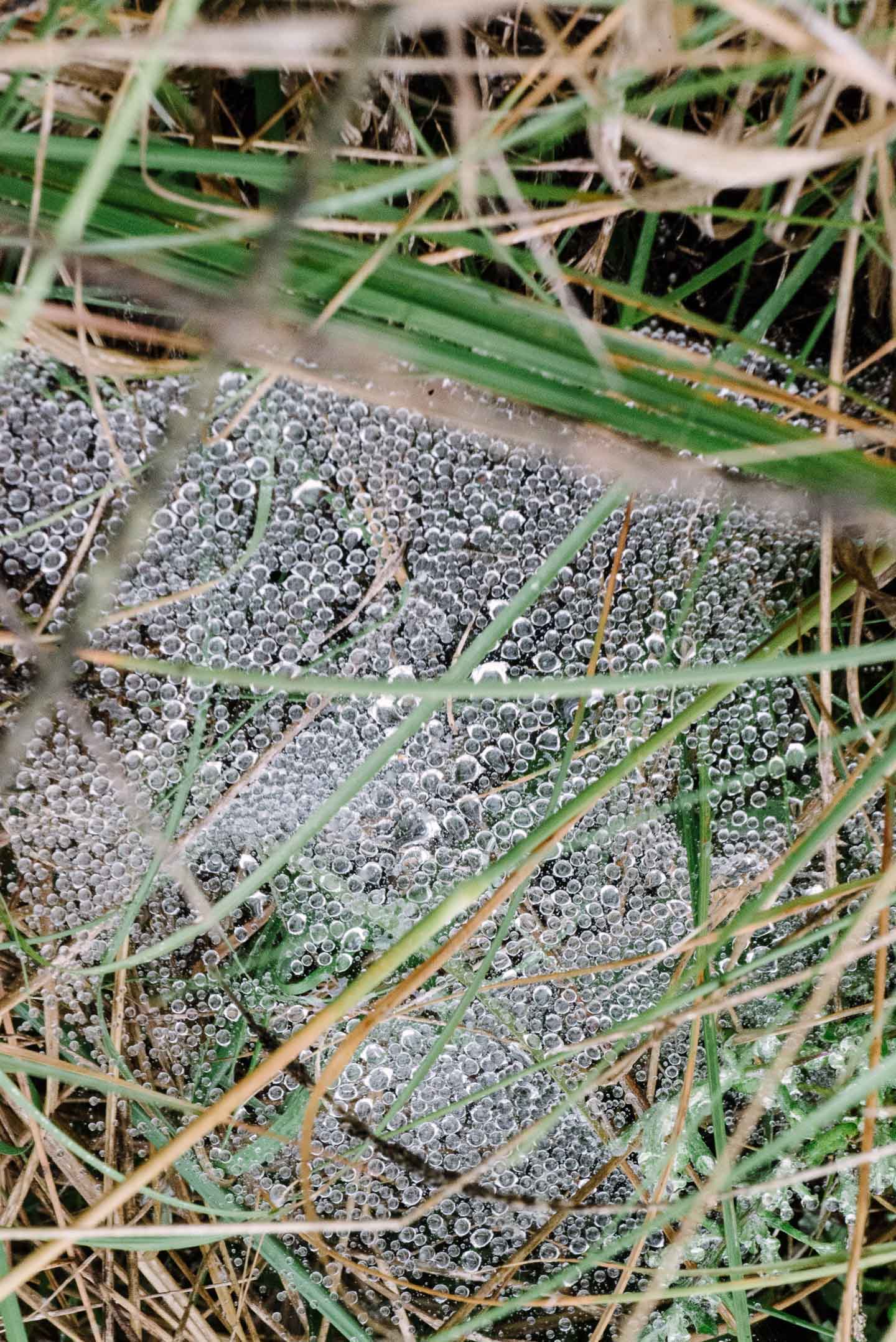 Gondwana is home to 10 species of antelope including the Eland, Gemsbok, Bontebok, and Grey Reebok.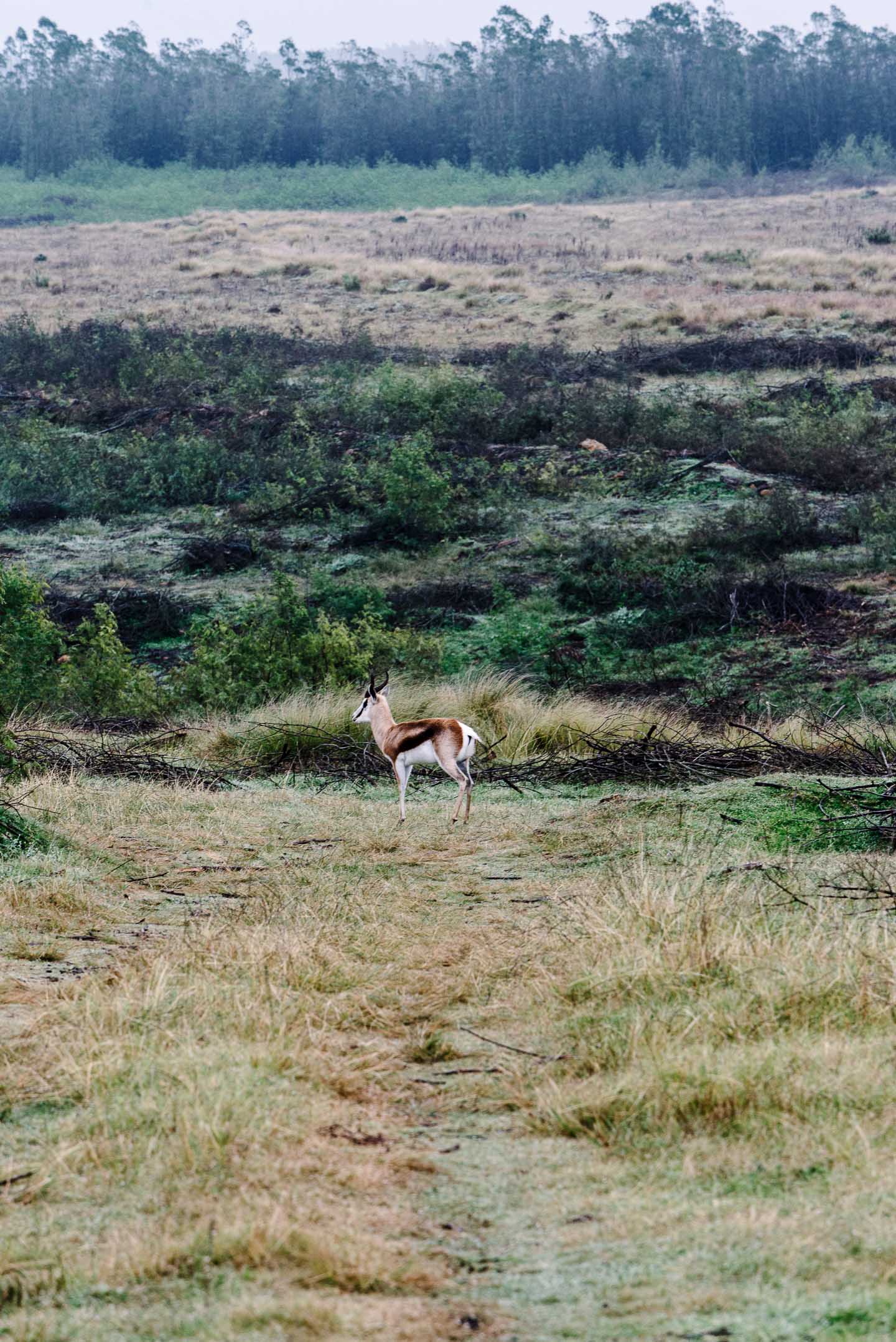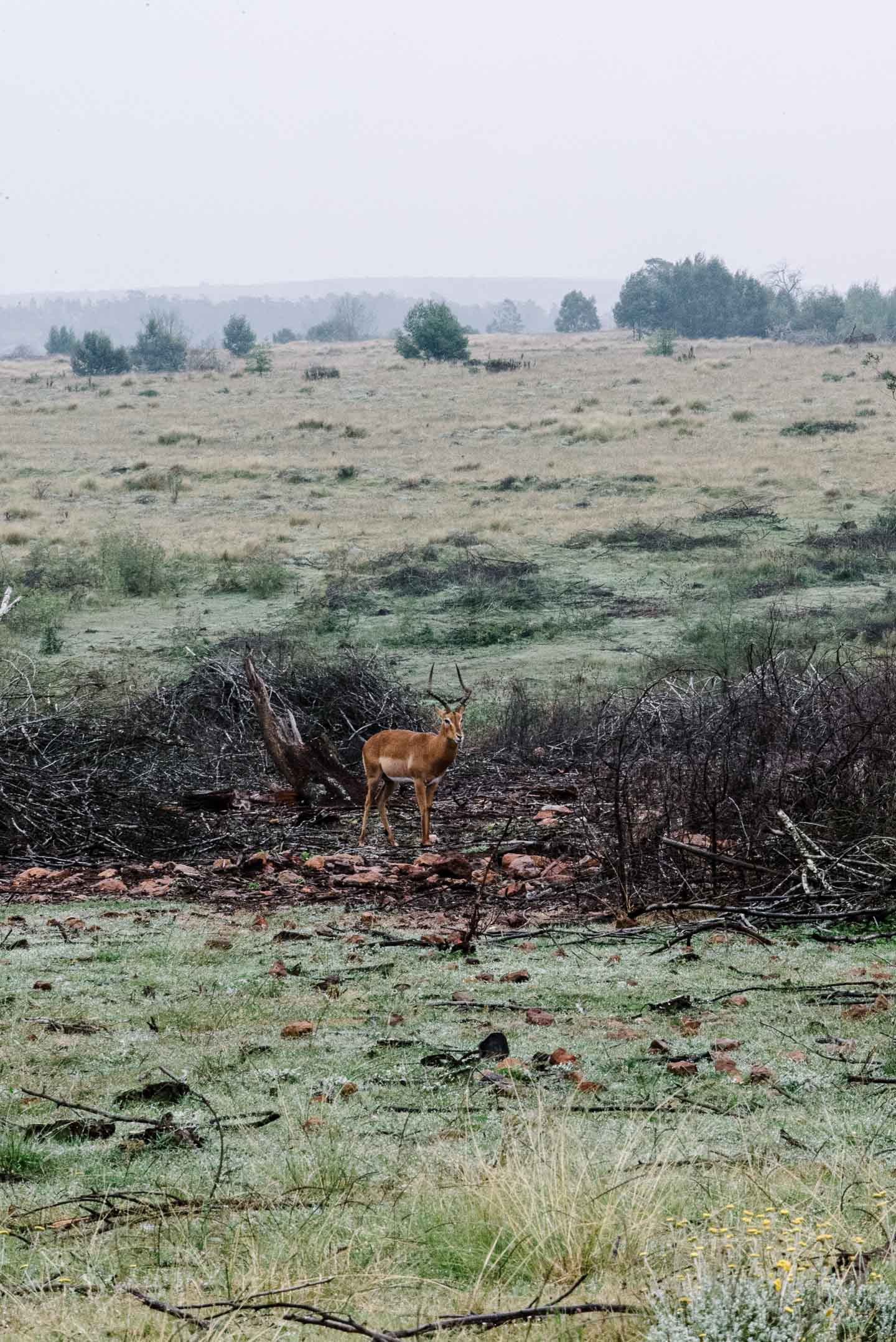 Antelope are such elegant creatures – watching them pick their way daintily across the plains reminded me of girls tip toeing their way across wet grass to avoid soiling their shoes.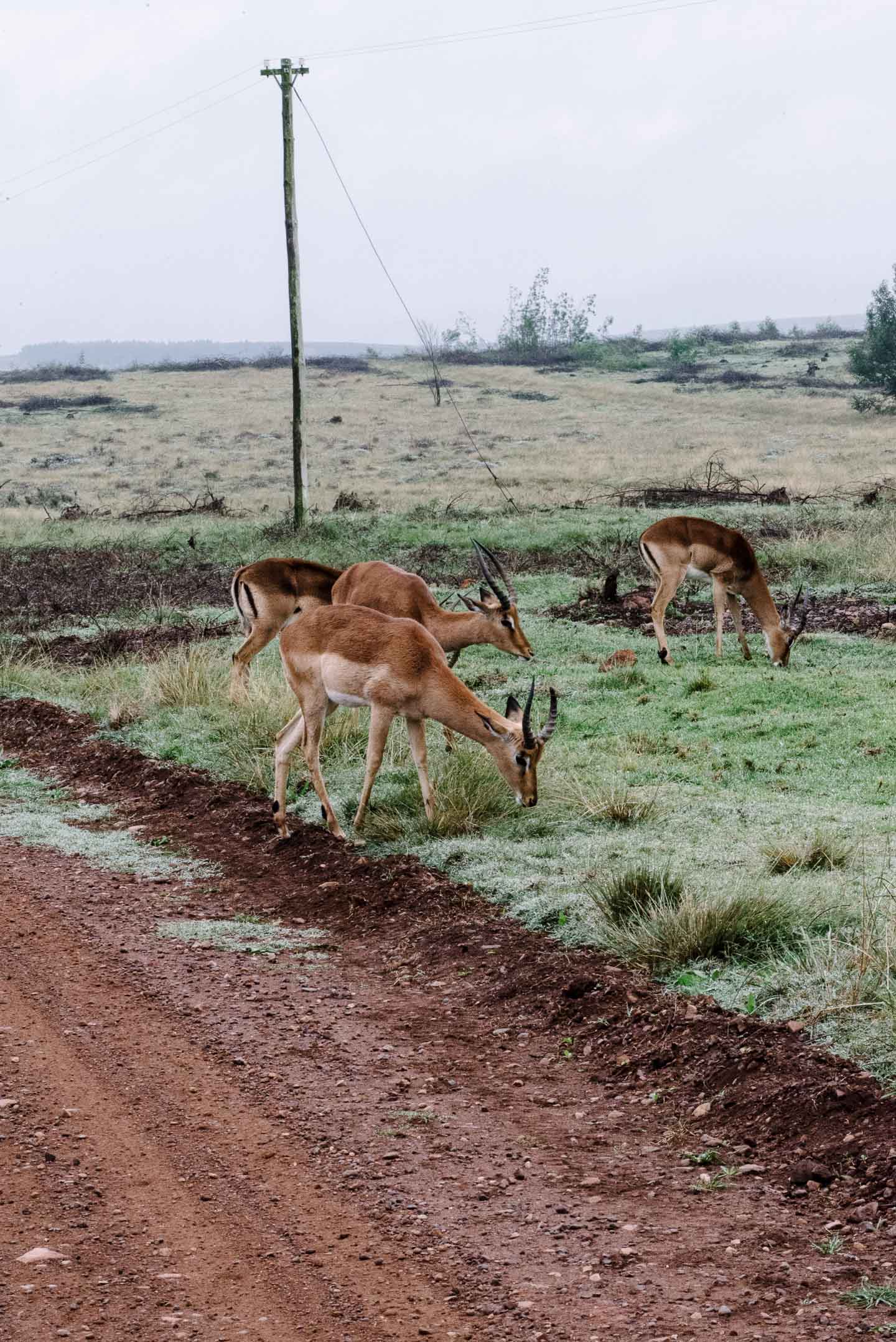 One afternoon Melanie drove us down to a waterhole to see if we could spot any hippopotamuses.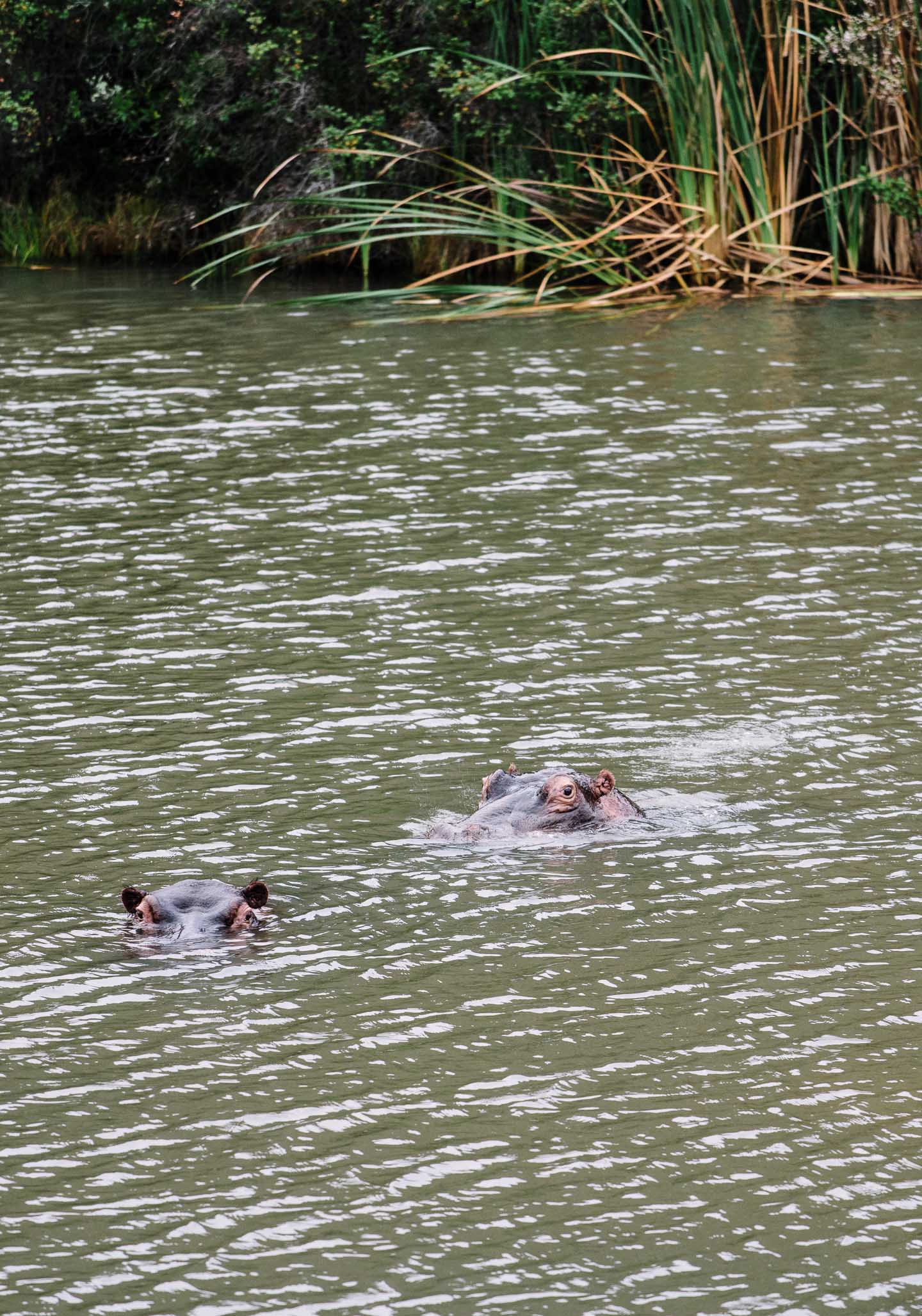 We were in luck!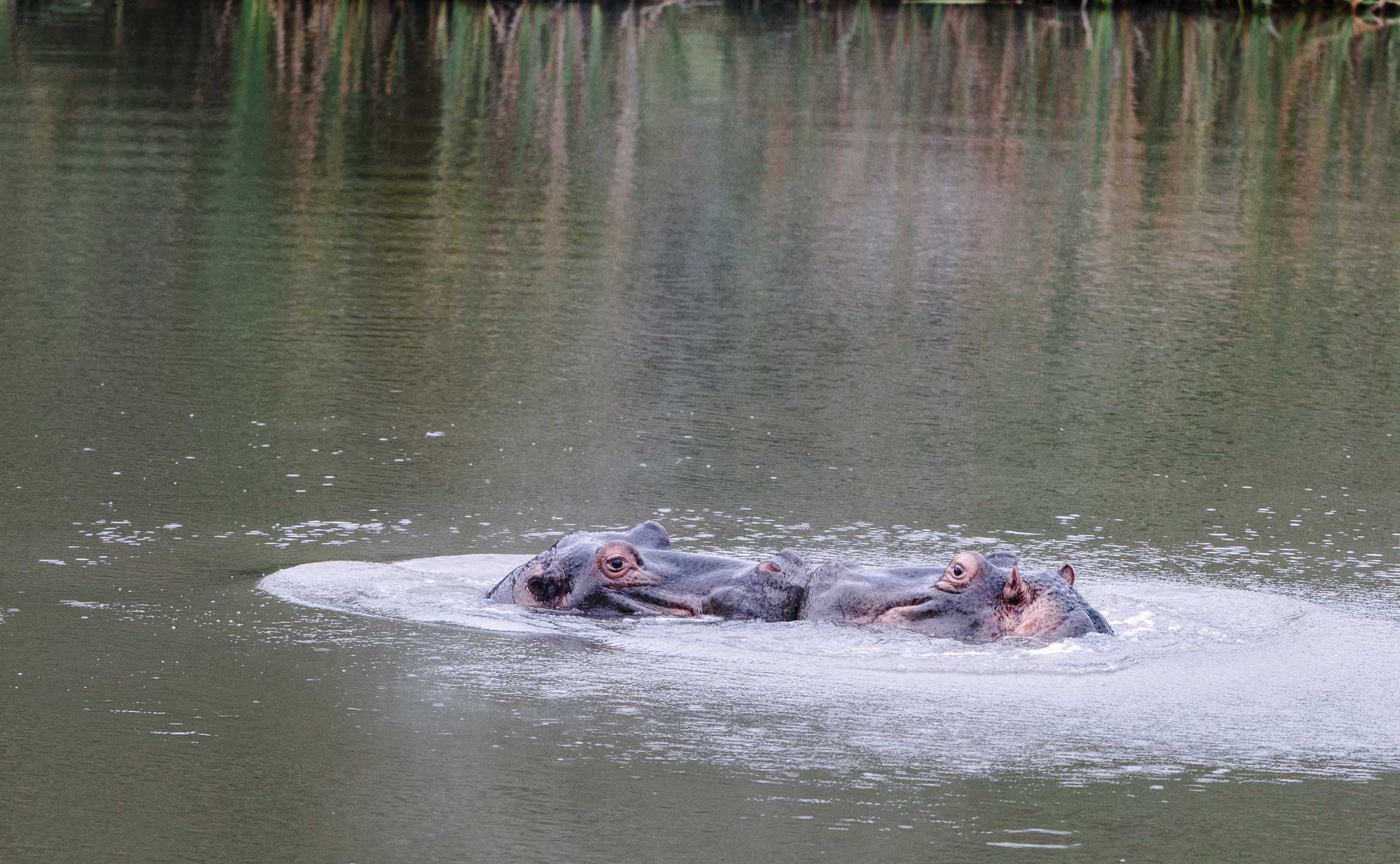 Aren't they sweet?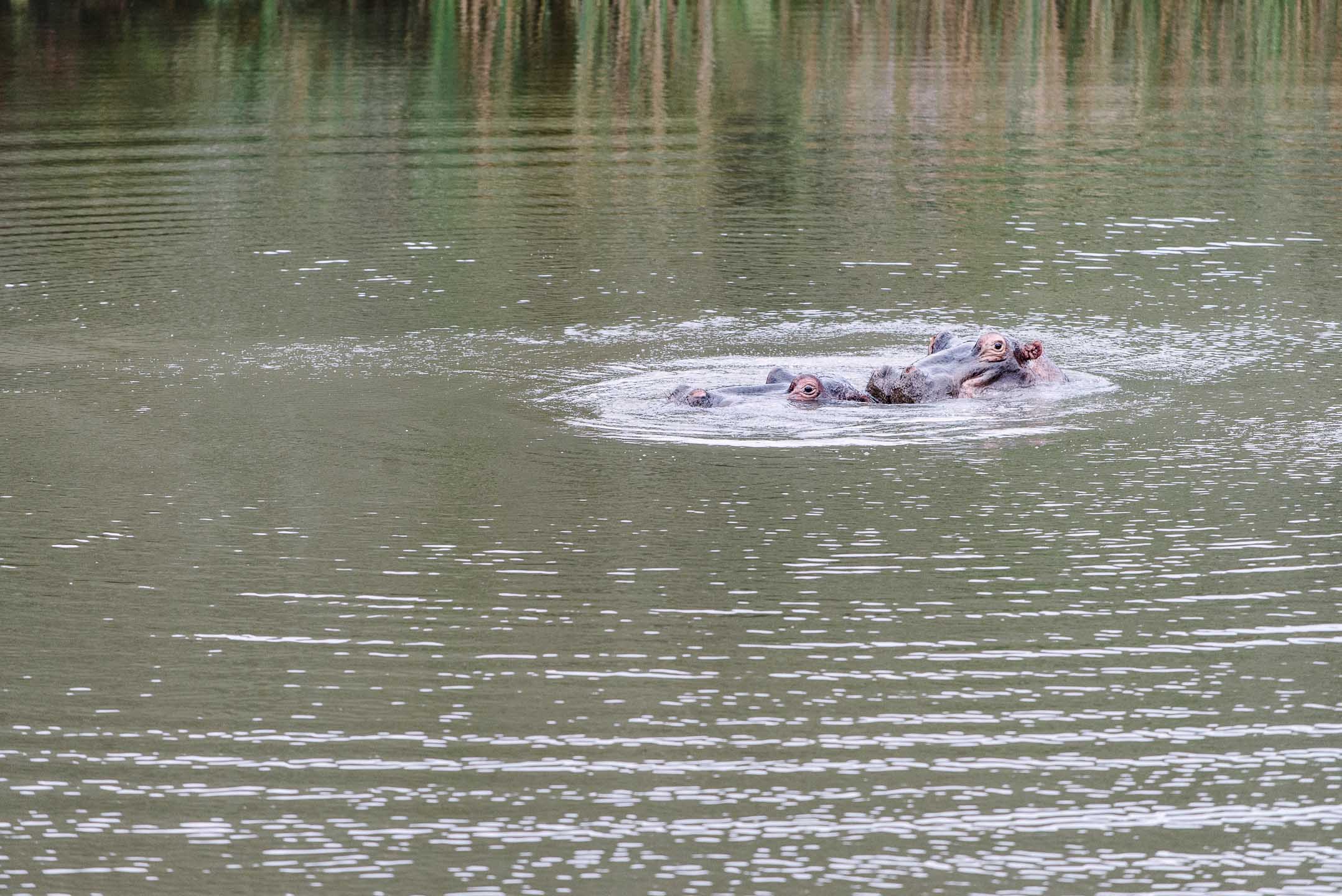 Despite their cute and cuddly appearance, these hippos weigh around 1,500 kgs each and are highly aggressive.  So we were careful to keep a safe distance away from them – these photos were taken from quite a distance with a 70-200mm Nikon lens.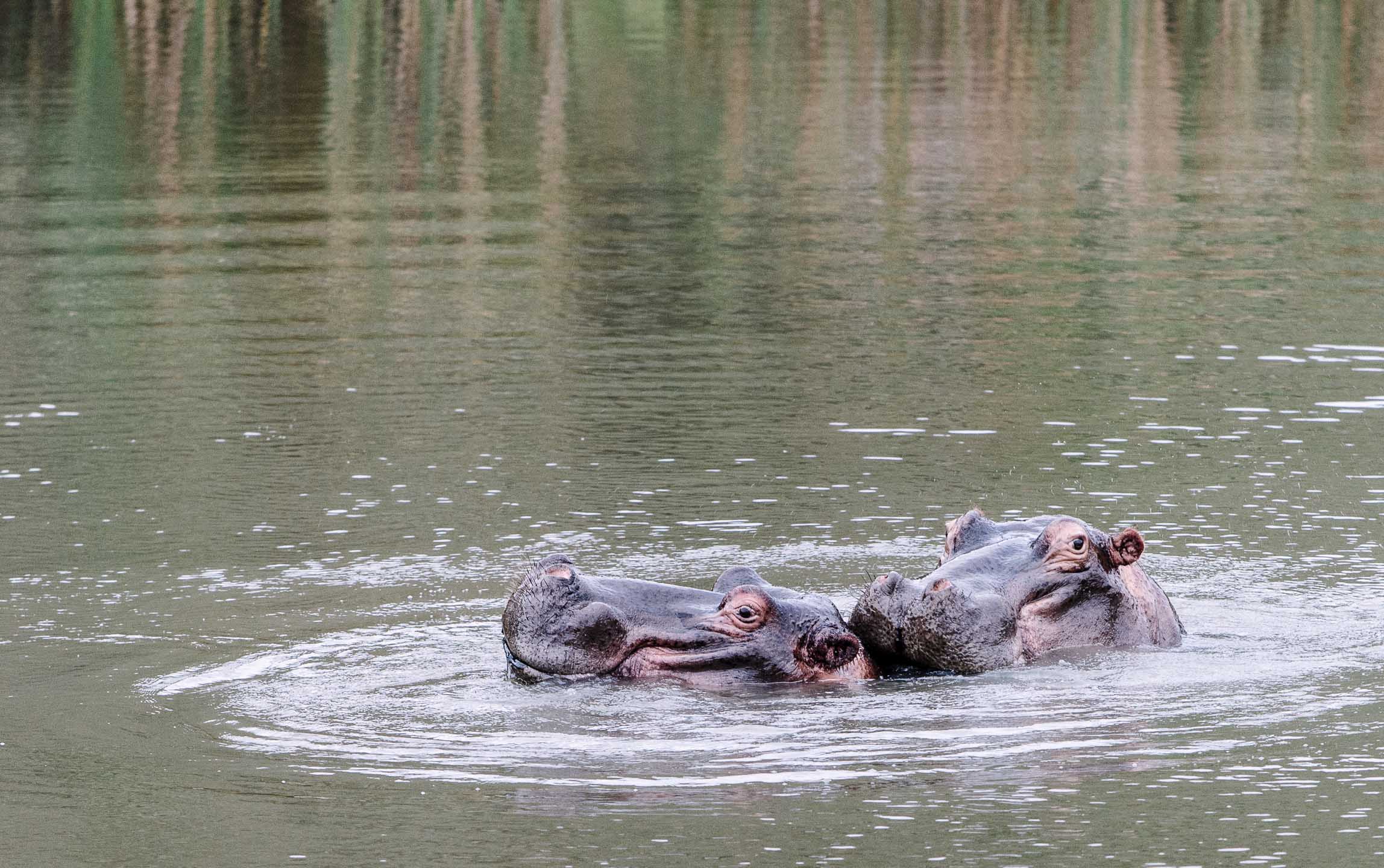 Zebras are plentiful in the reserve and we come across herds of them regularly.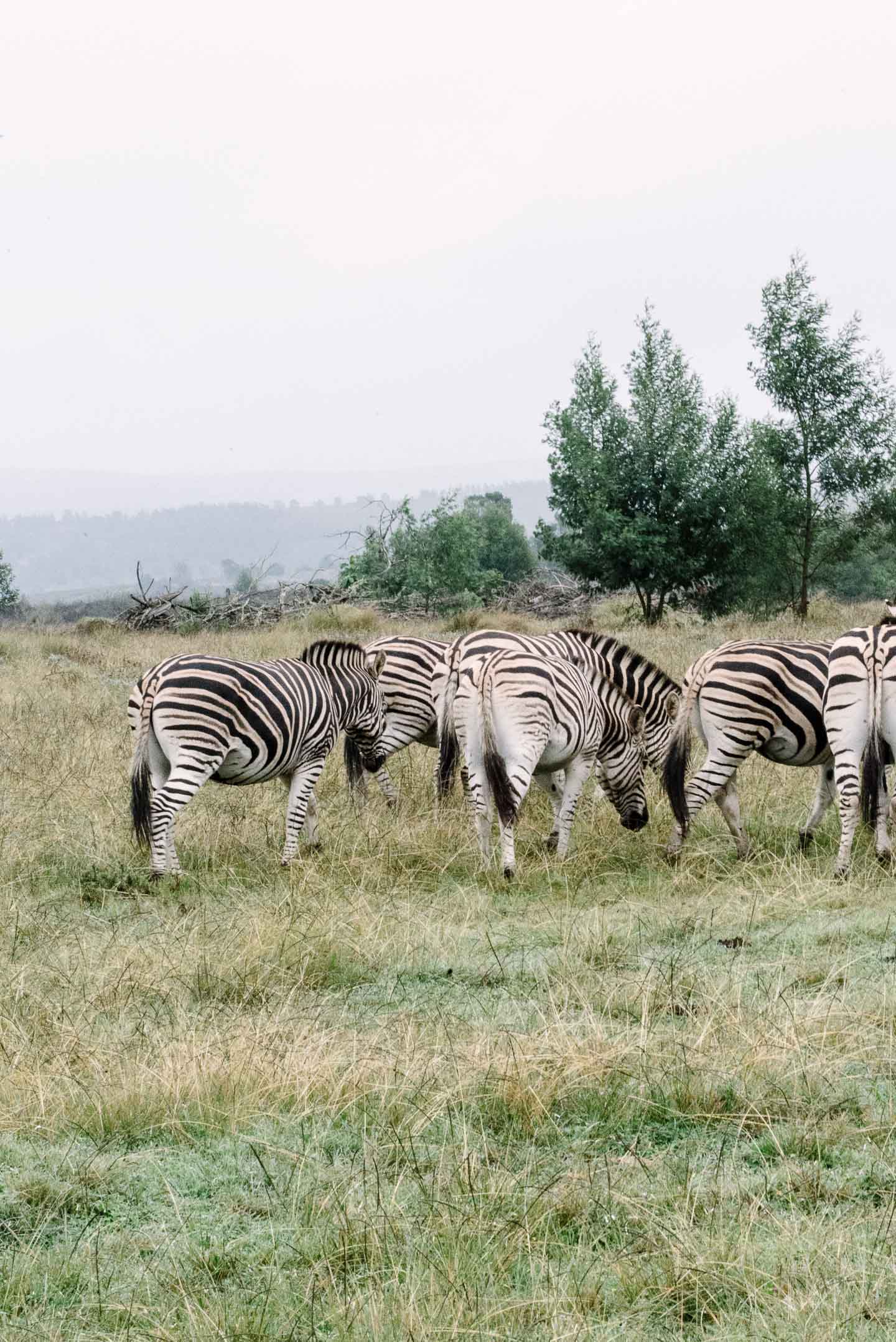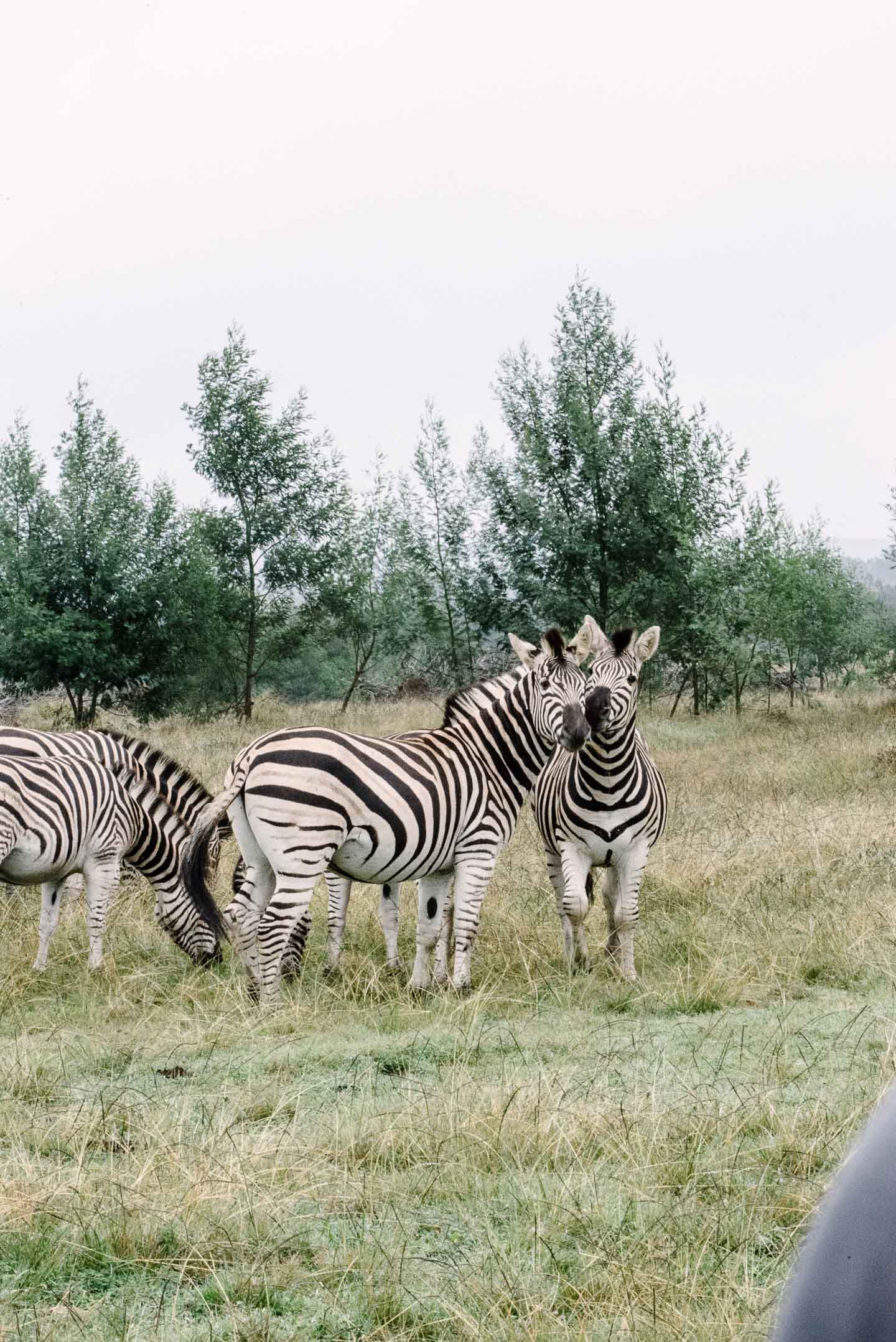 Zebras are such beautiful creatures – their stripes look like they have been painted by a meticulous artist.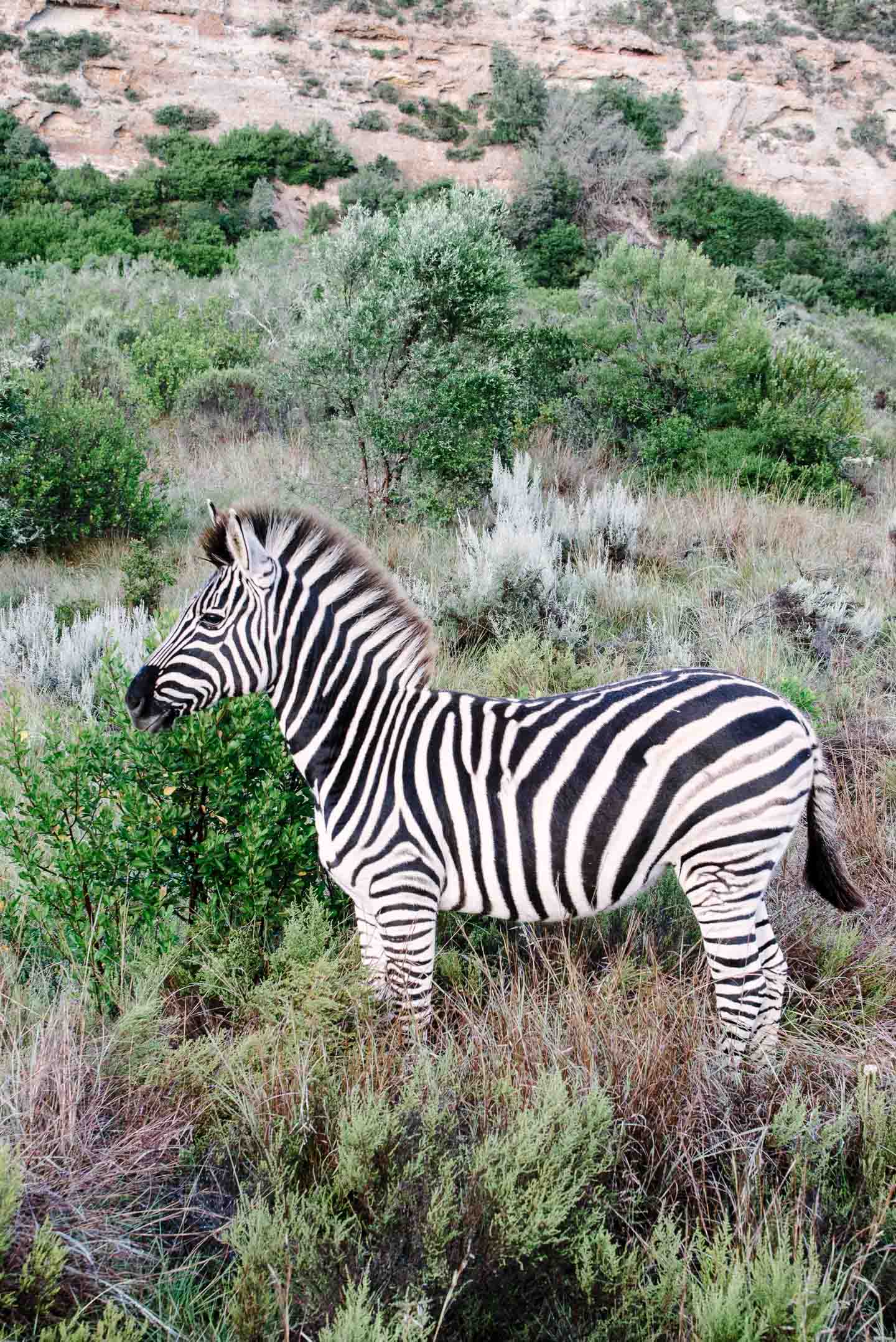 No matter what animal we were observing, Melanie was always careful to keep the car at an appropriate distance so that the animals didn't get stressed by our presence.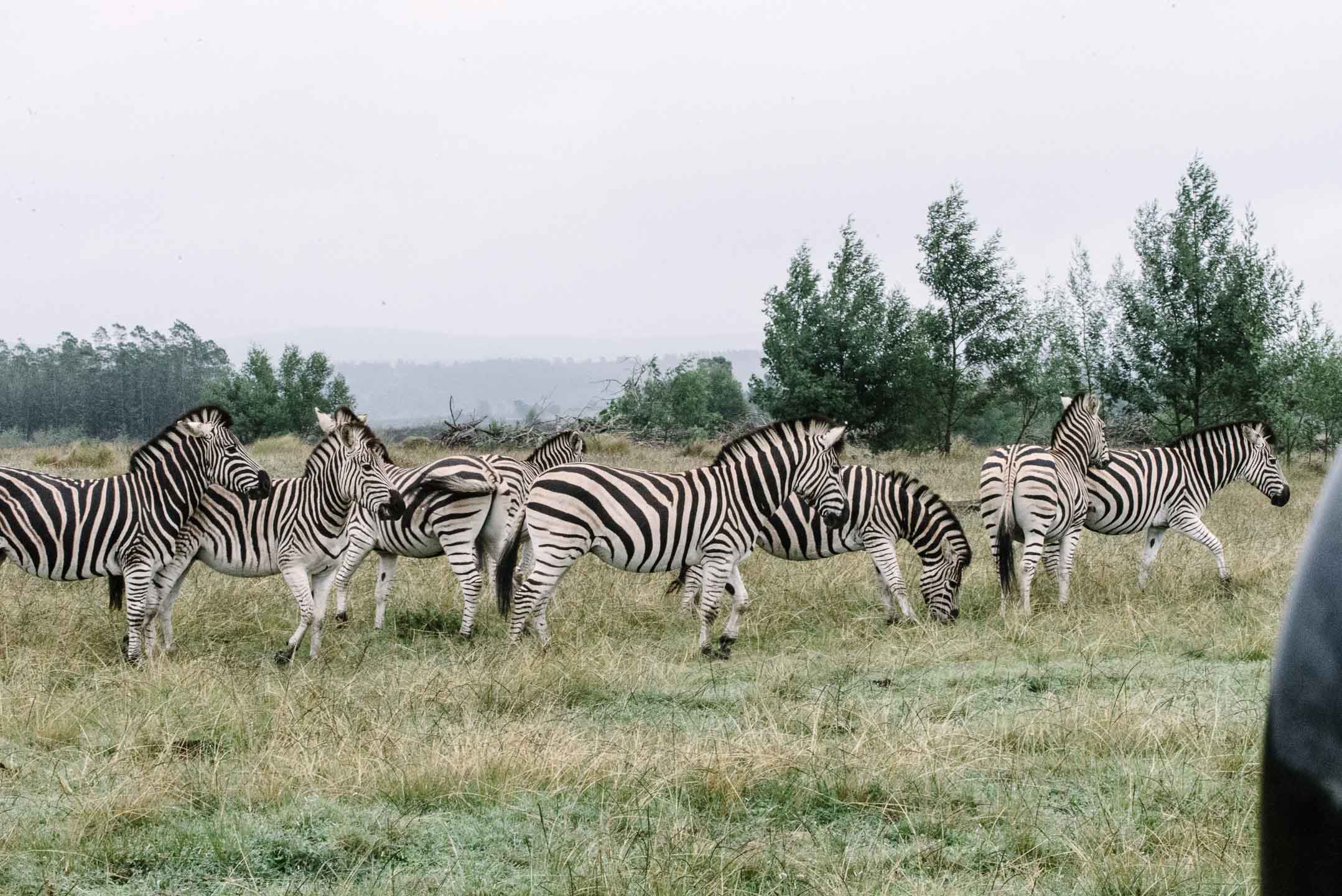 Watching these lovely creatures feed, cavort and kick was such a treat.
One gloomy morning, we went in search of the giraffes. Melanie had heard reports that they'd been spotted in one part of the reserve so we heaedd deep into the reserve, driving up and down lush green valleys and along ravines until we came to a steep hill.
Here, Melanie shifted the car down a gear or two and we powered up the scrub covered hill. As the sun peeked through the clouds we reached the top of the hill and in the distance we finally spotted the giraffes. Seeing these incredible creatures in this stunning setting is a magical moment I'll never forget.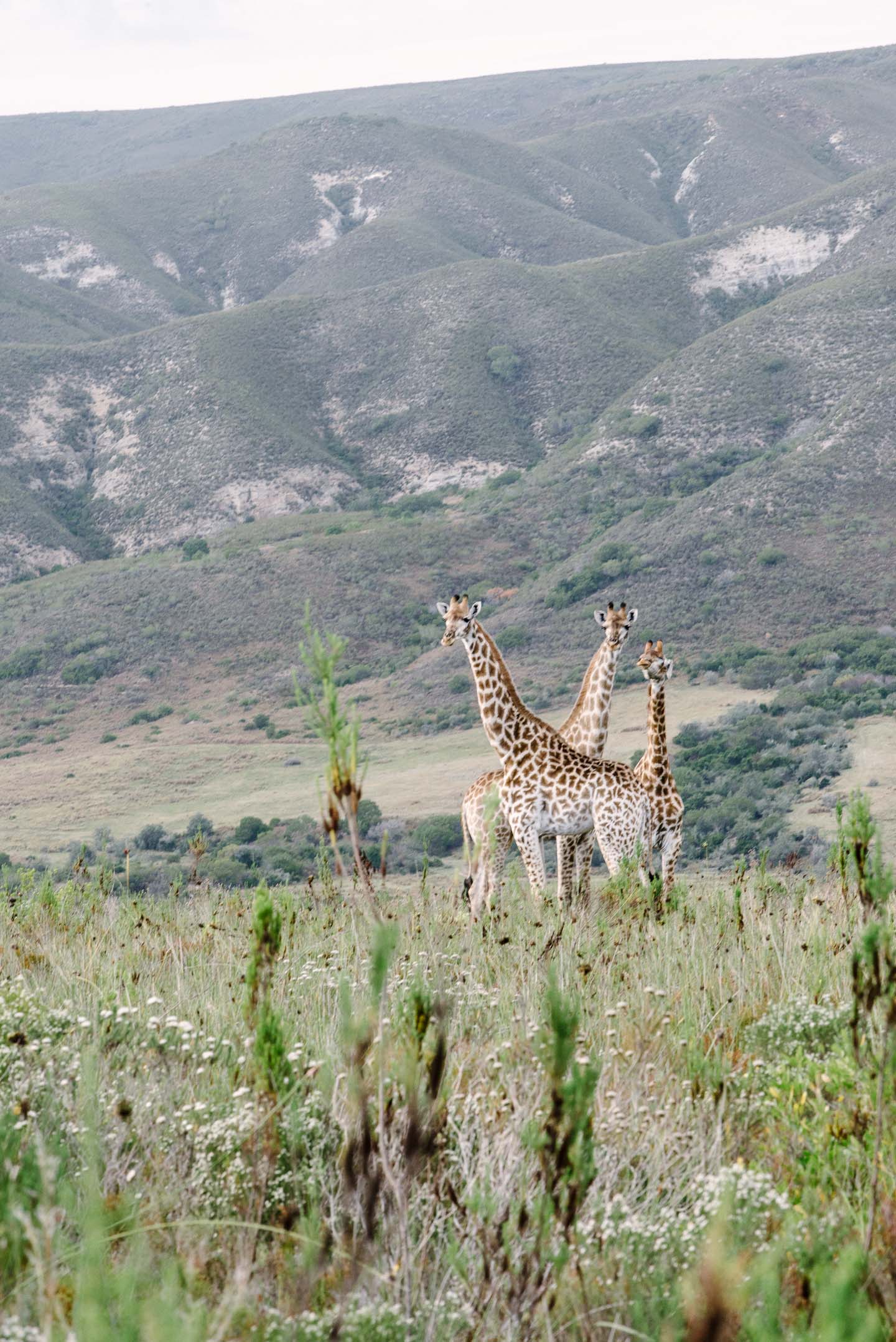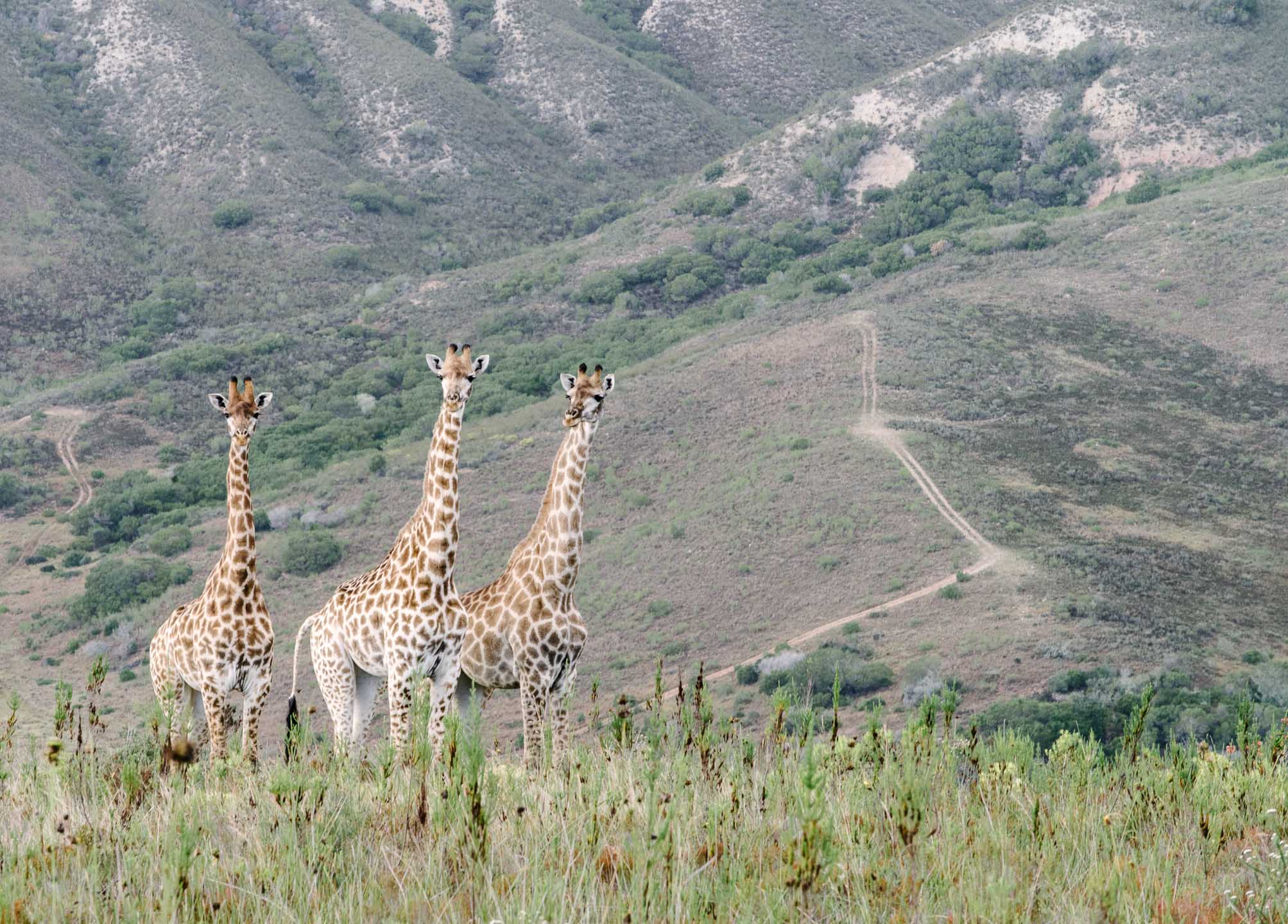 On the last day of our visit we headed out in the morning as usual for our dawn game drive. It was dark and cold so I wrapped the blankets around me more securely and thought fondly of the hot breakfast I'd enjoy after our drive.
We'd driven for only 10 minutes or so when Melanie suddenly stopped the car.
"Can you see that?" she asked, shining the portable spotlight onto the long grass on our right.
I could see nothing except blackness. Until… there. I saw it.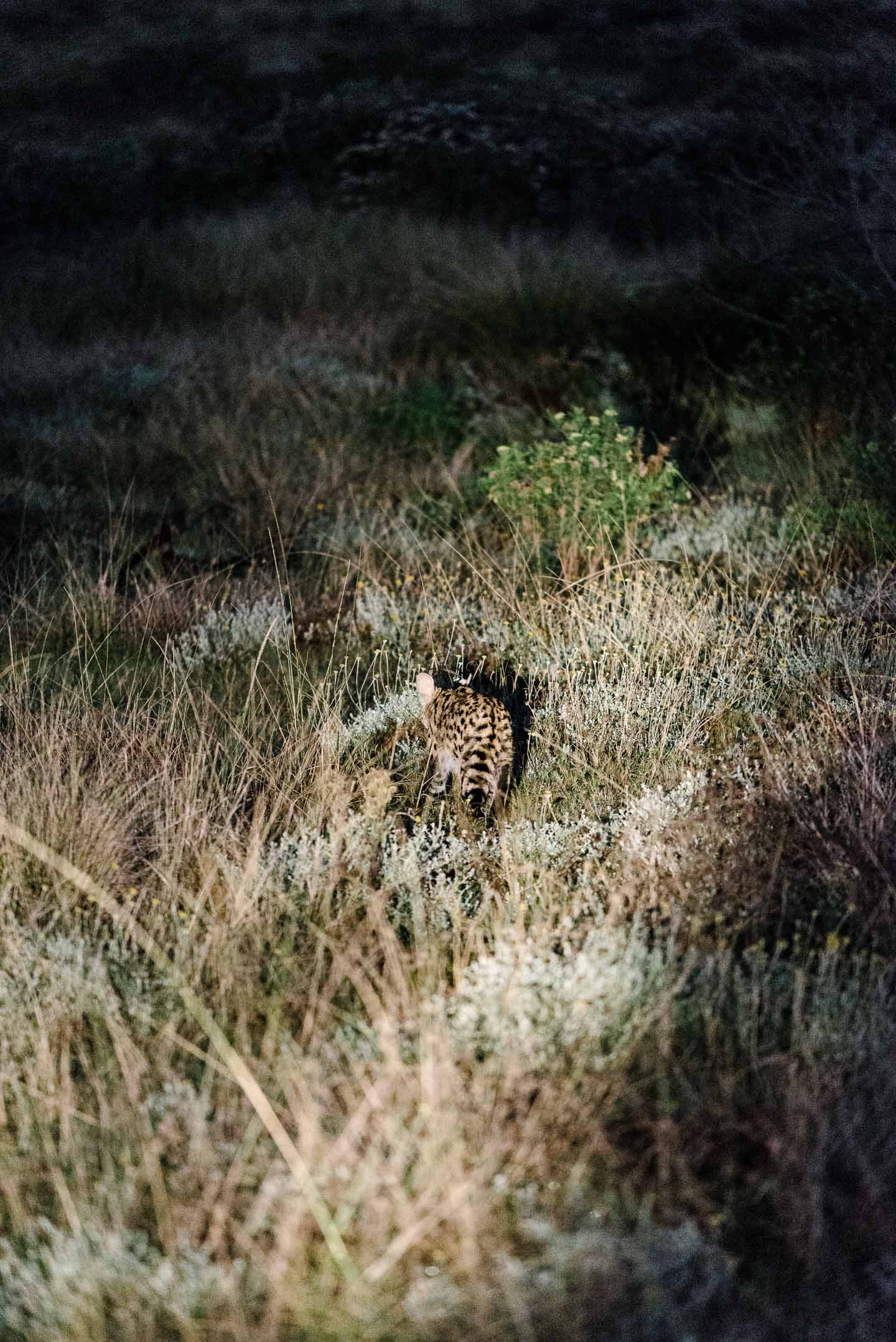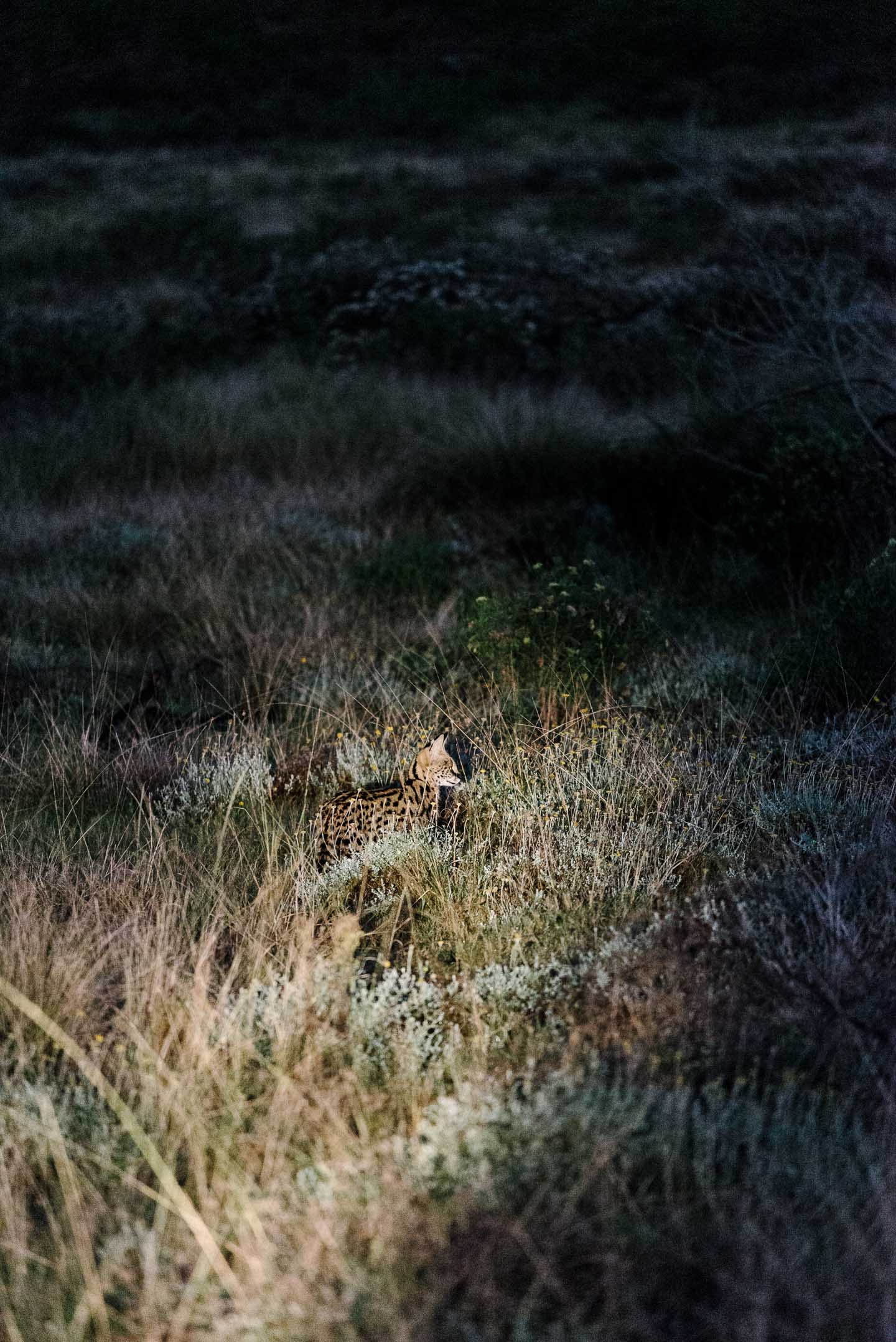 Picking its way carefully through the grass was a Serval Cat. It was slightly larger than a domestic cat with delicate features, long ears and a spotted pelt. Melanie was careful to shine the light at the grass near the cat's feet – shining it directly into the cat's eyes would momentarily blind it and leave it vulnerable. It looked at us without fear for a few seconds before disappearing back into the grass.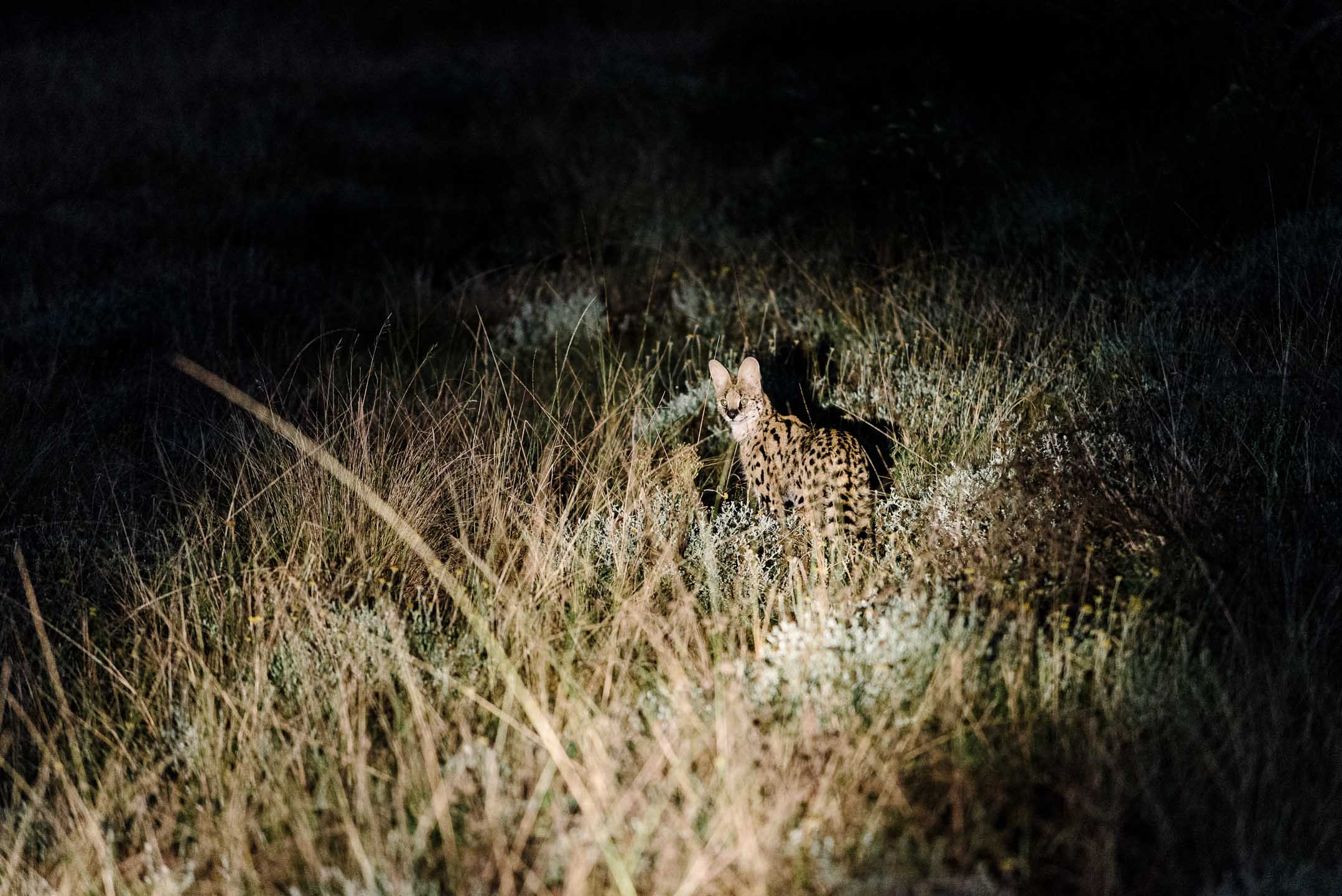 It was a lovely — if fleeting — moment.
While the animals and birds in the reserve were used to cars, we were careful never to leave the vehicle unless it was a scheduled stop as the animals in the reserve move freely around and feed as they would in the wild.
One morning we came across the sobering sight of a freshly killed antelope, proof that lions had recently passed this way.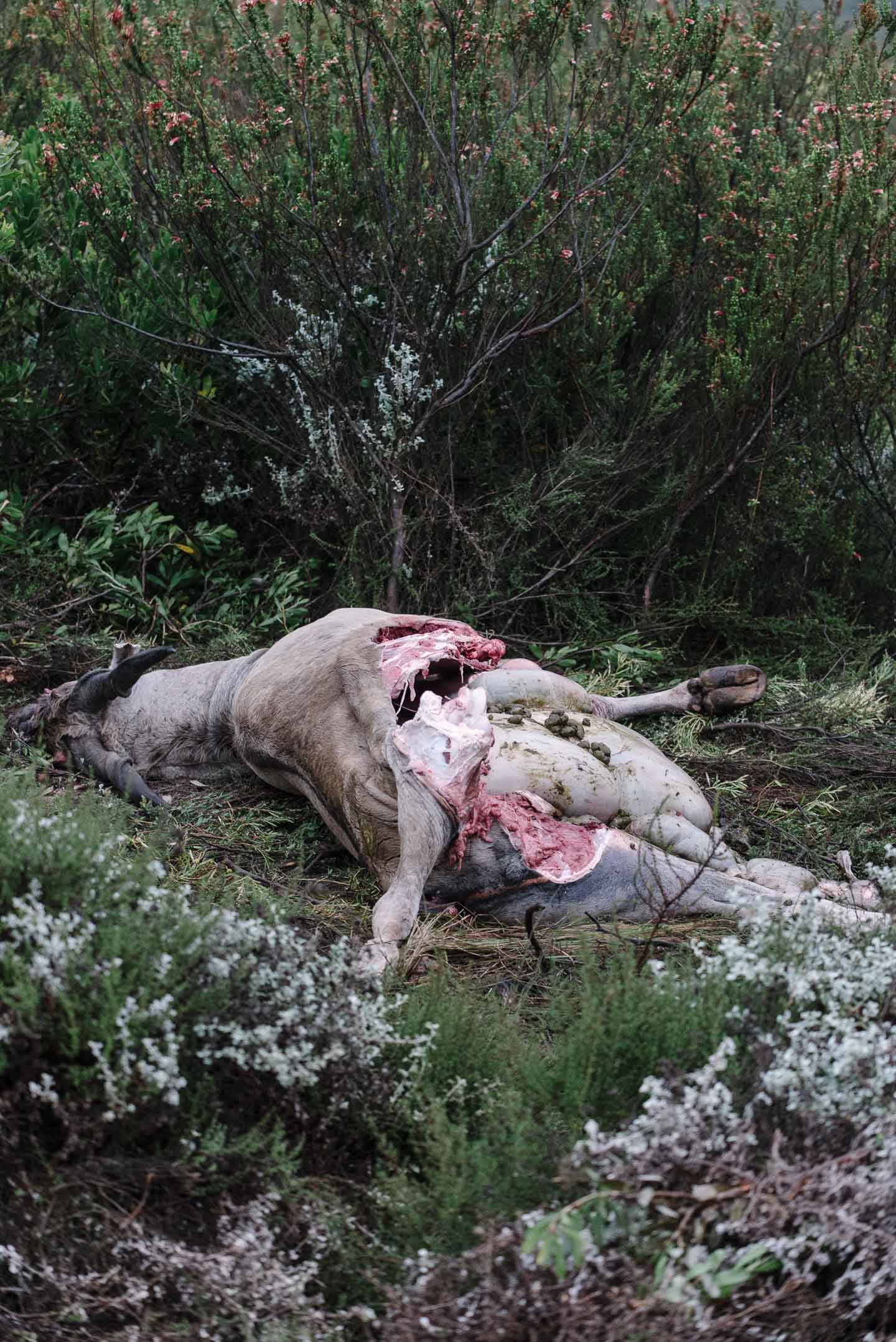 This is life — and death — in a game reserve. Incidentally, we never did find the lions, or the elephants for that matter, but I didn't mind. It's a great excuse for a return trip.
The Lodge and Bar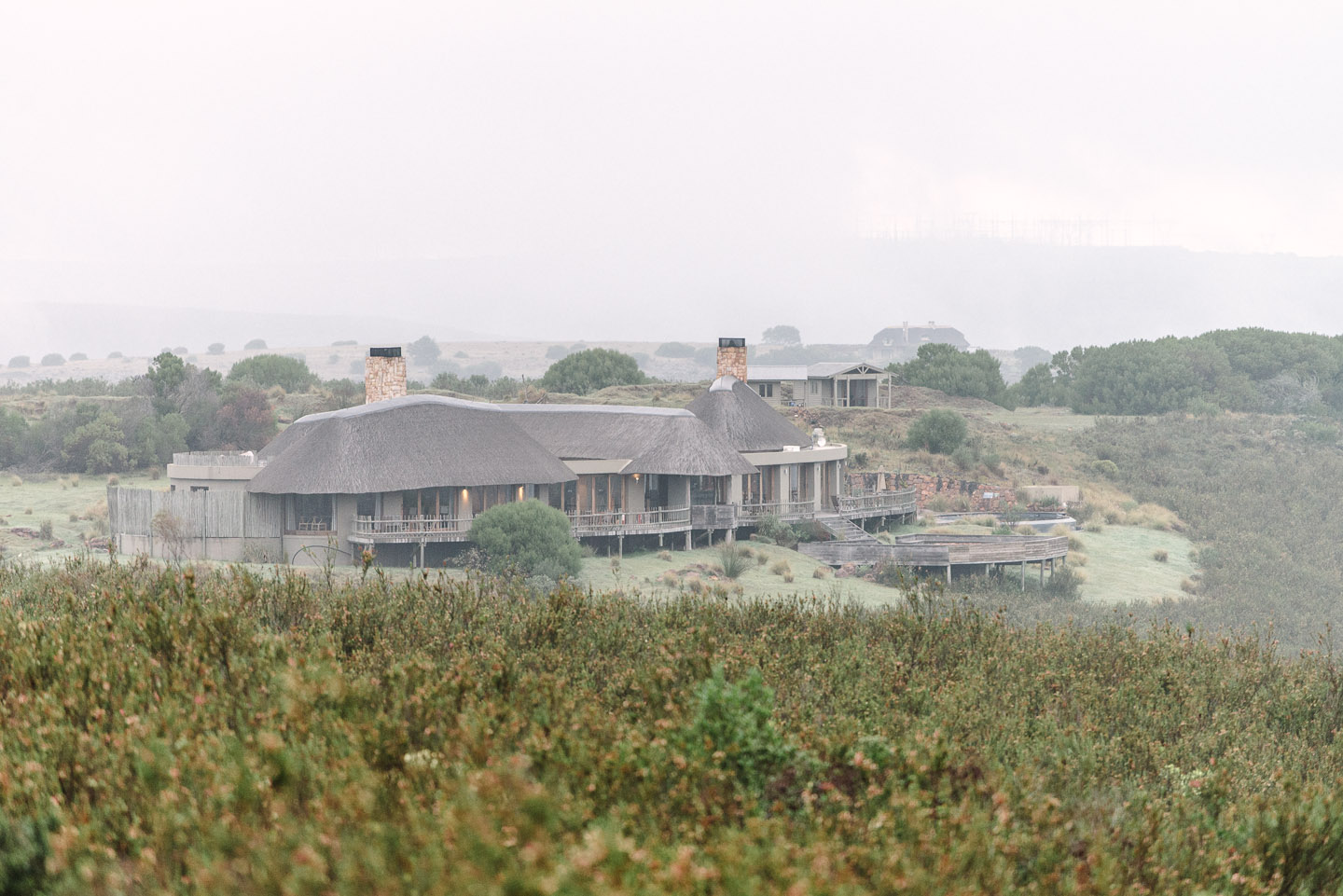 While we weren't on safari, we were usually hanging out at Gondwana's Lodge and Bar. It was raining and misty on the first morning when we drove to the Lodge and it materialised out of the mist like something enchanted.
Inside, rustic luxury awaited.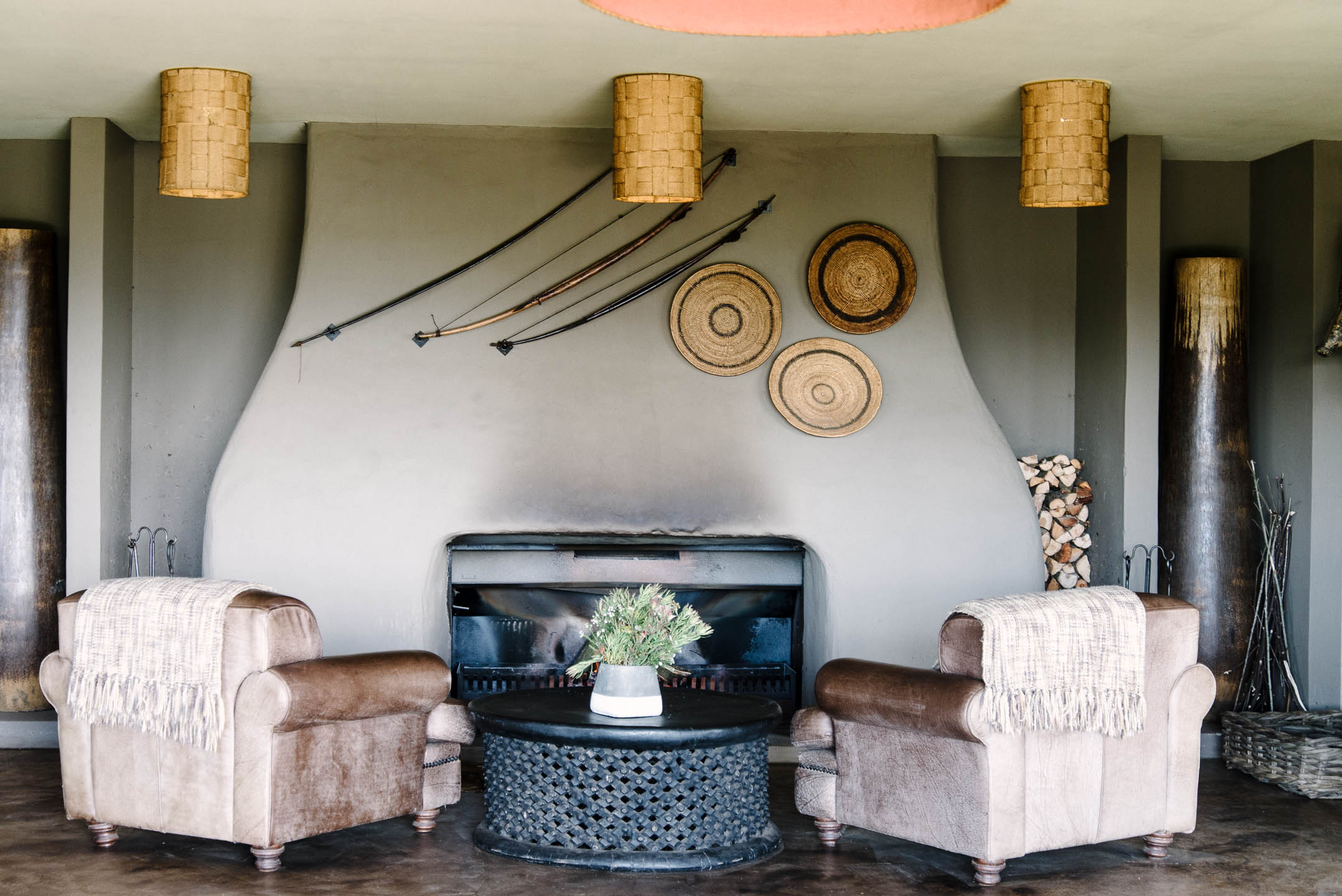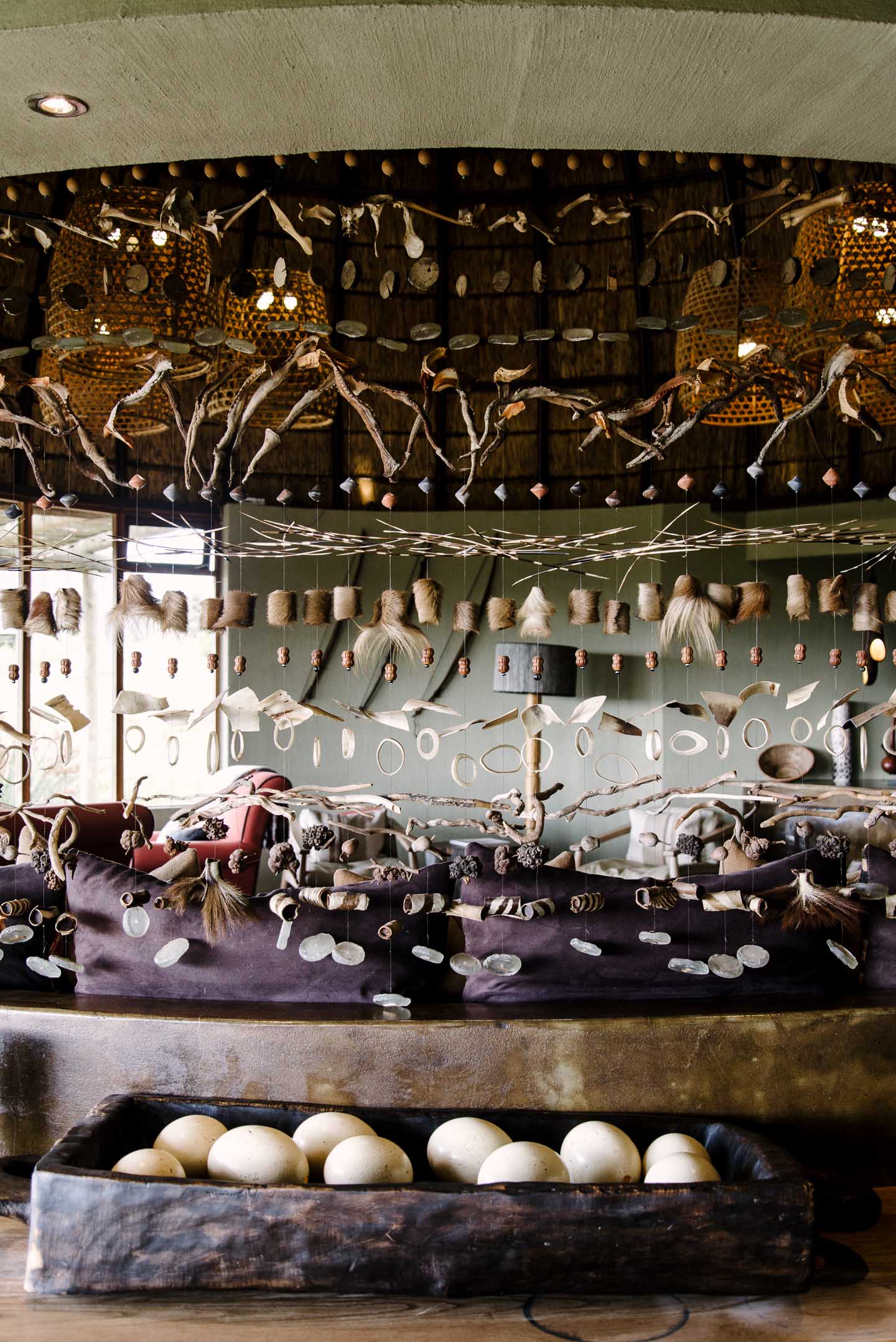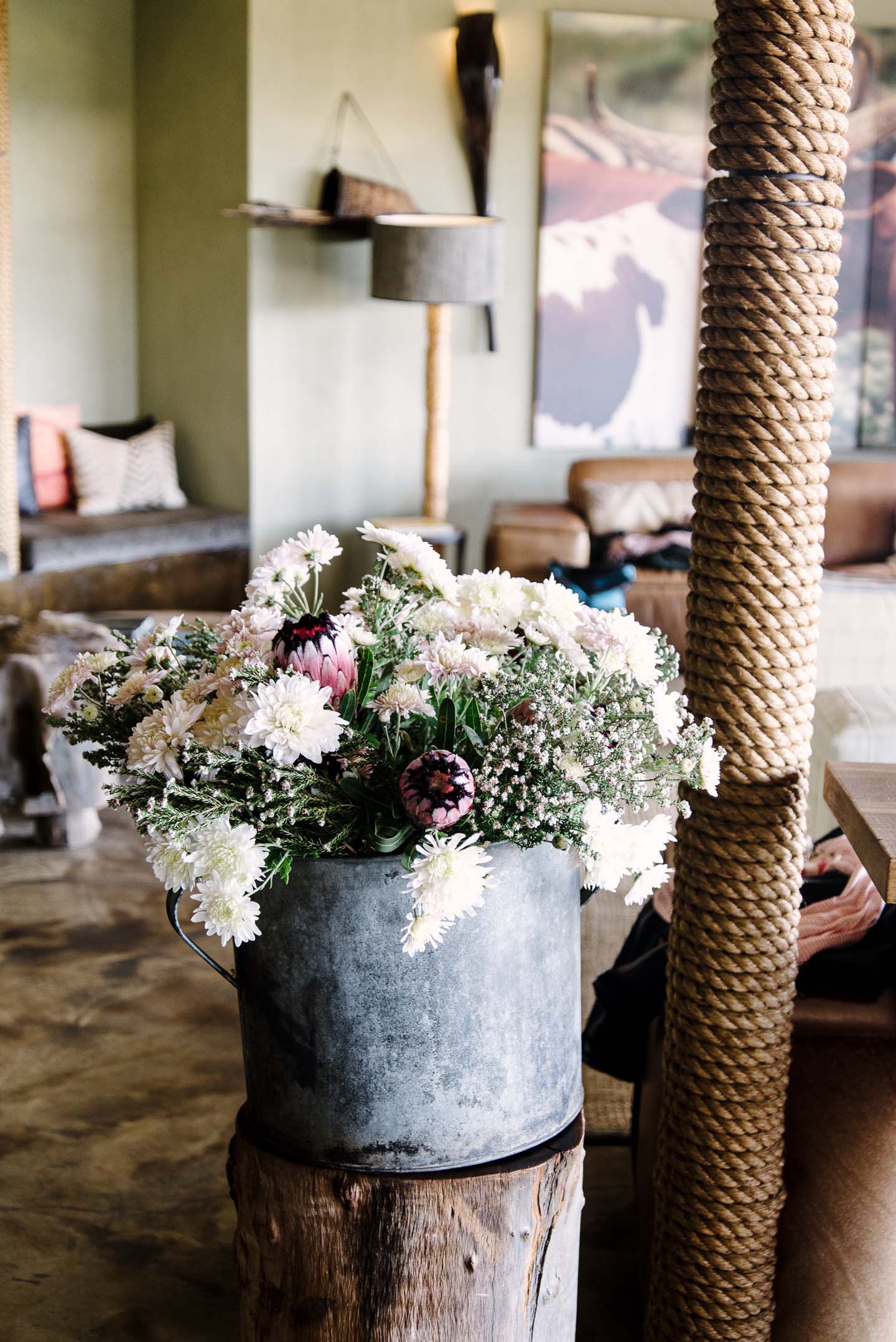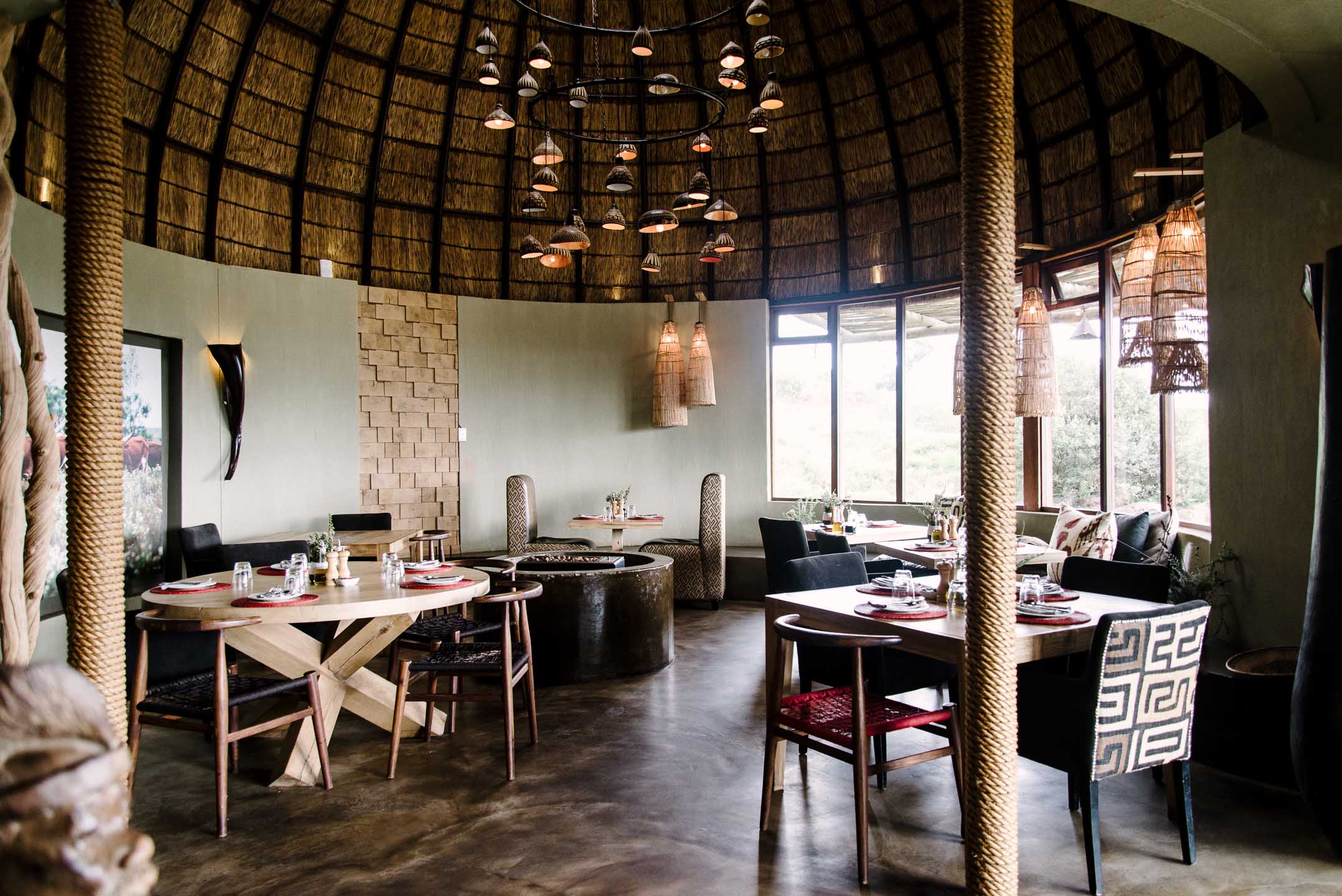 The Lodge was our central hang out zone: it was where we ate our meals, relaxed by the fire and worked on our laptops. Incidentally, the Lodge is the only place in Gondwana with wifi. For heavy internet users the absence of wifi in our lodgings was shocking at first but we quickly adjusted and many of us actually enjoyed the limited screen time.
In terms of food, Gondwana offers what it calls Pan-African cuisine, mixing elements from African and European styles of cooking.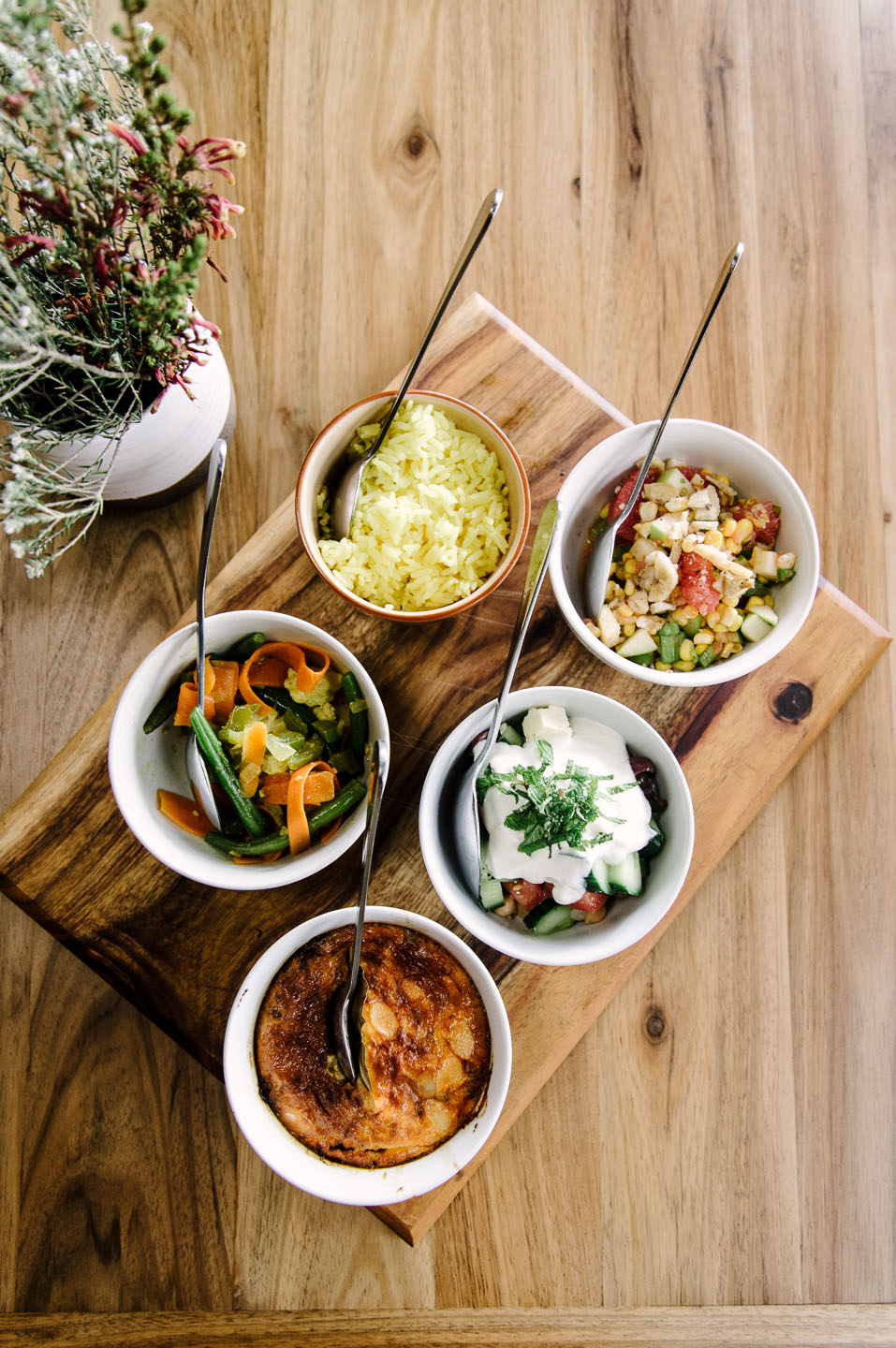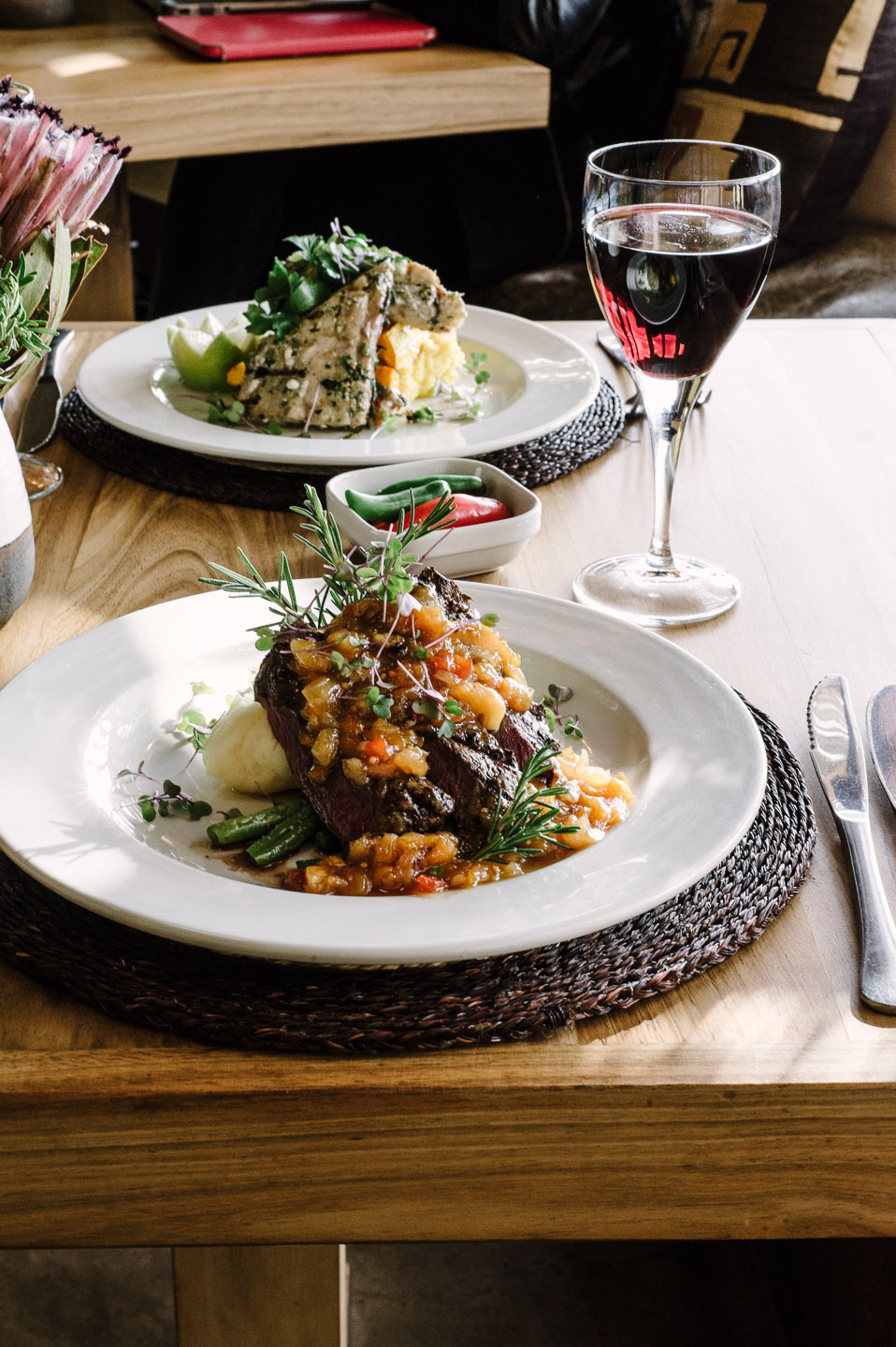 One of my favourite lunches was the beef babotie, curried cauliflower and green bean salad, yellow rice, corn, grapefruit and apple salad and chickpea, cucumber and mint salad seen above on the left.
On our last morning, the sun came out and we were served breakfast outside on the deck. This is how I want to eat breakfast every day.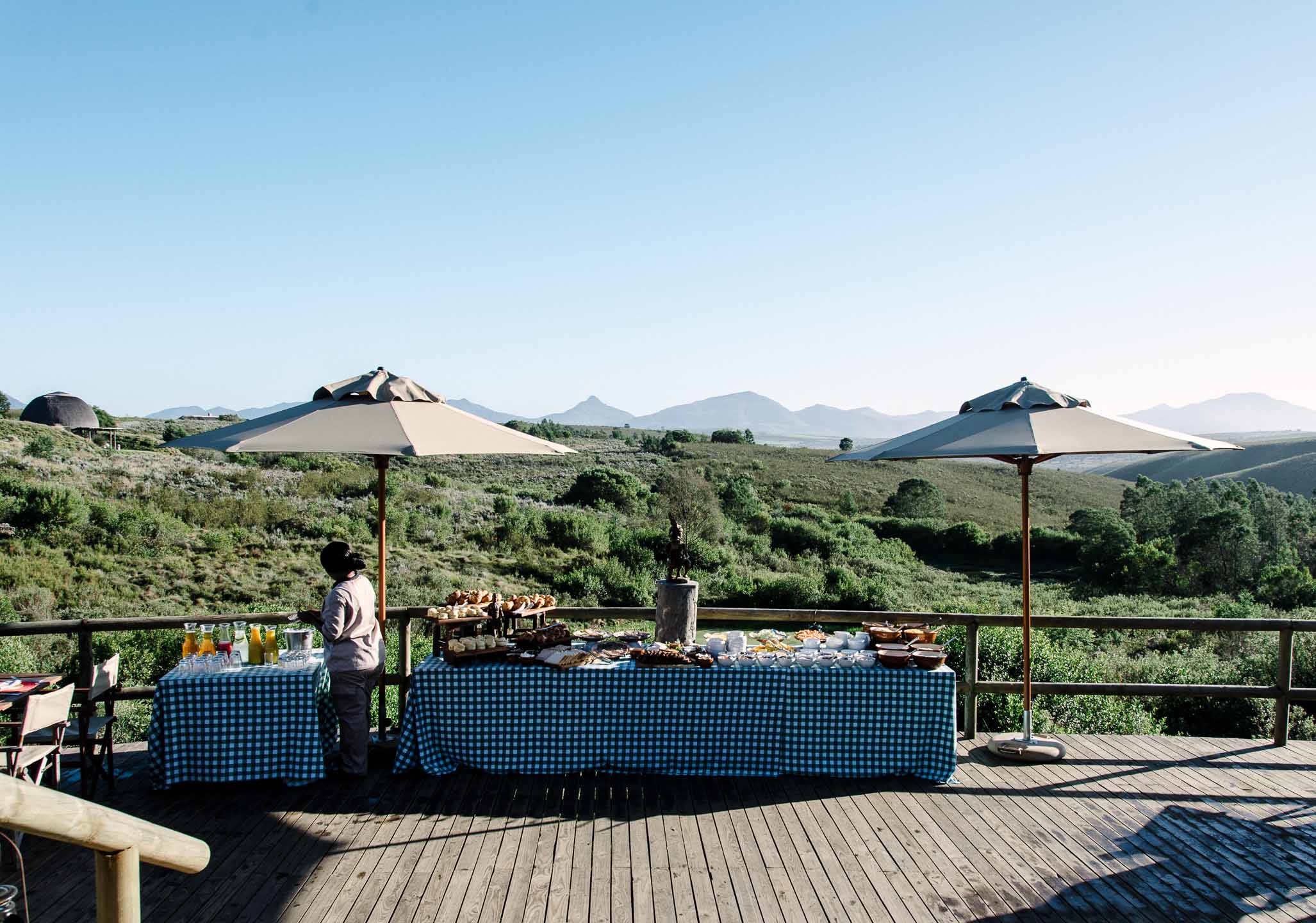 Hut Life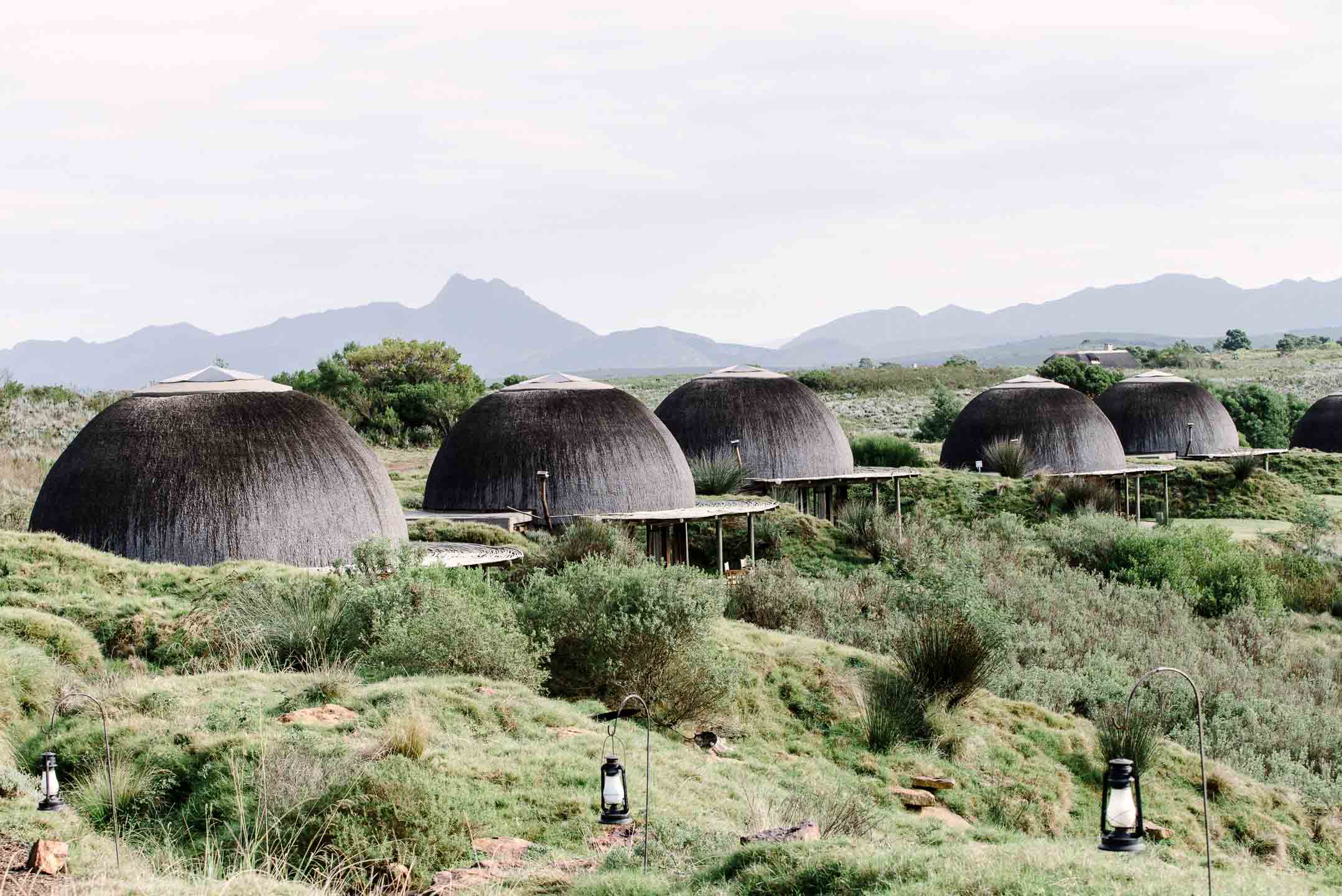 There were a series of adorable huts right next to The Lodge where some of our larger party stayed – see above — but the hut where Gaia, Jason and I stayed was about 20 minutes drive away.
To get there we had to drive across country and pass through two secure gates. However, there were no fences around the hut itself – can you spot the animals hanging around?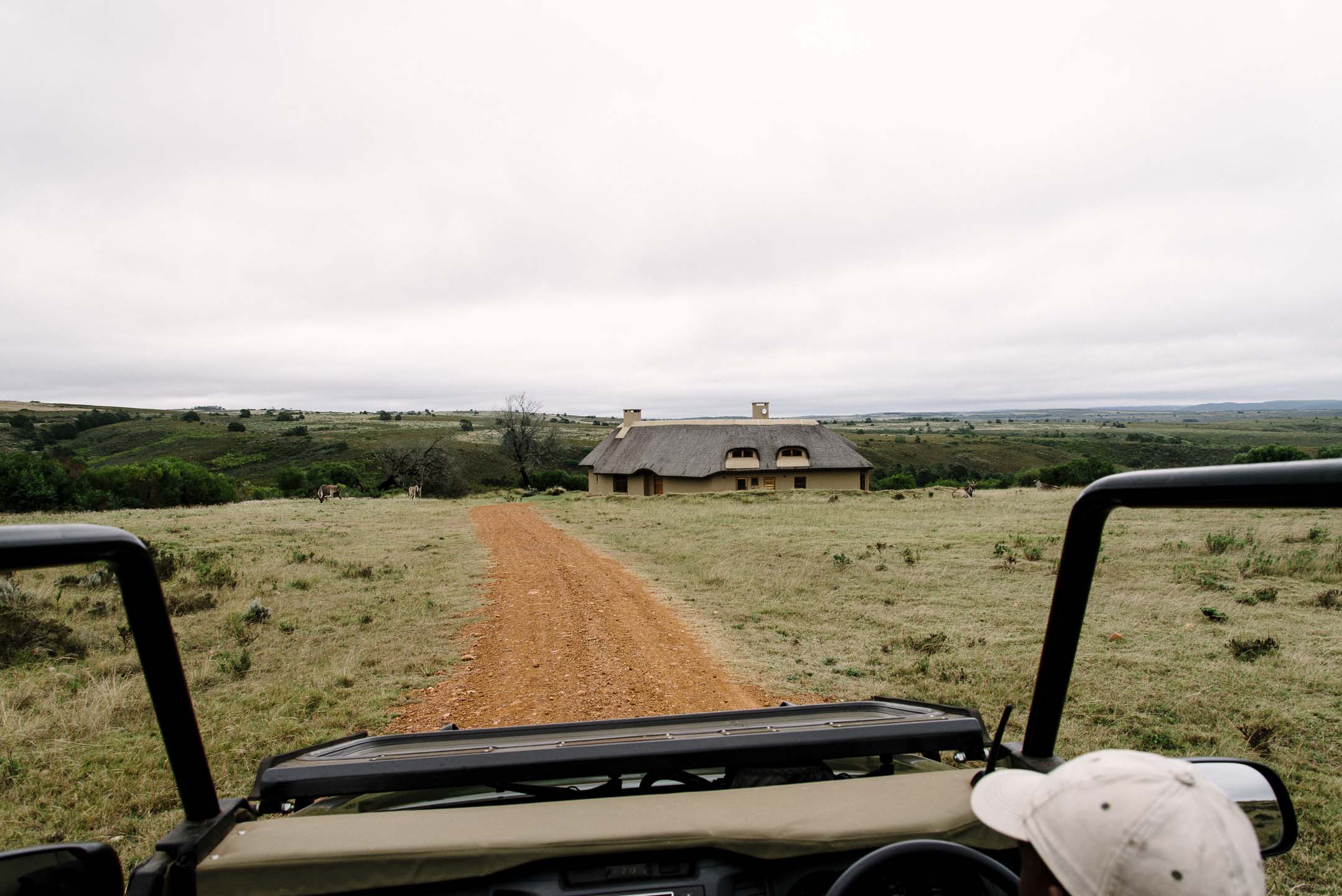 Here's a closer look.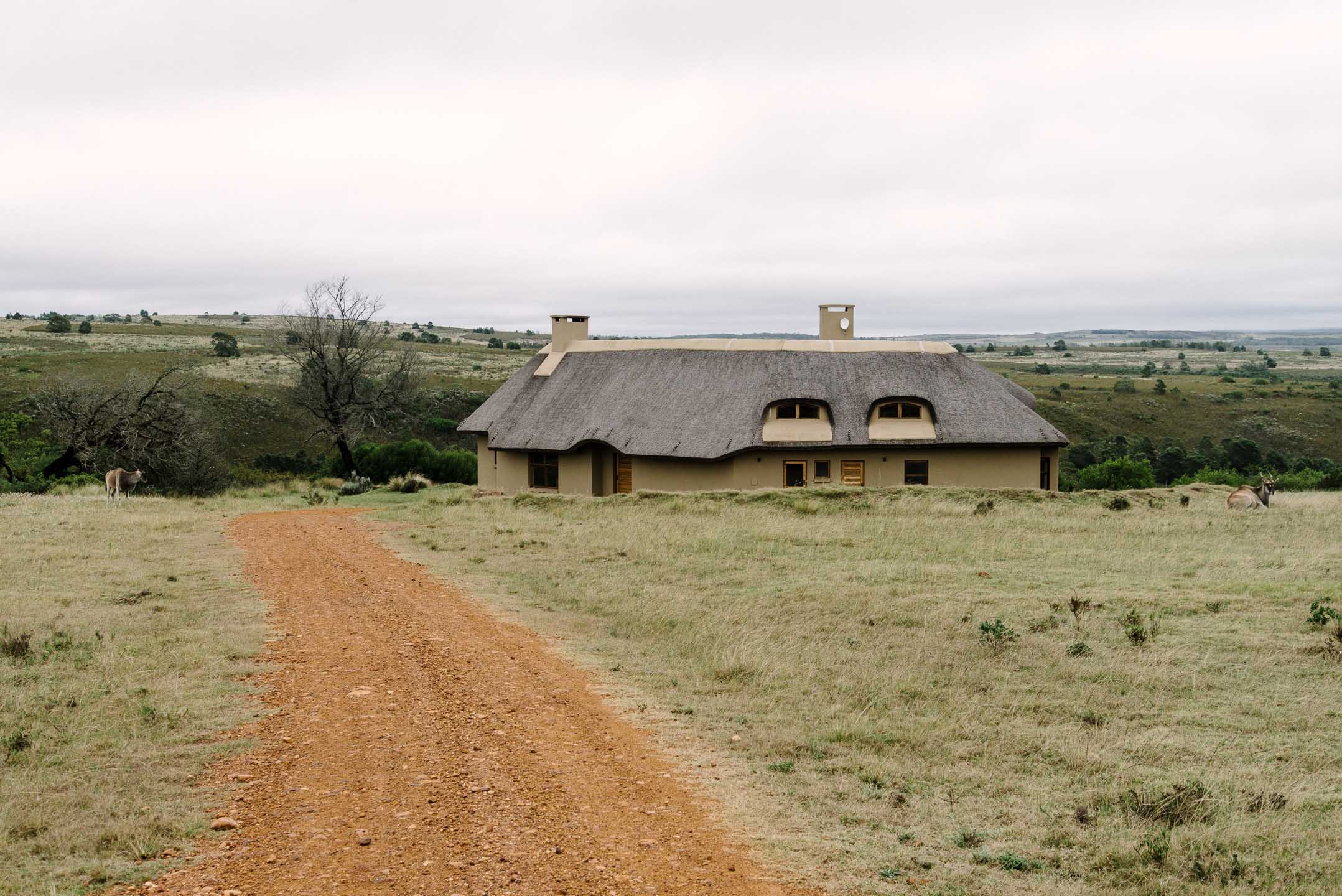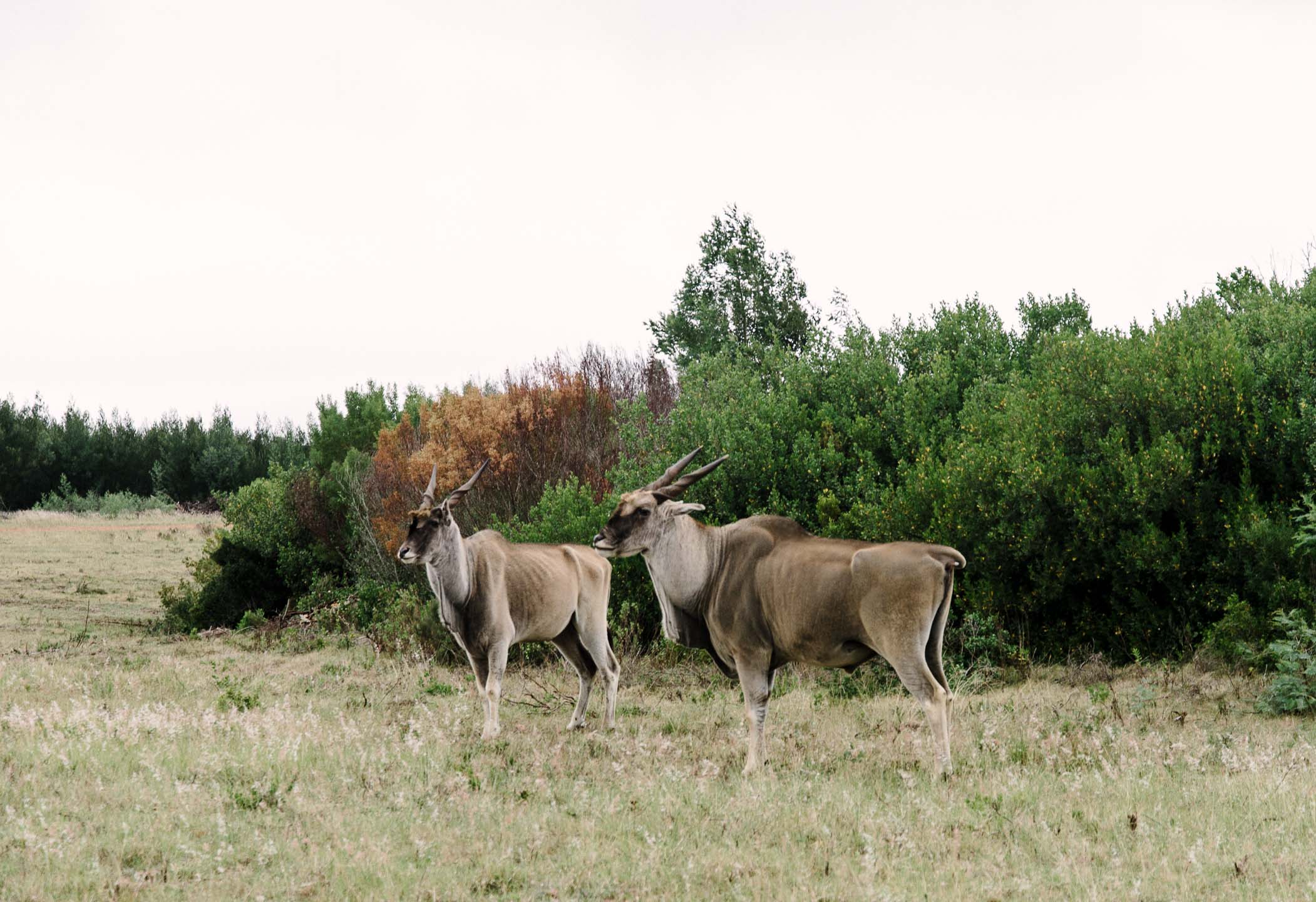 Each day we'd wake up to find antelope and wildebeest grazing around our hut. I felt like one of my childhood storybooks had come to life.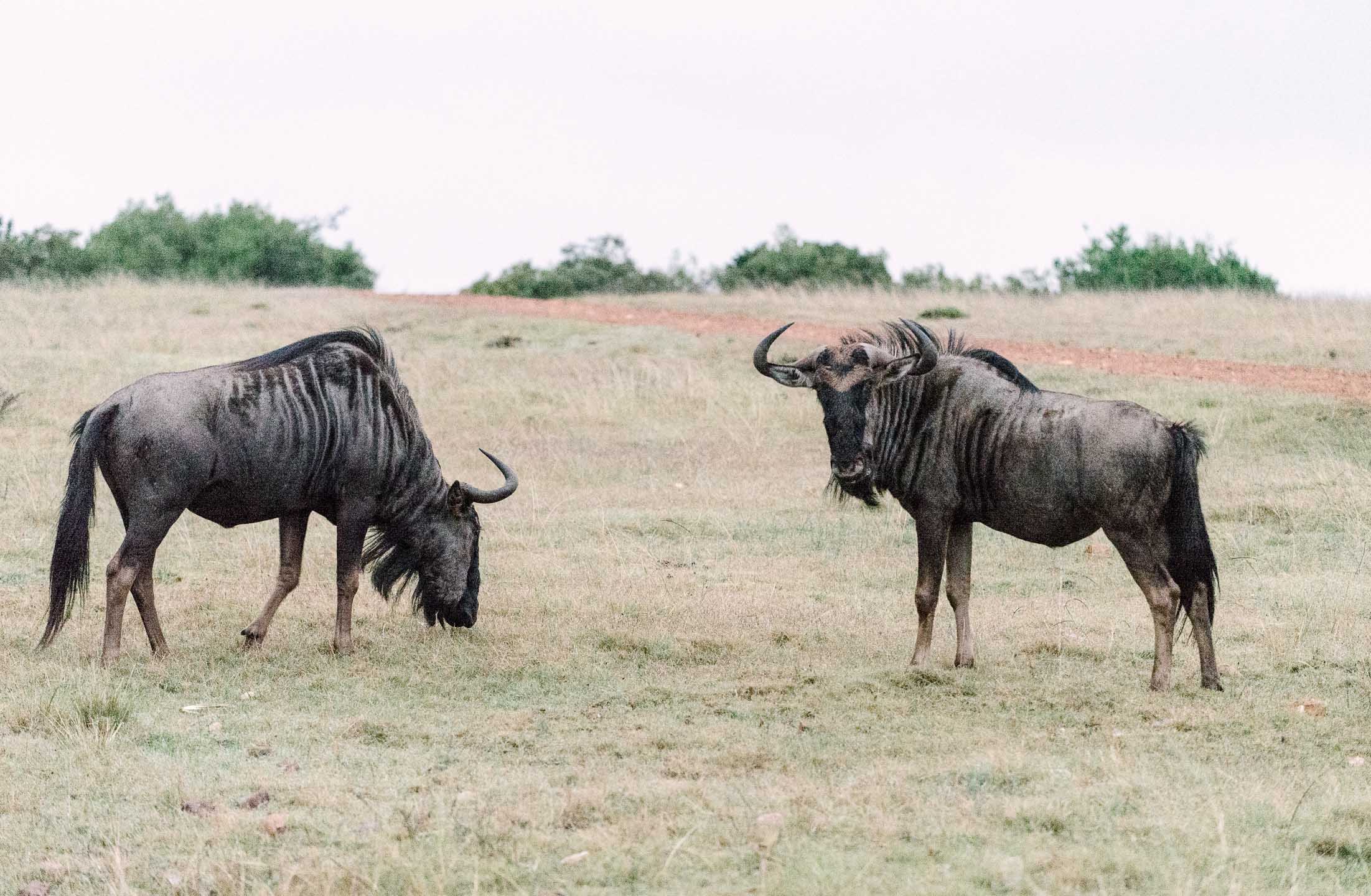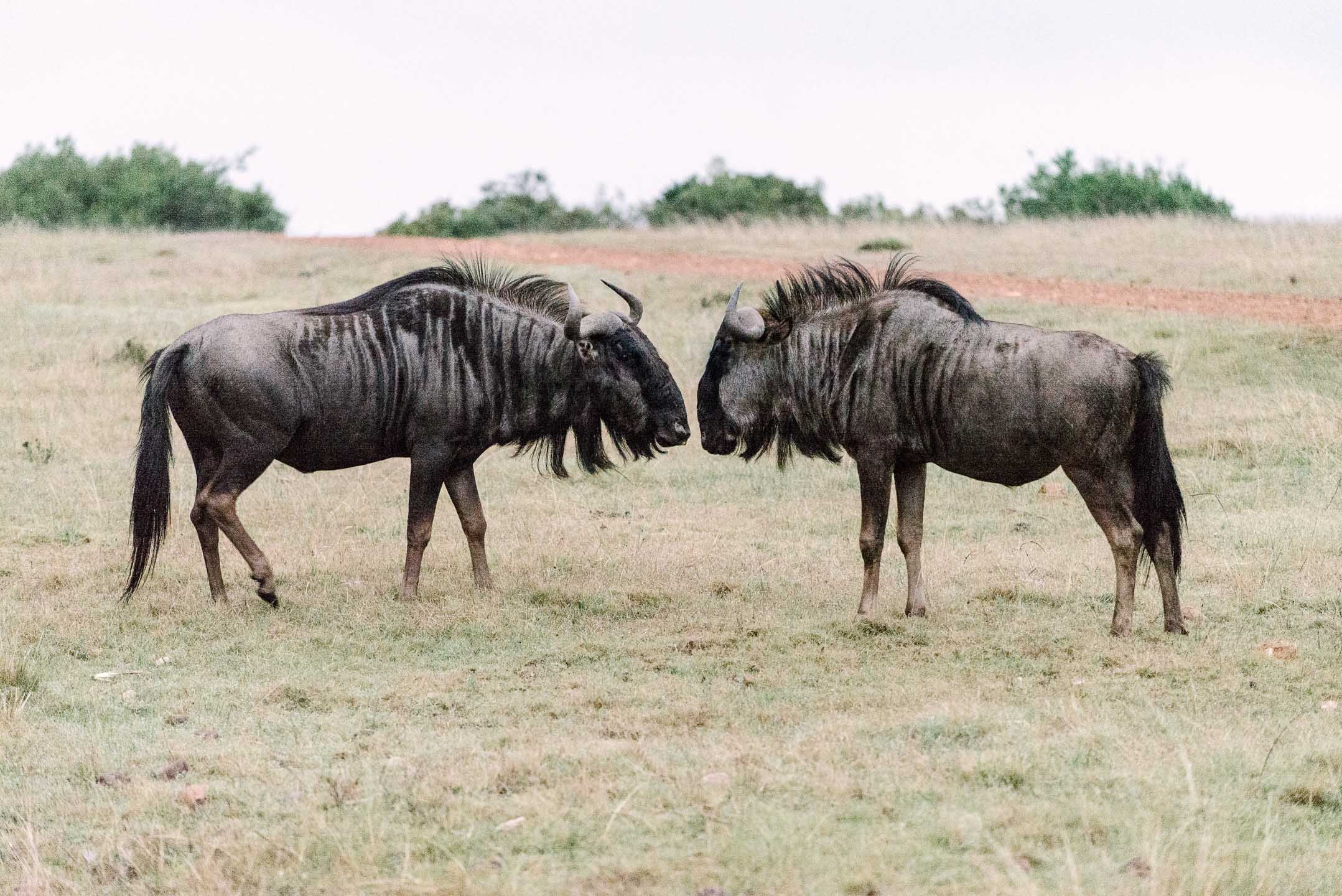 Inside, out hut was fitted out simply but luxuriously with an open fire, huge leather couches, plenty of books and magazines, a kitchen and three gorgeous double bedrooms with ensuites.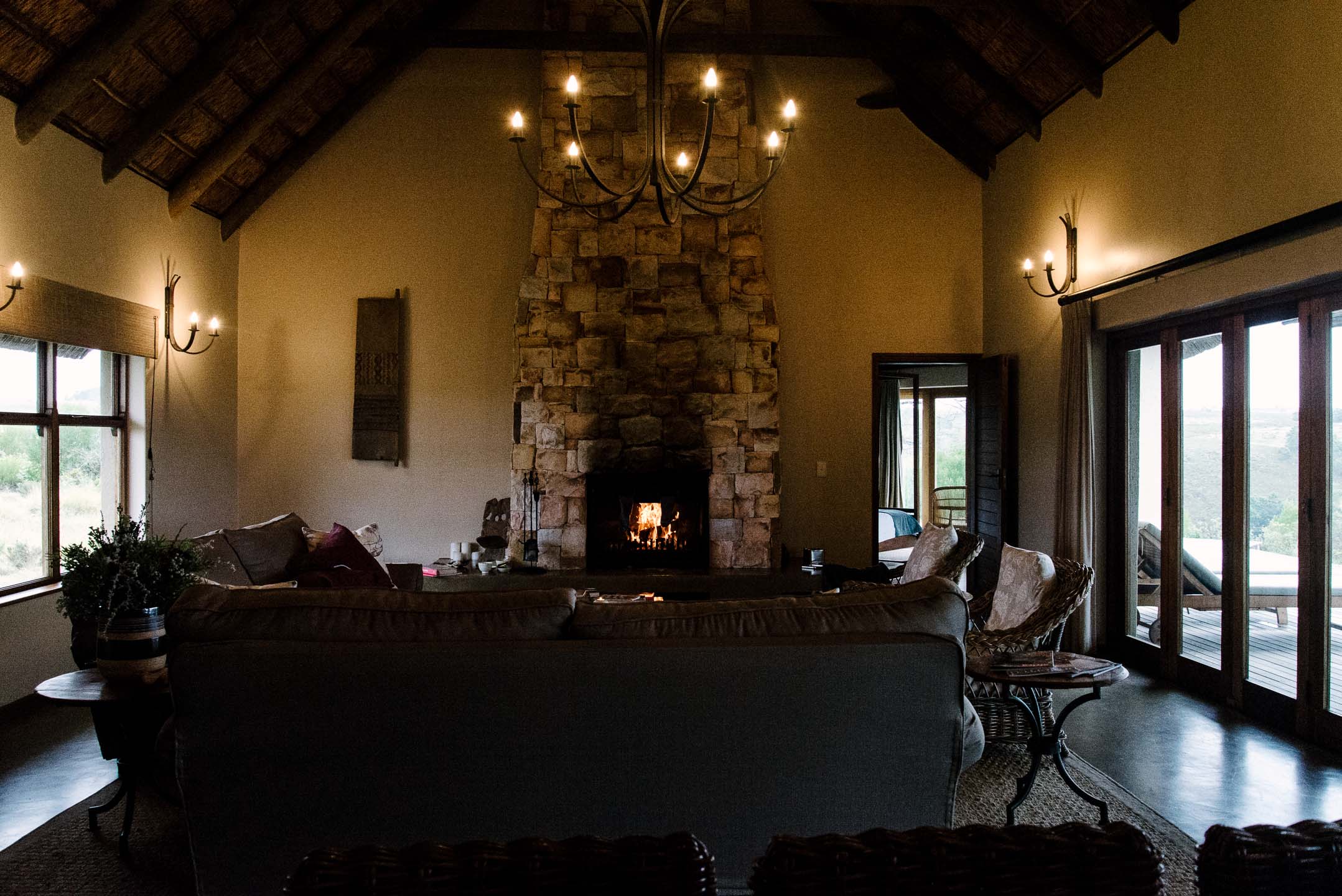 Before and after dinner, we'd sit around the fire and read magazines, drink Rooiboos tea, and eat rusk biscuits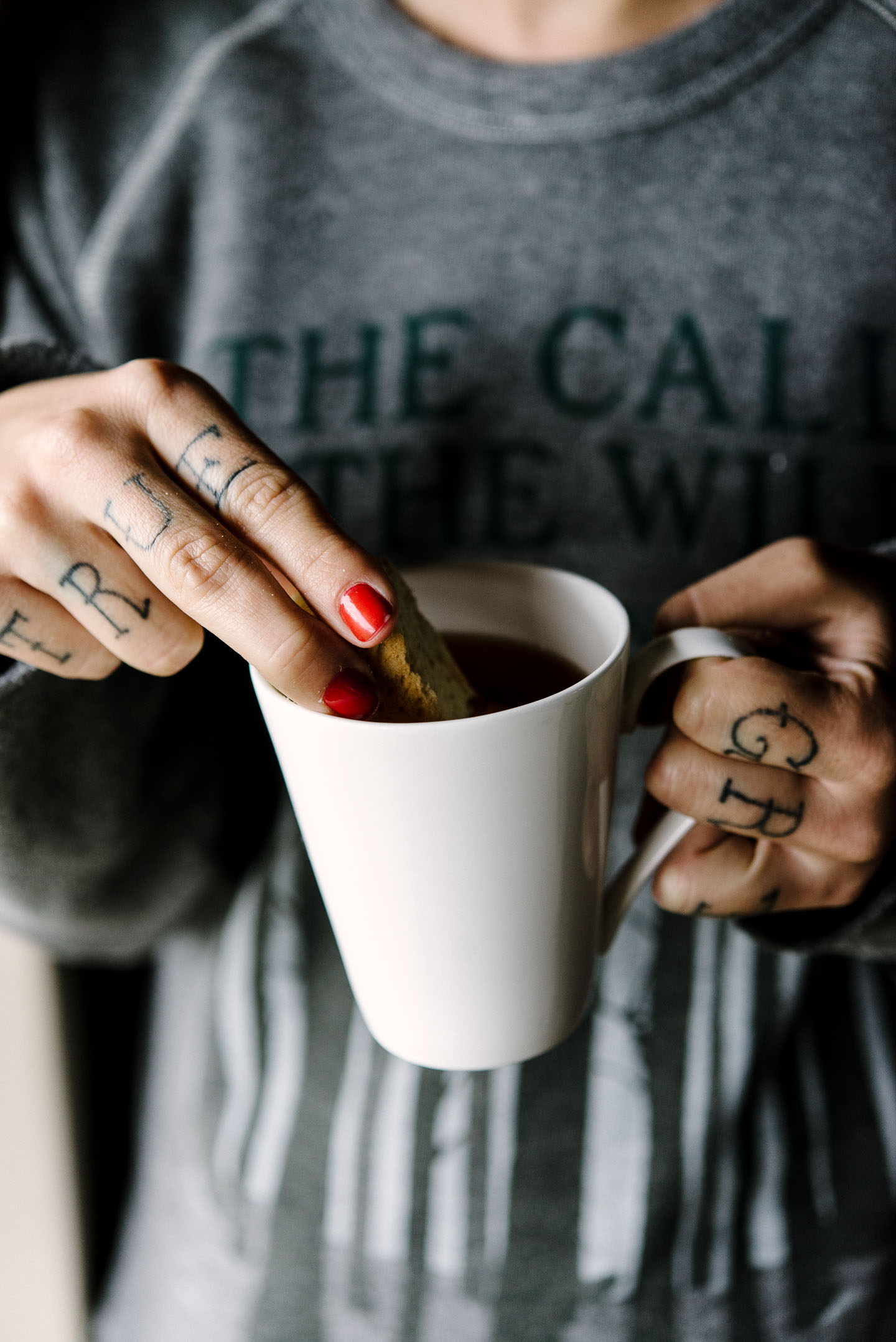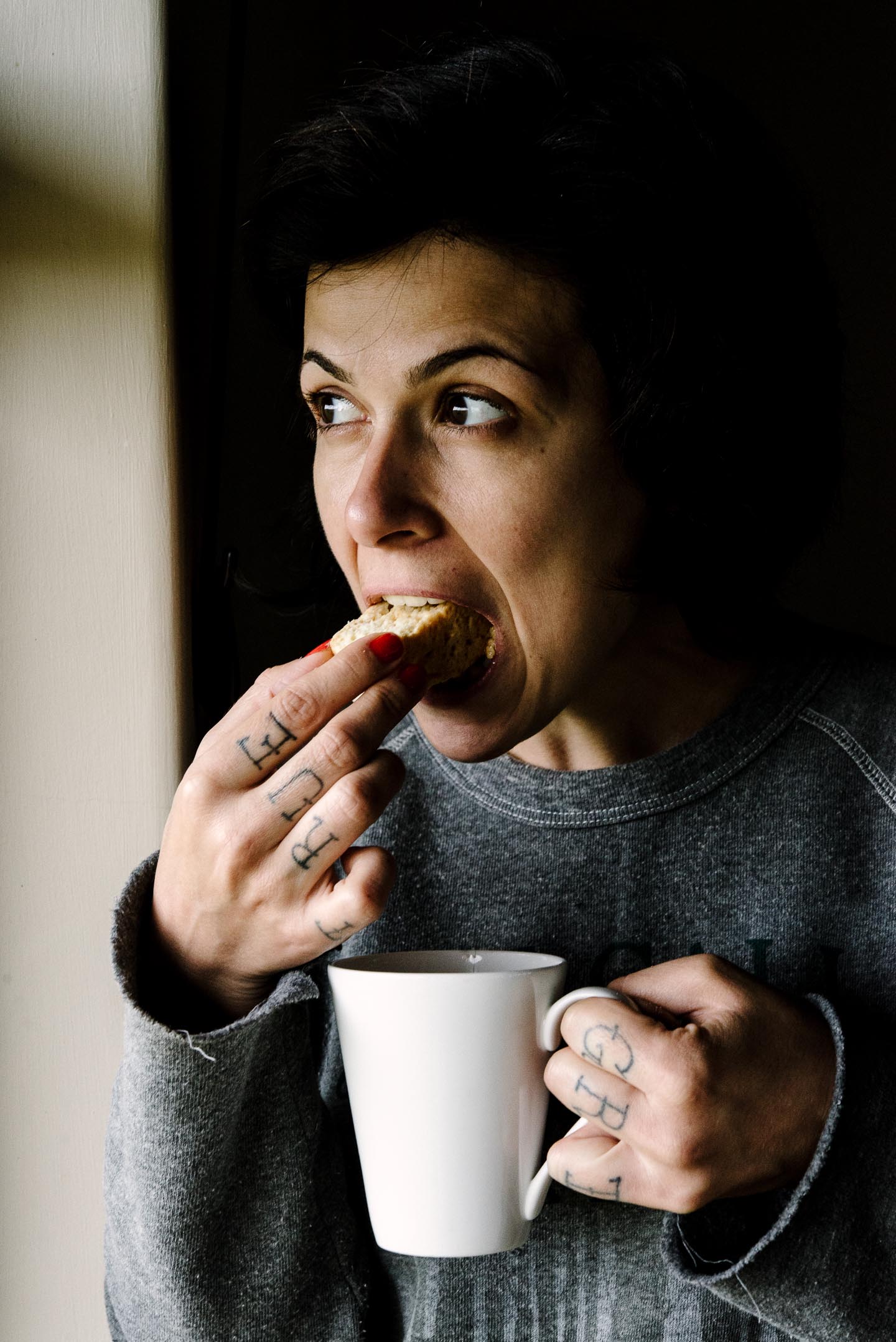 All in all, it was a memorable visit. So would I visit a game reserve in South Africa again? Yes, in a heartbeat, and I'd take my family with me next time, too.
Tips for doing a safari
Dress appropriately for the weather and wear comfortable walking shoes. For the pre-dawn safaris I wore multiple layers under a light but extremely warm, full-length, waterproof down parka, gloves, a scarf, thick socks and walking boots.
Wear 50+ SPF sunscreen, a suitable hat and sunglasses.
If you're a keen photographer, you'll want to carry two camera bodies with two different lens: a wide angle lens to capture as much of the landscape as possible and a telephoto zoom lens to capture close ups of the animals and interesting flora. If you only have one camera body you can change lenses as I did but you risk getting grit in your camera body and you'll definitely miss some shots, too. I used my Nikon d600 with the Nikon 70-200 and the Nikon 16-35mm lenses but I'd definitely bring a second DSLR body next time.
More information
Learn more about Gondwana Game Reserve.
Accommodation: learn about accommodation options including full board and half board packages.
Families: children are welcome at Gondwana with children under six staying free when accompanied by two paying adults.
Getting there: I flew from Adelaide-Perth-Johannesburg with South African Airlines as our trip began in Johannesburg.  We were transferred from Cape Town to Gondwana by private car (a 4-hour drive).
Disclosure: I travelled to and around South Africa as a guest of South African Tourism. As always, all opinions are my own.