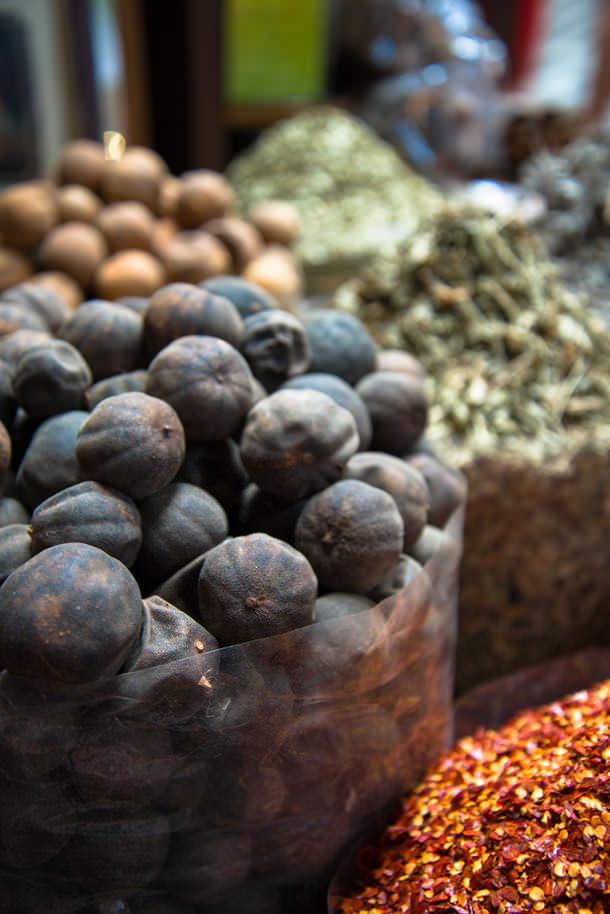 Spice Souk
"You want spice?"
"Where you from?"
"Ni hao!" ('Hello' in Chinese lol.)
I'm in the Spice Souk in Dubai and smiling stallholders are trying to persuade me to check out their wares.
As if I needed any encouragement. I'm mesmerised by the exoticness of the spices surrounding me. I marvel at the colours and shapes while dozens of unknown fragrances waft up gently in the warm air.
I'm visiting Dubai with a group of Australian journalists but they're walking through the Spice Souk too quickly for me; I keep stopping to take photographs. I lose sight of my group and eventually, Lara my patient tour leader returns to find me and tells me that they'll meet me at the entrance in half an hour.
I'm glad of this time alone; I'm a woman on a mission to explore.
Dubai's famous Spice Souk is surprisingly small, comprising two main alleyways of shops selling spices, incense, sheeshas (otherwise known as hookas, a water pipe used to smoke flavoured tobacco), kids' toys and souvenirs.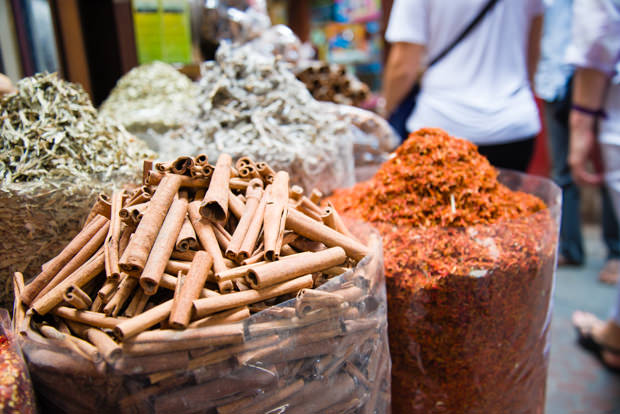 Some spices, like cinnamon sticks, are immediately recognisable. I love using cinnamon in recipes like Chai rice pudding and roasted Chai flavoured almonds.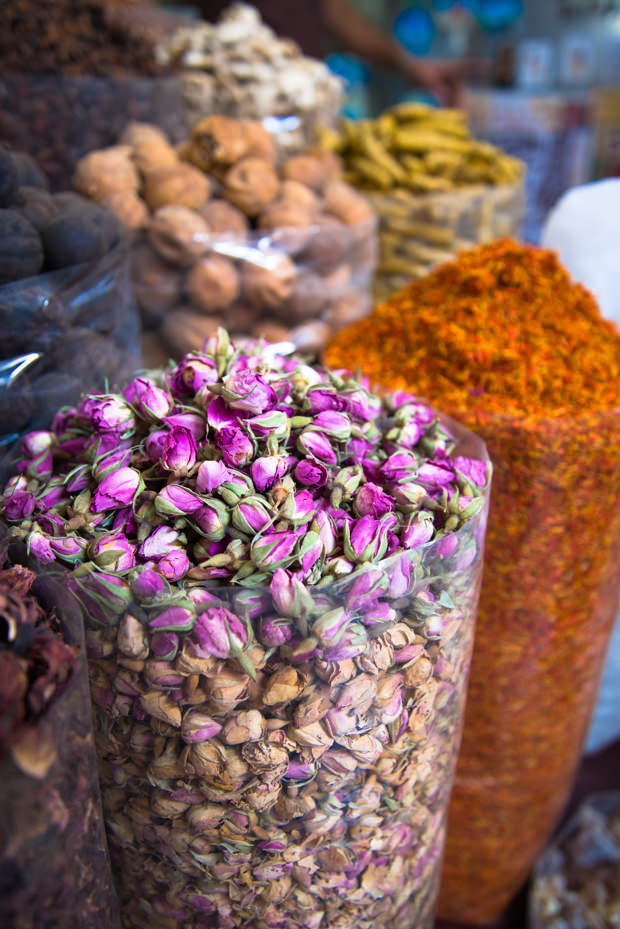 These delightful rose buds can be used in tea although I can picture them perched daintily atop some vanilla cupcakes iced with Swiss meringue buttercream.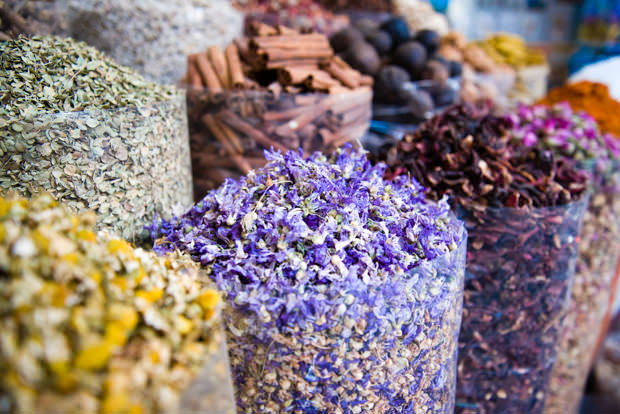 Do you like herbal tea? The Spice Souk sells all kinds of dried flowers that can be used for brewing tea including chrysanthemum, lavender and hibiscus.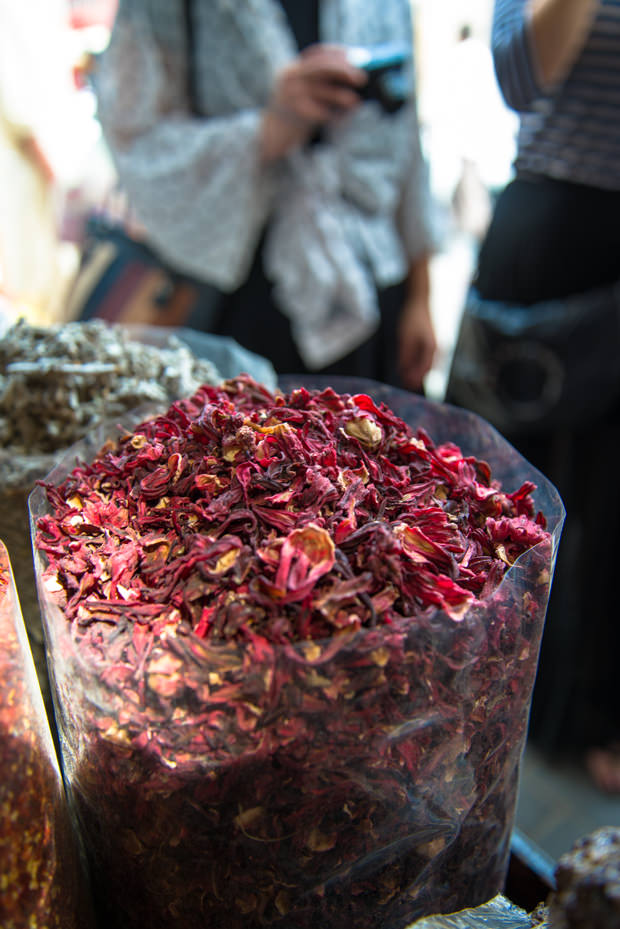 I love hibiscus tea – it's full of Vitamin C and anti-oxidants.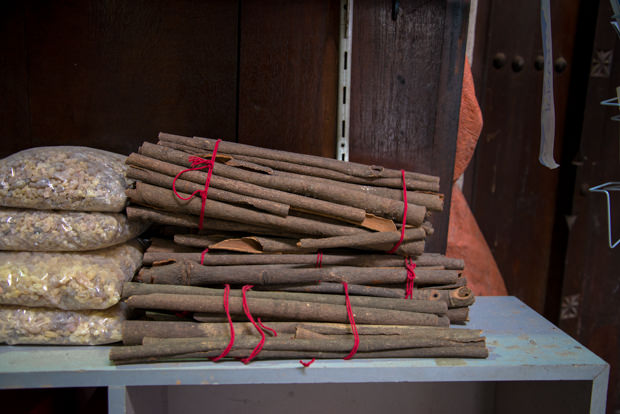 Could this be cassia bark? It's a spice similar to cinnamon which I use to make pho (Vietnamese beef noodle soup).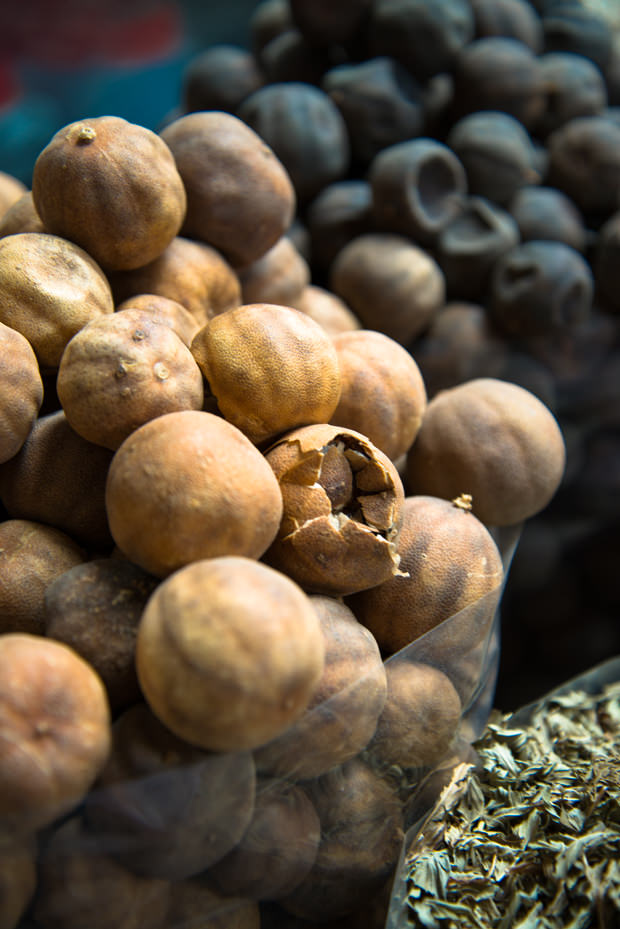 These dried lemons are used for flavouring stews and tagines. I popped one in a Middle Eastern inspired chicken dish I made the other day and it was lovely. The lemon was rock hard so I pierced its skin with a knife so that the cooking stock could easily enter it.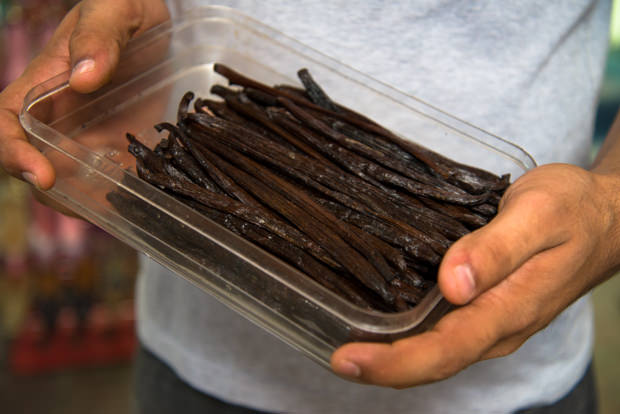 In Australia whole vanilla pods are usually sold individually in neat cellophane pickets – they're around $AUD3.50 each so I buy them only on special occasions. In Dubai I'm presented with a container full of gorgeously sticky whole vanilla pods. I want to take them all home but restrain myself to just a few – they work out about $AUD2 each.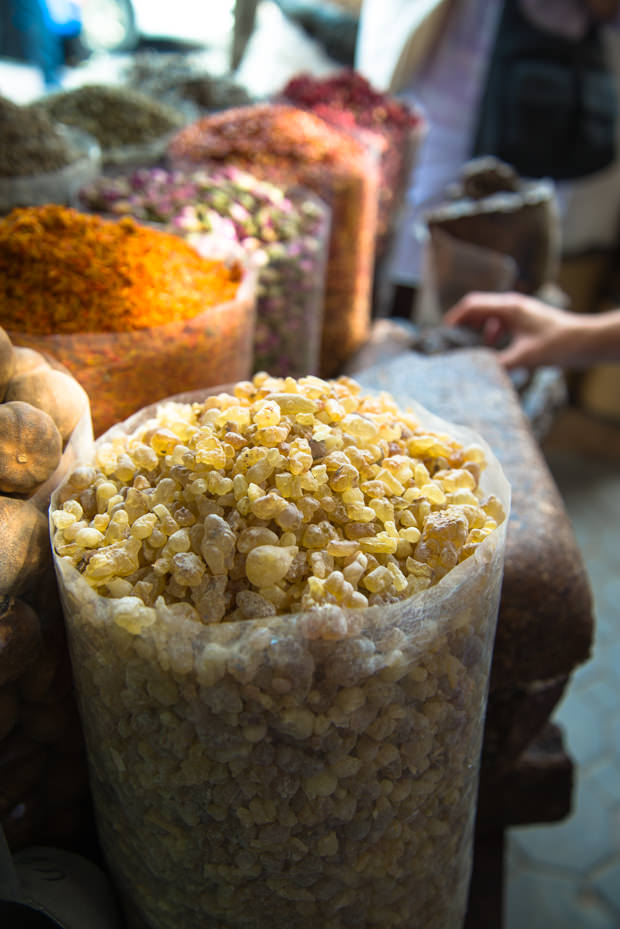 These interesting looking rocks are actually incense.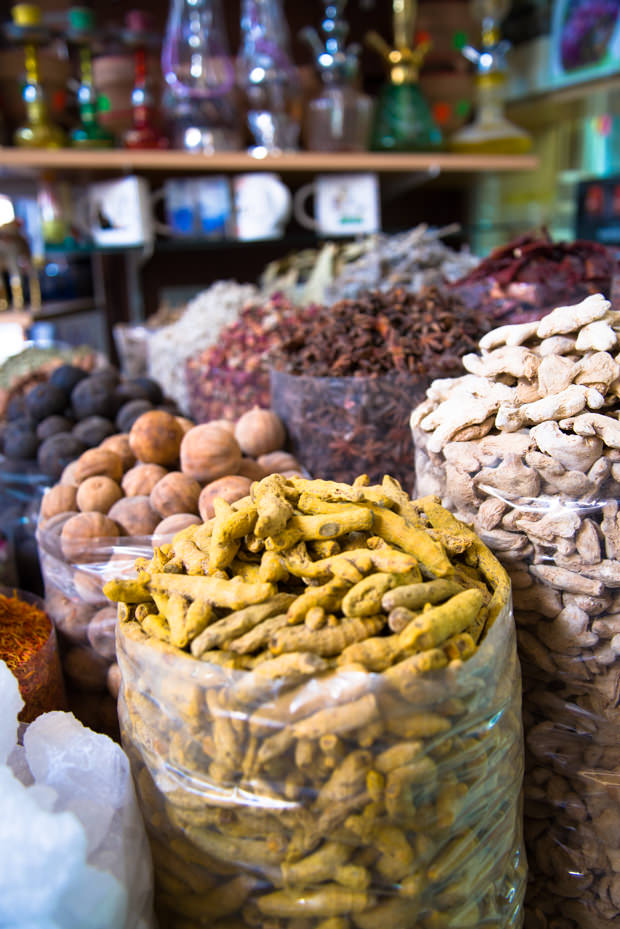 Eventually I settle on one shop and buy a whole bag of spices:
red peppercorns;
white peppercorns;
green peppercorns;
cinnamon sticks;
whole vanilla pods;
dried lemons;
curry powder – Indian;
curry powder – local; and
whole cardamom.
There's so much more here I'd like to see but my 30 minutes is up. Later, at Adelaide airport, I fill in the customs declaration form accurately but with some trepidation; I've been told I may not be able to bring all of these spices into Australia. However, I am waved through without a glance. Hurrah!
Gold Souk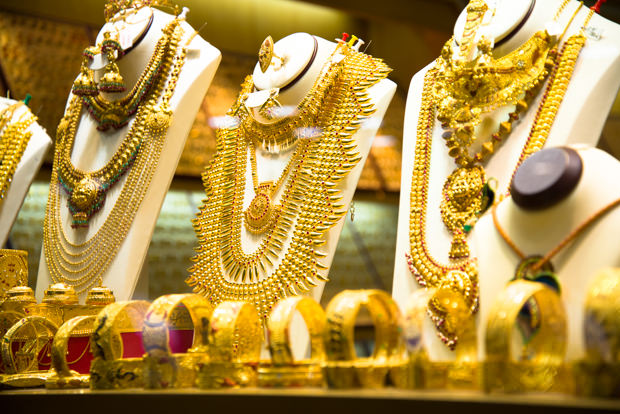 Only a short walk from the Spice Souk, Dubai's Gold Souk is a covered, air-conditioned mall with 300 jewellery stores. Dubai is known for cheap gold and here it is displayed in every window, along with diamonds, platinum and silver. Sets like the one above are designed as dowry for Arab brides, who traditionally must have some new gold as part of their dowry. This ensures a steady market for gold here.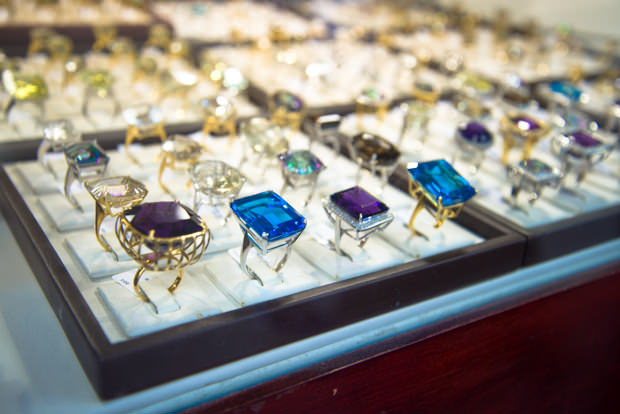 Perhaps a statement piece is more your style? For those that think bigger is definitely better, you'll find plenty to admire here.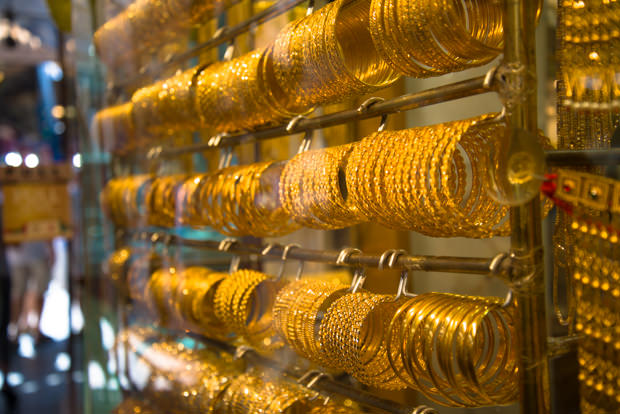 Did somebody say bracelet?
Gold & Diamond Park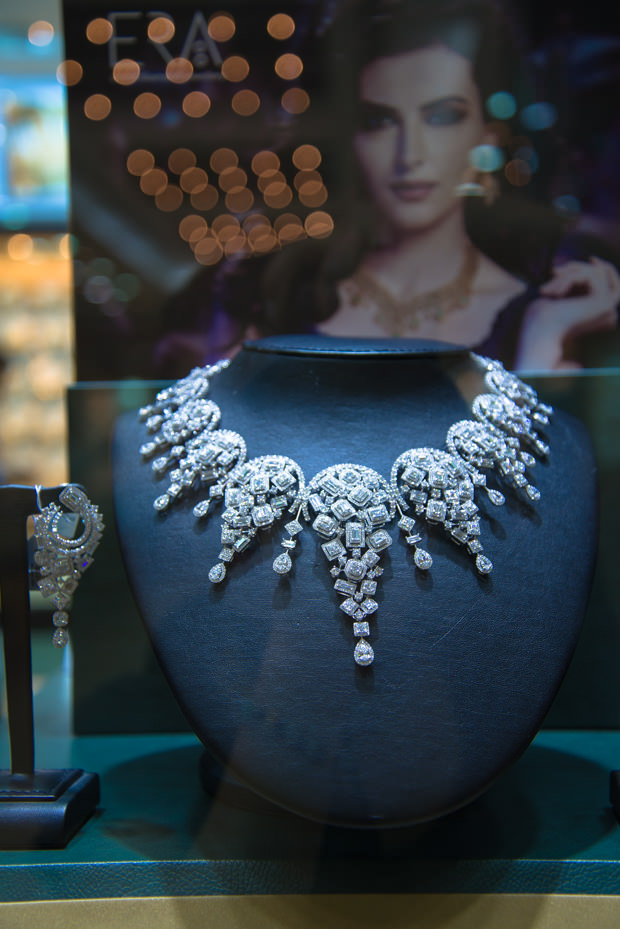 Later on, we also visit the Gold & Diamond Park, an air-conditioned, two-storey building full of what seems like hundreds of jewellery stores. It's almost overwhelming – you could easily spend a whole day here if you were on the hunt for something special.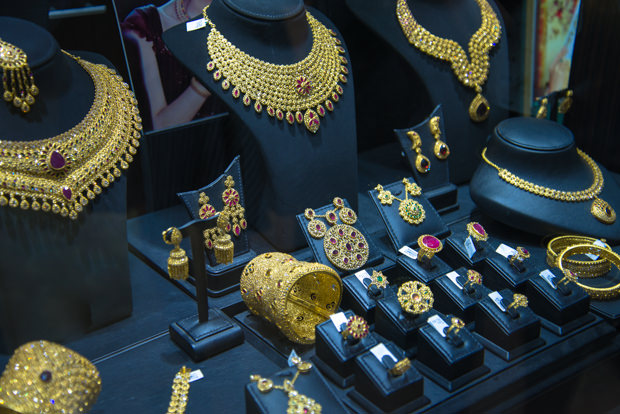 In my daily life I don't wear a lot of jewellery but at the Gold & Diamond Park I find myself examining diamond drop earrings and trying to calculate the CPW. CPW — Cost Per Wear — is that non-scientific calculator used by fashionistas to justify the purchase of 'investment' pieces. Unfortunately, at these prices I'd have to live for another 100 years lol!
However, the sticker prices are just a starting point. Lara tells us she negotiated her wedding jewellery down to 30-40% of the asking price. You can also bring along your old jewellery to sell here, or have it reset into a more modern setting.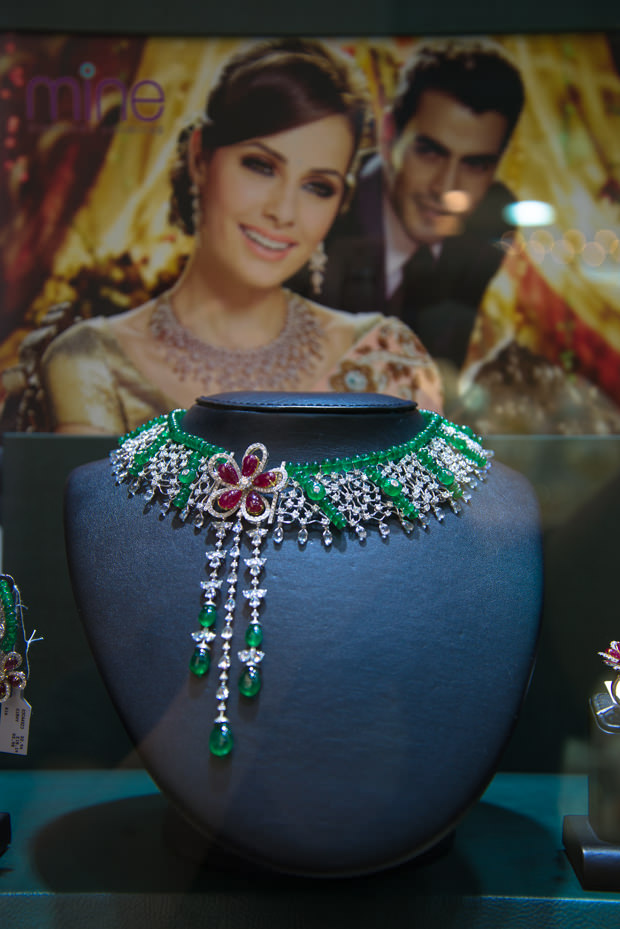 Elizabeth Taylor, eat your heart out!
If you do visit Dubai and are after some serious jewellery I'd suggest setting aside a few hours to visit the Gold & Diamond Mart and/or the Gold Souk to allow yourself enough time to have a good look and negotiate without being in a hurry. By the way, if you're getting something made or reset, you don't have to return to pick it up either – when it's ready the store will deliver it to your hotel for you.
Fruit & Vegetable Market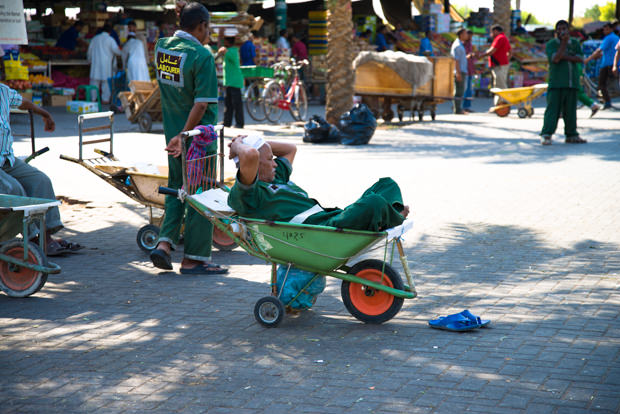 This man has the right idea – why stand when you can sit, right?
The Dubai fruit and vegetable market was not on my original itinerary but I love fresh food markets so put in a special request. So Lara kindly arranged for the two of us to check it out while the rest of our group went shopping.
The Dubai Fruit & Vegetable Market is about a half hour drive from central Dubai — not nearly as far as originally anticipated — and is a huge, clean undercover market with maybe 120 stalls.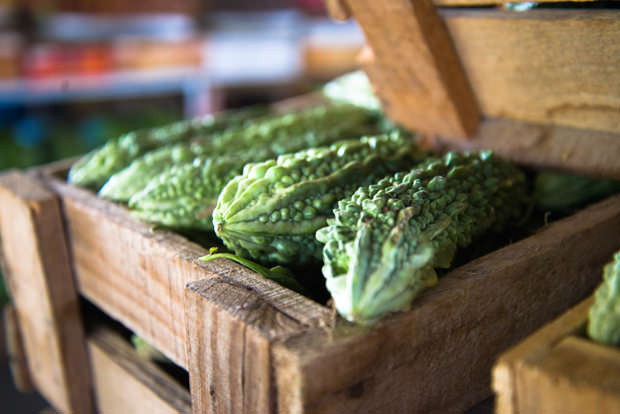 I'm like a kid in a candy store here; I'm completely content soaking up the sights, sounds and smells of the fruits and vegetables. This bumpy, gorgeous looking vegetable is bitter melon (bitter gourd or bitter cucumber). Doesn't it remind you of some kind of lizard? You cook it in a similar way to a zucchini.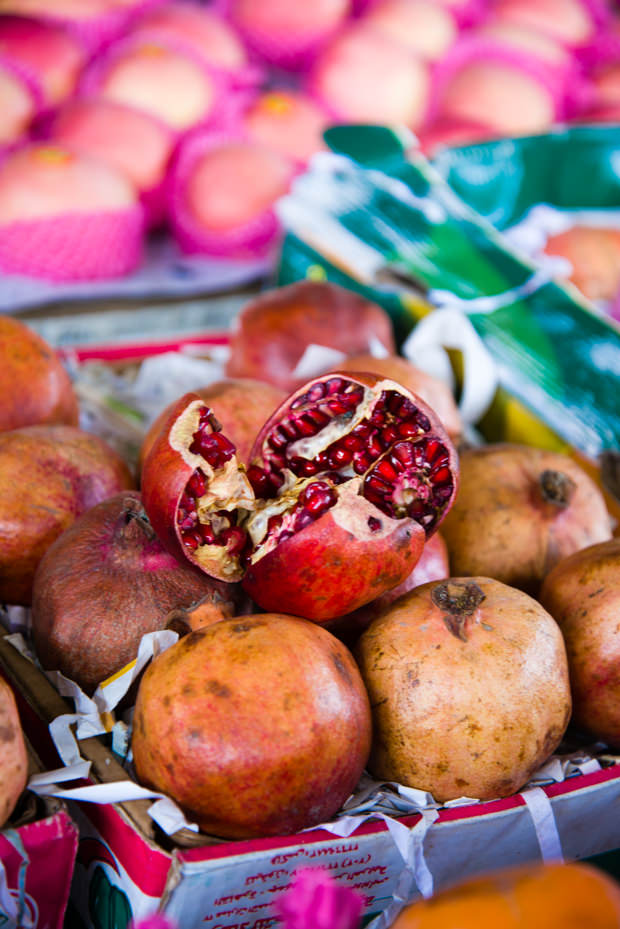 Pomegranates are one of my favourite fruits. In Australia they are not cheap — around $3 each — so I only buy a half dozen each season. In Dubai they are so cheap you can enjoy freshly squeezed pomegranate juice at street food stalls.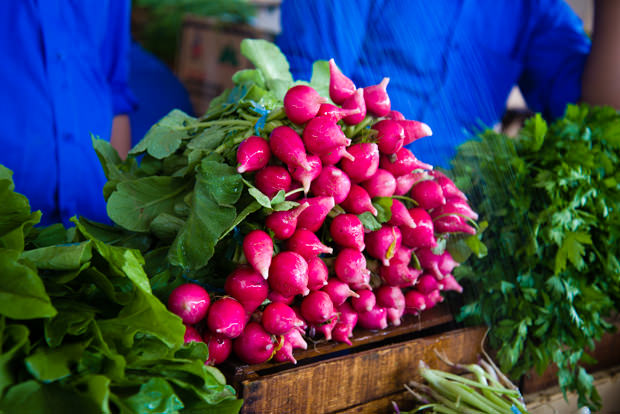 Don't these radishes look fantastic? They were getting a good water as we walked by.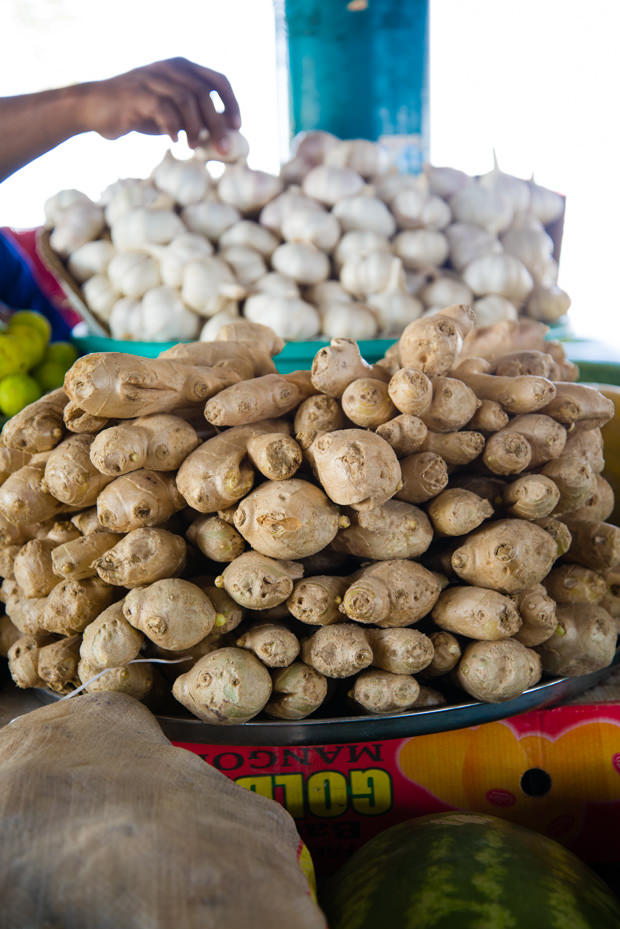 Two of my kitchen stapes: ginger and garlic. I love how they're arranged so neatly here.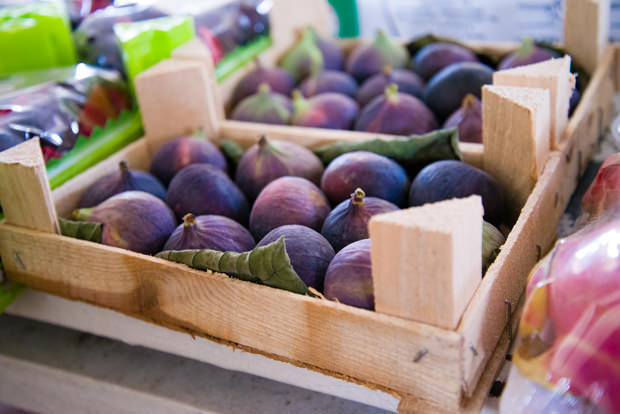 I die for figs so immediately want to buy all of these plump beauties.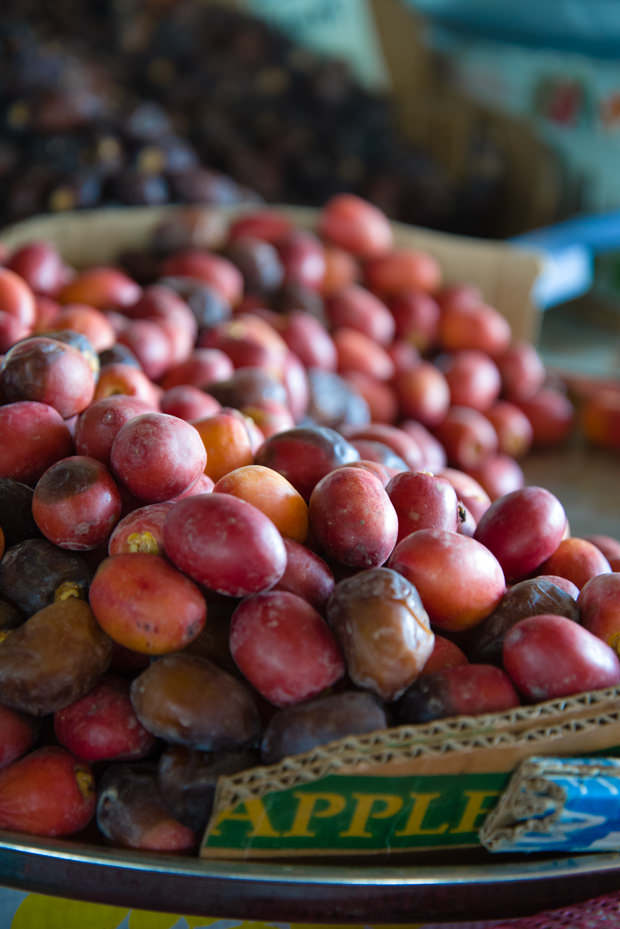 While I've spotted dried dates for sale all over Dubai, this is the first time I've seen fresh dates.
Lovely, neon-bright citrus. Did somebody say mojito?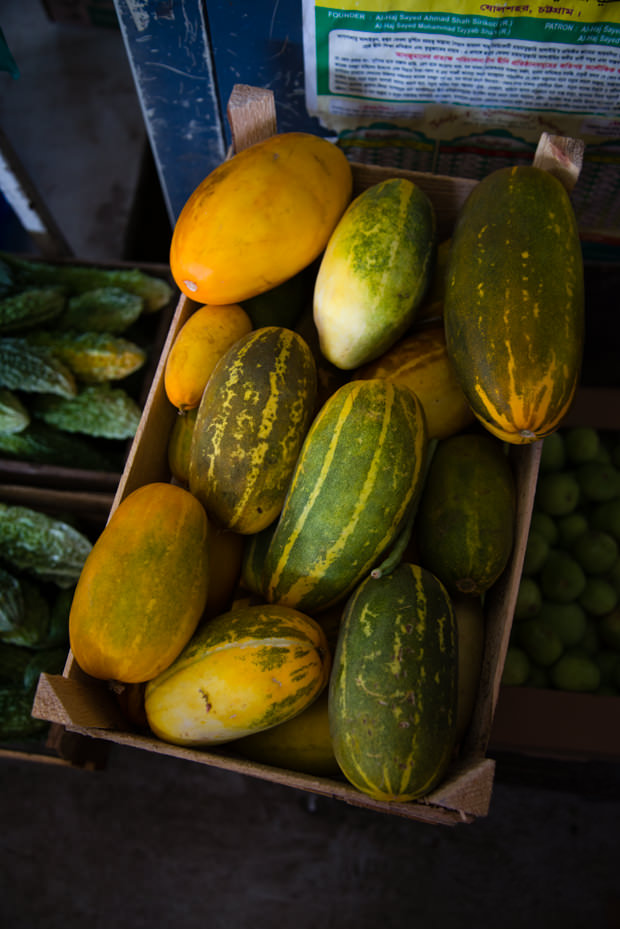 A boxful of beautiful striped gourds.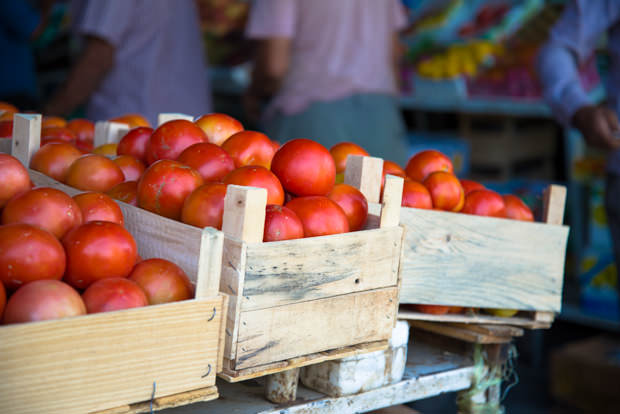 I love the little differences I notice at markets in different countries. Even the packing boxes in Dubai are different.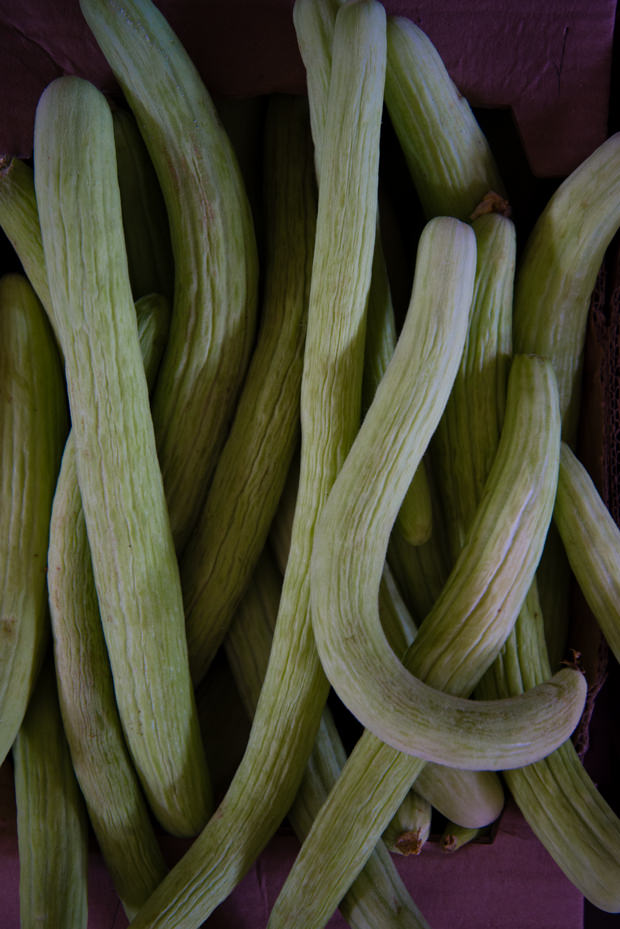 These curly cucumbers were in a box under a stall – I love their sinuous, snake-like shape.
I desperately wanted to buy a whole trolley load of produce to cook with but alas, our schedule was full. I did consider smuggling some of those gorgeous pomegranates home but reason (eventually) prevailed.
Tell me, dear reader, what is your favourite overseas market and why? And have you ever considered smuggling home some of your finds?
Spice Souk Sikkat
Al Khail Road Al Ras, Dubai
Open 9am – 1pm and 4pm -10pm each day. Closed Friday morning.
Gold & Diamond Park
Sheikh Zayed Road, Dubai
Open 10am – 10pm Saturday to Thursday. 4pm -10pm Fridays.
Gold Souk Road
103 – Street 32A Junction, Al Ras, Deira, Dubai
Open 9am – 1pm and 4pm -10pm each day. Closed Friday morning.
Dubai Fruit & Vegetable Market
Al Khaleej Road, Dubai
Open Saturday – Thursday from 9am to 5pm.
Christina Soong-Kroeger visited Dubai as a guest of Emirates and Dubai Tourism. Emirates currently flies from Adelaide to Dubai three times a week but will commence daily flights from February 2013.