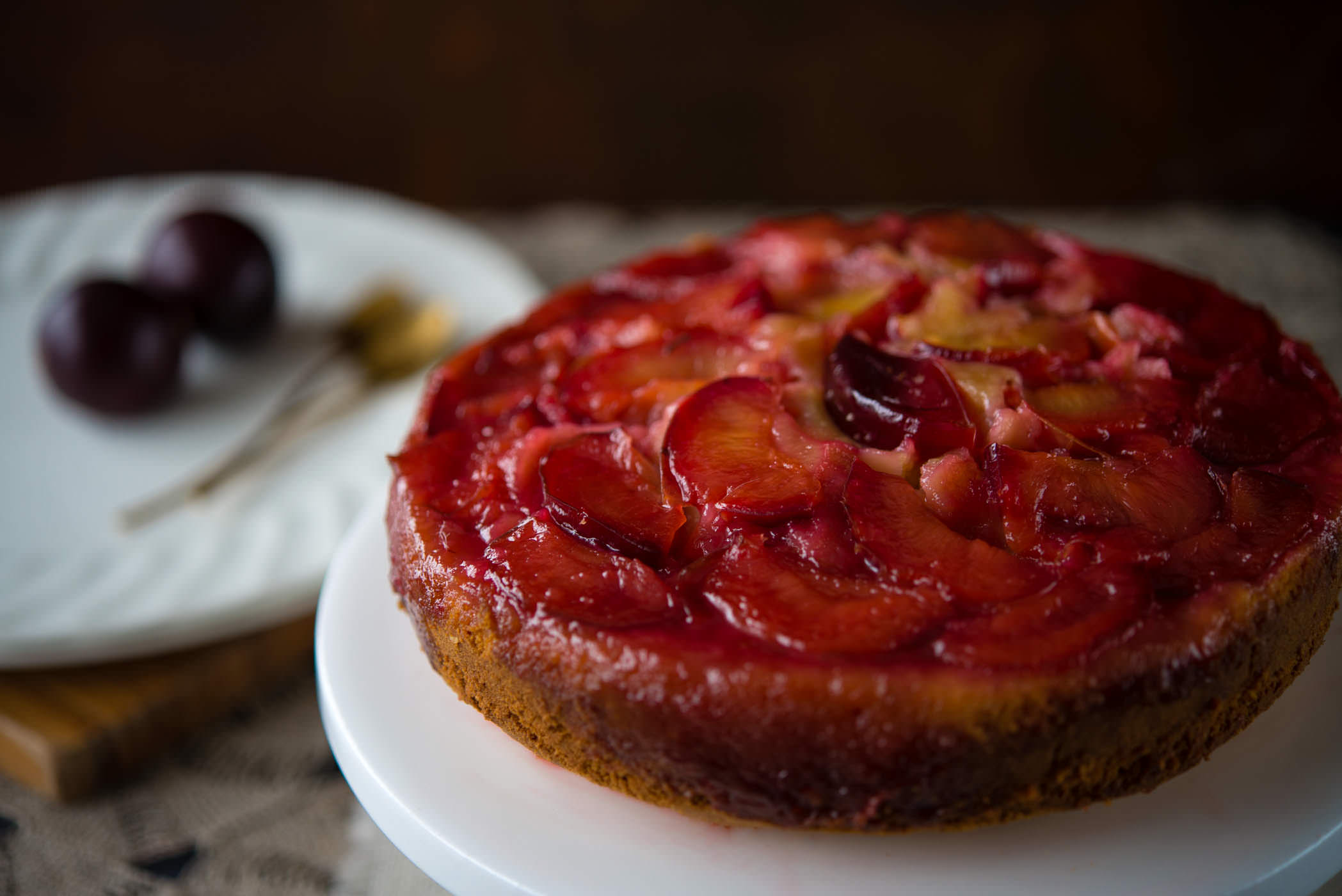 Author:
Christina Soong-Kroeger
10 grams butter
100 grams rice malt syrup
6-7 ripe plums, stoned and quartered
100 mls milk
1 tablespoon lemon juice
200 grams rice malt syrup
120 grams butter
1 tablespoon baking powder
2 cups gluten free flour
Preheat oven to 190 degrees Celsius.
Grease a round cake tin (I use a soya cooking spray).
Make topping by putting butter and rice malt syrup in a small microwave proof dish. Heat on high for 20 seconds. Stir until fully combined and then pour into cake tin and jiggle so it coats the surface evenly.
Arrange plums on top in pleasing pattern.
To make cake, combine lemon juice and milk and set aside (or substitute with 105mls buttermilk)
Cream rice malt syrup and butter until combined.
Add baking powder, one cup gluten free flour and half of the milk mixture to the mixing bowl and beat until combined. Add rest of flour and milk mixture and beat until just mixed.
Pour cake batter into the cake tin and level out.
Bake cake at 190 degrees for 18 minutes and then turn down to 180 degrees for 36-40 minutes.
Check the cake is cooked through by inserting a skewer - the skewer should come out dry (ignore any plum sticking to it).
Once the cake is done, remove from the oven and let it sit for 10 minutes.
Run a silicon spatula around the cake edges to ensure cake is not sticking to tin.
Find a serving plate and place over cake tin, and carefully turn over so that the cake lands (gently) onto the plate.
Let cool for one hour before cutting and serving.
Serve with vanilla ice cream or sweetened cream.