Chocolate Peanut Butter Balls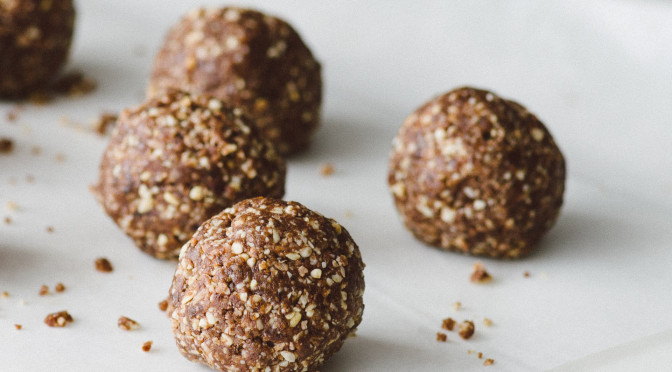 Author:
Christina Soong | The Hungry Australian
1 cup dates
1 cup natural cashews
½ cup shredded coconut
1 teaspoon vanilla bean essence
2 tablespoons peanut butter (100% peanuts, ideally, but regular peanut butter is OK, too)
2 tablespoons cacao powder
¼ teaspoon (pinch) salt flakes
Blend all of the ingredients in a food processor until the mixture resembles rough sand.
Use a dessert spoon to scoop out spoonfuls of the mixture straight into the palm of one hand.
Shape the mixture firmly into walnut sized balls with your hands and then store them in an airtight container lined with baking paper in the fridge.
Balls can be wrapped individually and stored in the fridge or freezer until required.
Vegan
Gluten, dairy and refined sugar free
You can add a scoop of protein powder to these balls if desired but I make them without so my kids can enjoy them, too. If you're adding protein powder you may want to add ½ teaspoon or so of water to the mixture.
Recipe by
The Hungry Australian
at https://hungryaustralian.com/2016/02/cookbook-club-and-chocolate-peanut-butter-balls/