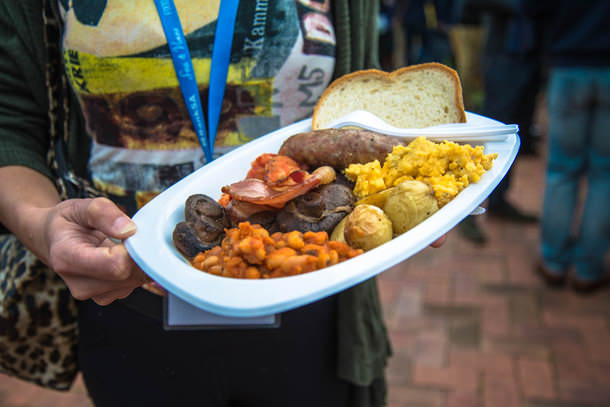 It's not often you'll find me down in McLaren Vale two weekends in a row – in June I attended a great Arabian Nights cooking class at Chapel Hill Winery and then the next week I was back again for the annual Sea & Vines Festival, the biggest regional festival in SA.
McLaren Vale is a beautiful region about 40 minutes drive South of Adelaide that is home to approximately over 75 cellar doors including D'Arenberg, Coriole (write up of an olive oil tasting here), Yangarra, Rosemount, Fox Creek Wines and Penny Hill, and restaurants like The Elbow Room (write up here). Having just celebrated its 21st birthday, the region's annual, 3-day Sea & Vines Festival is one of Australia's oldest food and wine festivals.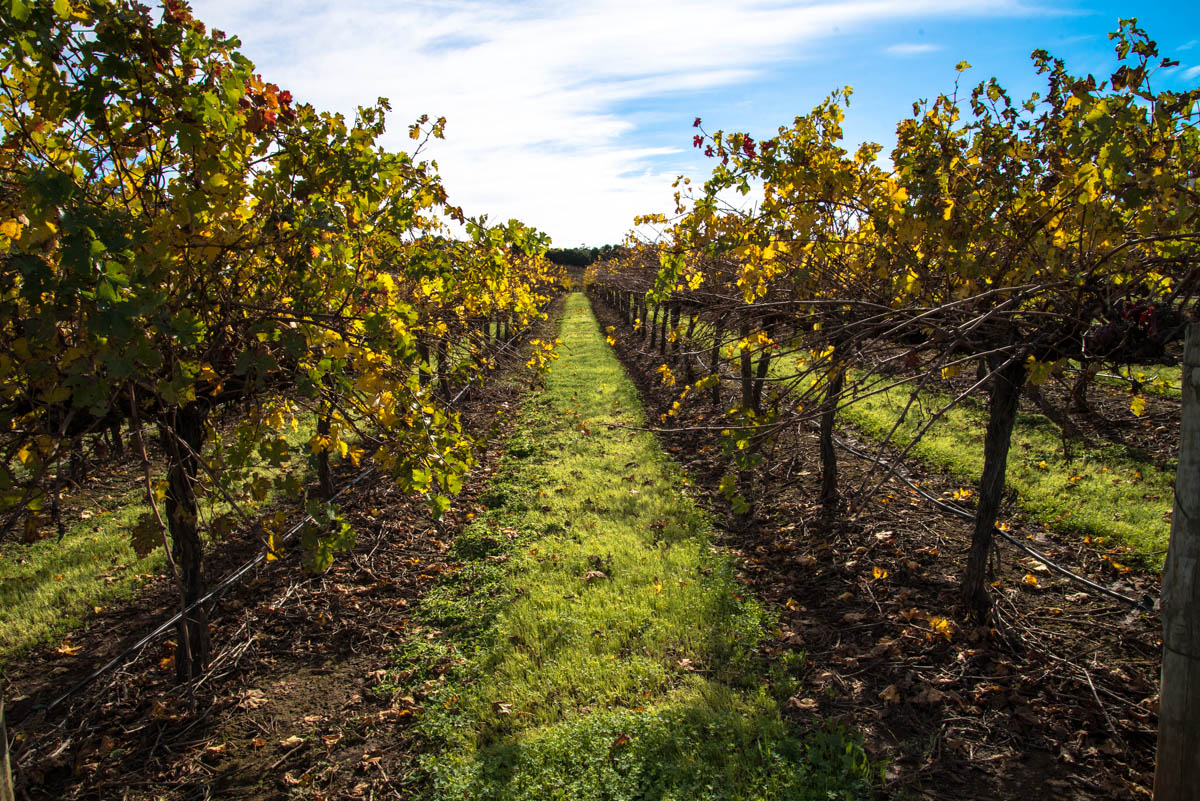 This year, events were held at over 30 venues on each day of the long weekend with two types of attendance options: Experience and Relish & Delight:
Experience, held on the Sunday and Monday offered a party atmosphere with live music and multiple sessions at different wineries. Tickets cost $25 per person and gave you access to three different wineries and a plastic wine glass. Drinks and food are purchased separately and were often eaten standing up or perched around a table. Families tend to prefer the Monday while those who like to make a big day of it usually attend on the Sunday.
Relish & Delight offered more intimate food and wine matching dinners and regional master classes.
Sea & Vines was originally a two-day event but overcrowding became a problem so a few years ago the festival switched to a booking system. Last year they extended the festival to the Saturday as well, making it a three-day event. This year, an estimated 20,000 people attended over the three days.
My friend A and I visited on the Sunday, opting for Experience . Here's what happened.
Middlebrook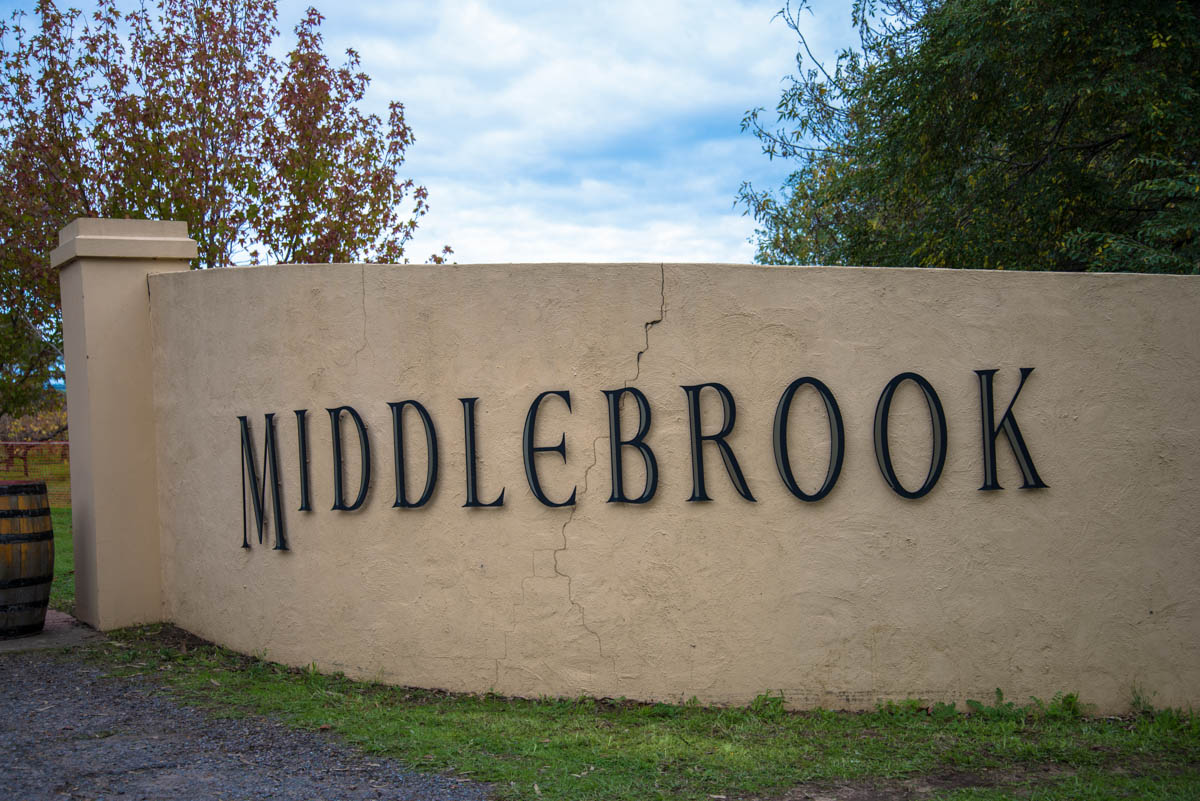 I've never visited Middlebrook before but today it was buzzing. Crowds of festival goers overflowed the function centre onto the terrace and lawns where a band played and a marquee had been set up.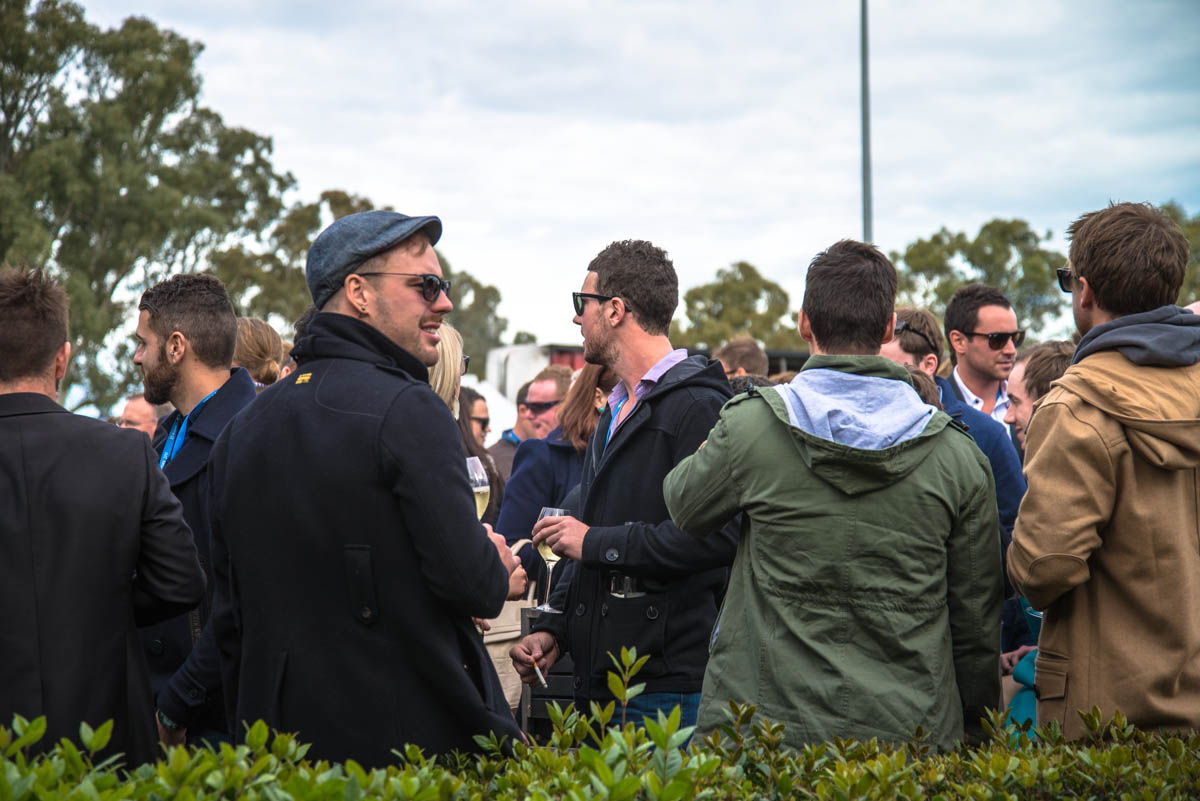 It was a chilly but gloriously sunny day so coats and sunglasses were the look de jour.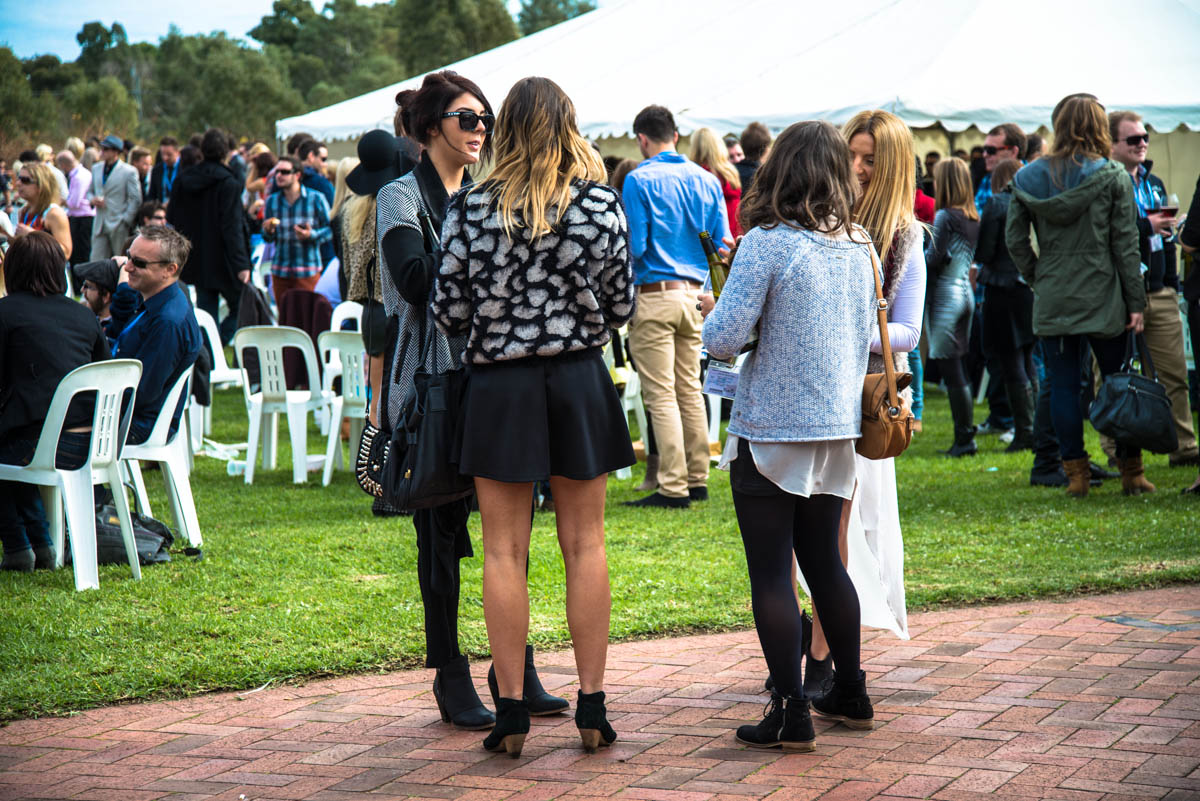 There were also a surprising number of bare legs (and requisite fake tan).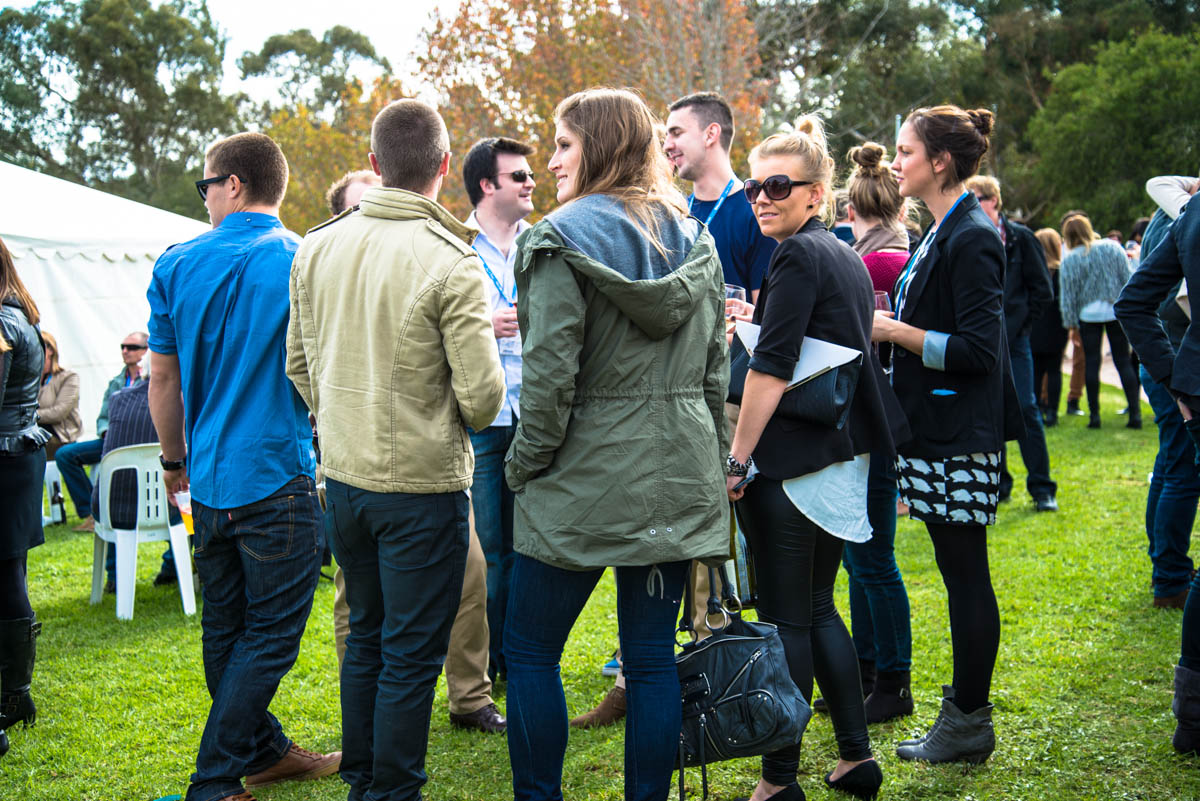 Many people had come down in groups – hiring minivans or persuading someone to act as a designated driver (i.e. they wouldn't drink).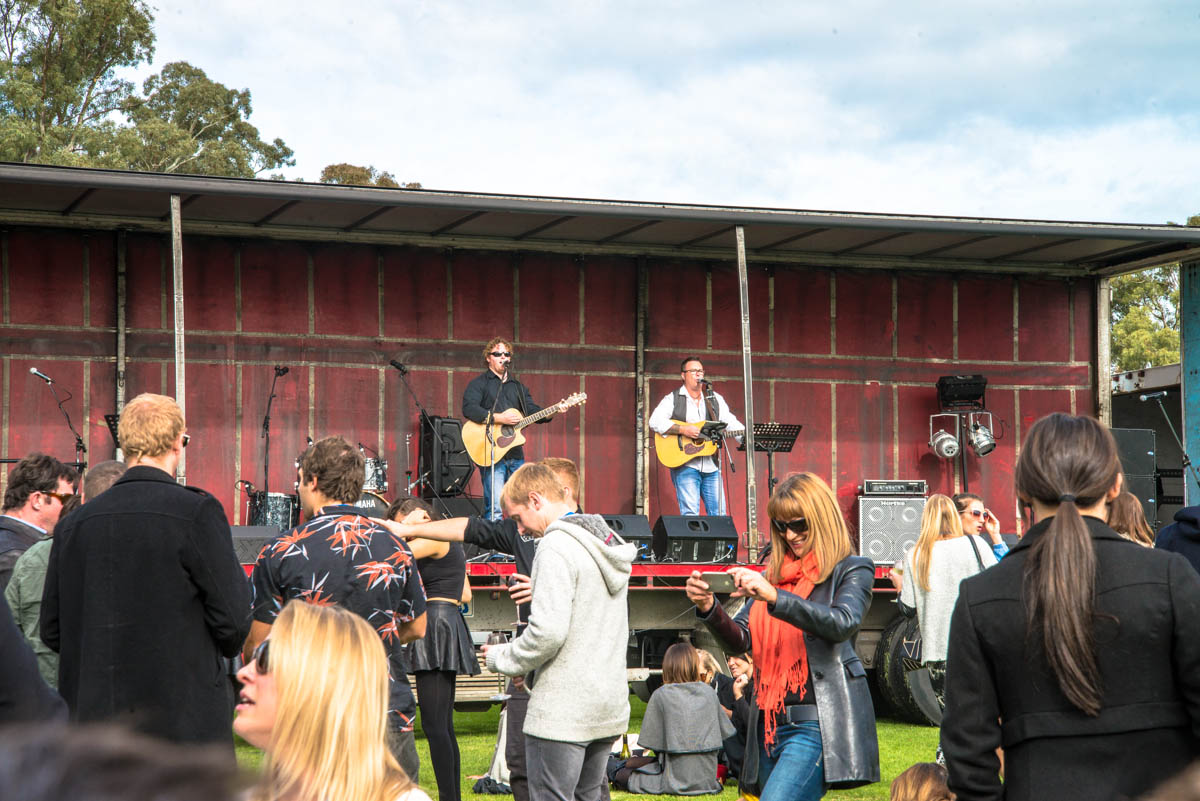 Check out the stage – it's actually a truck with the sides off. Nifty, huh?
Over the years Middlebrook has had a variety of owners and names – in the 1800s Middlebrook was owned by Sir John Franks who gave the property its name. In the mid 2000s Middlebrow was refurnished and updated as a major function centre with two restaurants – Claudio's for fine dining and the Cortile Gallery for a casual atmosphere.
Neither of us have eaten breakfast so we join the lengthy queues in the dining room and order food straight away. We both opt for the cooked breakfast comprising scrambled eggs, sausage, bacon, baked beans, tomato, mushrooms, potato and bread. Food always tastes better in the open air so we take our food outside to eat on the terrace.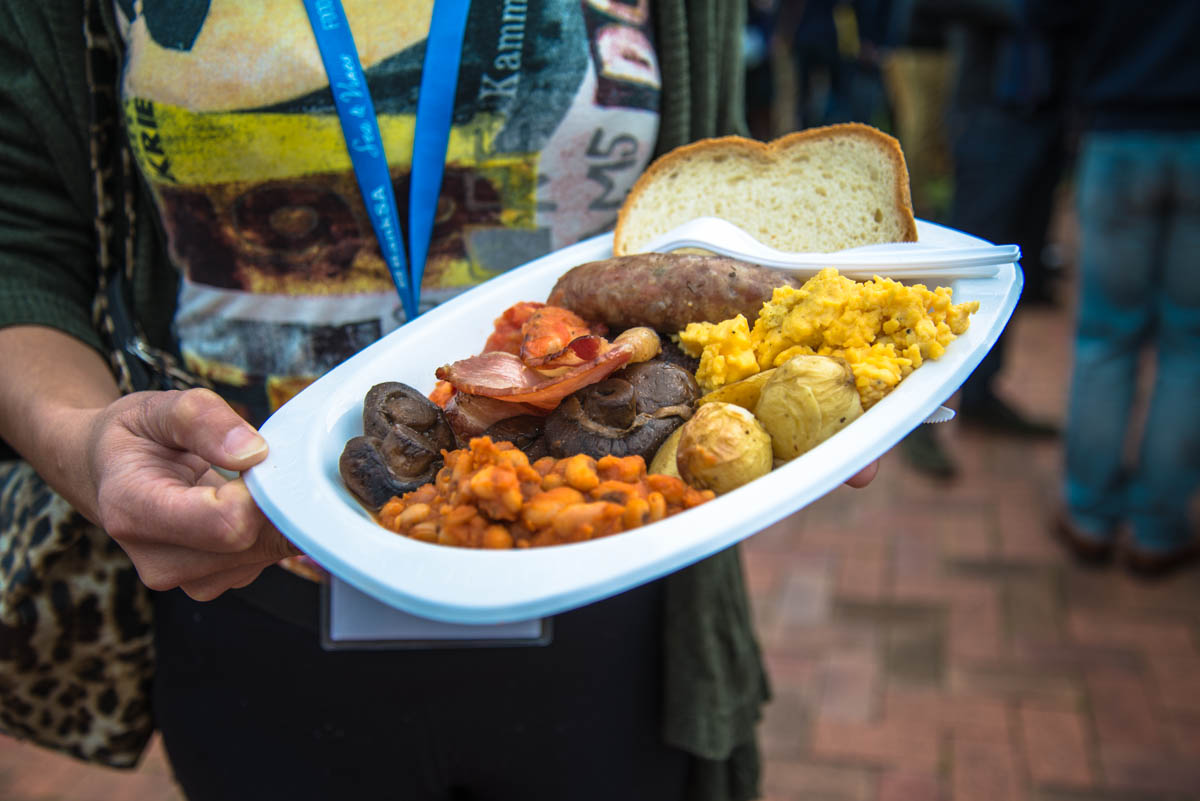 I had chosen Middlebrook specifically for this breakfast but alas, my excitement was misplaced. The beans, potatoes and mushrooms were fine but the scrambled eggs were solid and the sausage was dreadful. I appreciate the difficulty in keeping scrambled eggs at the optimum temperature so they neither overcook or cool so the eggs could be forgiven. That sausage, however, was dry, hard and oddly flavoured. It took several goes with my plastic knife and fork to cut it and after one mouthful I gave up.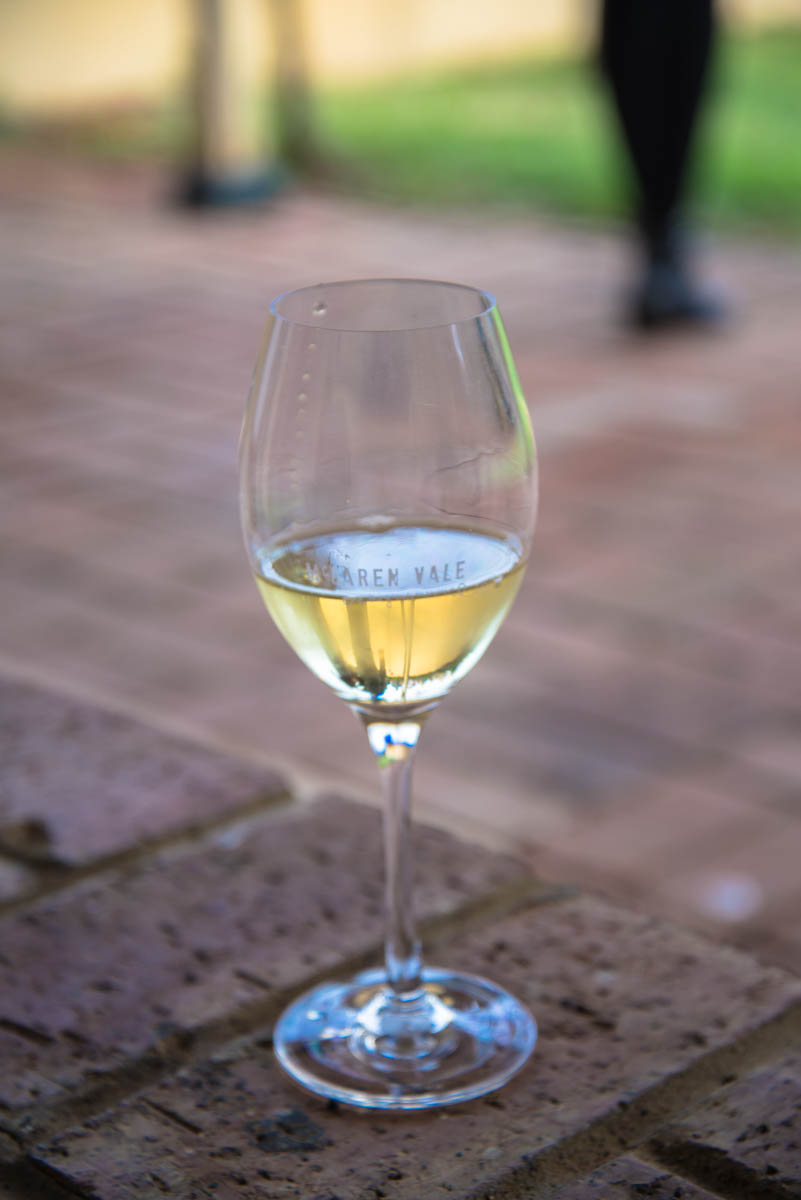 Luckily a glass of Middlebrook's Contessa Unwooded Chardonnay 2005 made everything better.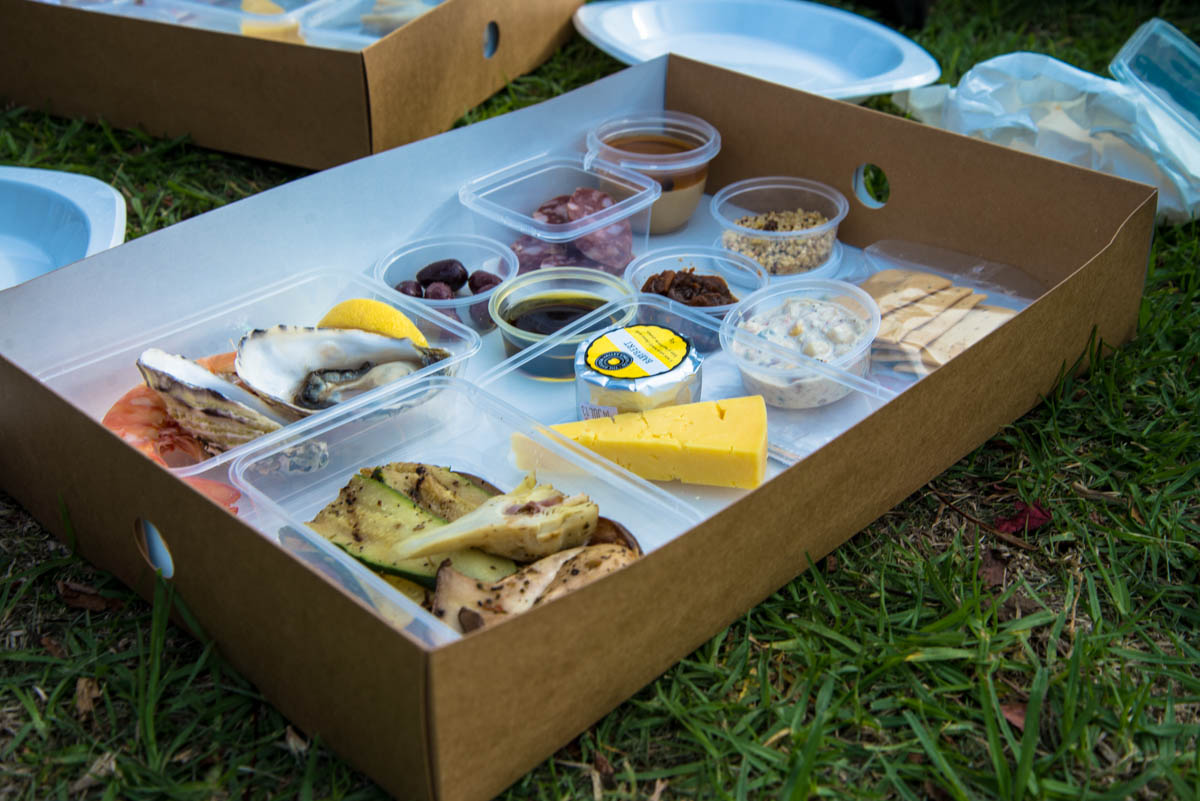 It's a shame the cooked breakfast was under par. Next time I'll buy one of these great picnic boxes with fresh seafood, pate, antipasti, dips, pesto, cheese and crackers for $30 instead.
So we bid goodbye to Middlebrook and headed to our next venue.
Maxwell Wines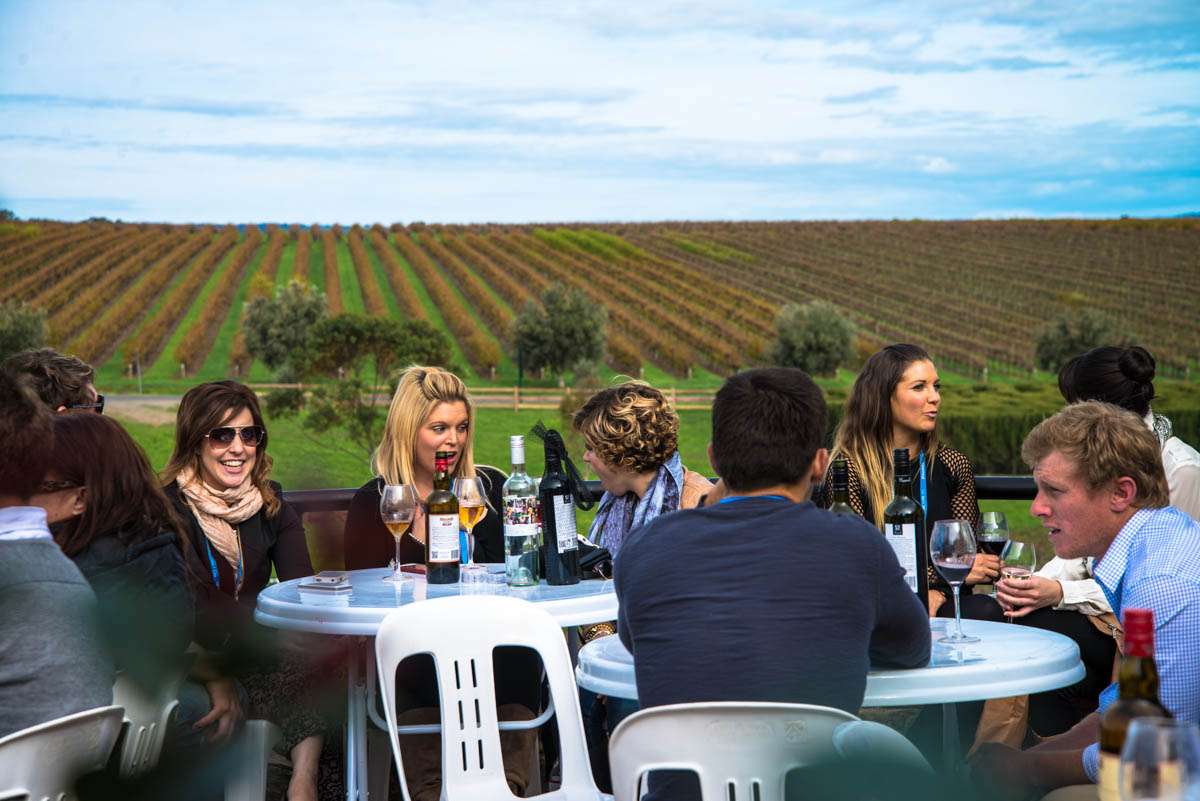 Family owned since 1979, Maxwell Wines is a premium boutique producer in the heart of McLaren Vale.
The best seats in the house are the one ones overlooking the lush vineyards where the Maxwells grow the following grape varieties: Shiraz, Cabernet Sauvignon, Merlot, Grenache, Petit Verdot, Tempranillo, Verdelho and Viognier.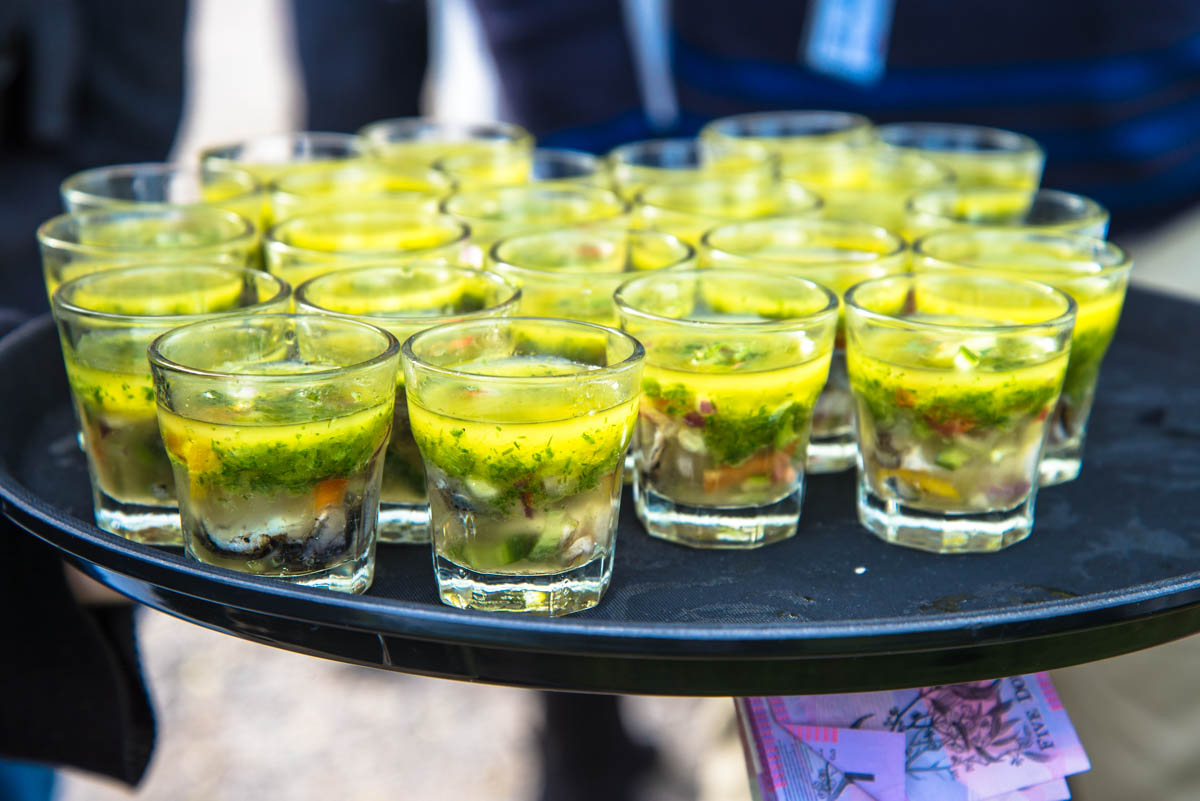 Upon arrival we were offered a Vodka Oyster Shooter with cucumber, red onion and red capsicum. For $5, down the hatch it goes. It was pretty tasty but a little more acidity (via citrus or vinegar for instance) would have helped to balance the strong raw capsicum and vodka flavours.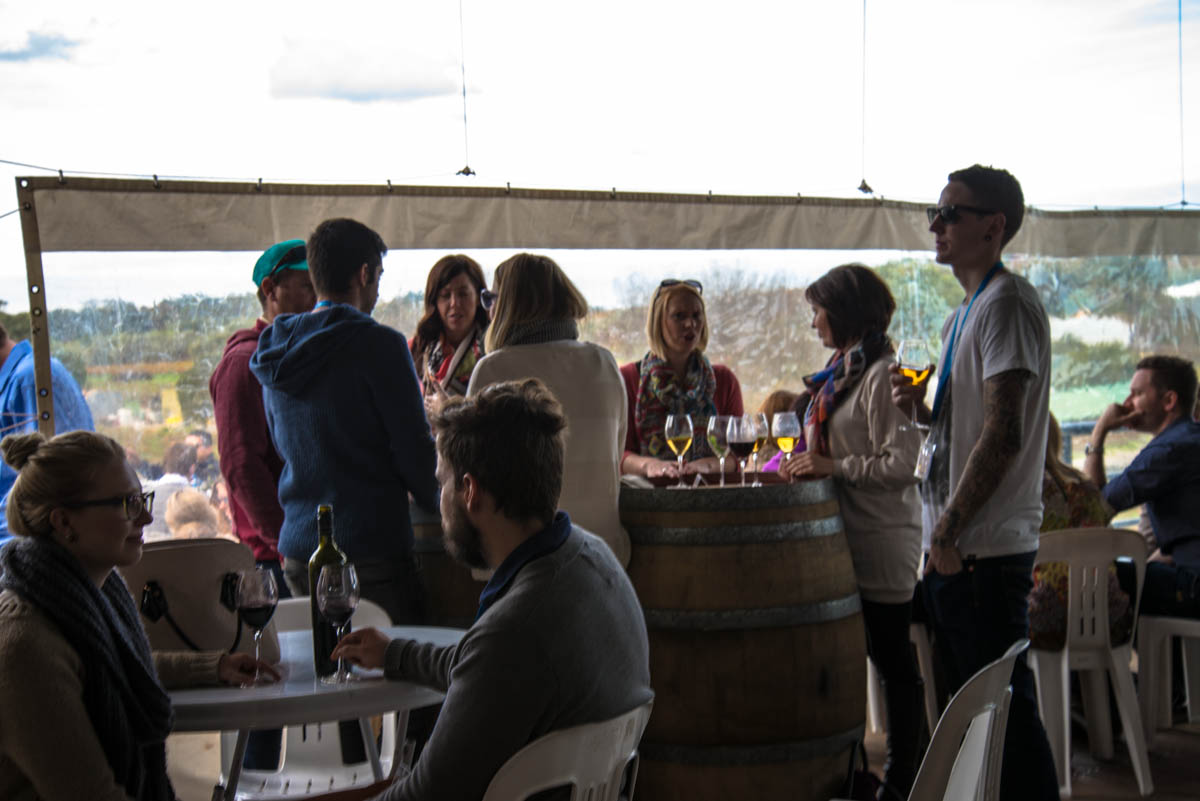 When we first arrive the mood is laid-back. But as the sessions wears on and more people arrive, the deck is reduced to standing room only.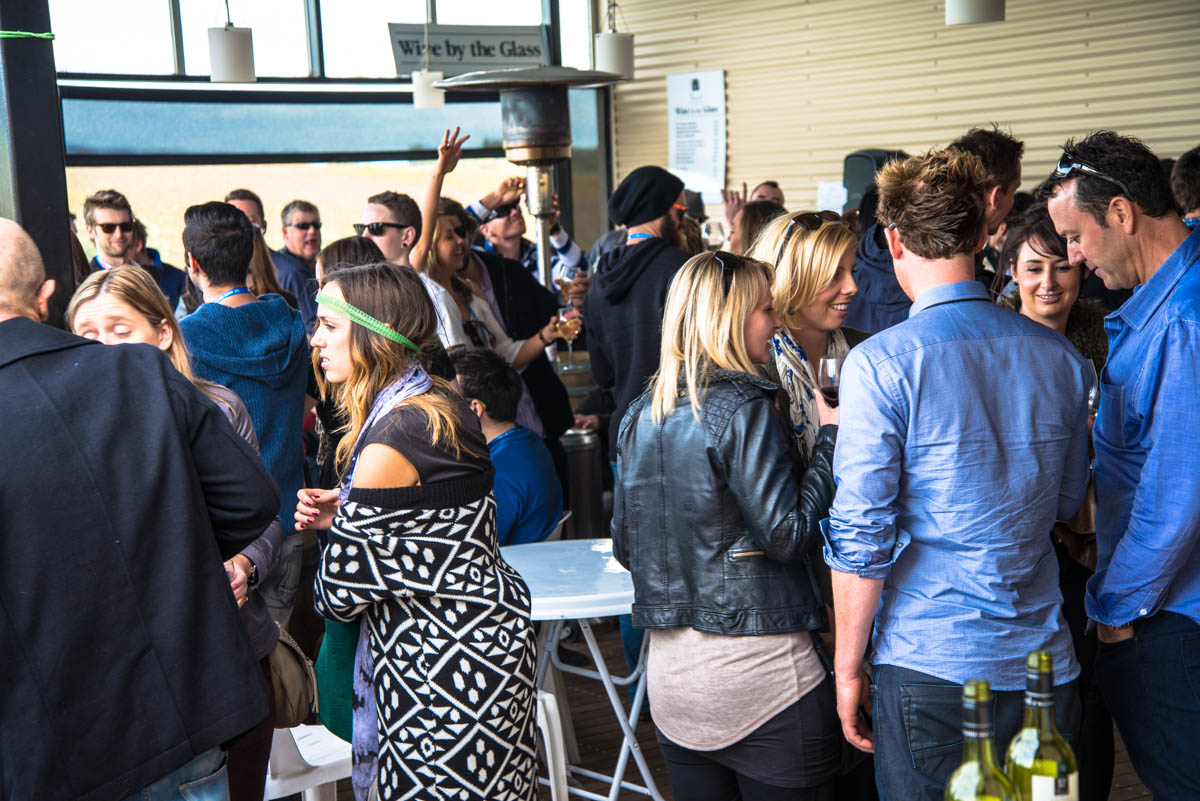 We head inside and order lunch. The menu offers one breakfast option – pork belly, bacon and egg brioche — and four all-day meals. I opt for the Slipper Lobster (Balmain Bug) Hot Pot ($22) and A has the Tempura Soft Shell Crab with Chimmichurri and Aioli ($19).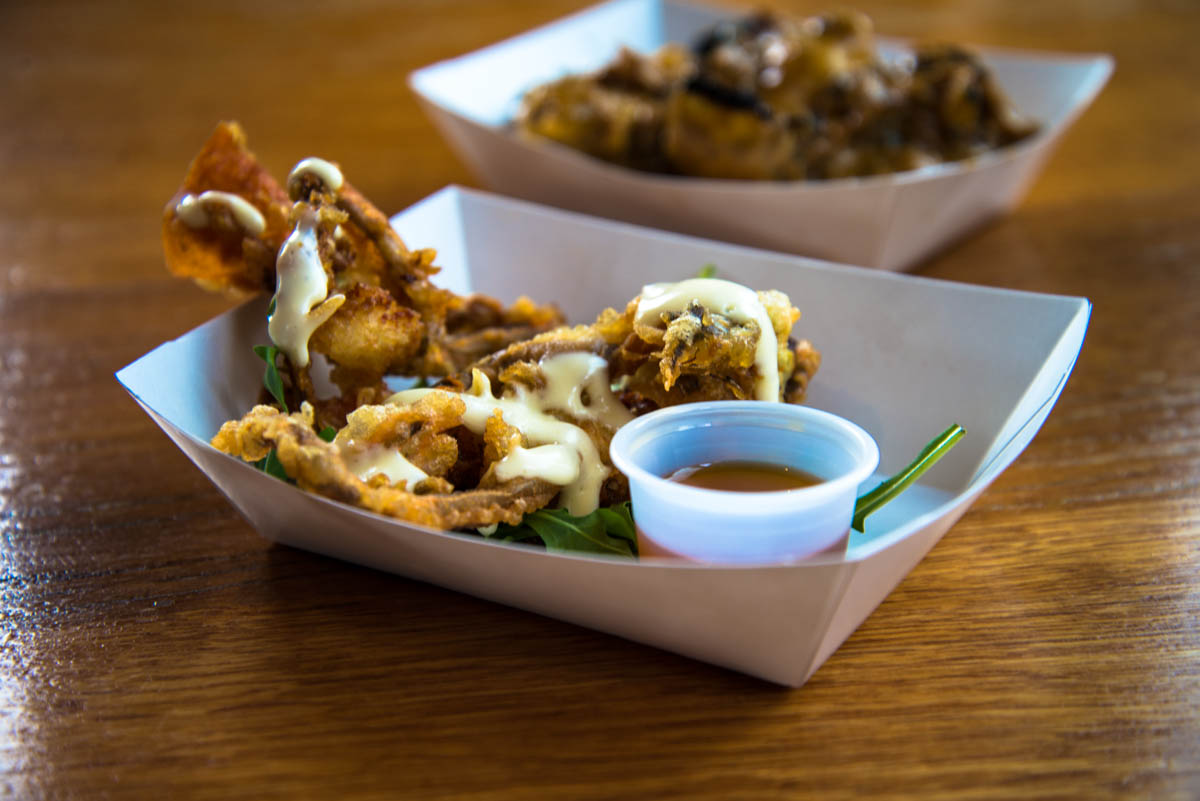 The Tempura Soft Shell Crab was fantastic but it's accompanied by only a few strands of rocket, making it more of an appetiser than a meal. If this had been lunch A would have had to order another dish — possibly the Crunchy Potato Fries ($8) or Truffled Three Cheese Nachos ($15) — as well.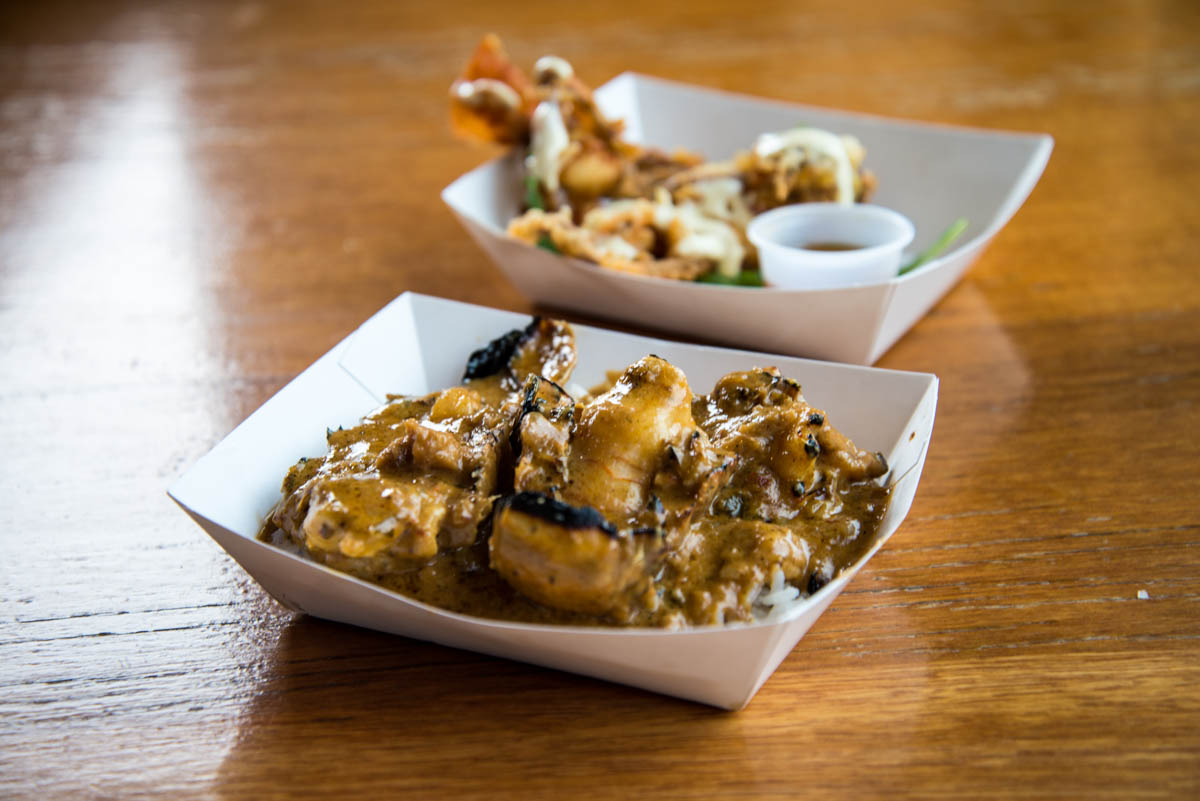 The Slipper Lobster Hot Pot was sensational. Fragrant with lemongrass, kaffir lime, and chilli, the sauce was rich and creamy with coconut milk and soaked happily into the plain steamed rice. I've eaten Moreton Bay Bugs many times before but this was my first time eating Balmain Bugs and they were delicious. Two thumbs up.
It was now time to head off to our last stop.
Olivers Taranga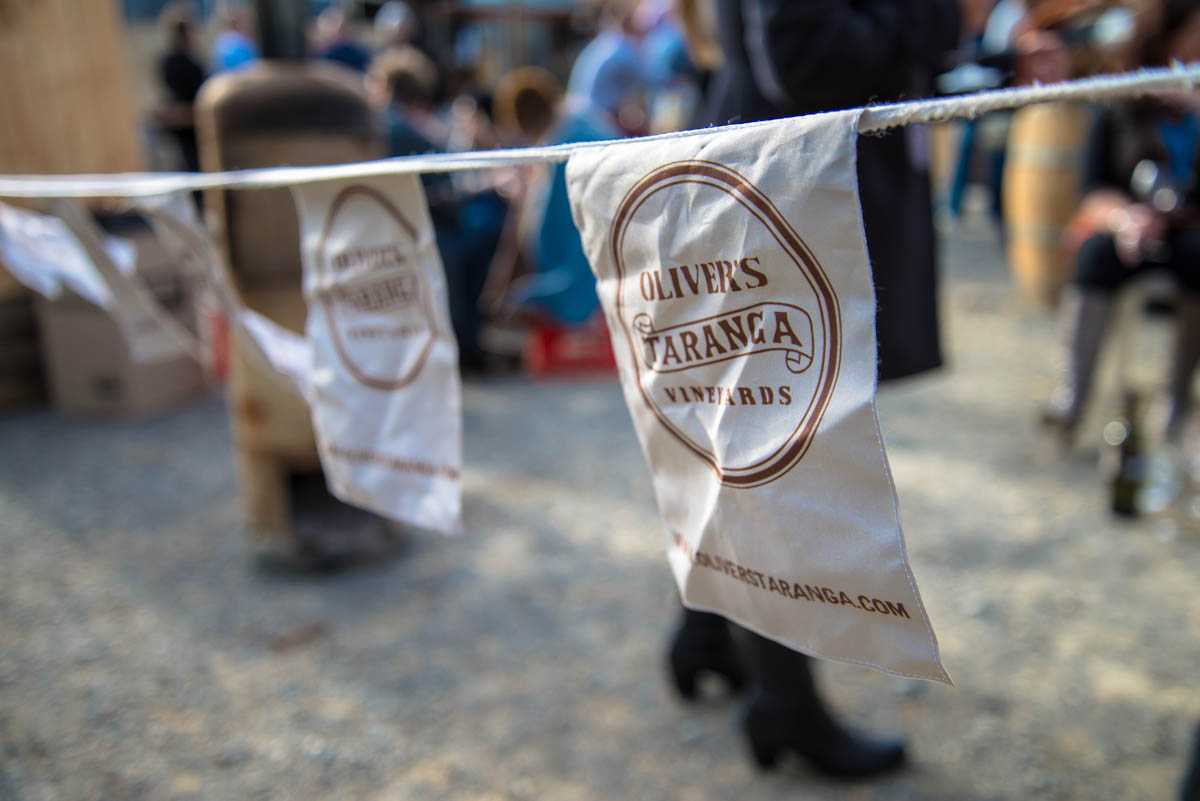 Oliver's Taranga was founded in 1841 by William and Alice Oliver from Scotland and is nowadays run by the fifth and sixth generations of the Oliver family. Their cellar door experience is considered one of the best around and actually won Cellar Door of the Year in 2012.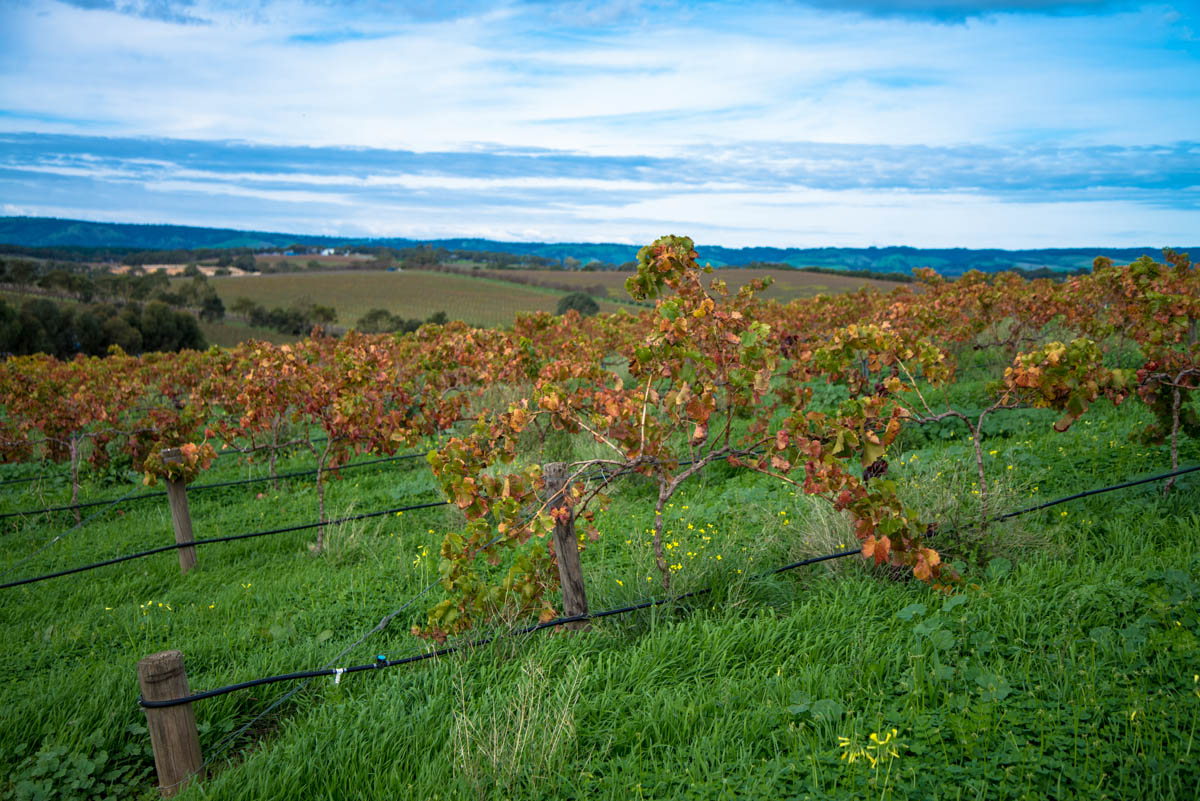 At first glance the set up at Oliver's Taranga seemed much more casual compared to Middlebrook and Maxwell Wines.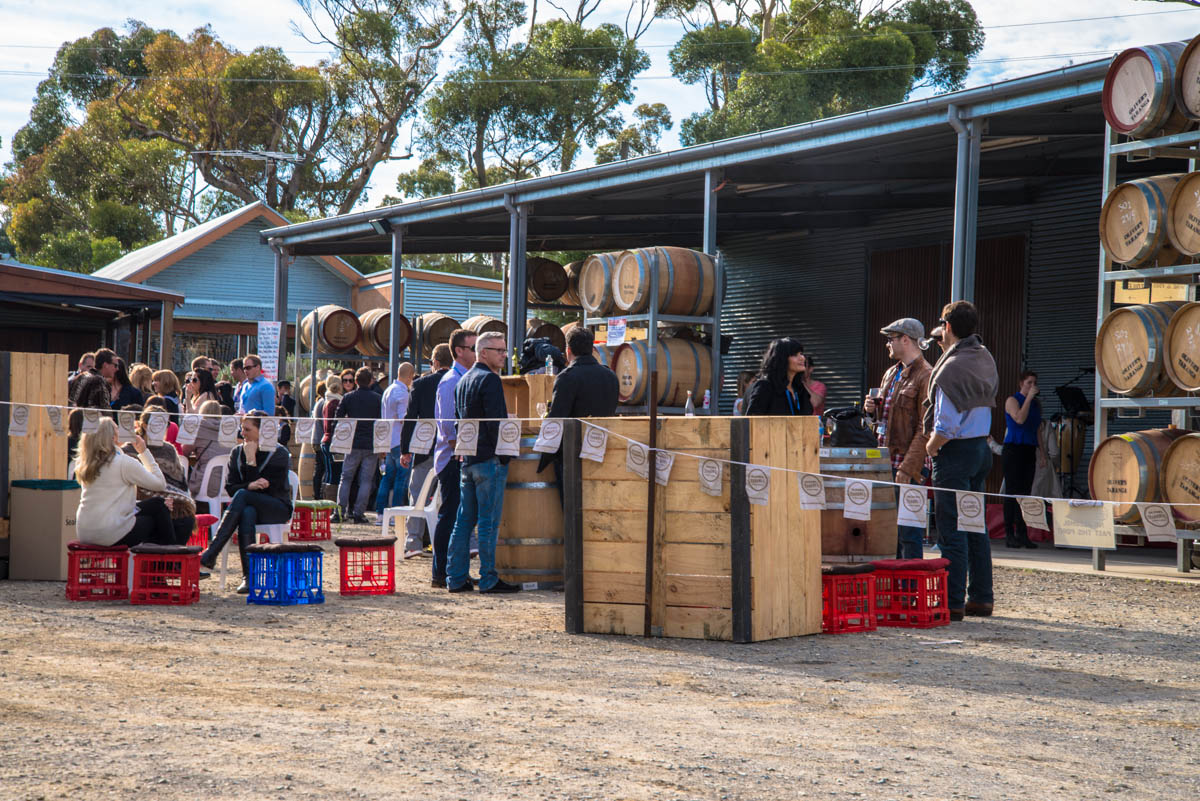 An area next to the main cellar door had been cordoned off. Wine barrels stood in for cocktail tables while up-cycled milk crates provided some seating.
Inside the cellar door was full of people tasting, discussing and enjoying wine. My friend bought a bottle of Oliver's Taranga Vermentino 2011 for her husband.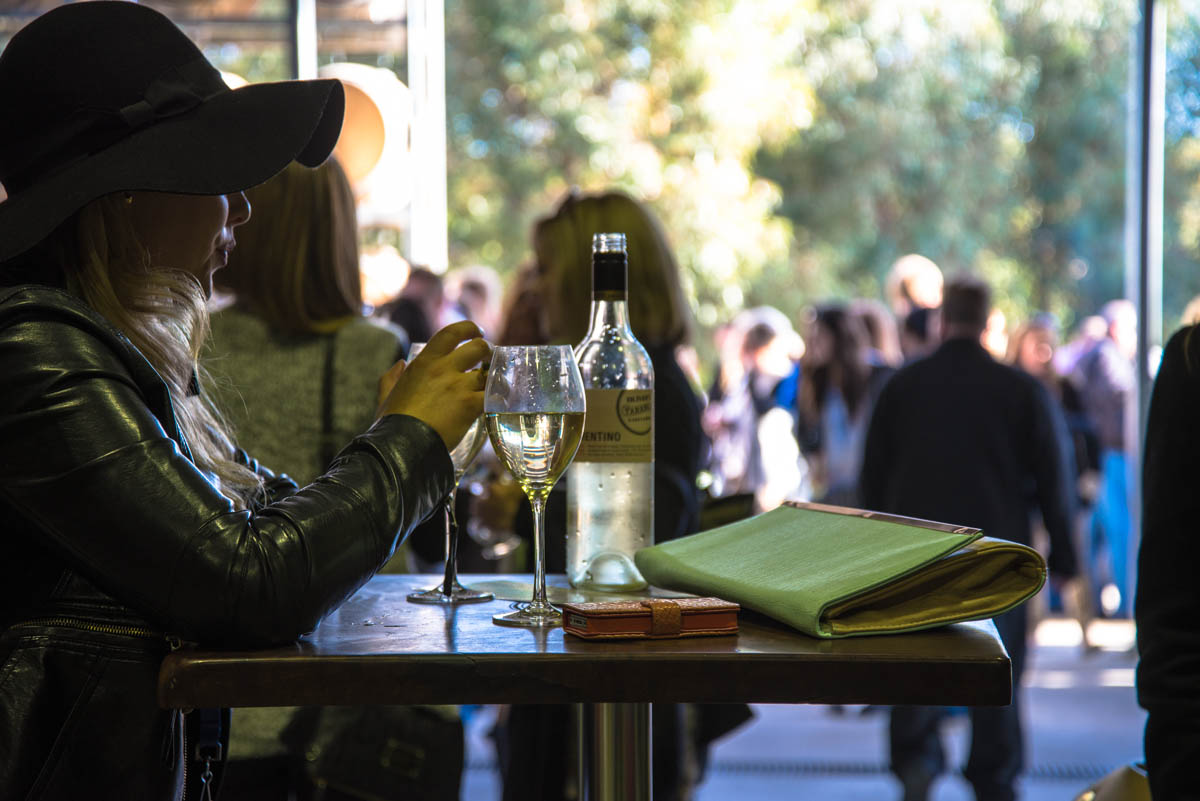 The lure of the sunshine was too strong so we wandered back outside and ordered each of the three main dishes on the menu by Chef Todd Steele. I'd heard very good things about his food and wanted to make sure I tried everything on offer.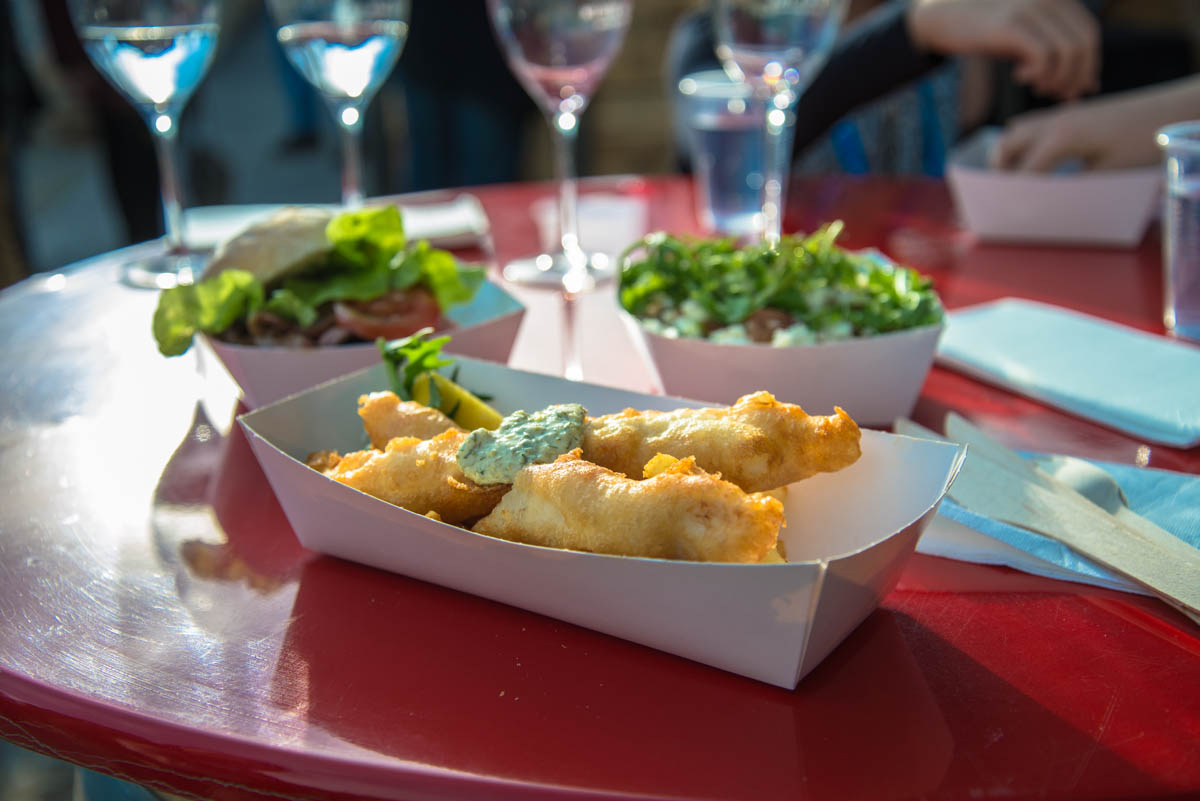 First up, some fish and chips ($15). The beer battered flathead was crisp and flavourful while the perched proudly on the plate, crunched happily between my teeth and were a delight from start to finish. The home-made tartare sauce was remarkably good – with fish and chips it's the garnishes and sauces that make all the difference and this tartare sauce was bursting with fresh herbs and flavour.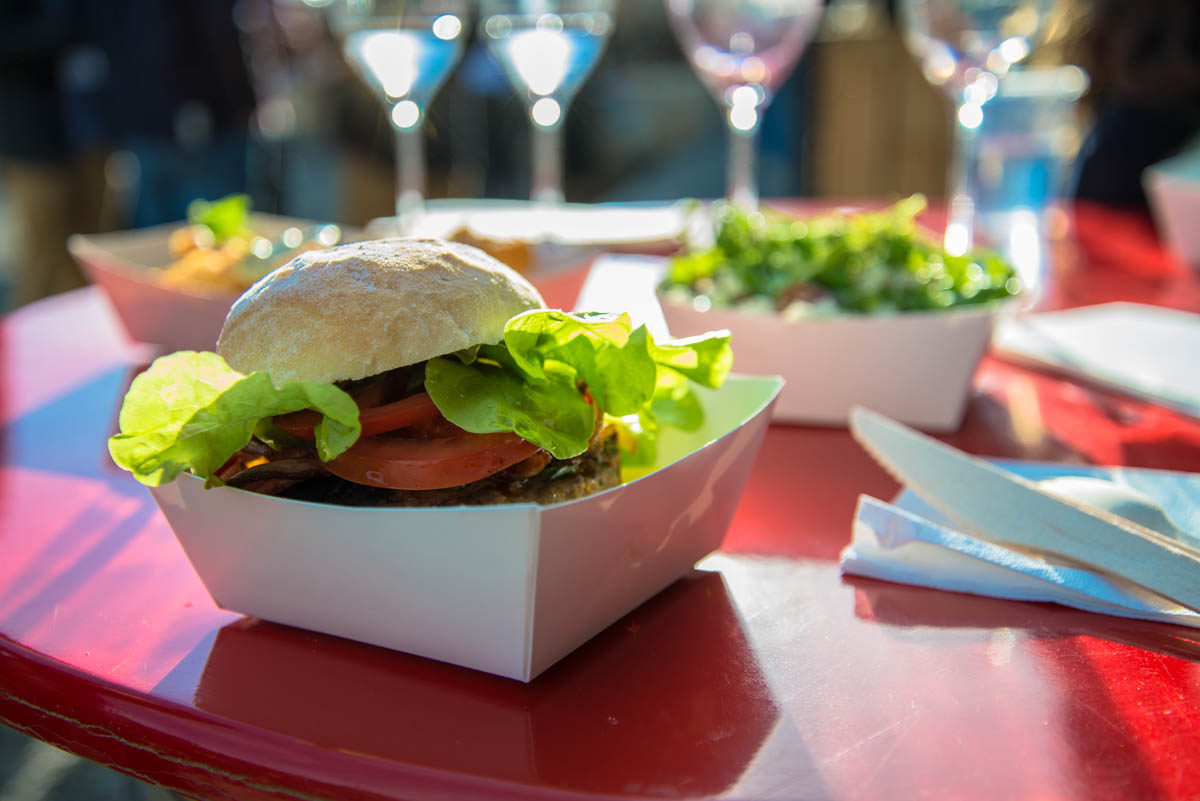 Next up, Todd's beef burger with onion jam, Hamlet's bacon and aioli. The individual elements were flavourful but the large lettuce leaves made eating the burger a little awkward.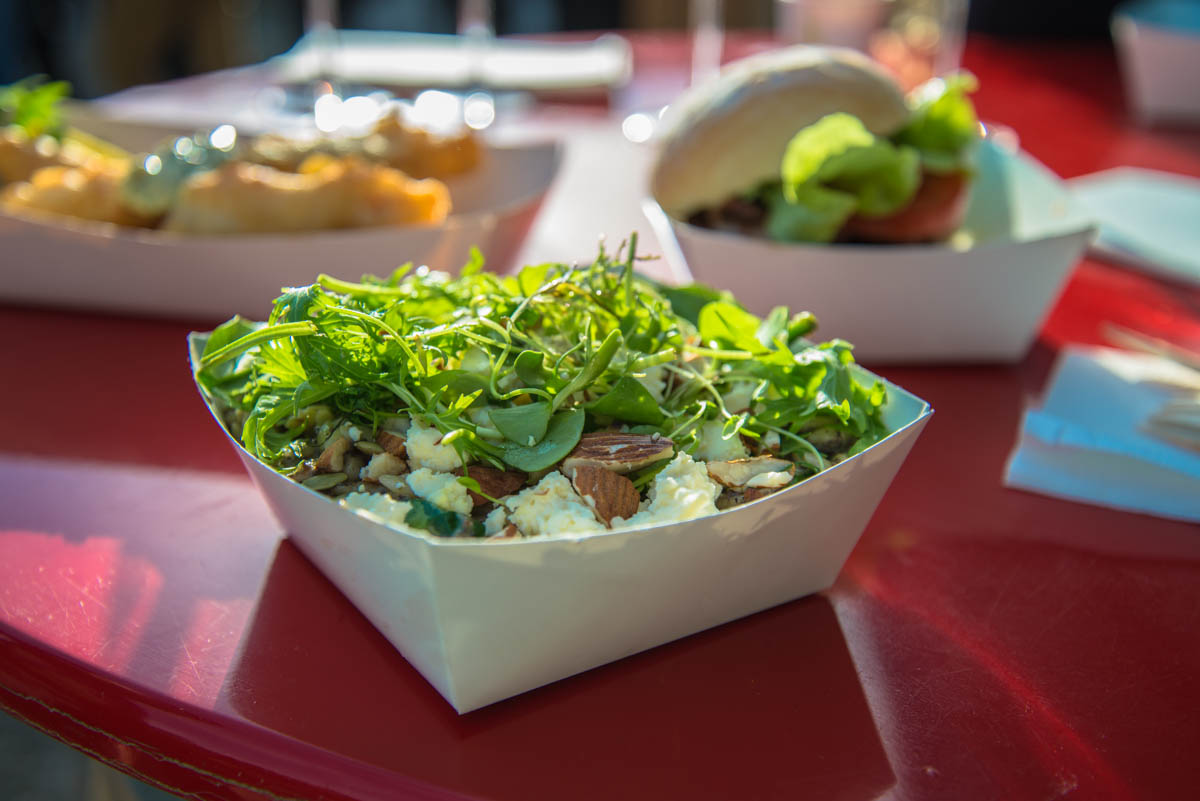 The final dish — Mushroom, Leek, Spinach Risoni (rice shaped pasta) with Baked Ricotta ($15) — was fantastic. Todd had worked in lots of lovely flavour and the heartiness of the dish was nicely balanced by the fresh baby lettuce leaves, herbs, pepitas (sunflower seeds), and crushed almonds. Top marks.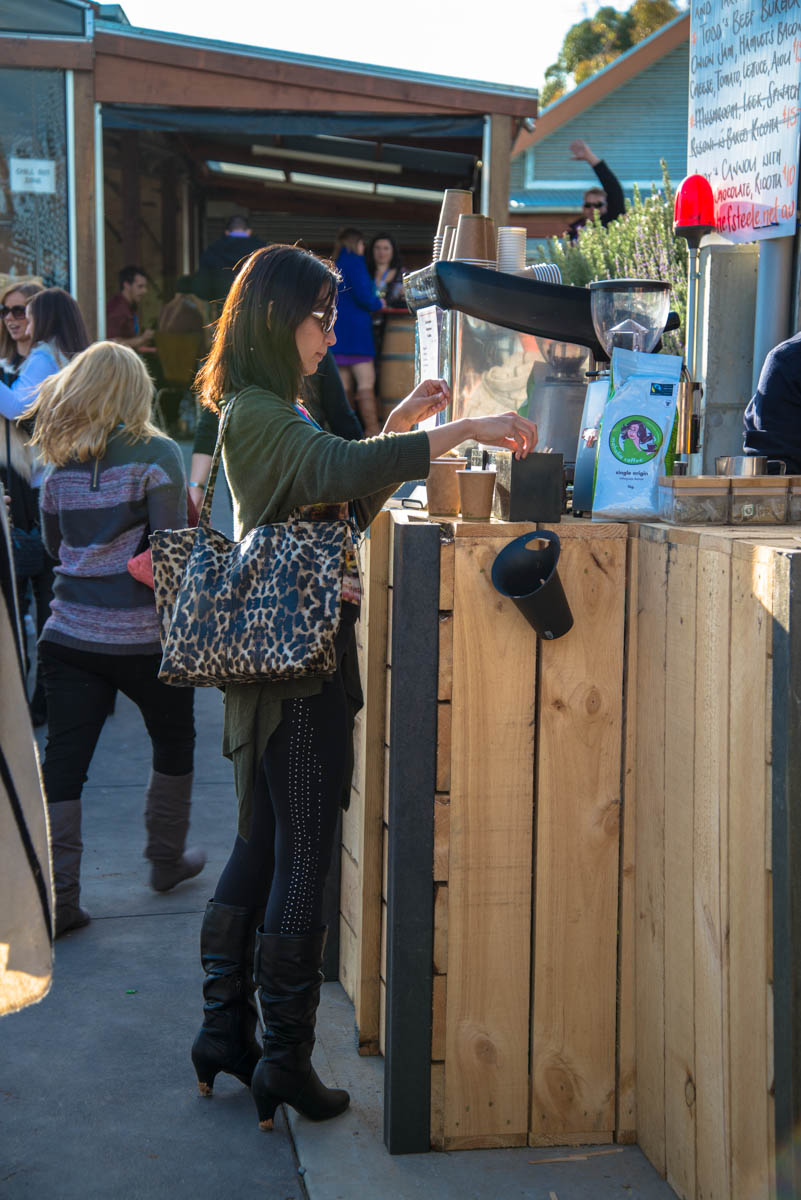 At this point I was getting sleepy from all the food so we loaded up on coffee for the drive home.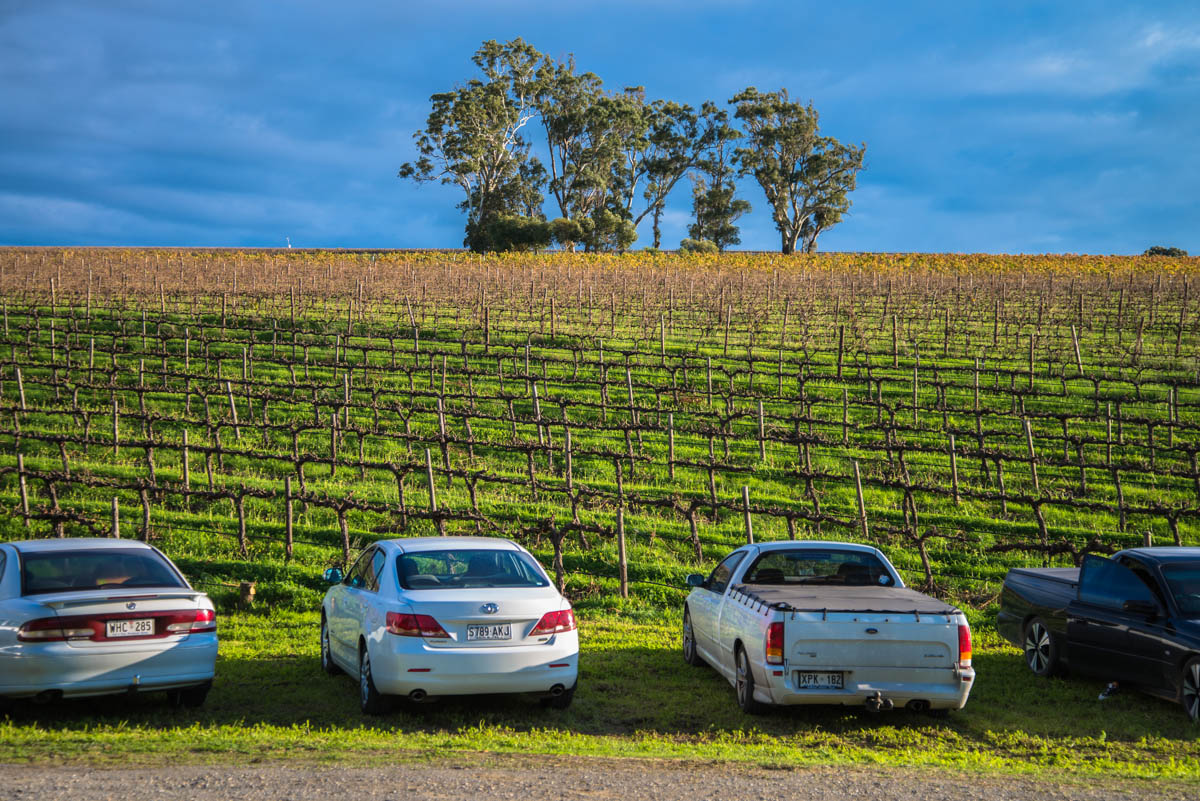 It was time to call it a day.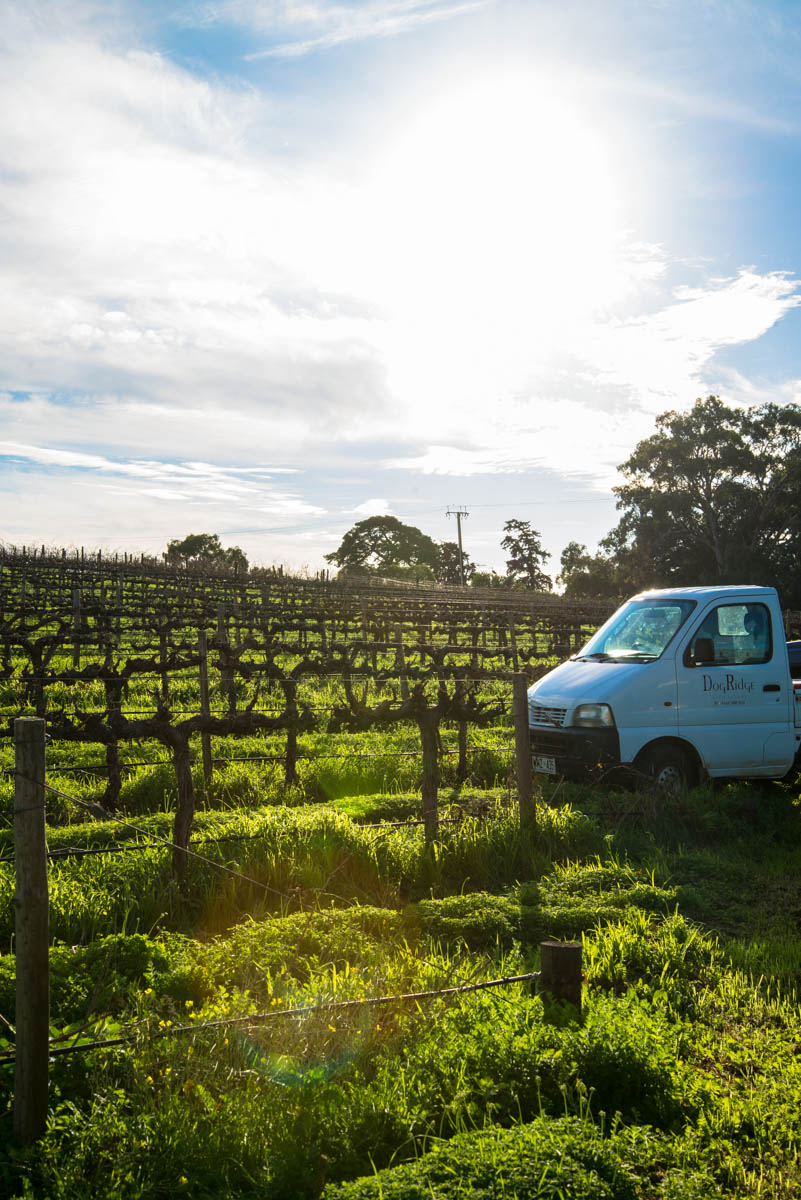 Bye bye, McLaren Vale – we'll be back for Sea & Vines next year but next time I'm bringing a crowd with me.
June long weekend
Various venues at McLaren Value
Sand Road,
McLaren Vale, South Australia, 5171
Tel: +61 8 8383 0600
Email: cellardoor@middlebrookestate.com.au
Corner of Olivers & Chalk Hill Roads,
McLaren Vale, South Australia, 5171.
Tel: +61 8 8323 8200
Email: info@maxwellwines.com.au
246 Seaview Road
McLaren Vale, South Australia, 5171
Tel: +61 8 8323 8498
Email: admin@oliverstaranga.com
Disclosure: we visited Sea & Vine Festival as guests of the festival and Oliver's Taranga. As always, all opinions are my own.