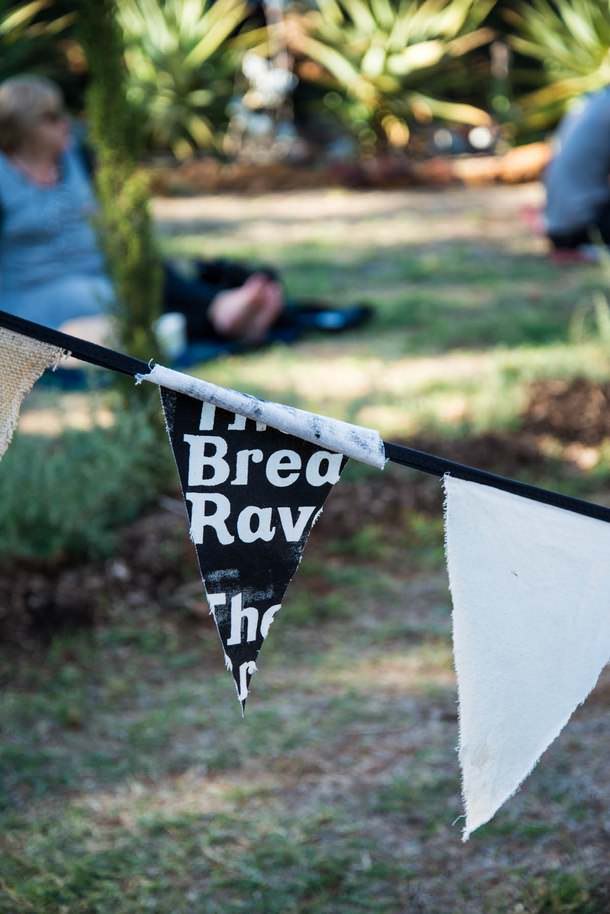 A community pop up event showcasing organic, fair-trade artisan produce, The Breakfast Rave was created at the end of 2011 by Barossa local Cherie. I first heard about it some months ago via Facebook and had put it on my mental To Do list. So when my friend Kirsty posted that she was going to be helping out at the April event, I decided it was a perfect time to check it out.
So a few weekends ago the kids and I got up bright and early and headed out to the Barossa. Australia's most famous wine region is about an hour from our house and I always enjoy the drive.
The kids had eaten a light breakfast but I hadn't so by the time we arrived I was famished. The Breakfast Rave pops up at a different Barossa location each month, which is only revealed days before the event. This time, the event was held in the lovely grounds of Charles Cimicky Wines in the hills of Lyndoch. Previous Raves have been held at Chateau Tanunda, Yalumba Winery, Langmeil Winery, the old Angaston Railway Station, Seppeltsfield and Collingrove Homestead.
After navigating the drive, we arrived at a delightful picnic area.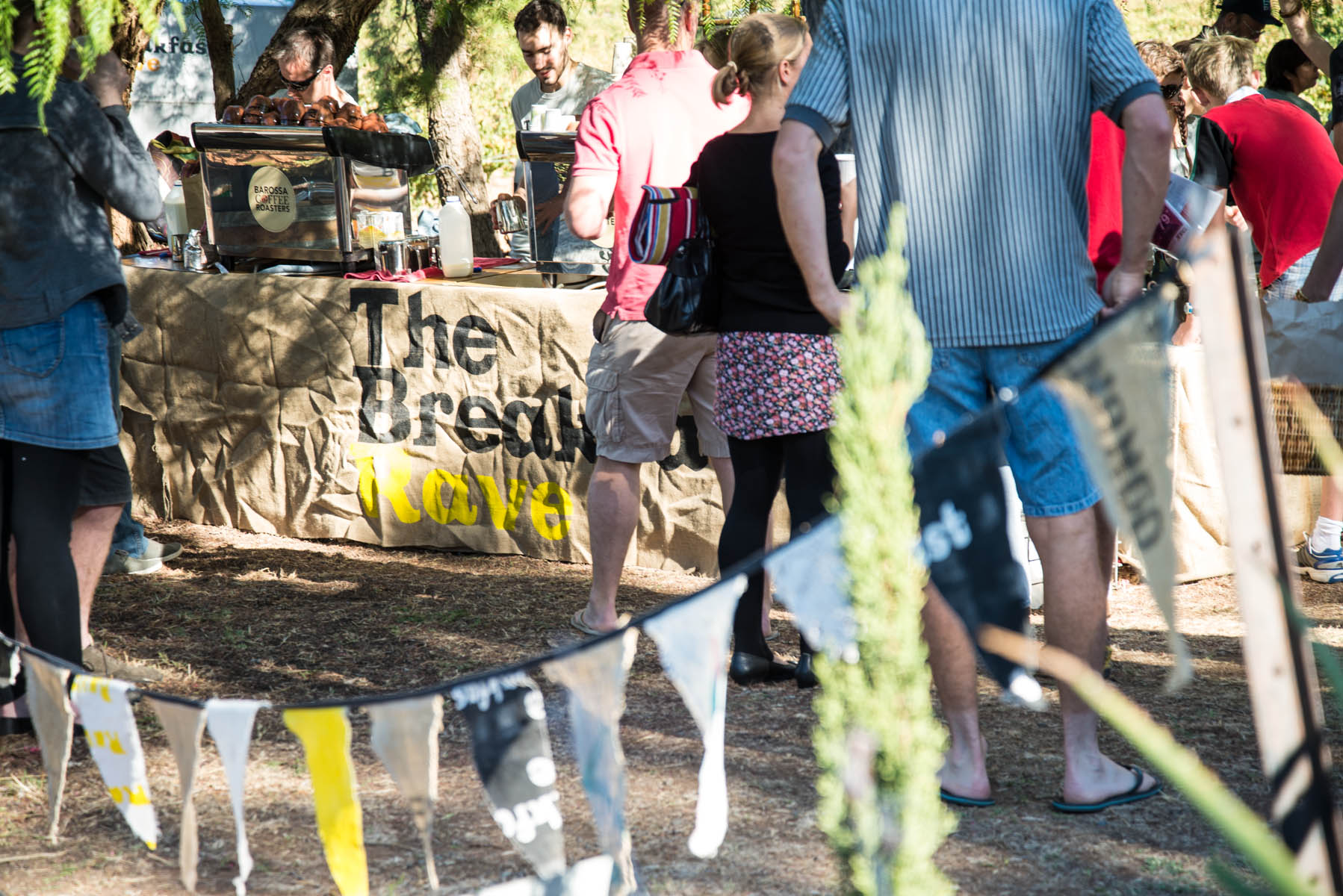 The Breakfast Rave officially kicked off at 8:30am so I'd thought we was doing quite well to arrive by 9:15am considering the 1-hour drive. But even at this hour the queues were enormous. Dang! I should have realised that Barossa folk are likely to get up at the crack of dawn. The kids and I looked at each other sadly and my stomach growled.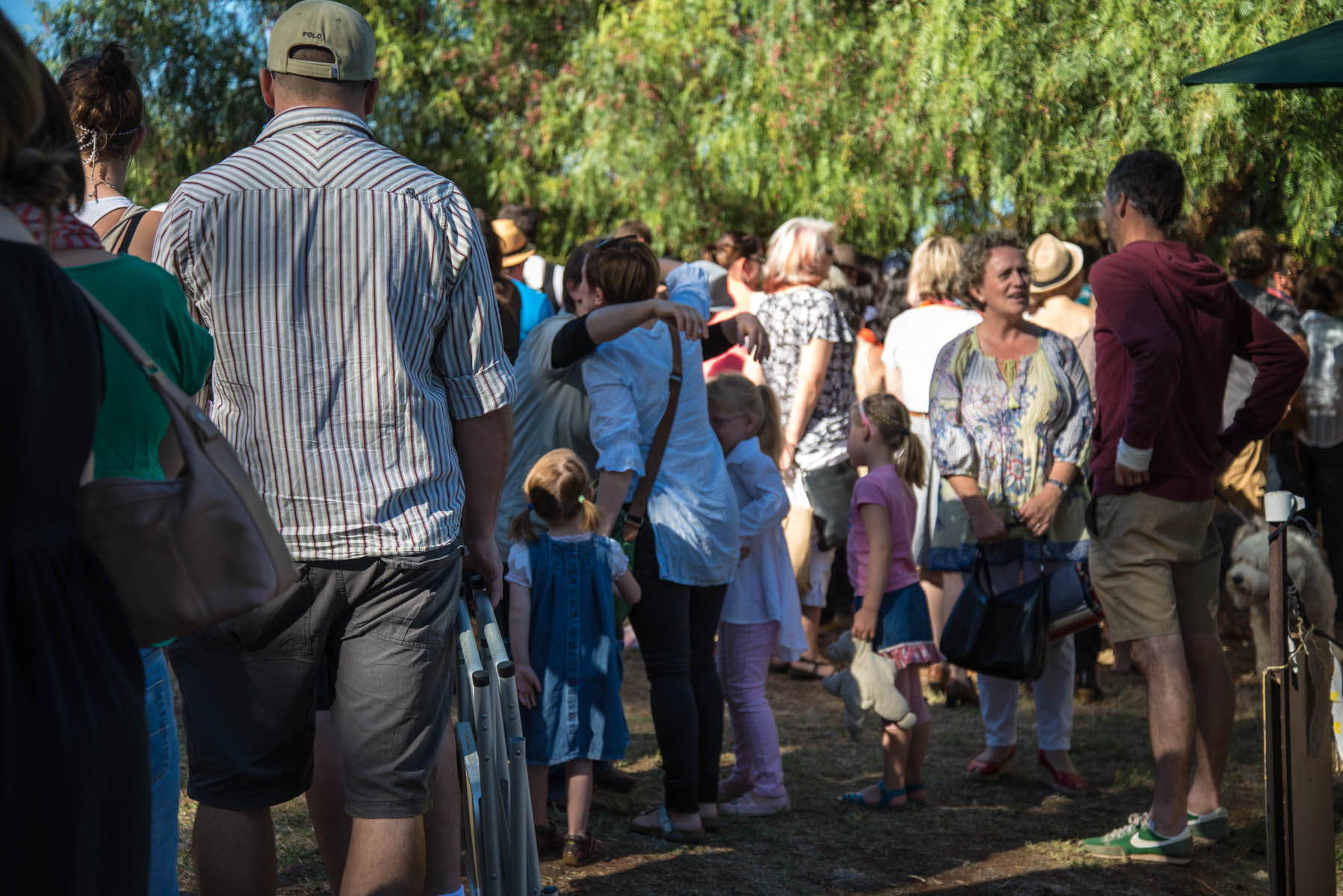 I wanted to check out the trading table (people bring along excess produce or plants and then leave them on the table to trade for something else) but decided that we better starting lining up straight away. While we queued, we took in our surroundings.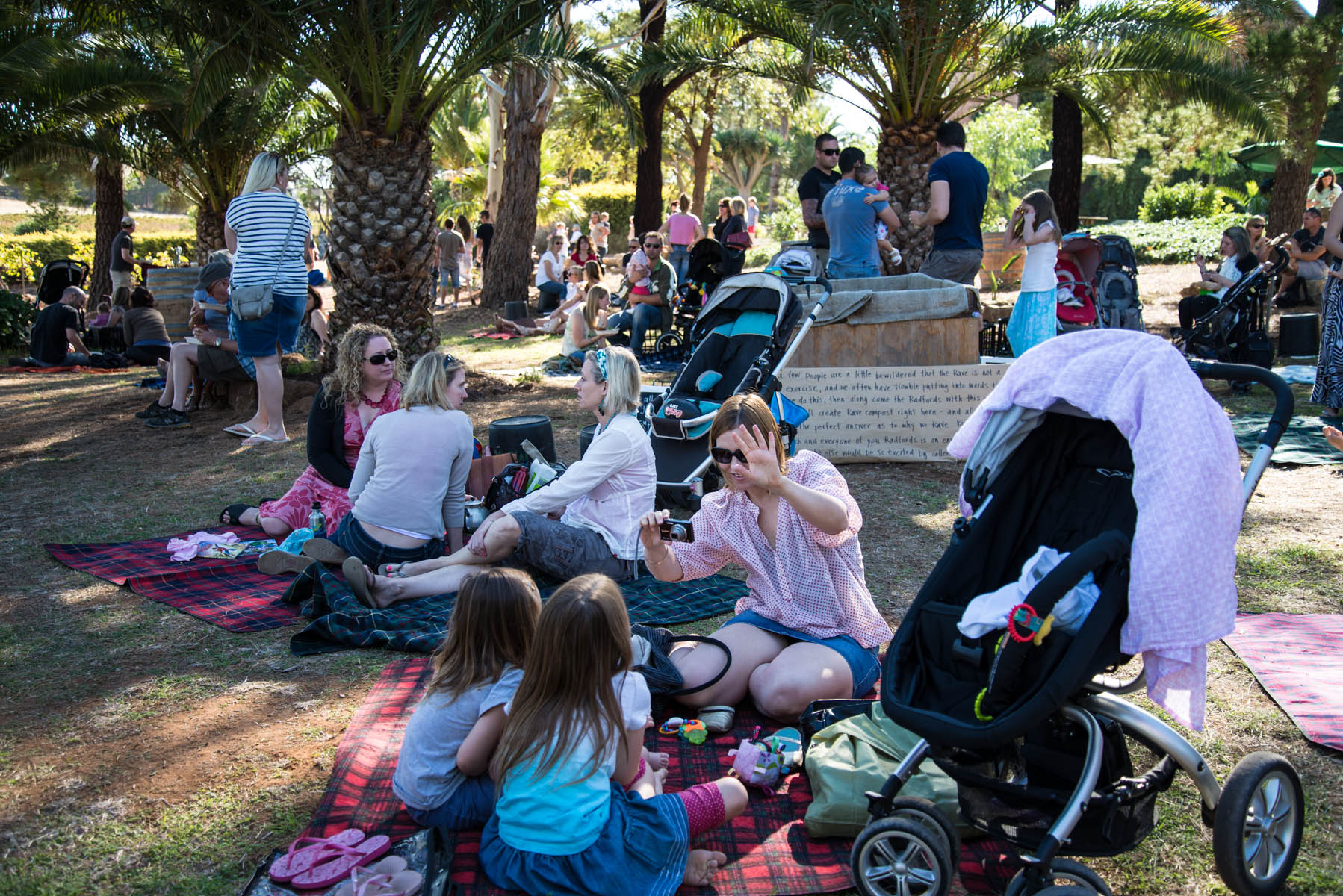 The Breakfast Rave team had picked a lovely shady spot, overlooking the vines.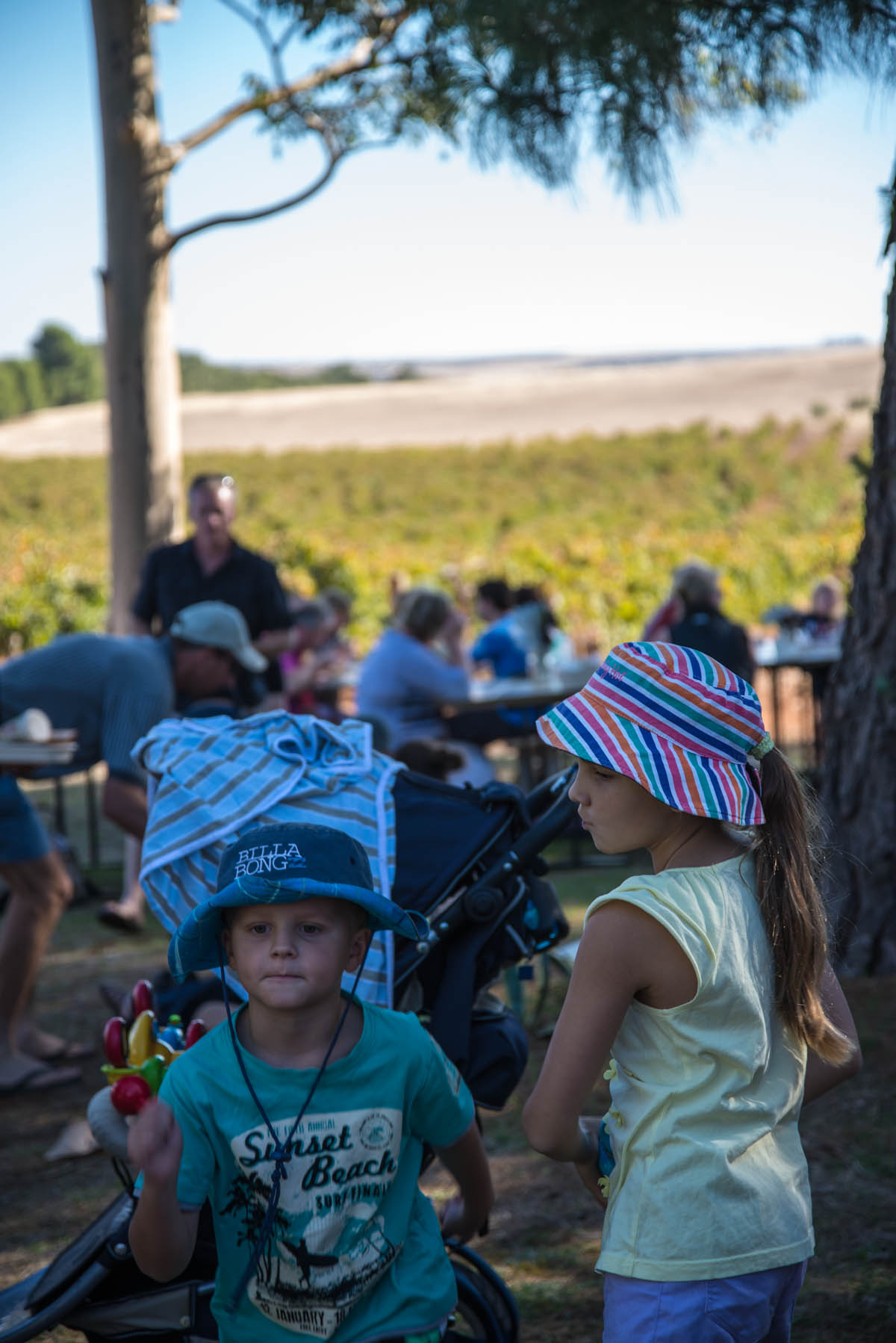 When I told my three year old that we were going to visit a 'farm' in the 'country' he had asked me if there were going to be animals there. So I was glad to be able to introduce him to this nice fella, one of many dogs at the Rave.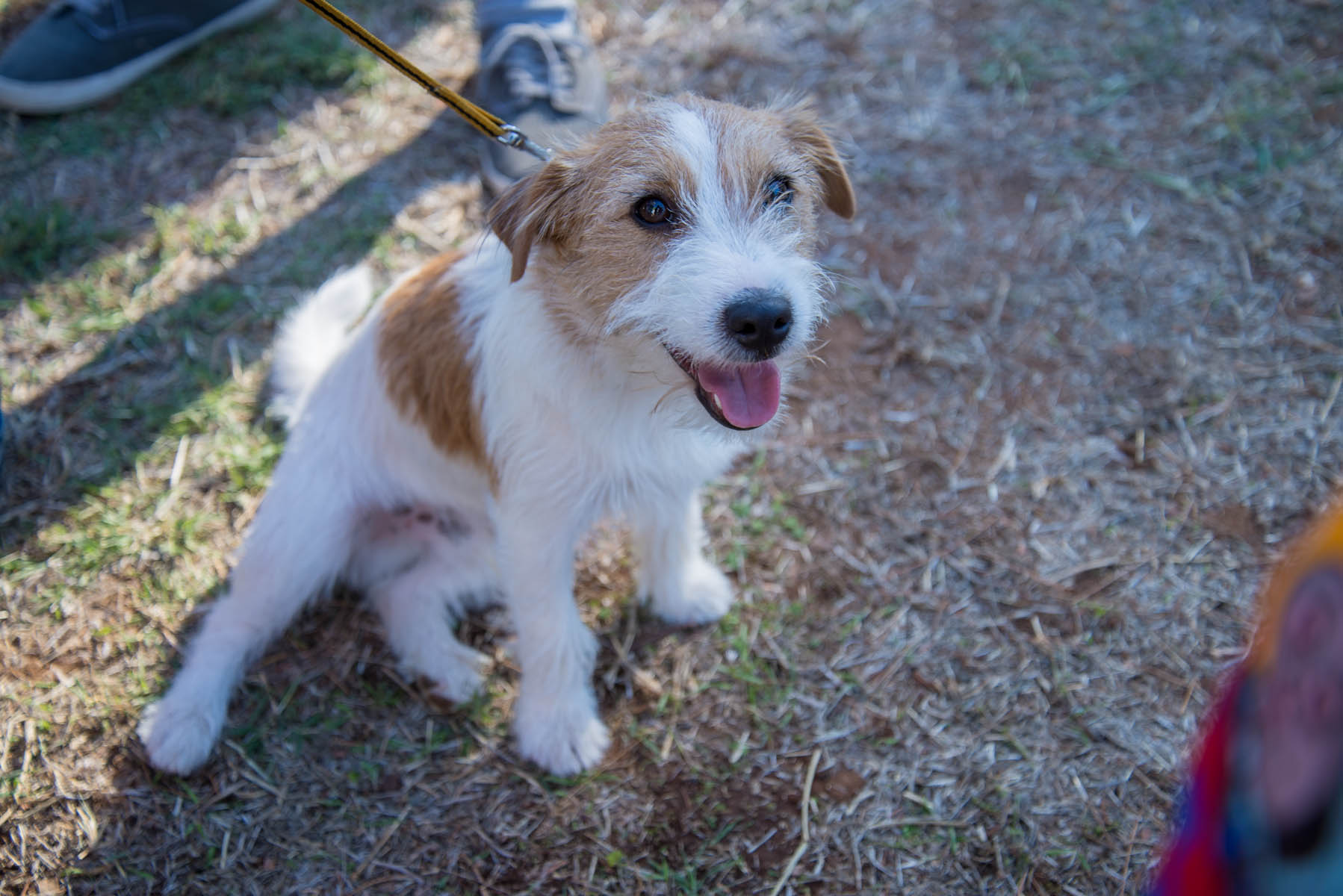 And here's a real-life farm boy with a hat. Or maybe he's a city slicker doing the country look. I can't really tell.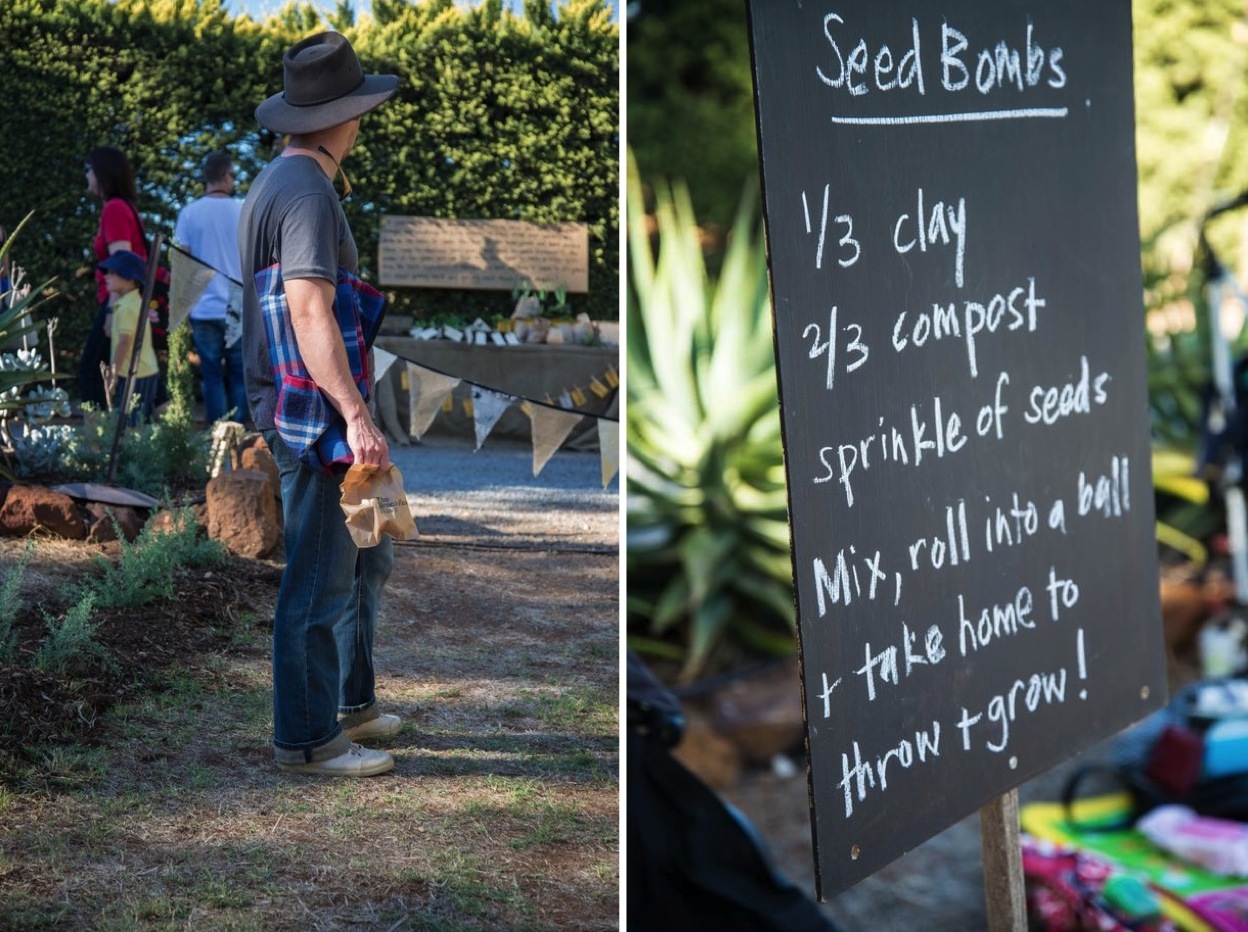 Available to buy on the day was The Breakfast Rave branded organic tea and coffee beans, organic Panela sugar, organic GF whole flour mix, organic hot chocolate, and organic raw cacao, along with tea by Scullery Made Tea and coffee by Barossa Coffee Roasters.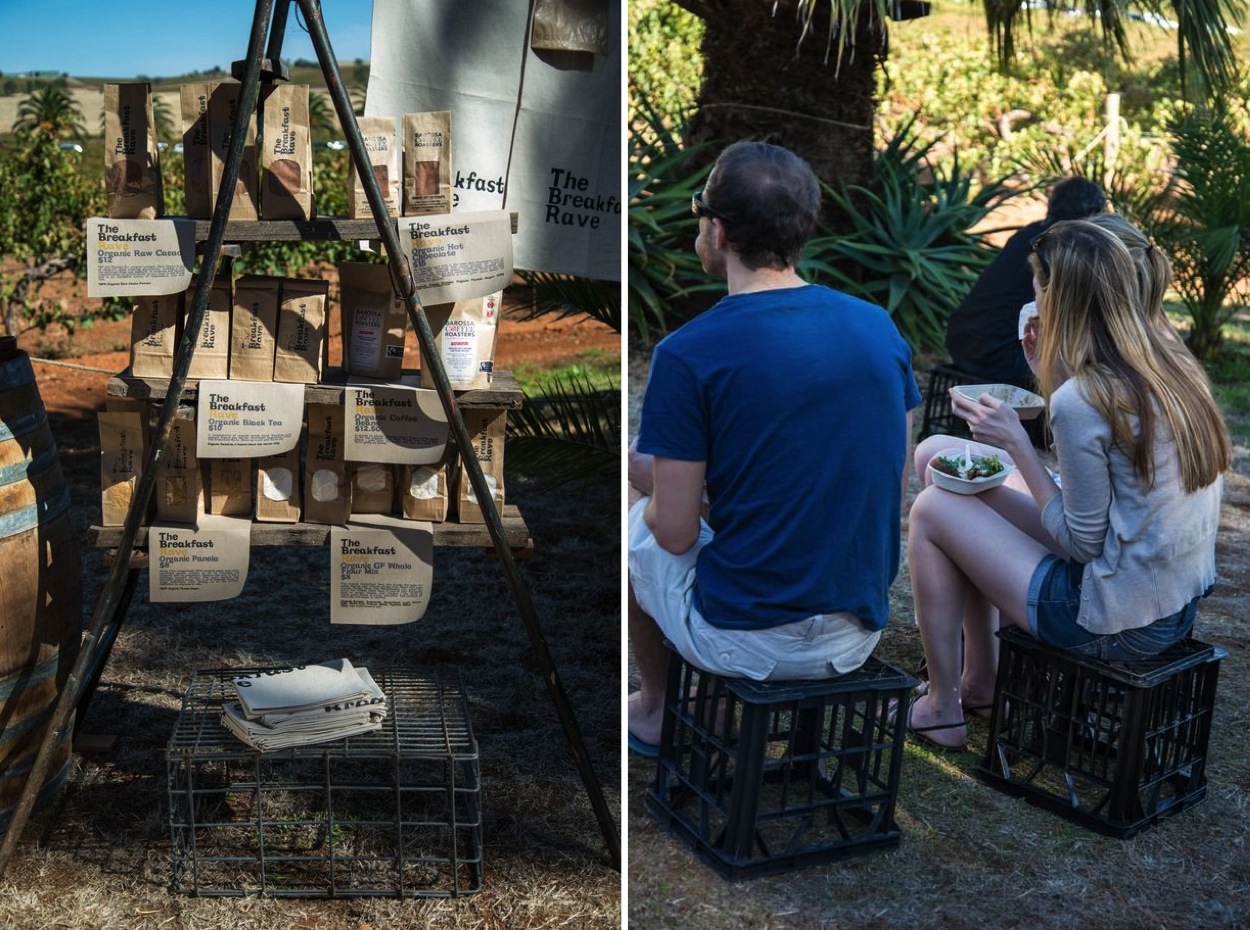 Here's a little (unedited) video I shot on the day.
As you can see, I have a long way to go with video! But we all have to start somewhere, right?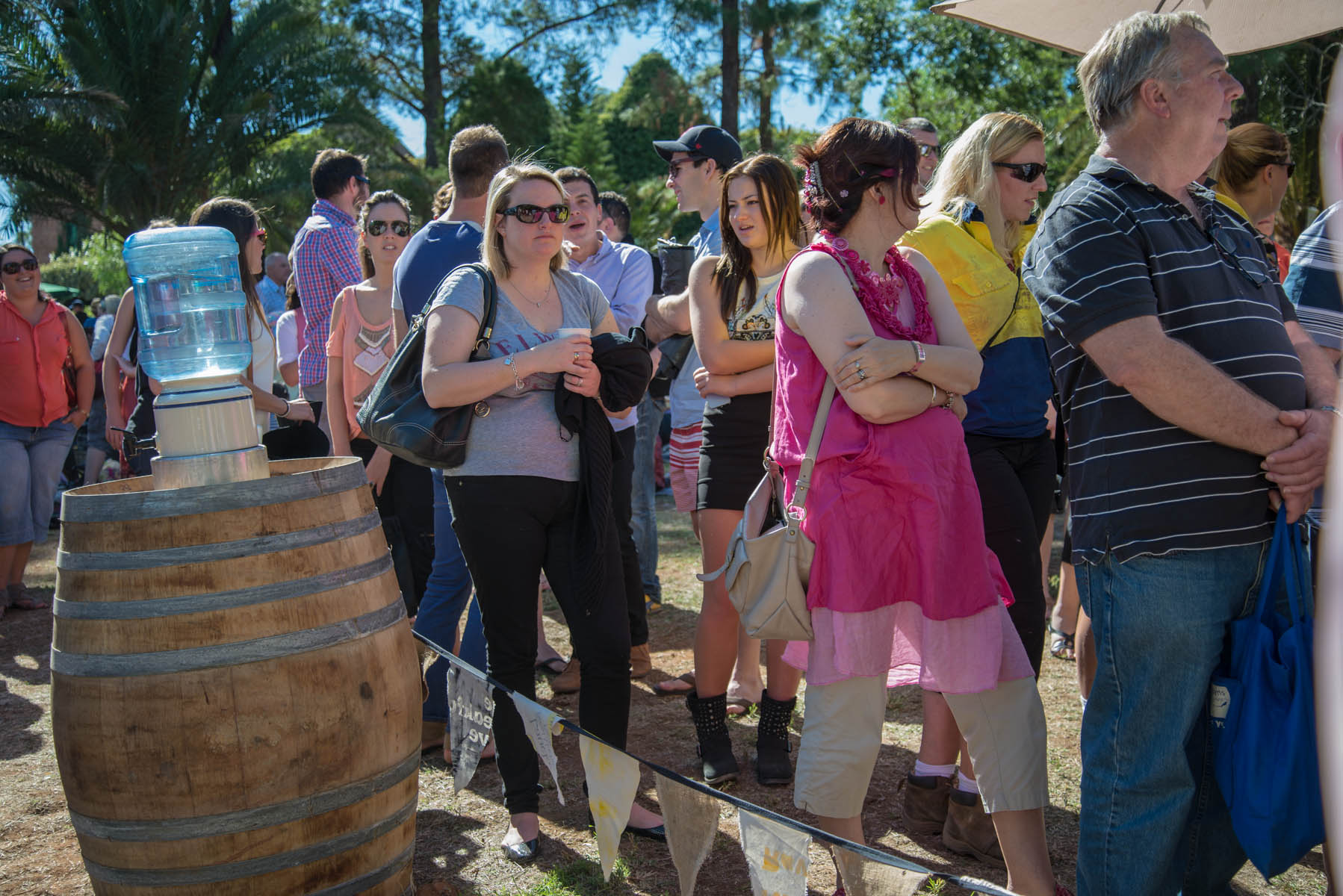 After about twenty minutes we made it to the front of the queue. Hurrah!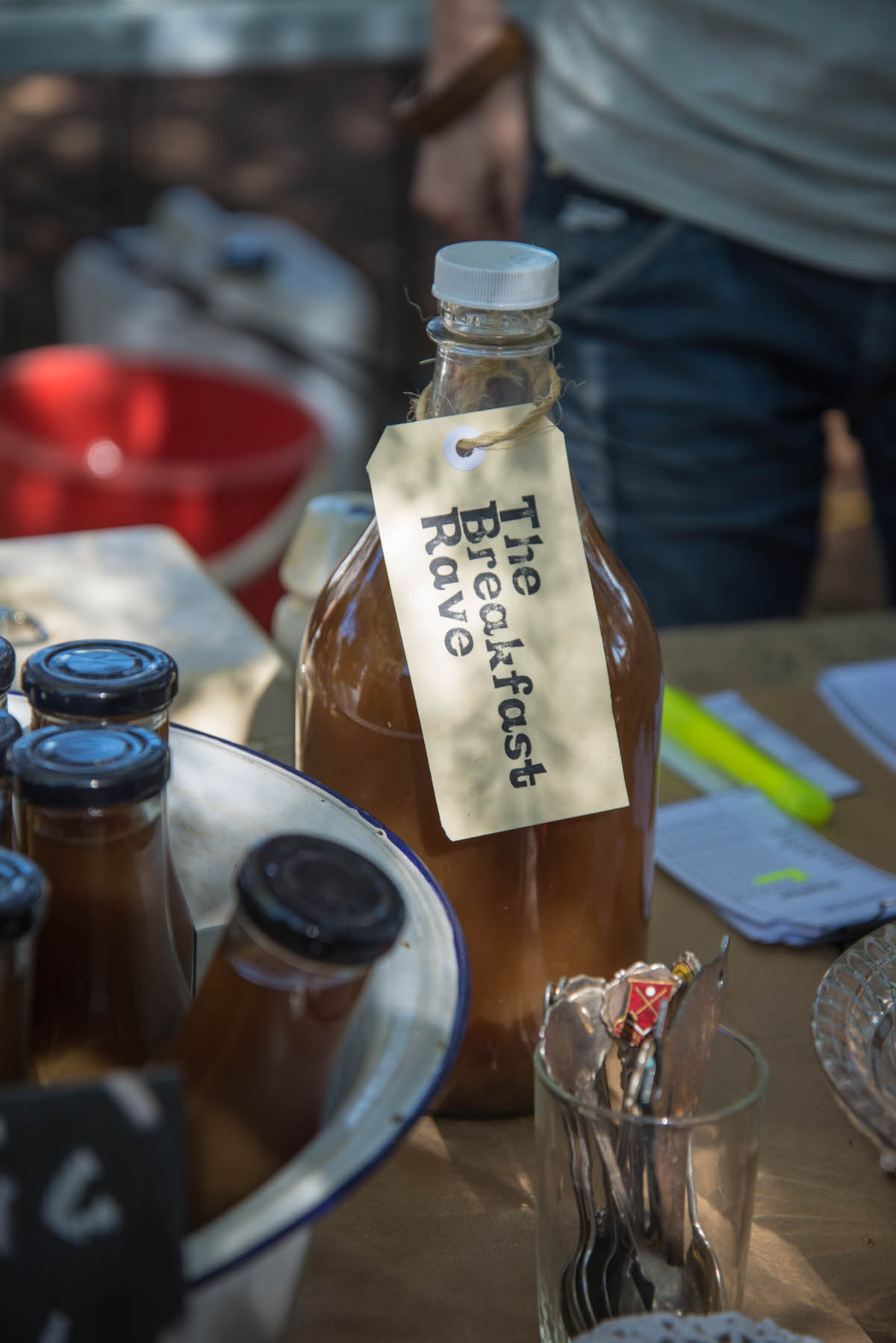 We ordered one of each of the hot dishes available – Spanish style slow cooked beans with free range egg, biodynamic yoghurt and organic sourdough bread ($12) and rösti with free range egg, sweetcorn and avocado salsa, biodynamic yoghurt and organic sourdough ($12).
The nice lady taking our order told us apologetically that it would be a half hour wait for the hot food so I ordered a blackstrap molasses cookie ($4) and GF raw cocoa brownie ($4) to tide us over.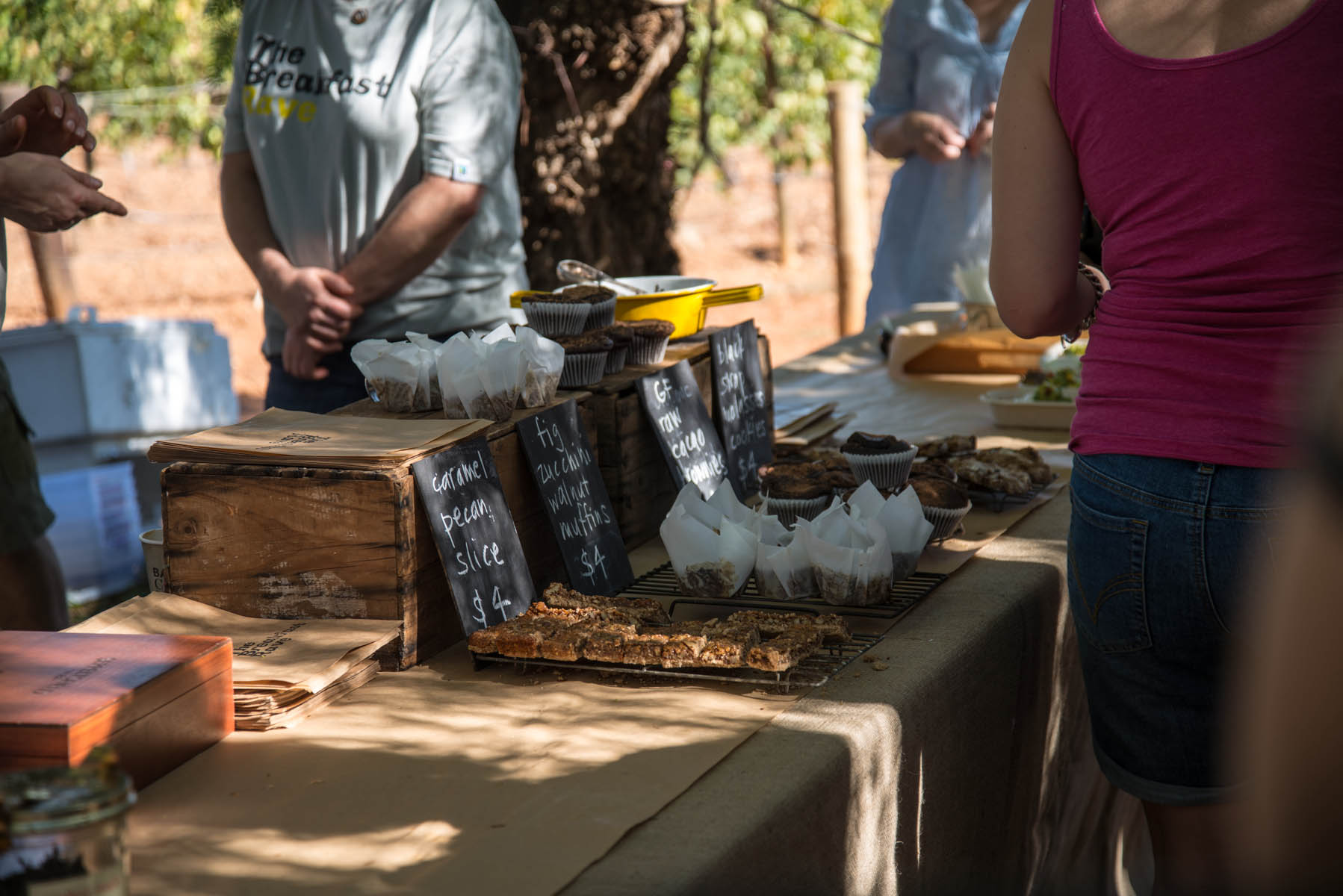 A glimpse at our food to come…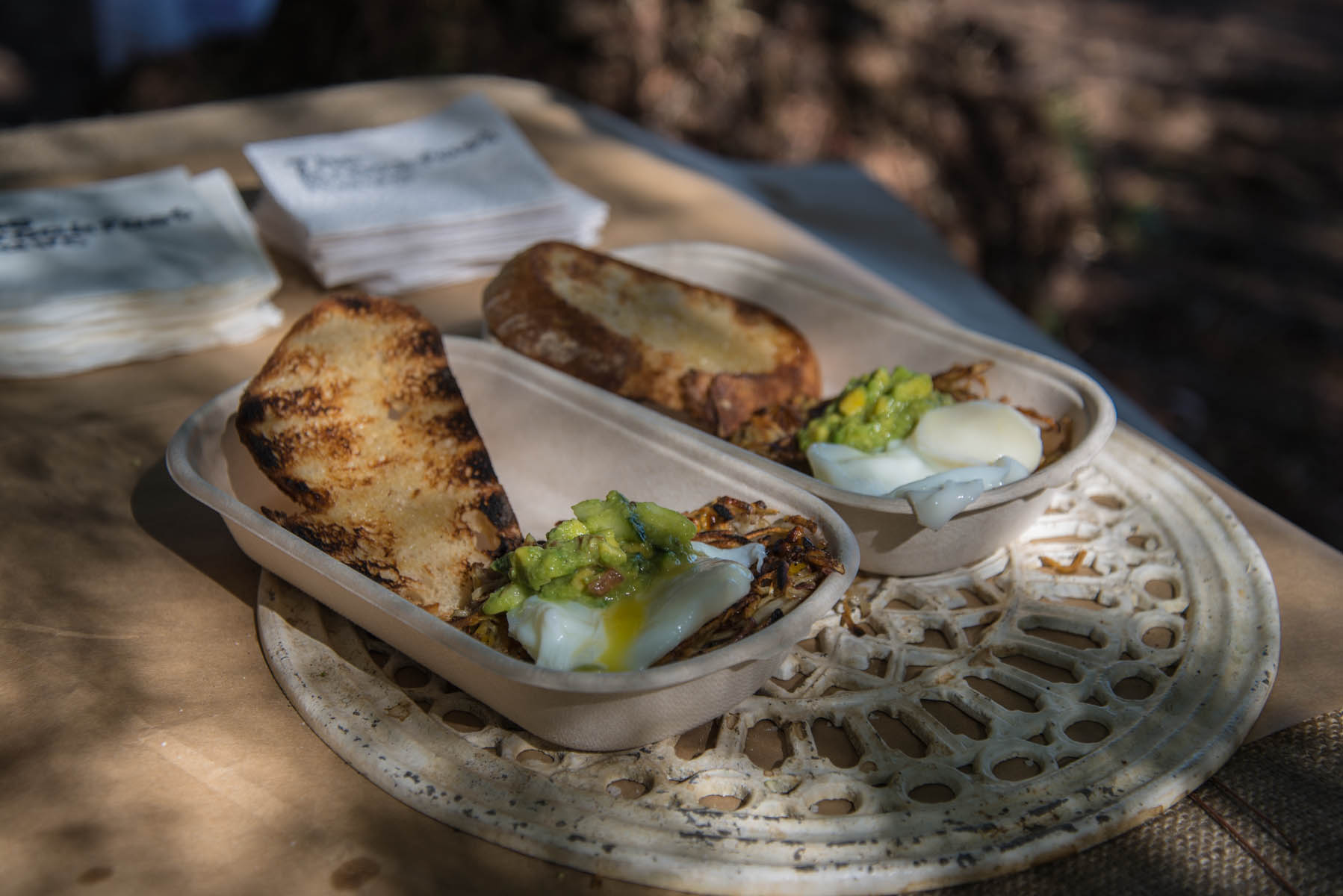 While we waited for our friends to arrive we found a rock to perch our drinks on: I'd bought two green smoothies ($7) and two real lemonades ($4) plus a Sumatran soy latte ($4) was on its way. My kids loved the mild flavoured lemonade (sweetened with organic Palena sugar) but found the green smoothies too bitter for their liking. It was an undeniably healthy smoothie but perhaps an extra apple or pear might have made it more palatable for younger tastebuds.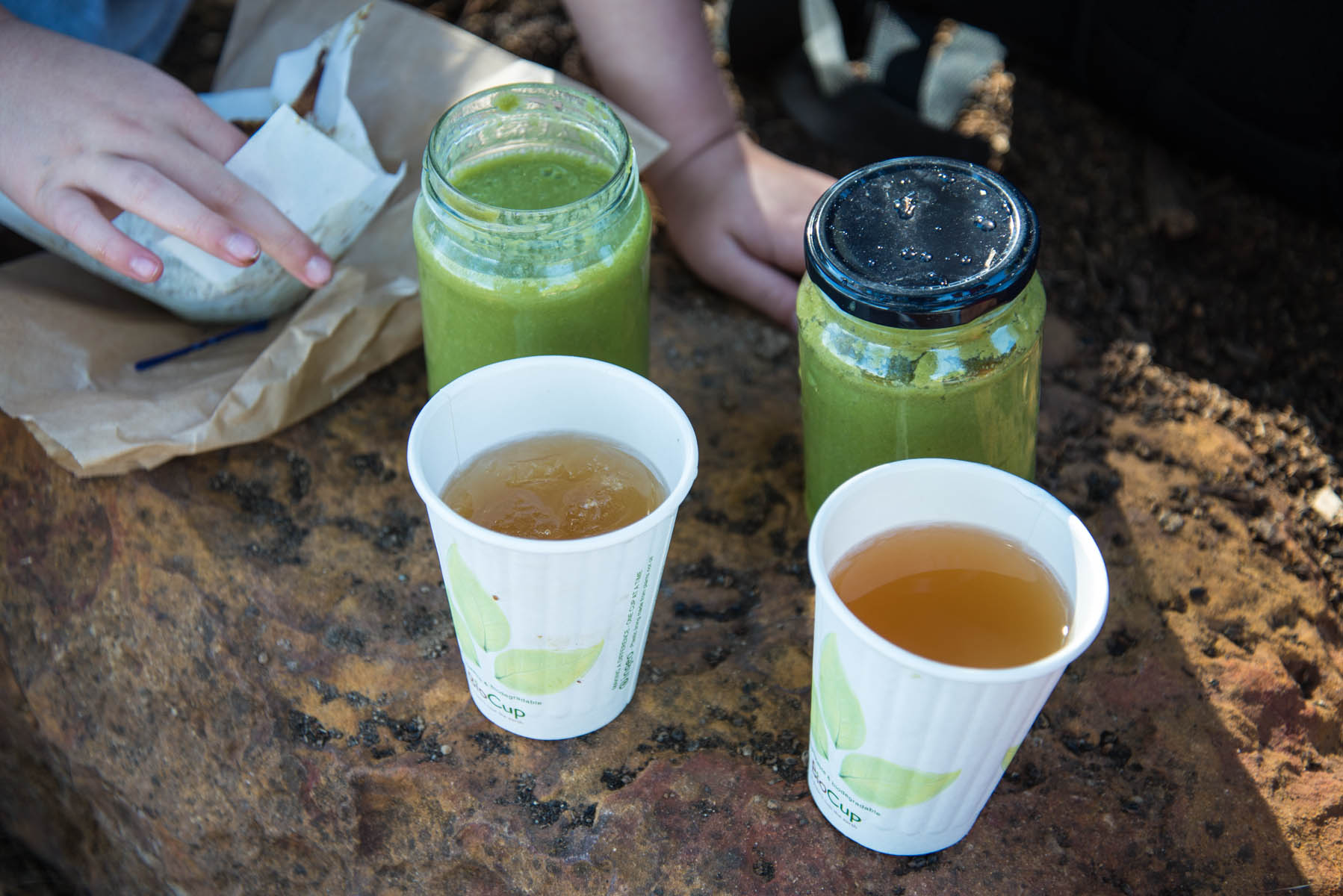 My son got stuck into his blackstrap molasses cookie while my daughter made short work of her GF raw cocoa brownie. The cookie was a great, tasty vegan option for my little guy, who can't tolerate dairy or eggs, while the brownie was rich and chocolatey with a texture somewhere between a brownie and a muffin.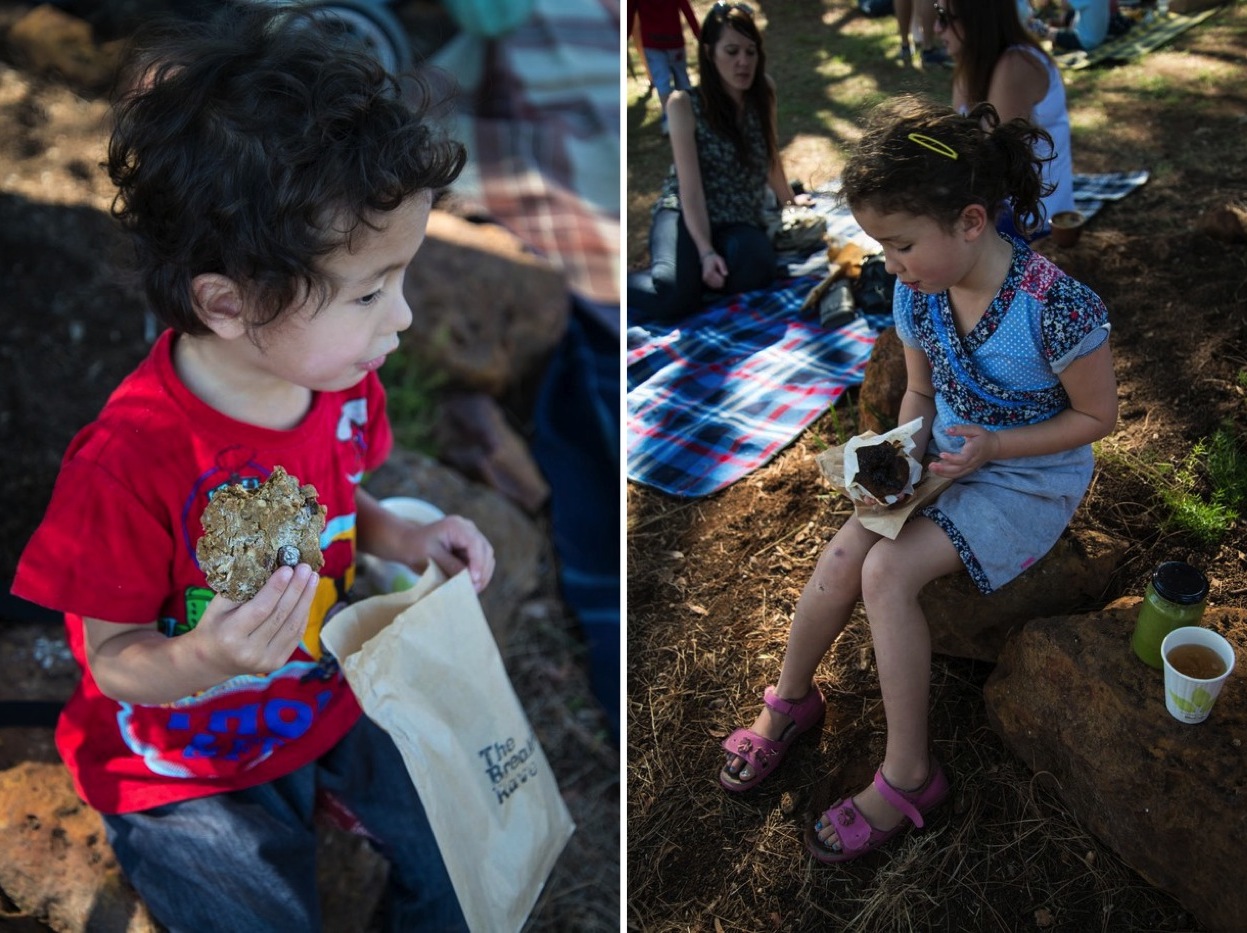 Finally my name was called and I claimed our food with a sigh of relief. The stewed mixed beans were bursting with smoked paprika and oregano flavours and went together marvellously with the nicely cooked poached egg, coriander and yoghurt. The potato rösti was similarly good, especially when eaten with the mild avocado corn salsa, but my kids found the rösti too peppery for their liking.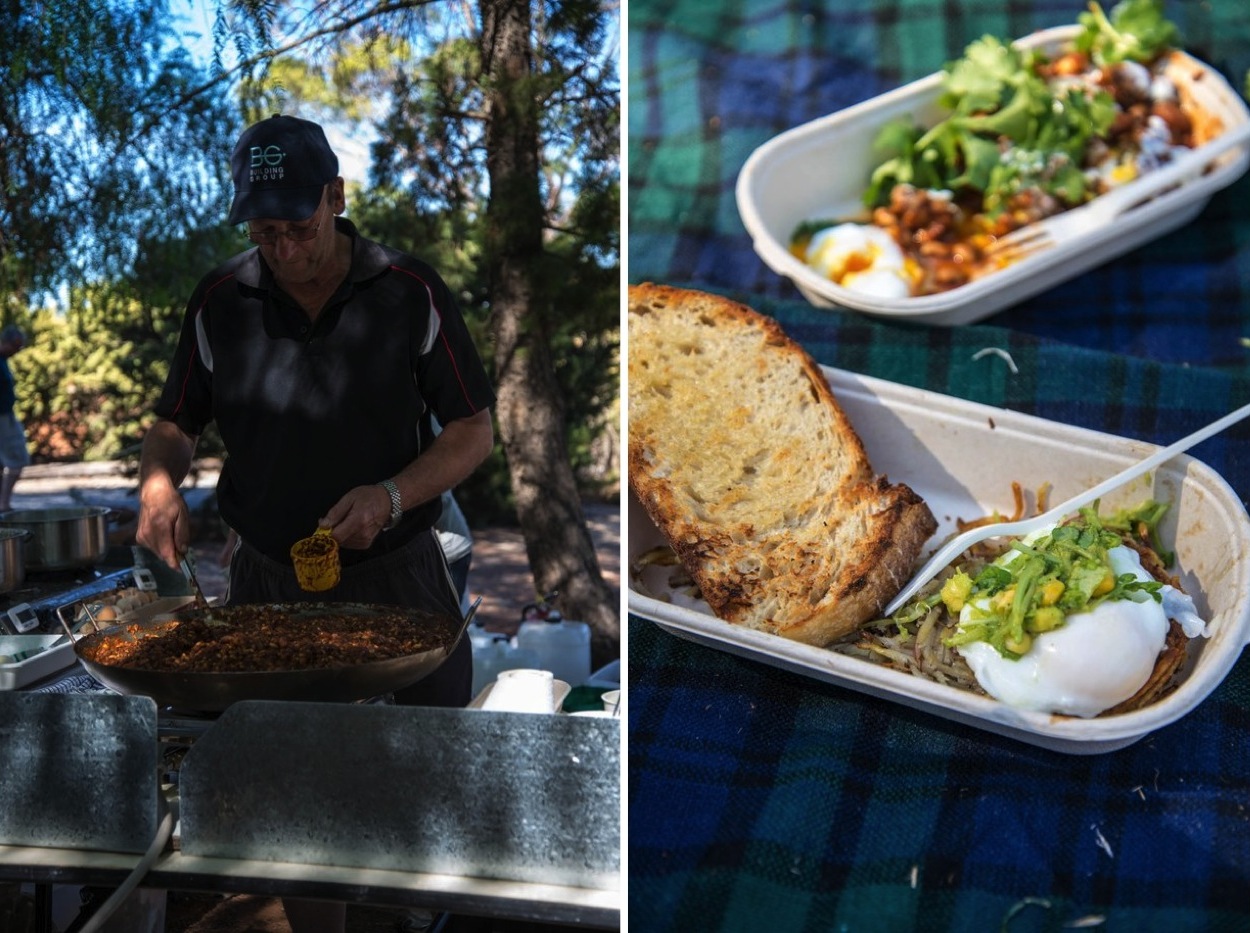 Our friends arrived and braved the queues for coffee and cake while my kids took off to play on the nearby rocks.
An event like this requires an enormous amount of work. So what possessed the organisers to create The Breakfast Rave? It is an undeniably great way to promote local producers while bringing people to the region who might not otherwise visit but is that the full story? Perhaps this charmingly handwritten sign will explain all.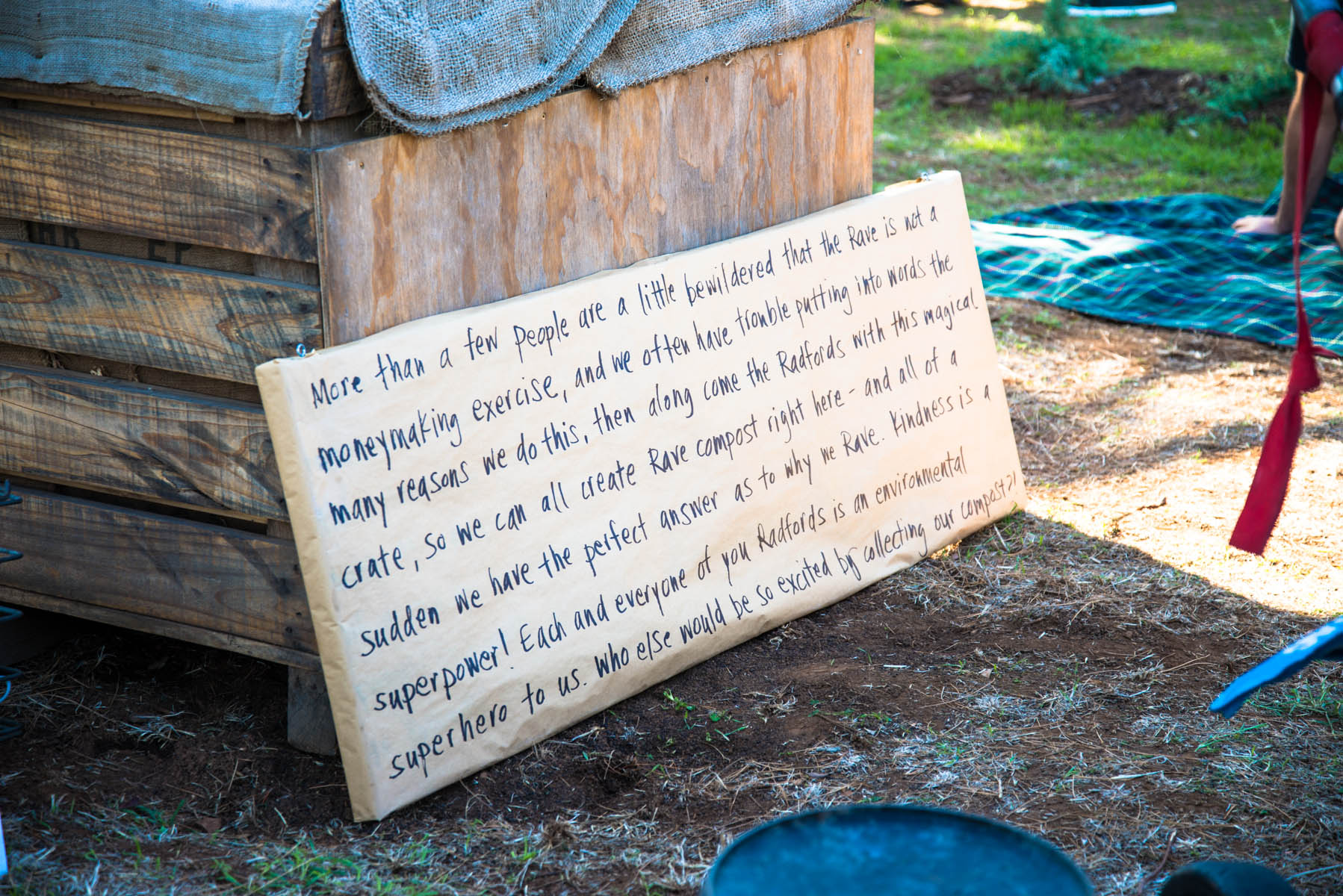 Indeed. All the plates, cutlery and cups at The Breakfast Rave are either recyclable or compostable. By the time we leave this crate is three quarters full.
The long wait notwithstanding, the Rave had a lovely relaxed atmosphere.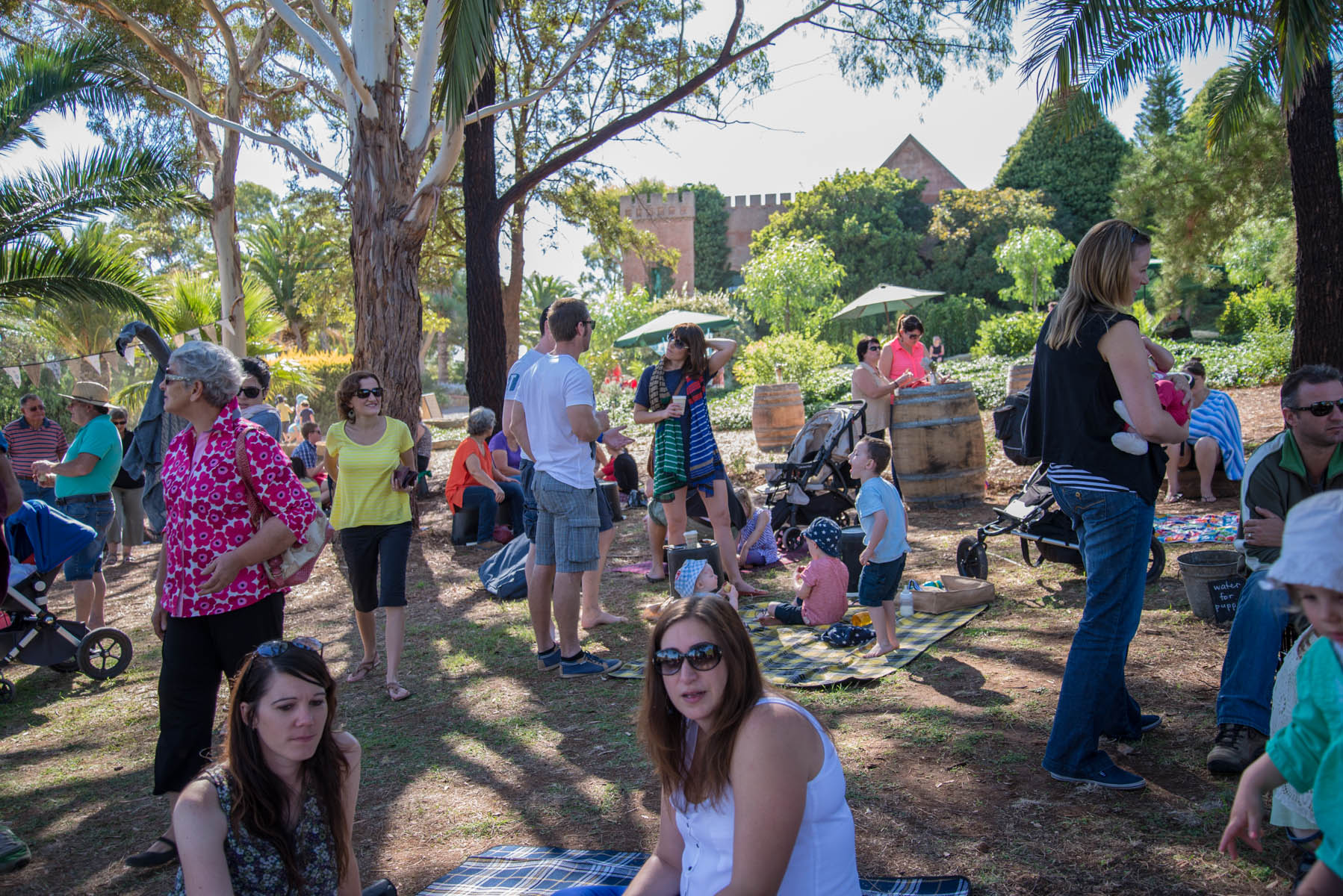 Two very decent local musicians played cool and crowd-pleasing acoustic tunes as family and friends listened, relaxed and caught up.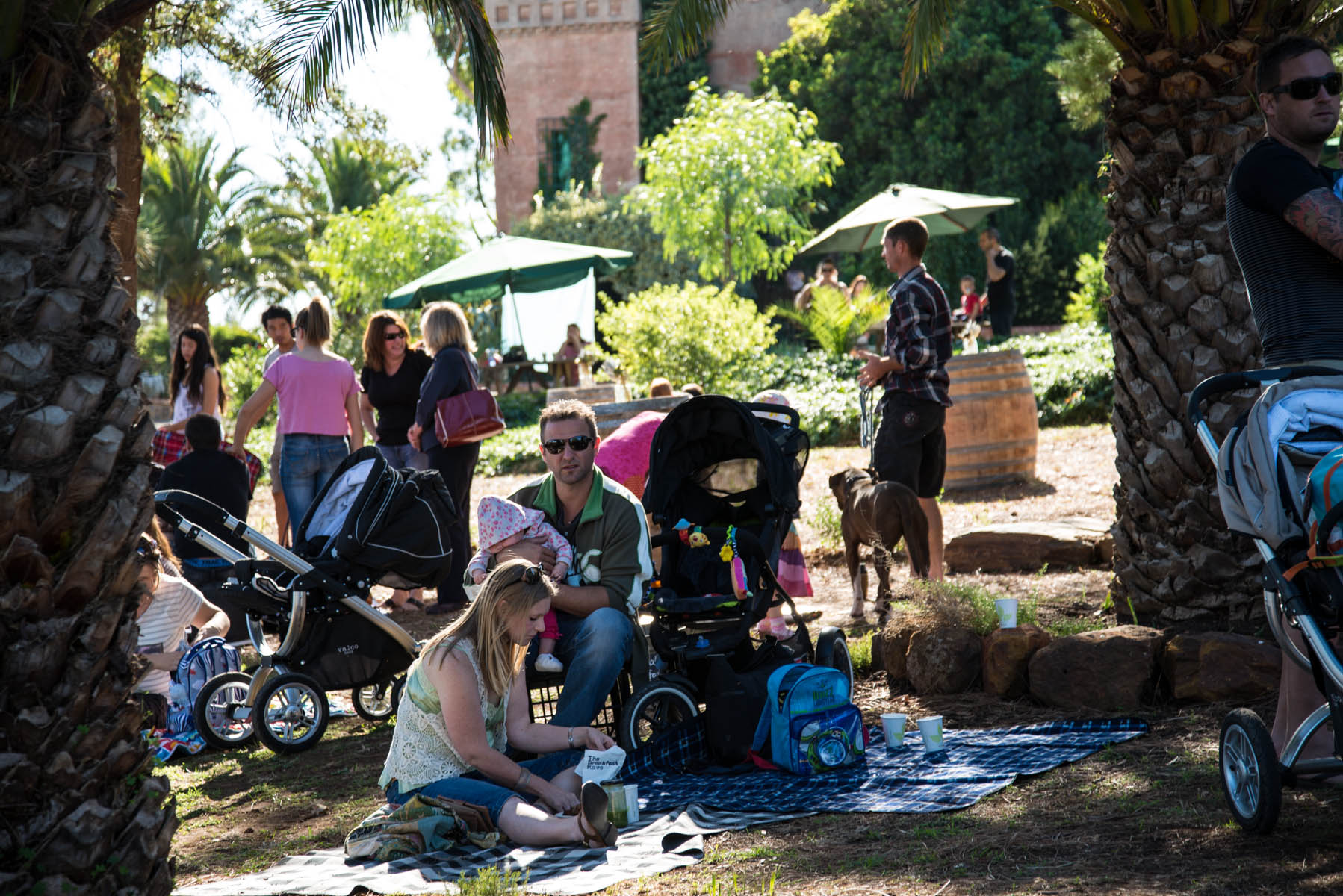 I managed to grab a few words with Kirsty before we left and she explained that the organisers had been overwhelmed by the sheer number of people that'd turned up this morning. They'd catered for more people than attended the last Rave, and had double the number of volunteers to help out, but an estimated extra 200 people had turned up, possibly due to a listing in the Barossa Vintage Festival programme. So the organisers had done their best to cater for the crowds but the long waits were unavoidable and there just wasn't enough of some items to go around. So we were lucky that we arrived when we did.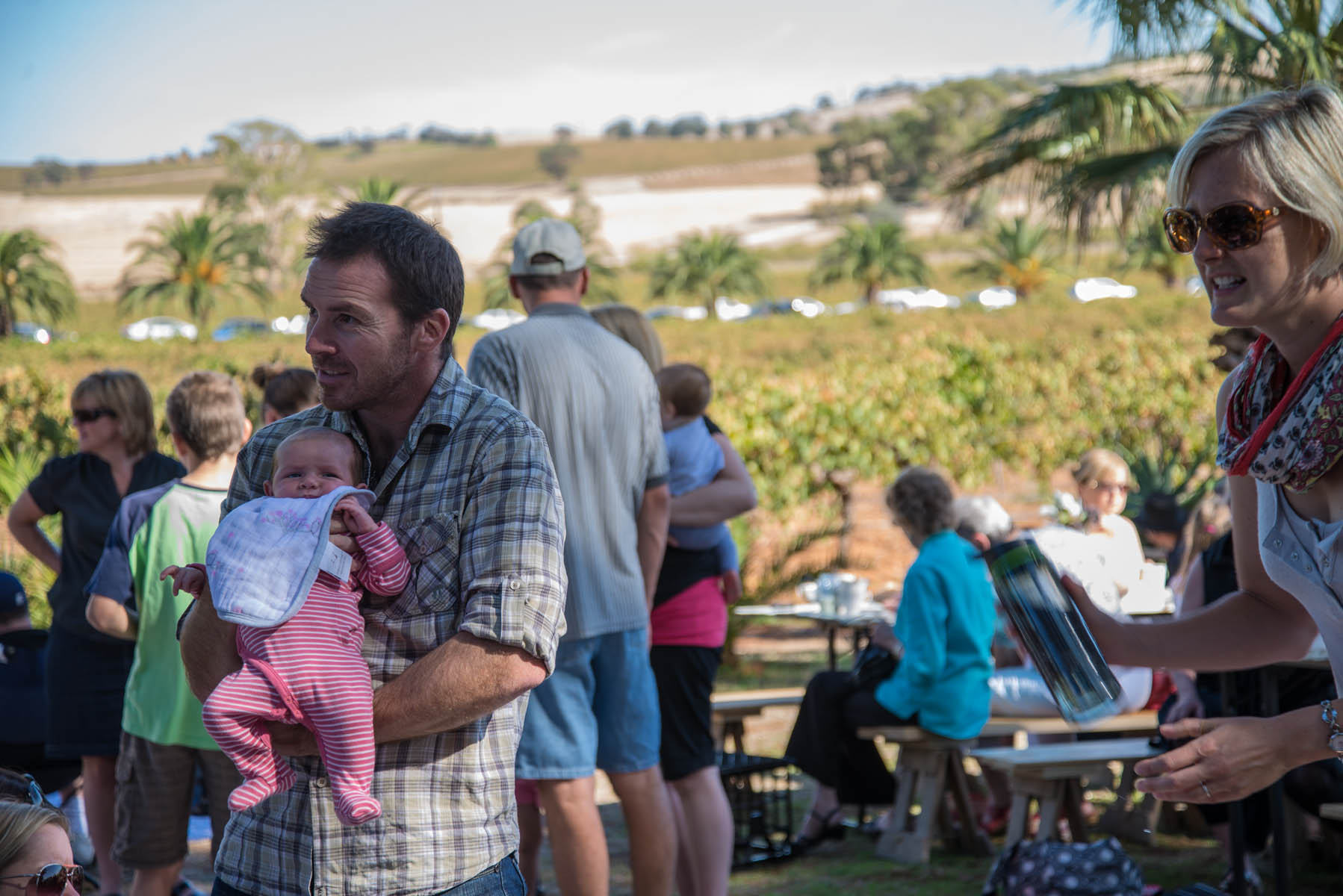 Kudos to Cherie and the rest of the team who volunteer their time and efforts to make The Breakfast Rave come to life each month – they've created something really special here. Yes, they'll need more hands on deck as the event continues to grow but from what I've seen I'm almost certain that the things that make The Breakfast Rave so special — the personal touches, the community focus and the genuine warmth of the people involved — won't get lost in this.
The Breakfast Rave
Monthly pop up breakfast event
Various locations in the Barossa Valley
Like them on Facebook to keep up with new events