Whenever I mentioned I was going to Dubai at the end of October the response was always the same.
"Dubai? Wow. Hey, you can do Sex and the City 2. Camels! Caftans!"
I'm happy to report I managed to experience two out of three during Arabian Adventures Sundowner Desert Safari – I rode on a camel and stylish Paula Joye, who was part of my media group, wore not one but two gorgeous caftans to our dinner under the stars.
I had fantasised about riding a camel in a caftan or long flowing dress in the desert but on the day practicality ruled and I wore jeans. And that's why I'm a food blogger, not a fashion blogger.
So here's how it went.
We were picked up from our hotel — Media One — at 3pm and driven out to the Dubai Desert Conservation Reserve, in the heart of the desert.
First up, a falconry demonstration.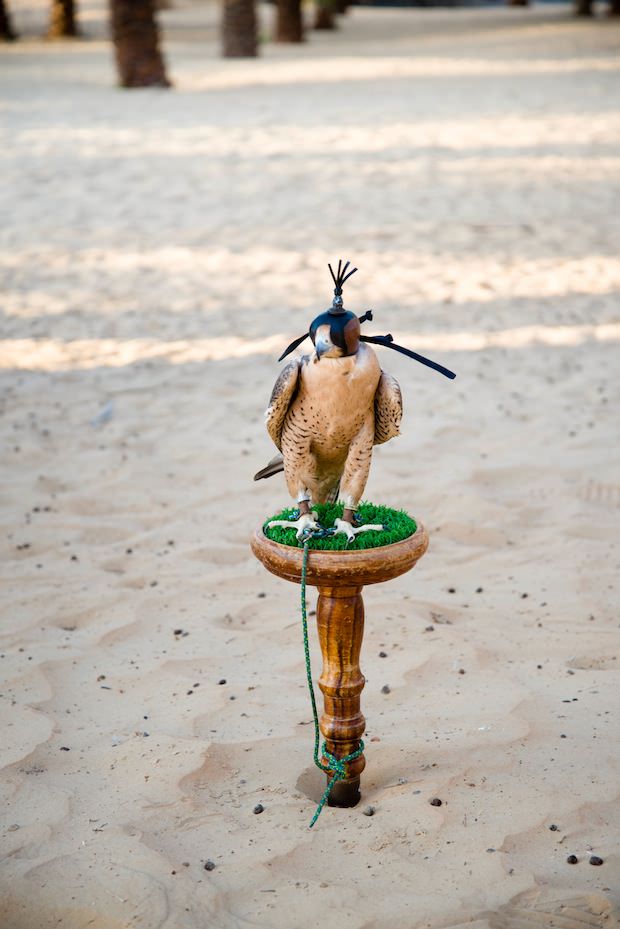 Trained falcons have been used for hunting in the Middle East for around 18 centuries; ancient Bedouin tribes used them to provide meat for their families during the winter months. They would trap a young bird in the autumn, hunt with them throughout winter and then release them at the end of the hunting season so that the bird could migrate to cooler climates. Nowadays, thanks to air-conditioning, falcons can be kept all year around.
The bird above has a helmet covering its eyes and ears. According to the falcon's handler this sensory deprivation was designed to help the bird remain relaxed — off-line, if you like — before a flight. Once the helmet was removed the bird went into attack — or online mode — with all its senses at their most acute.
While the handler explained some of the bird's hunting habits he played out a long rope that he'd attached some raw meat to, swinging it higher and higher in the air. The falcon circled and then swooped, time and time again, with the handler deftly swinging it just out of reach.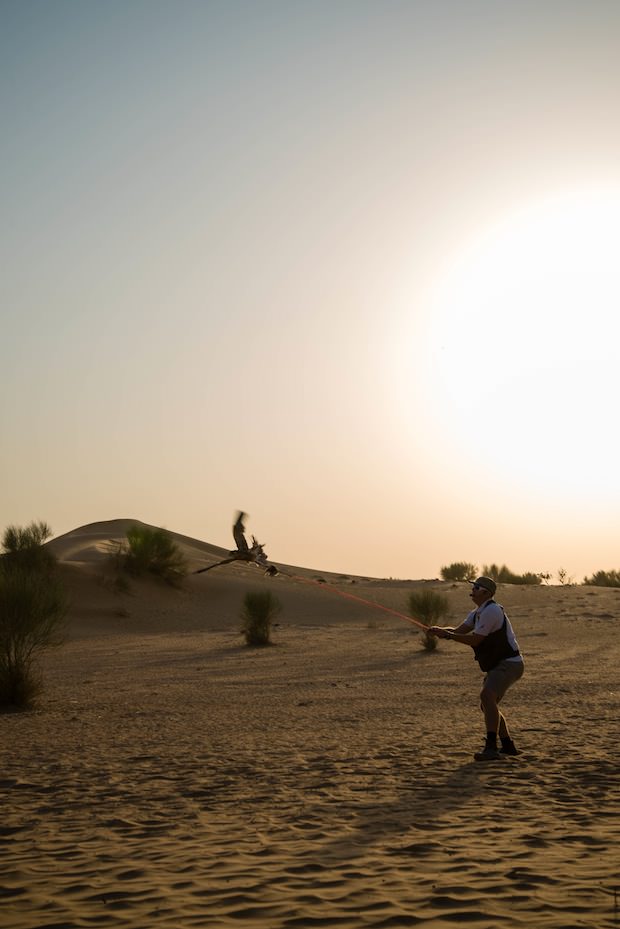 At the end of the demonstration, he let the bird catch the bait and then further rewarded him with some extra meat.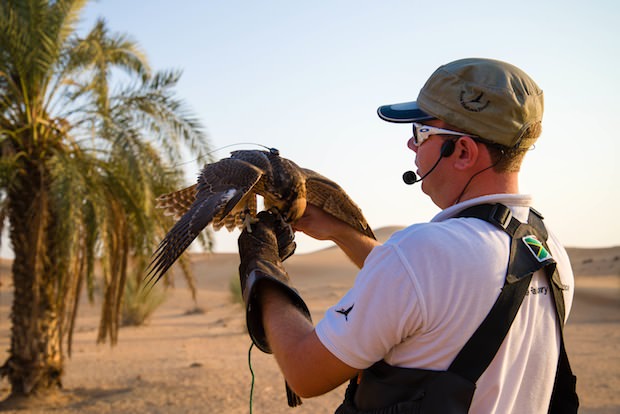 See that antenna on the falcon's back? No, it's not a remote control device but a GPS tracker. So if the falcon decides to make an unscheduled flight over the border to "visit his girlfriend", as his handler put it, his handler knows where to find him.
It was then onto the dune bashing.
We'd previously been warned to let the guides know if we had bad backs or were pregnant as dune bashing can be quite a bumpy experience. Now I hate any kind of turbulence but I found dune bashing mostly fine, with just a few hairy moments. So I think most people should be OK with it.
I tried to take photos/video using my DSLR but quickly realised I was in danger of breaking my new camera. So here's a photo and video taken on my Iphone.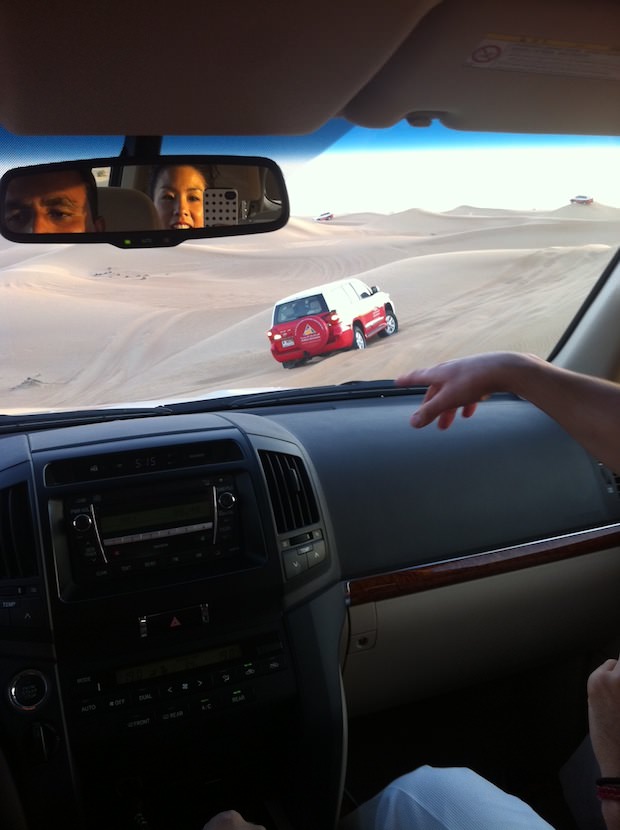 This video was taken during the relatively flat part of the drive. During the bumpy parts I was too busy hanging on for dear life to worry about filming!
We stopped for a break just in time to catch the sunset.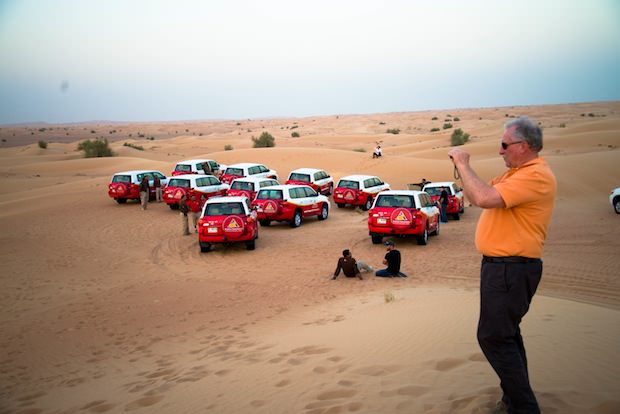 The obligatory 'here I am in the desert' shot.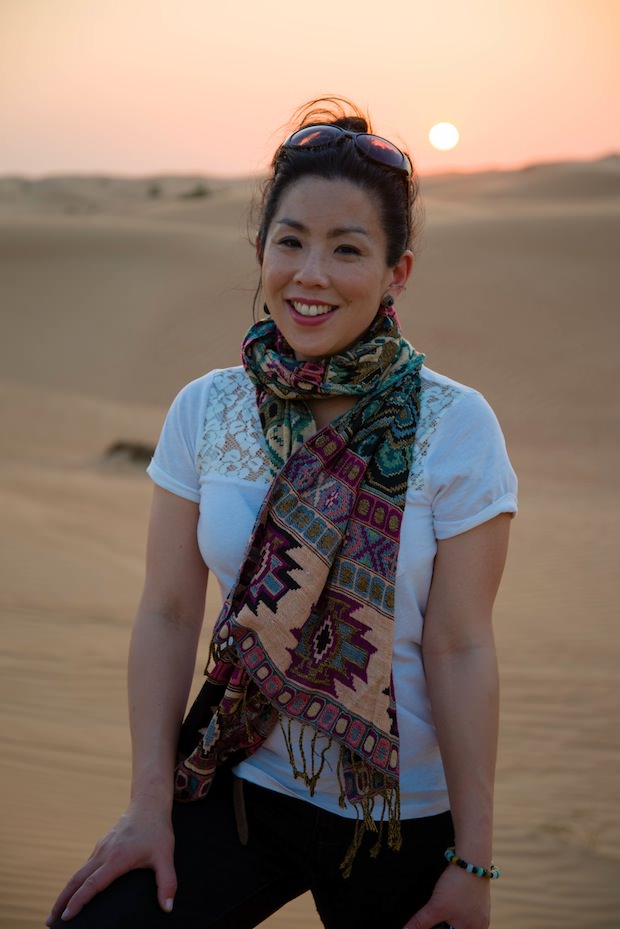 After that we drove straight onto the Bedouin-style camp. Upon arrival, we had the option to enjoy a short camel ride. This was my camel and my rather glum looking guide. I was hoping for a line like, "Madam, your camel awaits" but all I got was,"hold on tight" lol.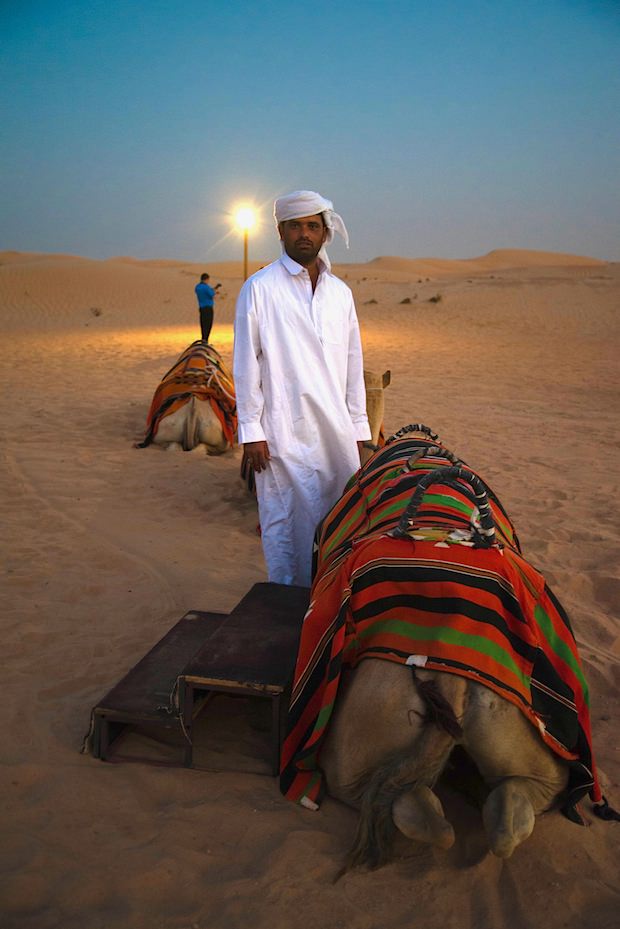 After the short ride, it was really quite dark so I headed straight into the camp to explore. At the entrance was this lovely display of herbs and spices – it smelled so wonderfully exotic.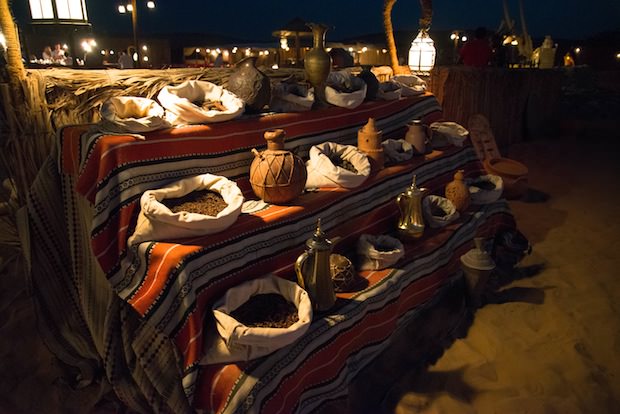 Usually, the camp hosts around 300 people each trip and a belly dancer provides the entertainment after dinner. The evening we visited alcohol was not allowed due to Eid being the next day so there was less than 100 of us and no bellydancer, which was a shame.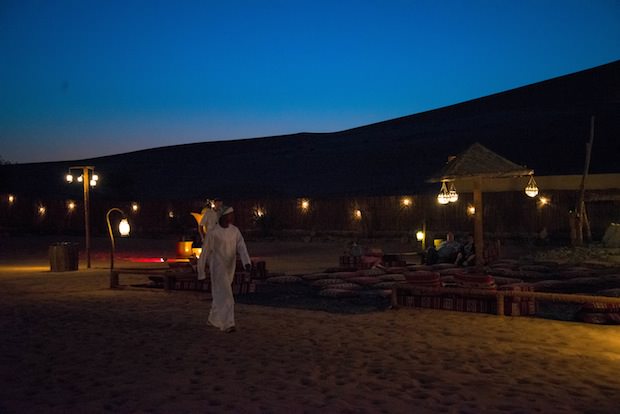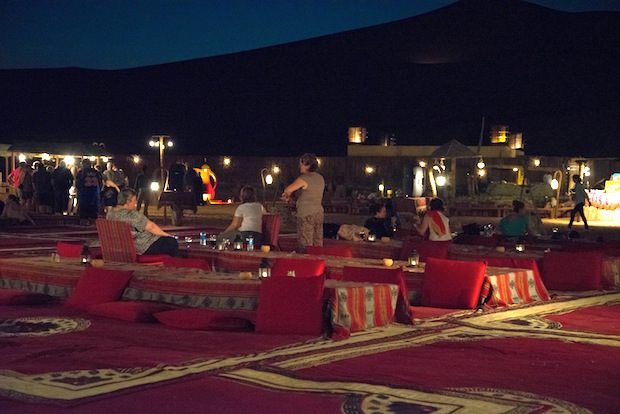 Still, we had a great time. Before dinner we went to get henna tattoos done.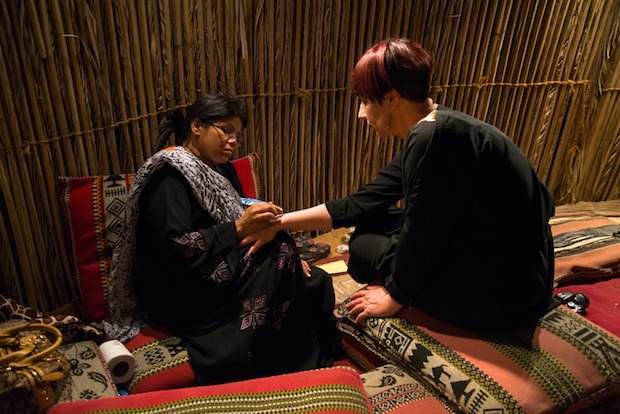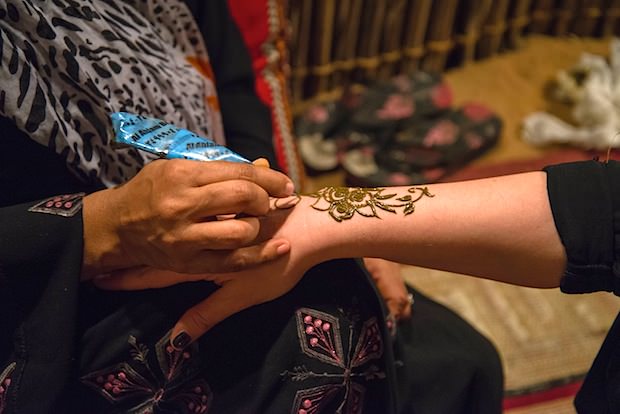 It's funny how different men and women are. Men go for fierce and/or tough tattoos.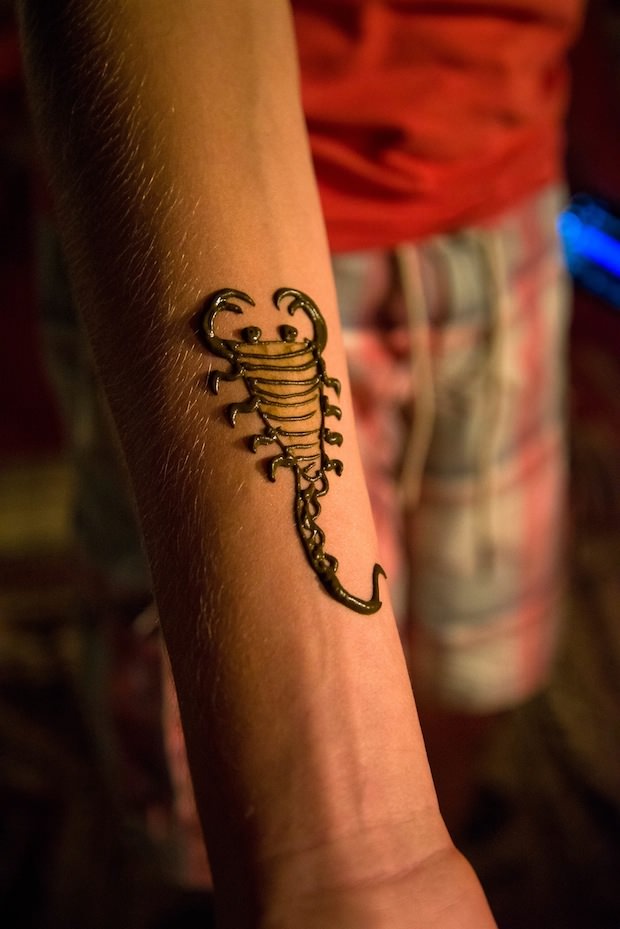 While women go for pretty tattoos.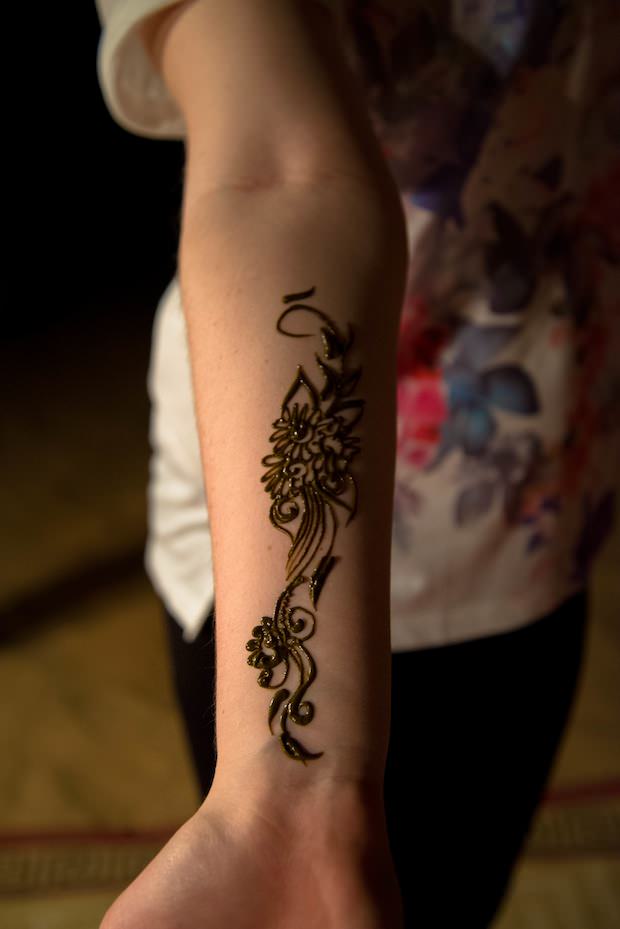 Then it was time for dinner. Seated under the stars we enjoyed a feast of Middle Eastern grilled meats, breads, rices and fresh salads, including hummous, tabouli, and bean salad.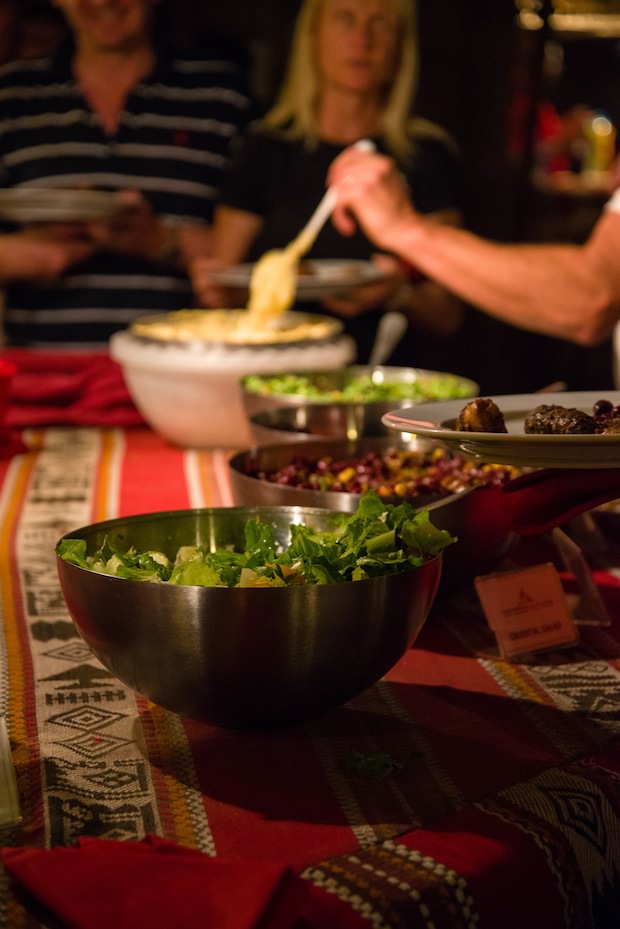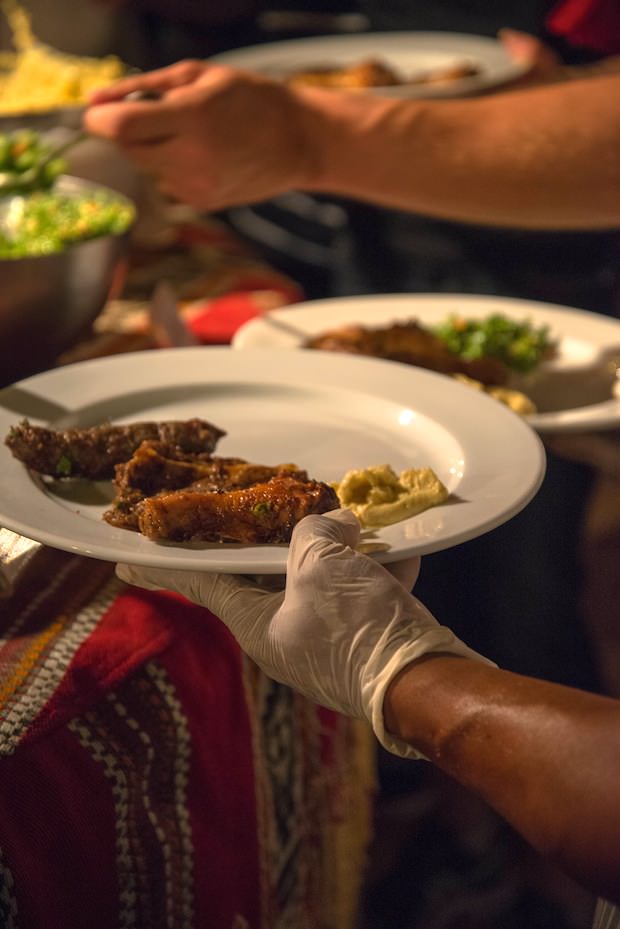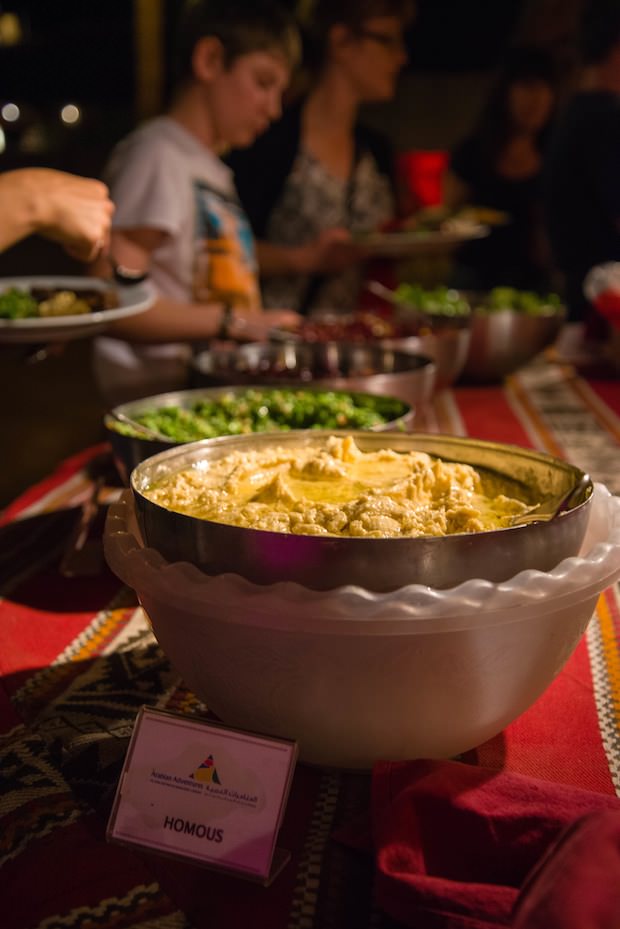 After dinner we chatted and wandered around the camp. You could buy some sand art — see below — or enjoy a shisa (waterpipe).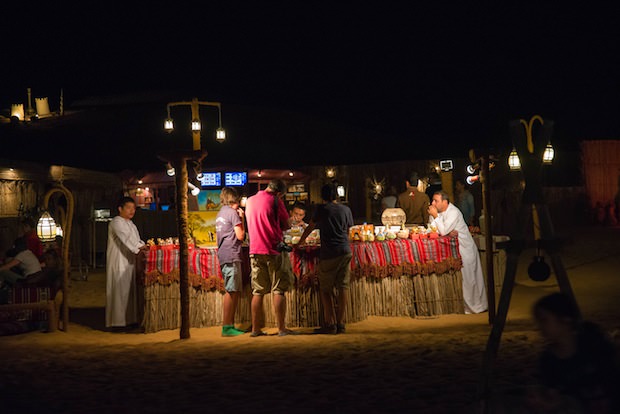 Then it was time for dessert: fresh fruit, and a flaky pistachio and honey dessert, very similar to baklava.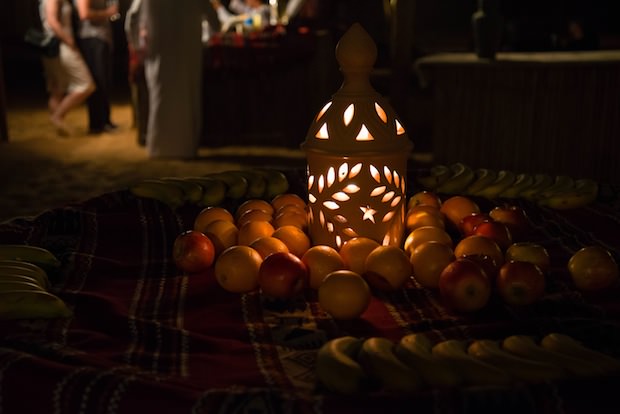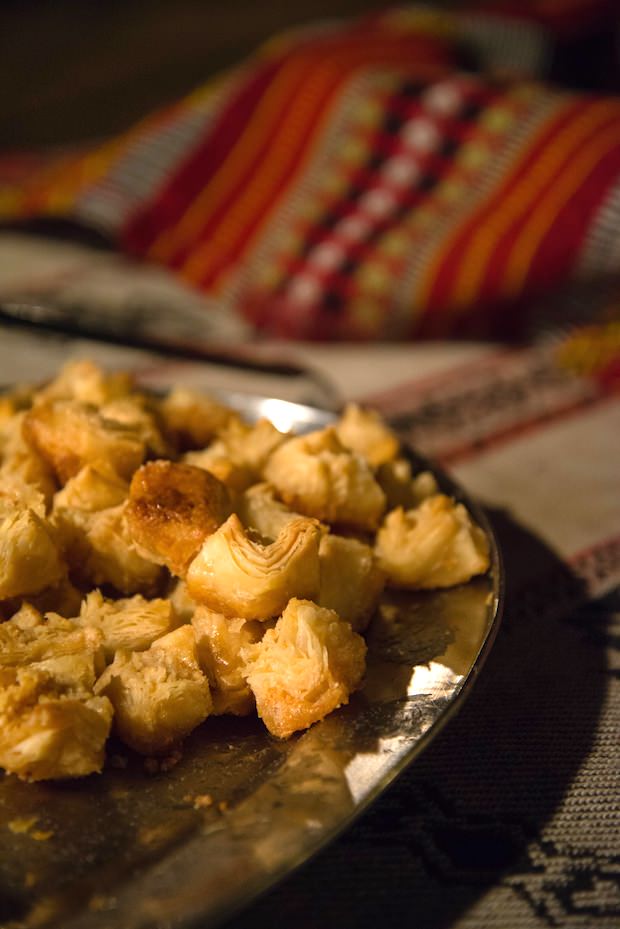 Being in the desert was a novel experience, and one that I'll remember for many years to come.
On the way home, one of my travel companions remarked that she'd wished we'd been able to camp overnight. I agreed. Arabian Adventures offer overnight stays at very reasonable prices, and I'll definitely do this next time I visit.
Arabian Adventures 'Sundownder' Desert Safari
AED 360 per adult / AED 300 dirhams per child
Book here. 
You might also be interested in my previous post — Dubai by Instagram.
Christina Soong-Kroeger travelled to Dubai as a guest of Emirates and Dubai Tourism. All flights, meals, accomodation, tours and transfers were courtesy of the hosts.