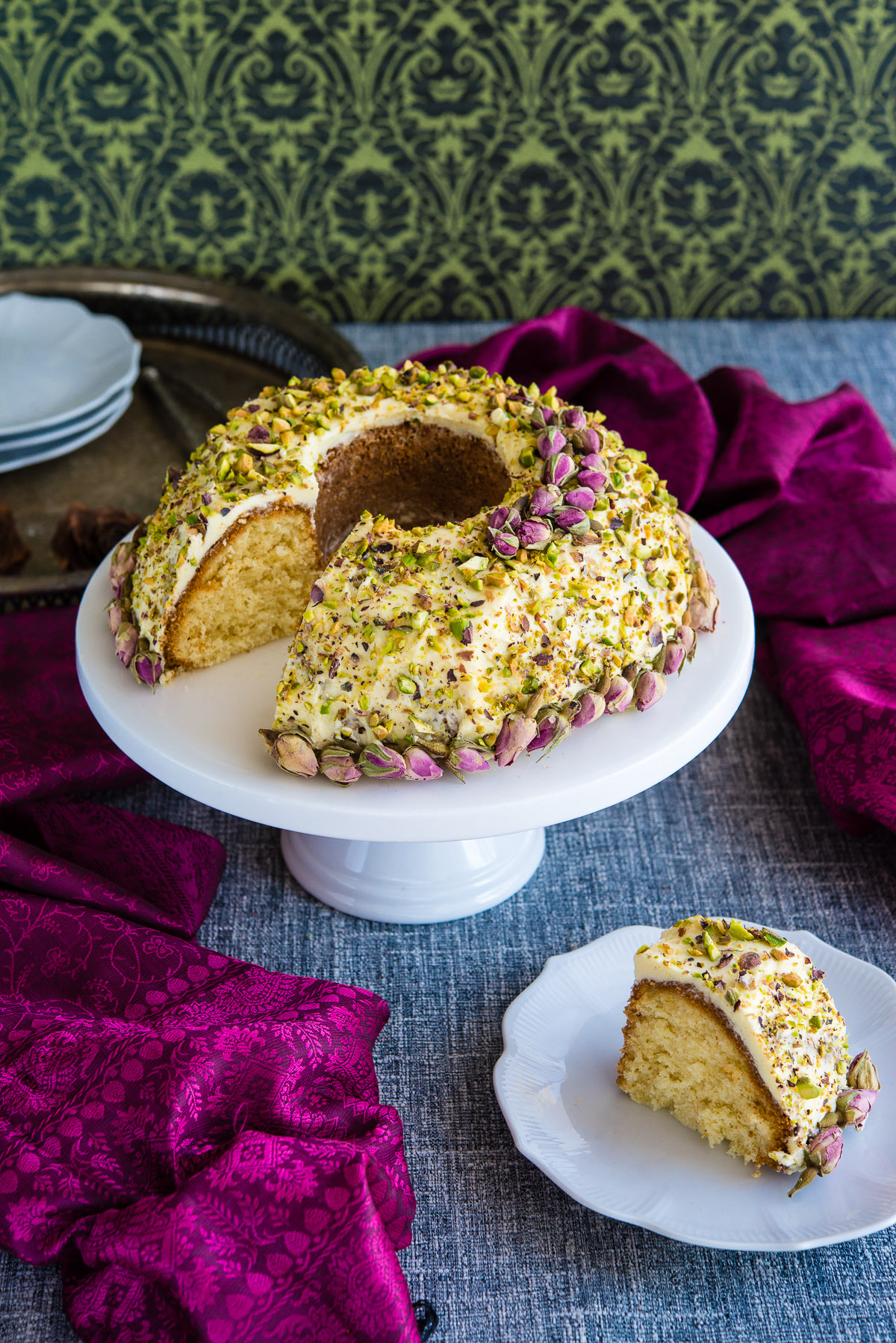 I've been on a organisational binge lately. It's not nearly as exciting as a romantic binge or even a chocolate binge but I don't think my home has ever been so sorted. My study, studio, styling kit, props cupboard and kitchen have been completely reorganised. I've even cleaned up and organised the hard drives on both my desk top computer and my laptop.
I'm sure it won't last and my home will slowly return to its usual state of 'organised chaos.' But that's OK because according to recent research, people who have messy desks are more creative. See, mum? My desk is supposed to be messy.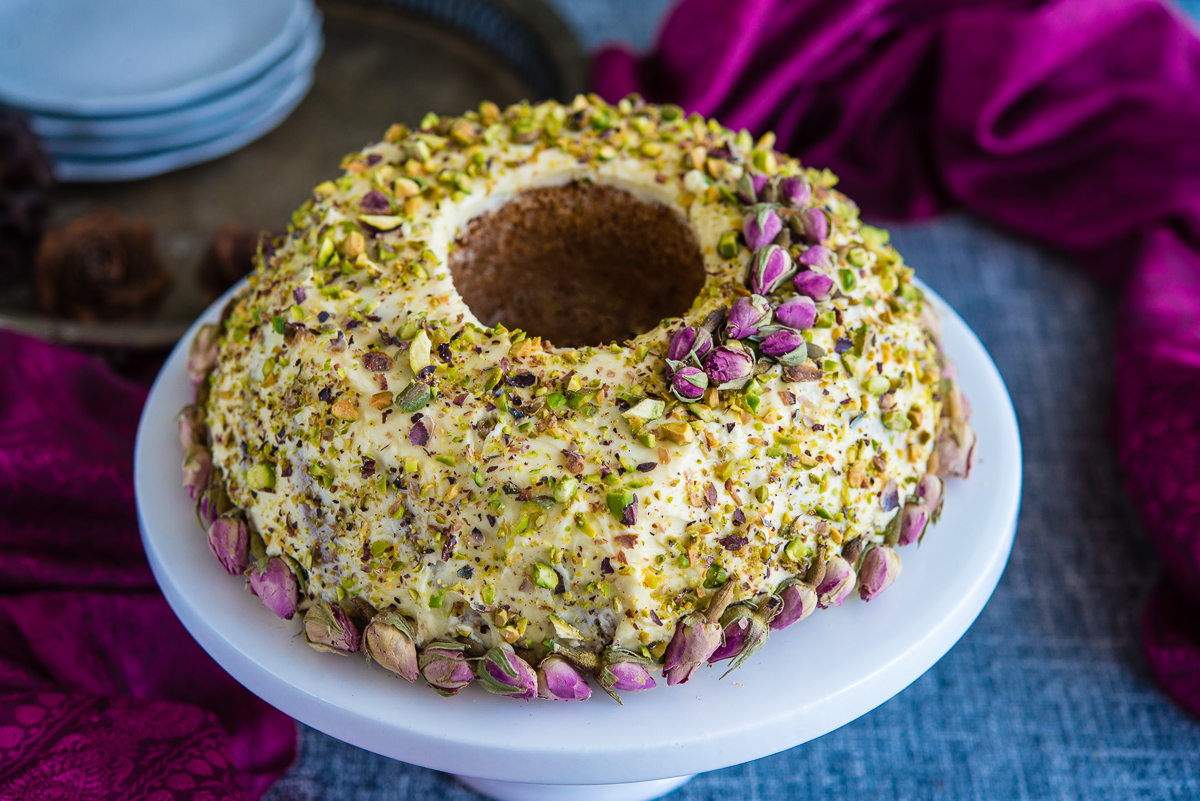 Anyway, it was when I was going through my kitchen cupboards I came across some cardamon pods and dried rose buds that I bought at Dubai's famous spice souk last year — see below — and had yet to use.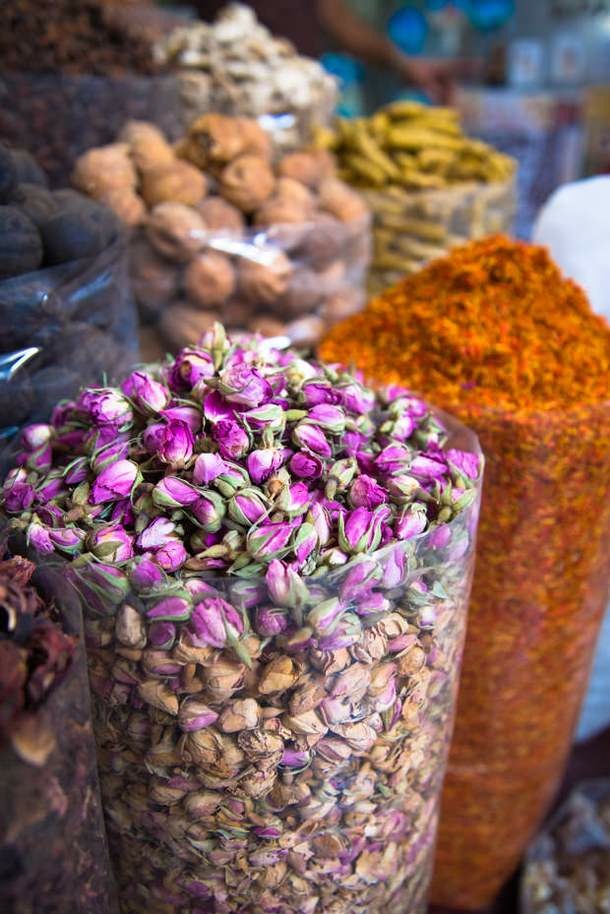 So I thought I'd make good use of my finds and bake a cake. So here it is: a gloriously fragrant cake scented with rosewater and cardamon topped with an incredibly more-ish butter and honey cream and garnished with freshly shelled and chopped roasted pistachios.
Now this cake is not exactly diet food. But then, who wants to be good all the time? Not me, that's for sure. I did keep the sugar content relatively low if that makes you feel any better.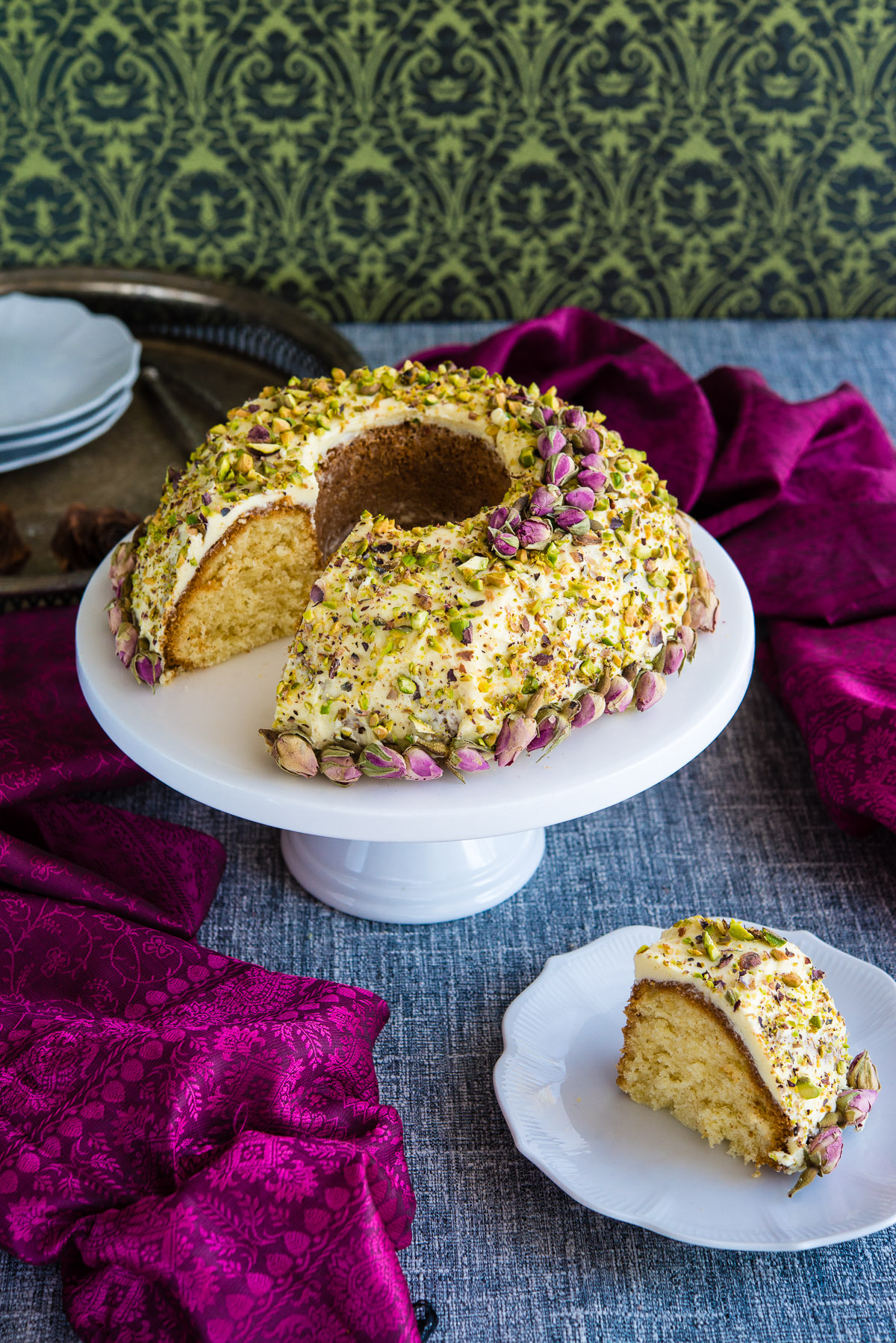 Regular readers will know I like to free-form in the kitchen but baking is an area where precision is required. So do make sure that your butter and eggs are at room temperature, sift the dry ingredients and measure all the ingredients with standard cups and measuring spoons and/or an electric scale.
None of this attention to detail stops me from licking the beater when the cake is in the oven though. That's a childhood habit I will never grow out of. When you bake this cake may you enjoy this simple yet satisfying pleasure, too.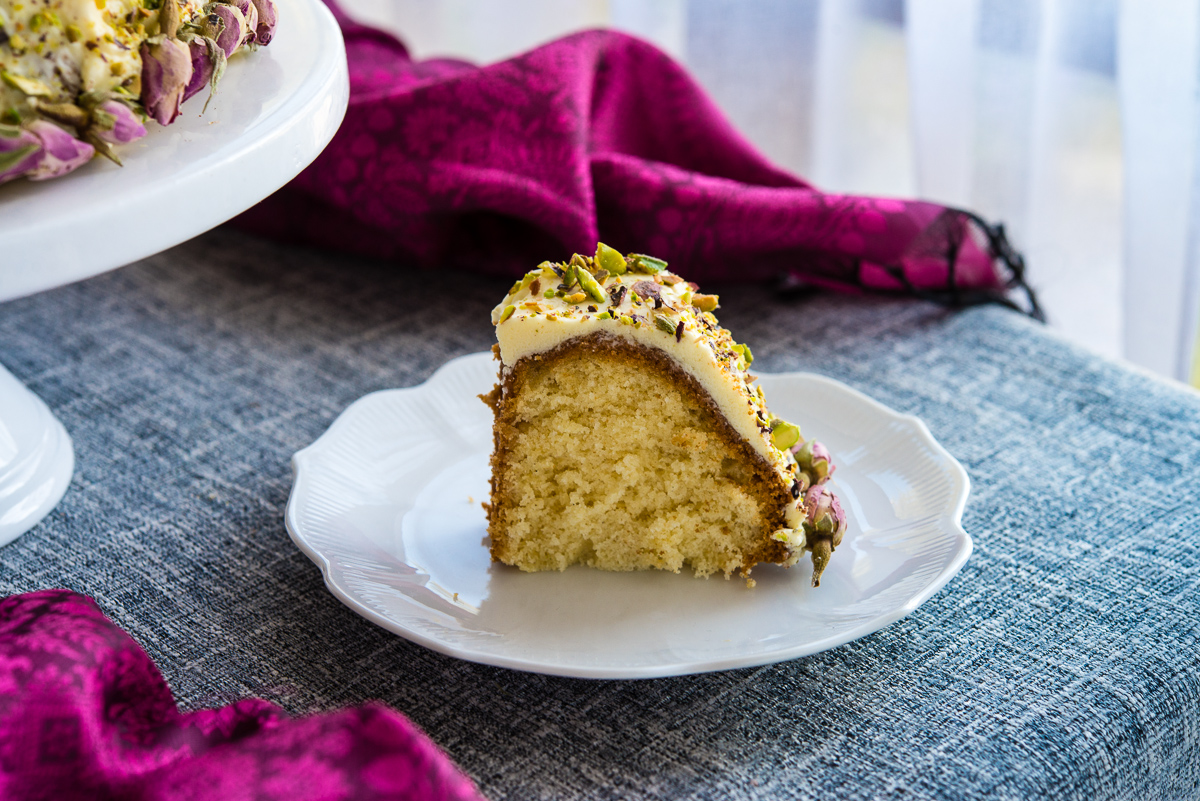 Rosewater and Cardamon Bundt Cake with Honey Pistachio Icing
INGREDIENTS FOR CAKE
125 grams butter at room temperature (unsalted preferably)
2/3 cup caster sugar
1 teaspoon vanilla bean essence
2 large eggs at room temperature
2 cups flour (level off with finger)
1 generous tablespoon baking powder
1 level teaspoon ground cardamon
A pinch of salt
1/2 cup milk
2 tablespoons rosewater (available at Asian and Middle Eastern grocers)
INGREDIENTS FOR TOPPING
125 grams butter at room temperature
3 tablespoons honey (I like Blue Gum honey)
4 tablespoon boiling water
100 grams unshelled roasted pistachios
50 grams food quality dried rosebuds (optional)
METHOD
Preheat oven to 180 degrees Celsius and thoroughly grease a Bundt tin (I like to use a soya cooking spray)
Cream butter with a stand or hand mixer and then gradually add the sugar and vanilla, beating until the mixture is light and fluffy.
Add each egg one at a time, beating well after each egg so everything is fully combined. Scrape down the sides of the bowl with a spatula if required.
Mix the milk and rosewater together.
Sift the flour, salt, baking powder, cardamon and salt and then add to the mixing bowl in three batches, alternating with the milk mixture. Do not overwork – mix just until everything is combined.
Spoon into the Bundt tin and even out with a spatula (you can also tap it gently against the kitchen bench top – this will also help to reduce air bubbles).
Bake for around 40-45 minutes or until an inserted skewer comes out clean.
Cool in tin for 10 minutes and then turn out onto a wire rack to cool. Or leave it in the tin to cool completely.
To make topping, cream butter until light and airy and then add the honey in two batches, beating well after each addition. Add the water one tablespoon at a time and continue beating until the mixture is smooth and creamy.
Trim Bundt base to level if necessary, ice cake with an offset spatula and then decorate with shelled and chopped pistachios and rosebuds (optional).
Substitution: you can substitute a regular vanilla buttercream or vanilla icing for the honey butter if preferred.
Serves 10-12.
More Cake Recipes
Subscribe to The Hungry Australian
Don't want to miss a post? Sign up to receive new posts 2-3 times a week – it's FREE!!