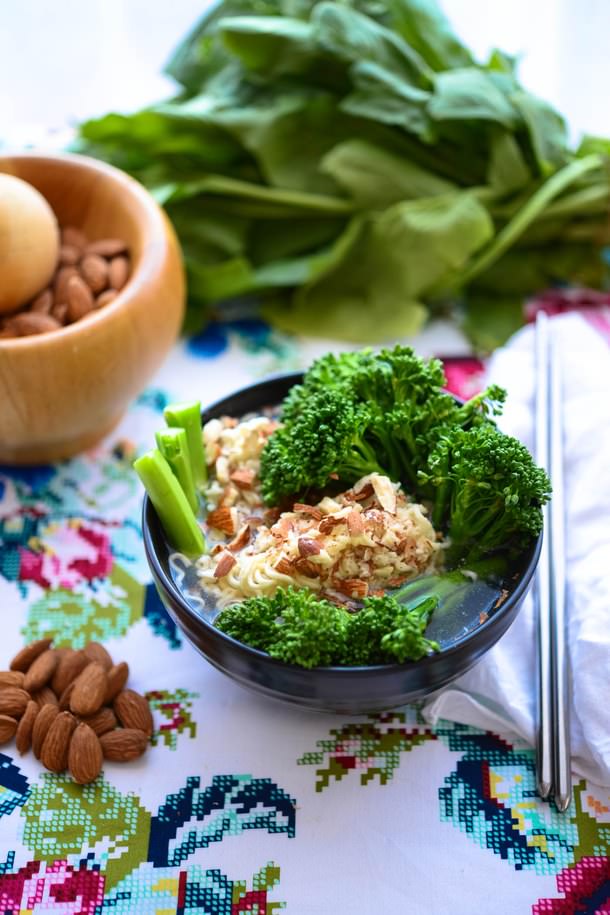 Two Minute Noodles with Broccolini and Almonds styled and photographed for
Amazing Almonds
.
What is food styling? Is it the artful placing of a garnish, the careful drizzle of some sauce, the precise placement of food to best display its charms? Well yes, it's all those things but it's so, so much more, too.
Denise Vivaldo Food Intensive
A few weeks ago I attended a two-day food styling workshop at Sydney Cooking School with visiting American super food stylist Denise Vivaldo. Denise has been in the food styling business for 30 years  and has an enormous amount of knowledge about both food styling techniques and the business of food styling. She's down to earth and funny, too, so the days passed quickly and happily.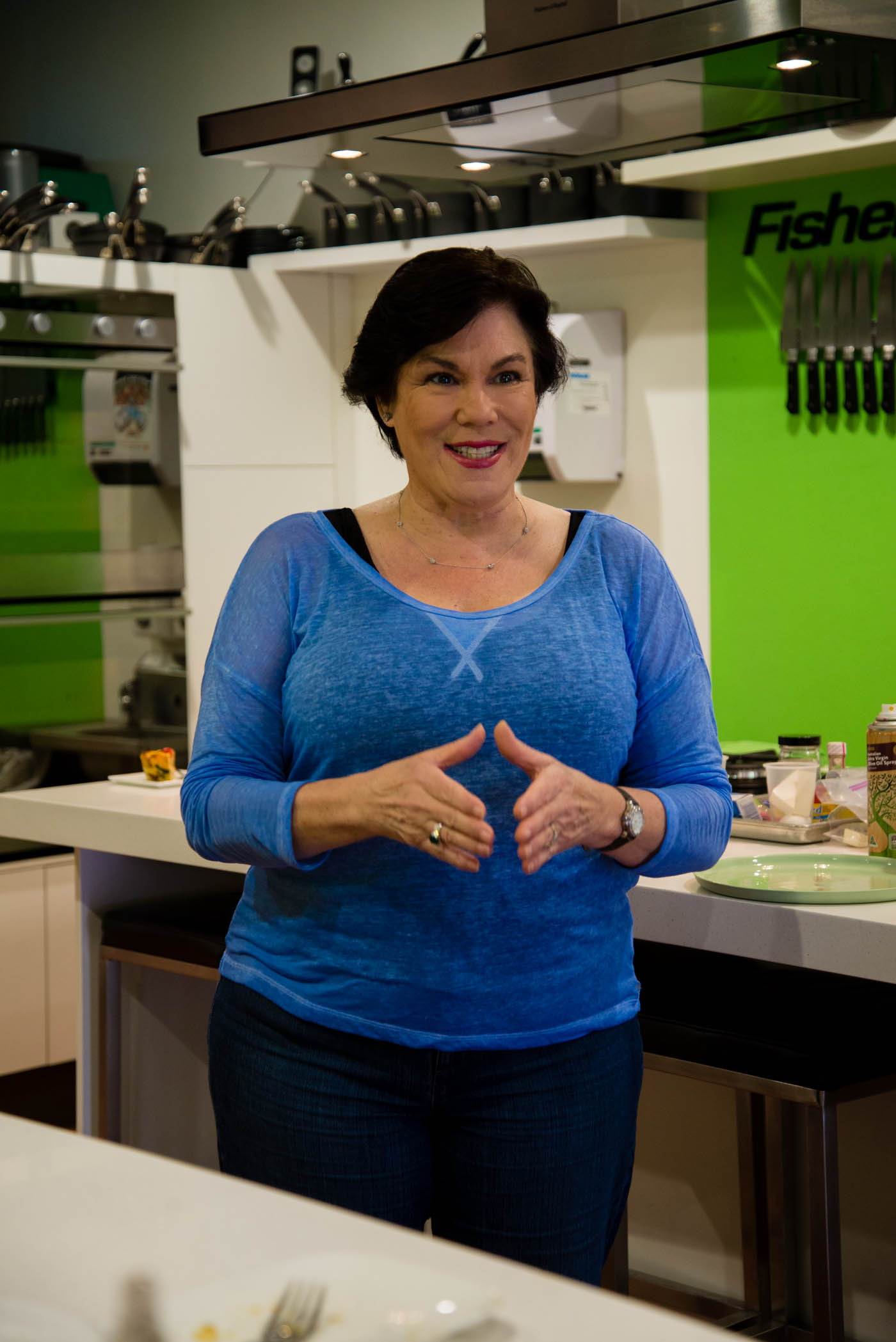 It was the first time such a comprehensive food styling workshop had been held in Australia and I felt fortunate to be one of only a dozen attendees able to attend. There were some Sydney-siders of course, but people had also travelled from interstate (like myself), Singapore and New Zealand to attend the workshop. Some attendees were already working successfully in the food/media/advertising industries while others hoped the course would help kick-start their food styling careers.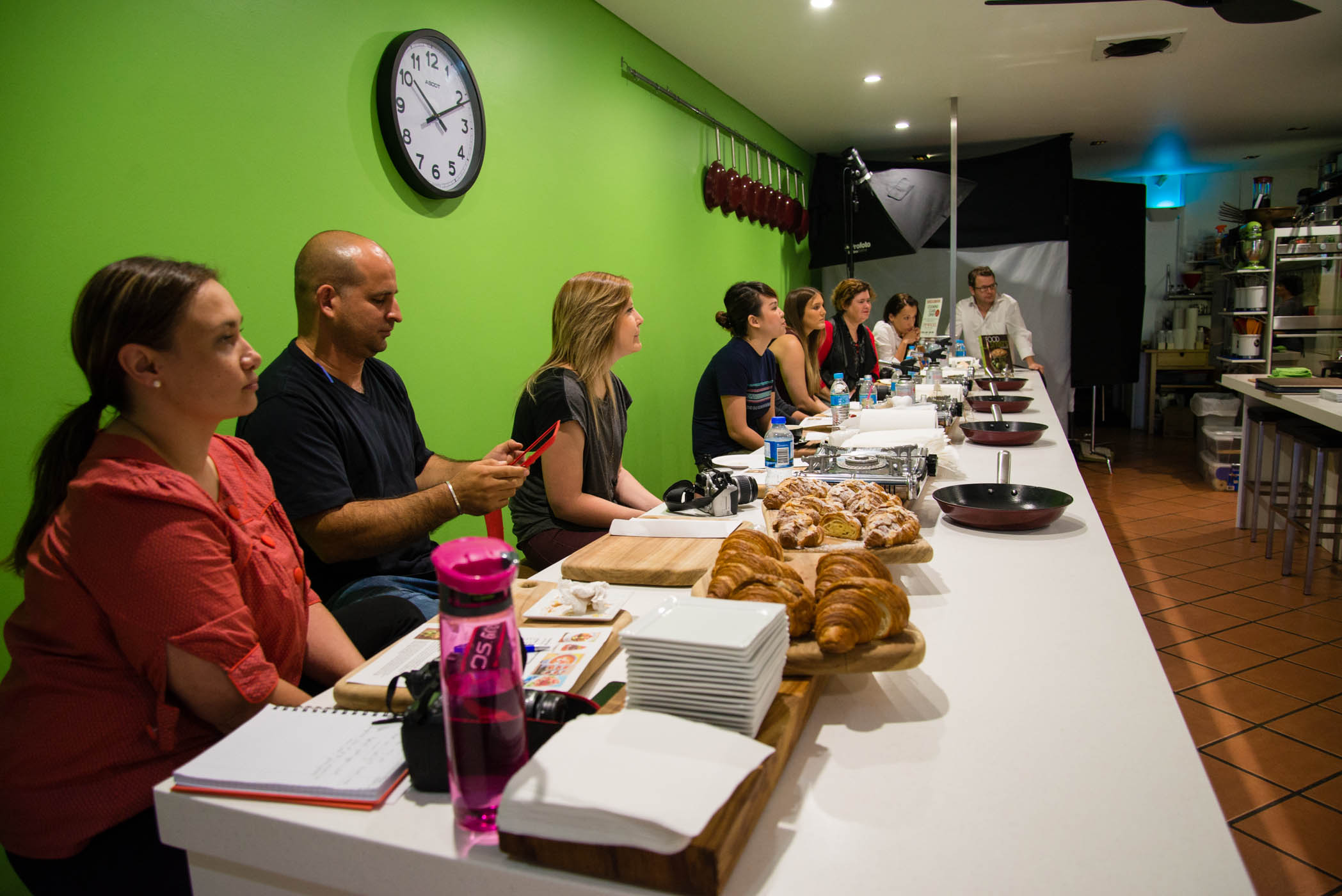 I was a food blogger before branching out into paid recipe development, food styling and food photography work. So learning about the world of commercial food styling, and in particular, food styling for advertising and packaging, was fascinating to me.
In this world, the food has but one job: to look as appetising as it possibly can for the camera. A good photo can change the fortunes of a company so how the food tastes, or indeed, if it is even edible, is unimportant.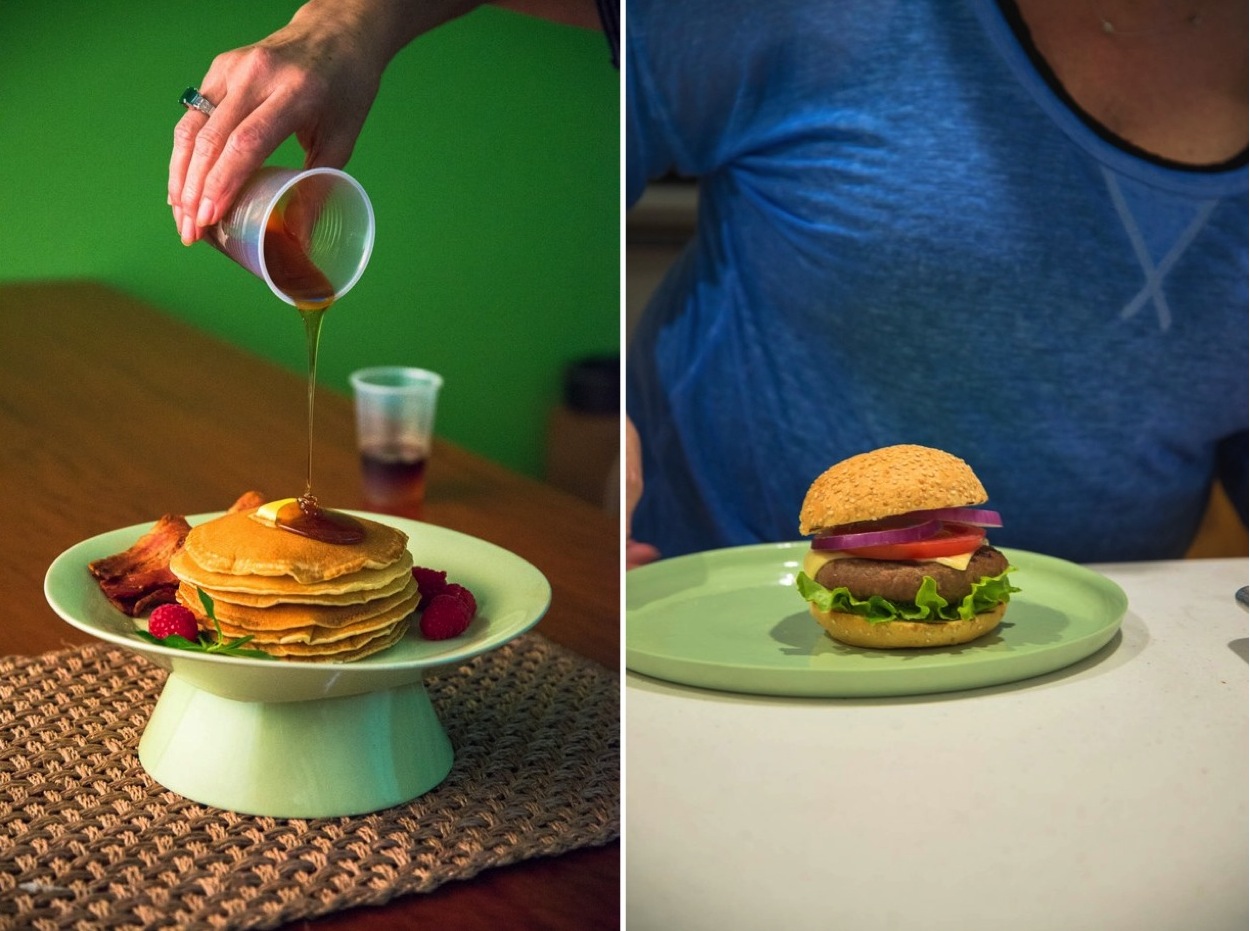 To achieve the desired 'hero' shot, commercial food stylists use a whole range of tools and tricks to enhance and manipulate food. I was pleased to learn that some of the techniques I'd figured out myself were staple devices but a lot of the techniques commonly used when styling food for television, packaging or advertising went far beyond my usual styling methods. The trend in Australian food styling is for a very natural look, too, and this has undoubtedly influenced my own technique.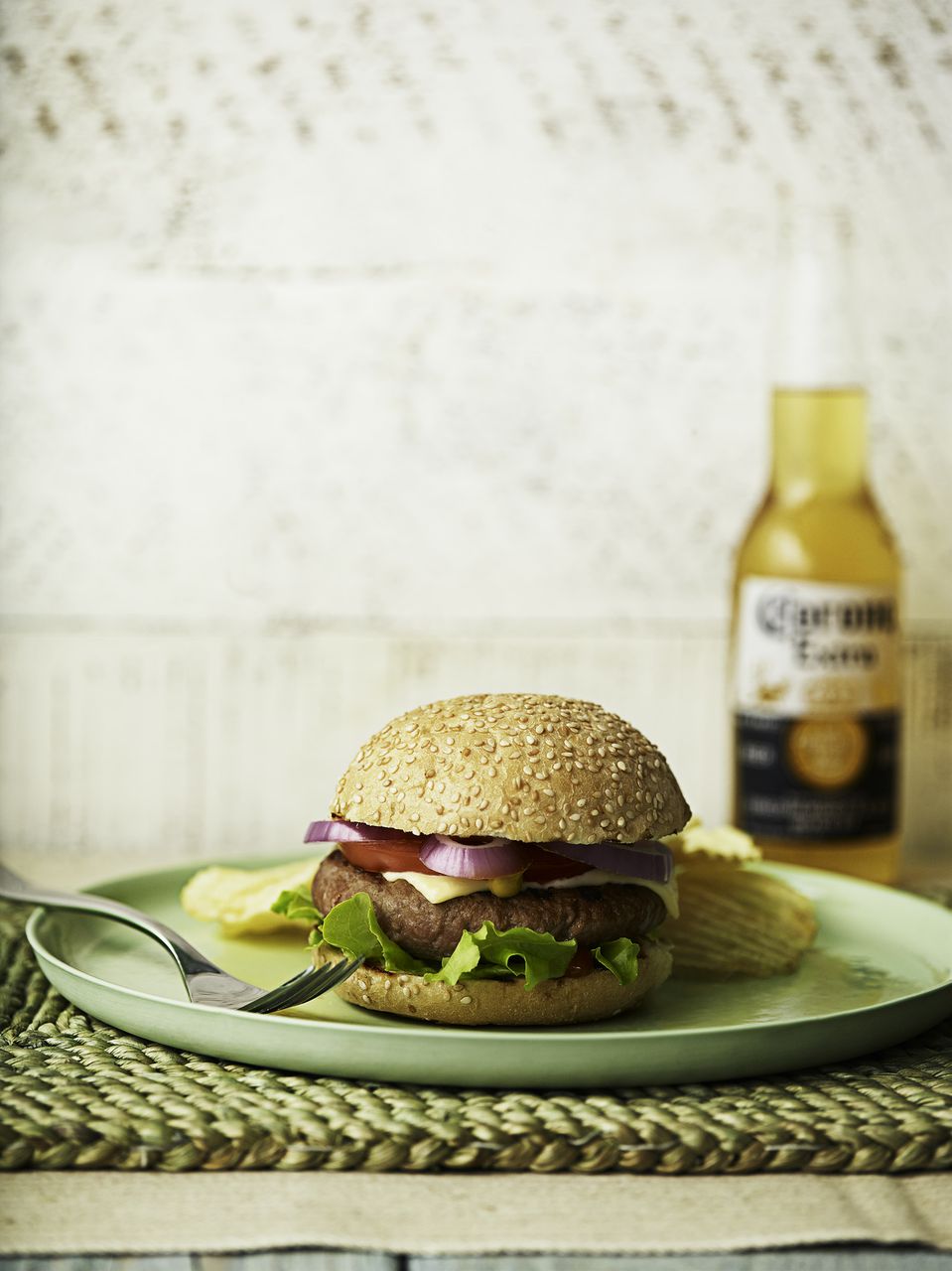 Over the course of the two day workshop we learned to style a whole range of common dishes and drinks, including burgers, ice cream, dessert, soup noodles, and a roast chicken.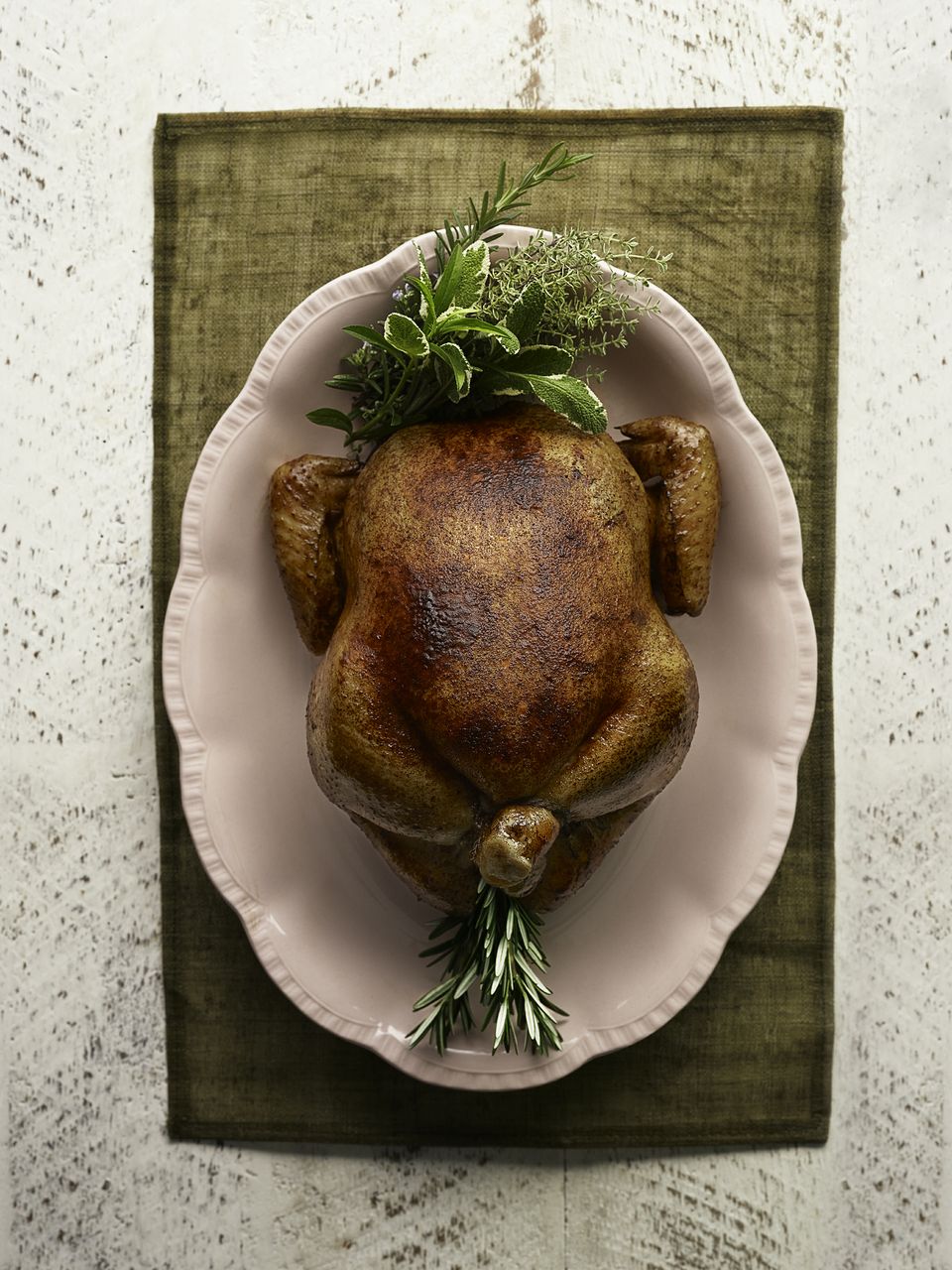 Boy, that roast chicken looks enticingly good, doesn't it? Perfectly browned and seasoned – I want to sink my teeth into a juicy leg right now. Unfortunately eating this chicken would give me at best a very sore tummy as it's only been cooked for 10 minutes. Underneath that seemingly perfectly roasted exterior the chicken is raw.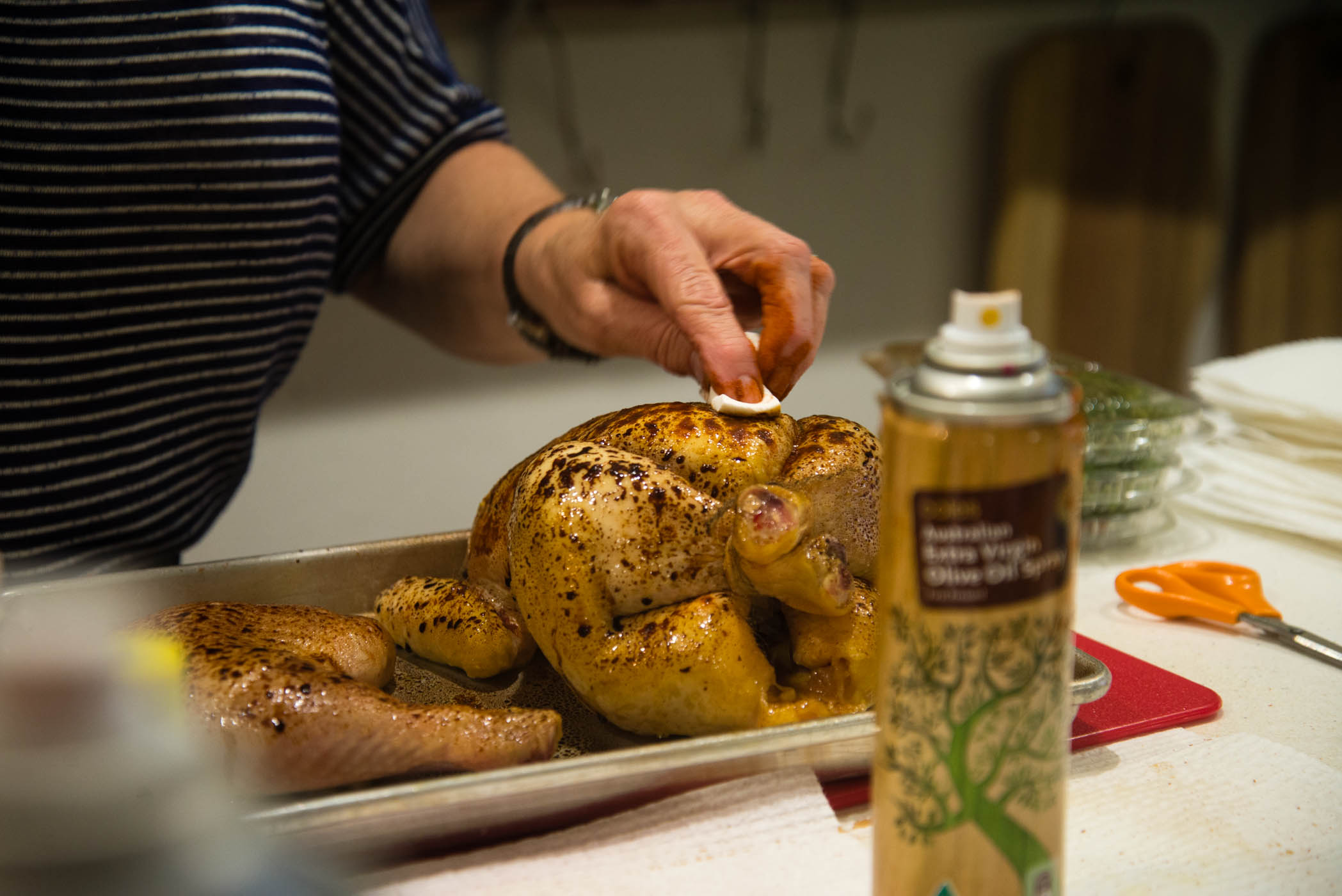 Commercial food stylists often use undercooked or semi-raw meat in food photography because it looks better than fully-cooked food. If you fully cook a chicken (or indeed any type of meat), the meat shrinks and dries out so you lose the plump and juicy look of it. Have a look next time you're roasting a chicken and you'll see what I mean. So Denise has devised a method to emulate roasted meat that looks just like the real thing.
After Denise worked her magic on a chicken we were invited to give it a go ourselves.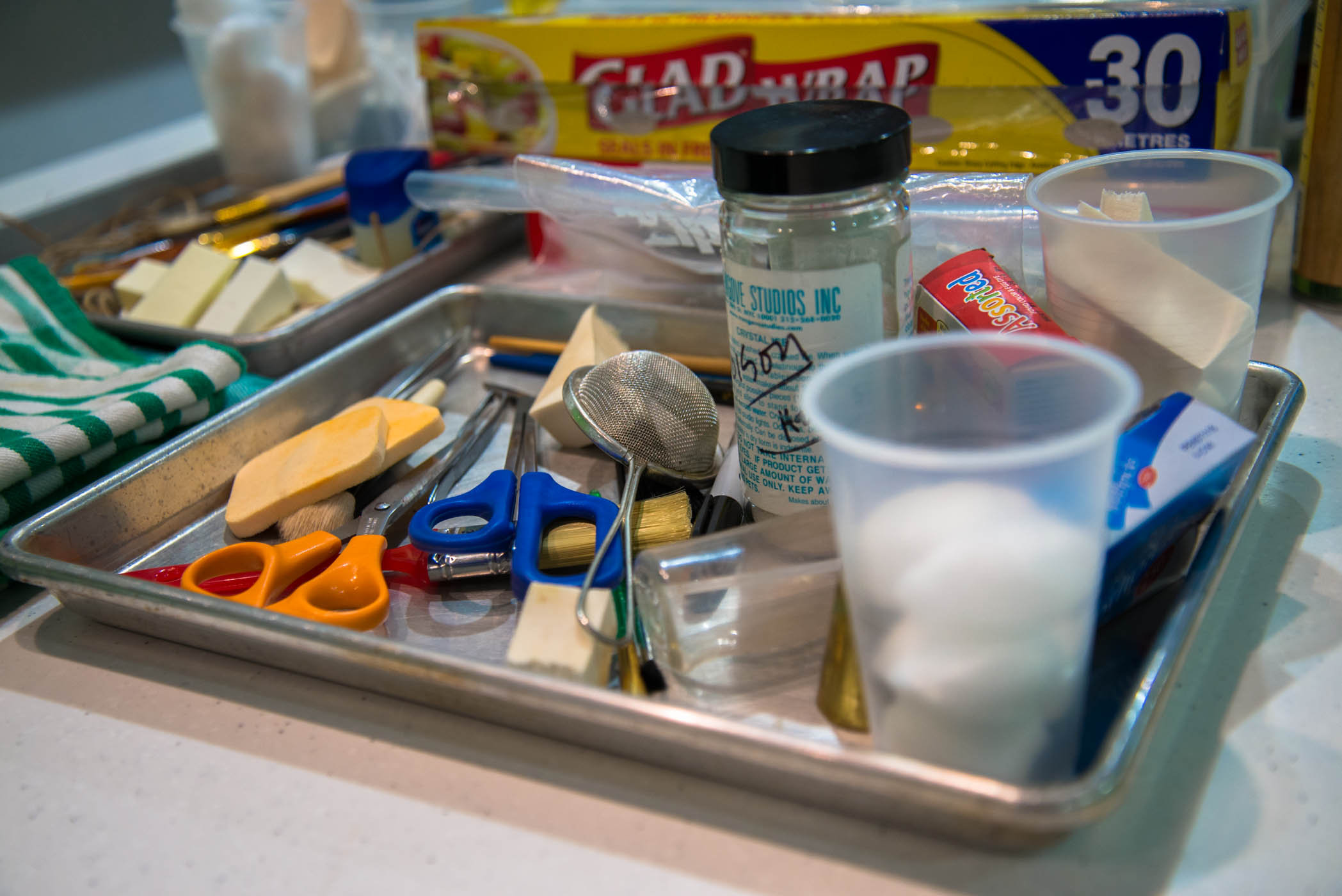 This is my finished chicken below. What do you think?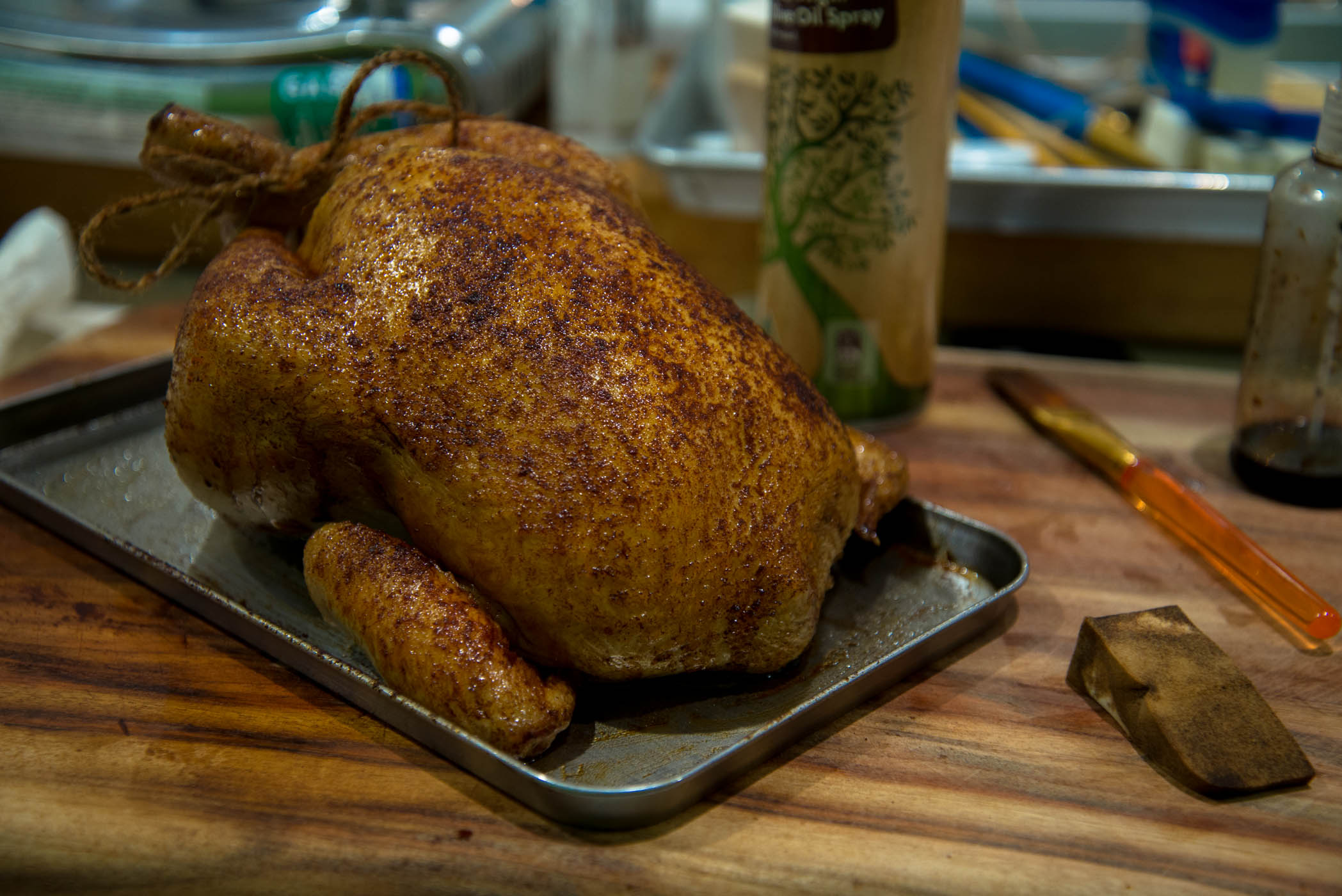 Over lunch one of the ladies in my workshop, Anna brought up the question of ethics of food styling. Like me, Anna favours a natural approach to food styling and she wondered whether creating a heavily stylised version of a dish for photography was somehow dishonest.
In my (biased) opinion? No. Assuming a recipe had been thoroughly tested all the stylist is doing is making the food look its best for the shot. That's the job of a food stylist, just like it's the job of a make up artist, hair dresser and clothes & accessories stylist to make a model look his or her best for a fashion shoot.
Having said that, every recipe I've ever made for this blog has been edible. I cook, style and shoot the food, and then we eat it. But as a blogger I have the luxury to scrap a blog shoot if I'm not happy with the photos. As a freelancer with a busy schedule I don't usually have this option – I have to be able to deliver the goods. This is where commercial food styling techniques can be extremely helpful if not invaluable.
Check out this video made by McDonalds to answer a customer's question: "Why does your food look different to the food on the ads?"
* * * * * * * * * * * * * * * * * * * * * * * * * * * * * * * * * * * * * * * *
The Business of Food Styling
I still have a long way to go in terms of my food styling technique but I have picked up a few things about the business of food styling and and am more than happy to share them. So with thanks to Denise and the other food stylists and photographers who have generously contributed to this post, here are my top tips and resources.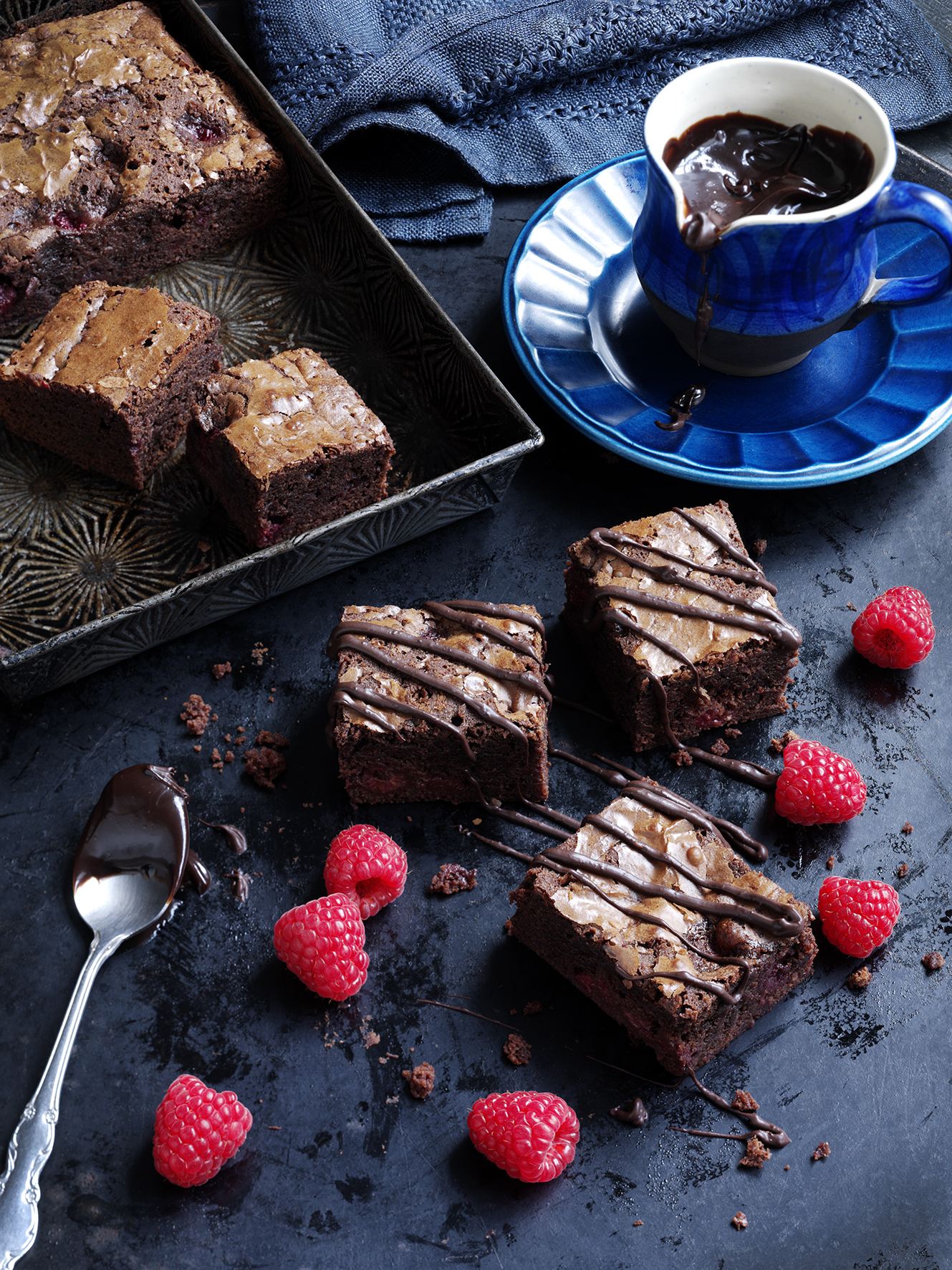 12 Tips for New, Emerging and Aspiring Food Stylists
1) Read and study
Study as many food styling and food photography books as you can get your hands on – the list at the bottom of this post is a good place to start. Similarly, learn as much you can about food. You don't have to be a chef to be a food stylist — although there are more and more ex chefs moving into this area — but the more you know about food the easier your job will be.
2) Attend a food styling course
If you're convinced you were born to be a food stylist consider attending a food styling course like Denise Vivaldo's Food Styling Intensive. You'll learn insider techniques and tricks that'll blow your mind and fast-track your career. You'll also be able to watch techniques being demonstrated and then try them yourself with on the spot feedback. Perhaps most importantly, attending a workshop like Denise's will teach you about the food styling business and how to build a sustainable career. The friendships and contacts that you make will also be invaluable.
3) Assist a professional food stylist
Assisting a professional food stylist is one of the best ways to learn about food styling. As an assistant you're free to observe and learn, without the pressure of having to deliver. When approaching a professional stylist to request an assisting position, show respect and do your homework. He or she doesn't owe you anything so be polite and explain what you can do for them – don't make your approach all about you.
4) Treat it like a business
Food styling may be your calling but you have to treat it like a business to be successful. 90% of success as a food stylist is about managing the business and being able to support yourself, says Denise. While you are growing your food styling business you will almost certainly need to take a flexible, secondary job to pay your bills. You also need to learn how to quote for jobs, how to organise your administration and paperwork, and how to manage your finances (a good accountant is a must!).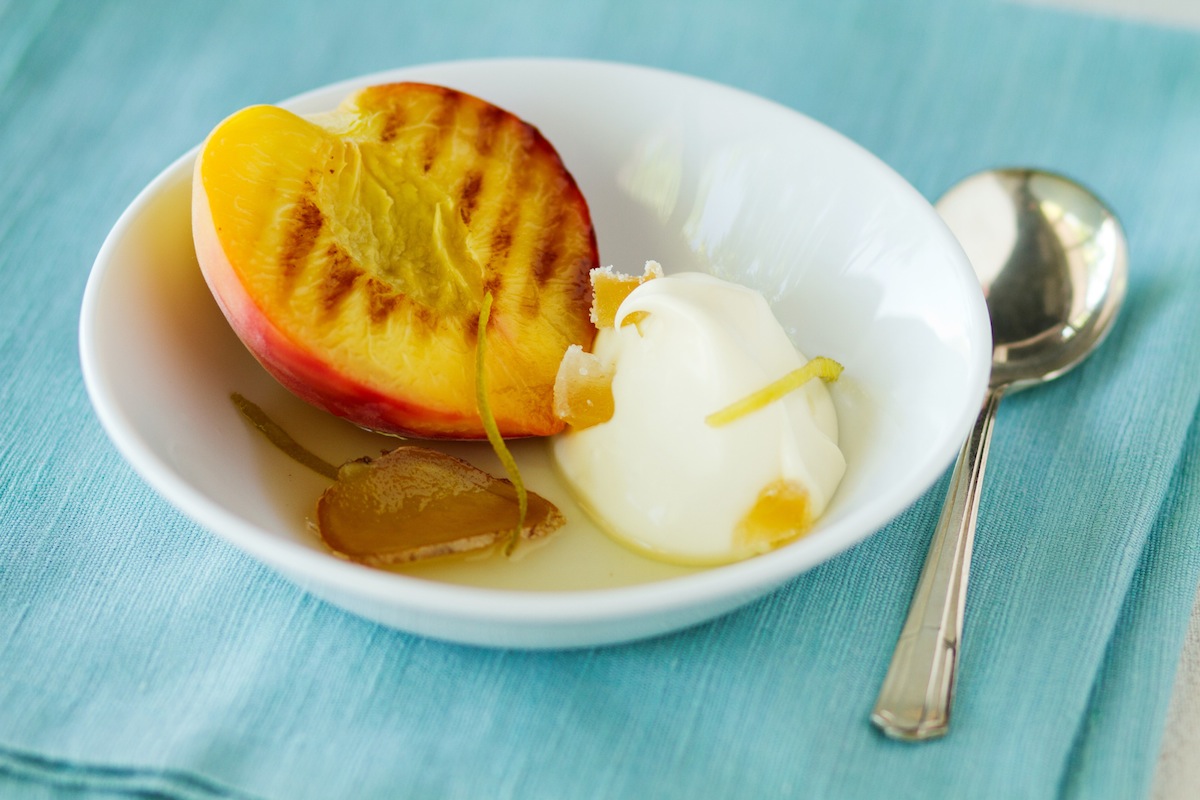 Grilled Peach in Lemongrass Syrup styled by Harriet Harcourt. Photograph by Jessica Shaver.
5) Get along with people
Sydney food stylist Ben Masters believes that his clients like to work with him because he is calm, polite and focused on set, and he does his best to accommodate feedback. In other words, he knows how to get along with people. Fellow Sydney stylist Sally Parker agrees. At a certain level, she says, people's food styling skills are about the same, give or take. She believes that whether someone succeeds or not is all about the relationships they have with people. Similarly, Denise Vivaldo believes that successful food stylists exercise flexibility and diplomacy. Never disagree or argue with the client, she says. So even if a client's idea is terrible, you must be accommodating. Say "sure, I'd be happy to try it that way. Let me just get this shot in the can before we try it so we have a backup."
6) Build complementary skills
You might be the world's best food stylist but if no one knows about you you're going to struggle to find work. So learn about photography, writing, social media and marketing. Alternatively, seek out people who have these skills and who are also looking to build their portfolio. Trade skills and help each other build a great portfolio.
7) Start a blog
What's the easiest way to get your work out there? Start a blog – it's a great way to show people what you're capable of. I am living proof that a blog can lead to all sorts of amazing paid work opportunities. By blogging you'll connect with a whole community of food lovers as well as potential clients.
8) Create an online portfolio/website
Old school ad agencies may still occasionally request a hard copy portfolio (i.e. large photographs in a leather case) but it's no good having the world's best portfolio if it sits unread and unloved. Nowadays many advertising and PR agencies prefer an online portfolio (website). This means your work can be viewed by anyone at anytime. Apart from photographs of your food styling work, do make sure you include the following pages on your website: About, Services, Clients, and a Contact page. If you have a blog don't forget to link your website to your blog and vice-versa.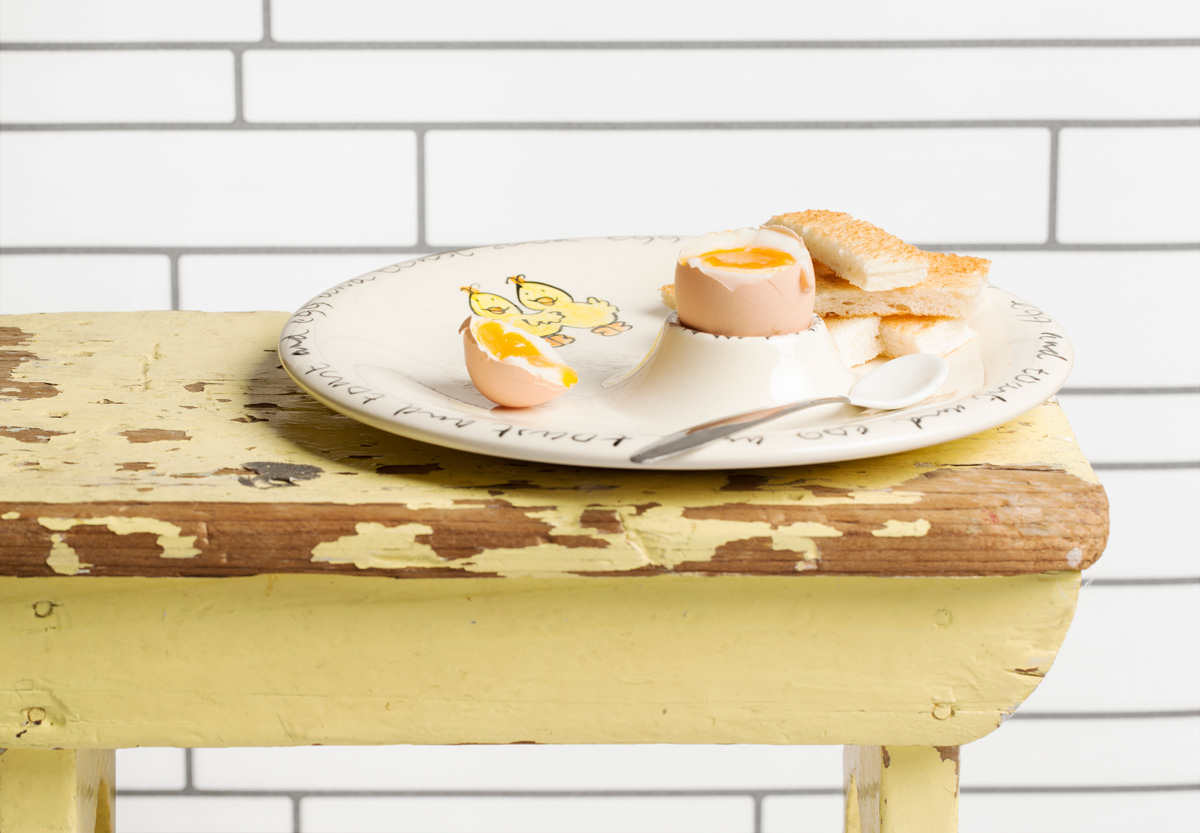 9) Always over prepare
While you must be a master improviser at the actual photo shoot, solid preparation the day before a shoot will stand you in good stead. Practice the recipes you will be preparing. Go over your food styling kit and make sure you have all the tools you may possible need, including backups. Buy at least two of every time you will be cooking.
10) Be meticulous in your prep
On the day of the shoot, go through all the produce and remove any bruised, old or unsightly items. Prepare raw produce meticulously; ensure your cuts are consistent and neat.
11) Think on your feet
Problem solving is perhaps the most important skill a food stylist needs to develop as the actual job on the day may dramatically differently from the agreed brief. Perhaps the client has a change of heart at the last minute, some produce is unusable or there is no running water nearby(!). Whatever the problem, the food stylist has to be able to solve it in a calm and professional way.
12) Create your own signature look
There are so many food blogs that I adore because their food styling is so gorgeous – check out Souvlaki for the Soul, A Table for Two, He Needs Food, What Katie Ate, Citrus & Candy, and Cook Republic. When you're starting out as a food stylist you may be tempted just to copy the work of other food stylists and food bloggers. There's no harm in this – after all, many painters learn to paint by mimicking the greats. After a while, though, try to consciously develop your own style to create your own signature look. Think of it is a being a first-rate you instead of a second-rate somebody else. You'll be a lot happier and your work will be much more distinctive.
* * * * * * * * * * * * * * * * * * * * * * * * * * * * * * * * * * * * * * * *
Resources
14 books on food styling and photography
24 free articles about food styling and photography
Food photography & styling workshops
Billy from A Table for Two is running workshops in Sydney, Melbourne, Adelaide, Perth, Brisbane in 2013. Details here.
* * * * * * * * * * * * * * * * * * * * * * * * * * * * * * * * * * * * * * * *
Disclaimers
I attended the workshop as a guest of Denise Vivaldo. As always, all opinions are my own.
* = highly recommended
If you buy any of those books from the links above I will earn a tiny commission from Amazon. Thanks for supporting The Hungry Australian.