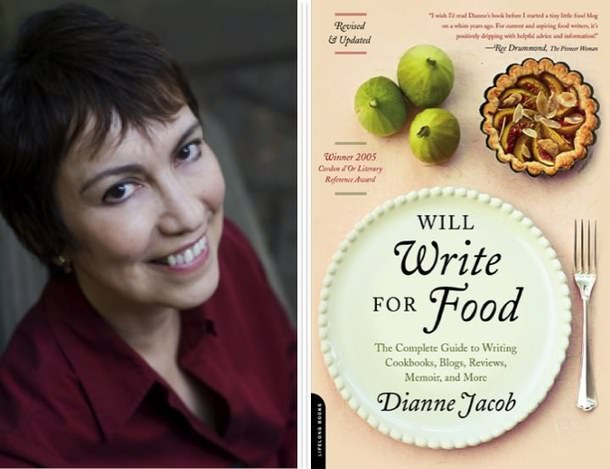 One thing I love about being a food blogger, writer  and recipe developer is that every eating experience can be considered 'research.' In the name of 'research' I've eaten six meals a day and spent countless hours (and money) in produce markets, restaurants and cafes like The Acland Cake Shop in St Kilda, Victoria — see above — which we visited last week.
But probably the thing I love most about being a food blogger is that this blog brings me into contact with all sorts of amazing and inspiring people who are passionate about food.
Last year I met Dianne Jacob, noted American food writing coach, when she visited Australia to deliver the keynote speech at Eat Drink Blog 3, the 3rd Australian Food Bloggers Conference. Dianne has had a long and distinguished career as a food writer, editor, author and coach and her book, Will Write for Food, is considered by many food bloggers as essential reading.
Not all writers are good conversationalists but in person Dianne was warm and gracious and a wonderful storyteller. We had a group dinner and then a lunch together and I enjoyed hearing about Dianne's life and her adventures in the food writing world.
I'm always looking to improve the way I write about food so I was thrilled when Dianne agreed to be interviewed for this blog.
Q&A with Dianne Jacob
Christina: What are three simple things anyone can do to improve their food writing?
Dianne: Use fewer adjectives, connect the food to a story, and incorporate action verbs.
C: What is editing and how important is it?
D: Editing comes into play once you get your thoughts down in a draft. Your piece needs to be organized in a logical way, with all extraneous material deleted. Cutting is paramount. It's how you focus your piece tightly, where it comes together as a whole and every paragraph works towards the whole. You also want to  make sure the beginning grabs people, and the ending sums up the piece in some way and doesn't just trail off. Then you tighten each sentence by making every word count. Editing is the most time consuming part of writing.
C: What do great food writers have in common?
D: The ability to evoke emotions by creating scenes based on the senses. The best writers know how to make writers feel like they were there, actively engaged in the scene, rather than just sitting by passively. Readers can smell, taste and see the food, and the story around it evokes memories or responses.
C: Can you name five food blogs you follow? What is it about their particular style or blog that makes them so exceptional for you?
D: I follow food blogs for different reasons. I might know the author, or the writer may have hired me in the past. I read successful food blogs, like Simply Recipes and The Pioneer Woman, to keep up. And like everyone else, I turn to some blogs because I want a recipe!
C: We've all heard the saying content is King. In the case of food blogs, this means strong writing and gorgeous photography. But it's not enough just to be a great content producer, is it? How much time do you think bloggers need to spend on design, marketing and sharing their content?
D: It depends on their goals and ambitions. Most food bloggers are happy to write as a hobby, which is good because it is hard to make a living simply as a food writer. Others want to become known, and some want a successful career. There is no formula, but obviously, the most famous bloggers probably spend about as much time on those three items as they do on writing their posts. They do so in a way that seems completely natural. There's no hard sell.
C: What are the key factors writers need to consider when writing for print publications (e.g. glossy magazines and newspapers) as compared to digital publications (e.g. blogs and websites)?
D: It's rare to submit a finished piece and have it published. Magazines have a certain format and voice. To understand it, study several issues to find out what kind of stories the editors like, and decide which of those would be appropriate for you to pitch. Then query with a story idea and to ask if you can write the piece. Newspapers have very small budgets tand often rely on services to provide content. Often there's a bigger budget in the travel section.
C: Your book, Will Write for Food, is loved by food bloggers around the world. Do you have any plans for a new edition or a follow up?
D: Well thank you! it's up to 100,000 words right now, so there isn't much more to say besides what comes up on my bog. The last new edition was in 2010, and I'm sure there will be another in a year or so, as blogging changes so fast.
C: What was the best meal you ate in Australia?
D: My bowl of pho at the Chinatown food court in Adelaide. I inhaled that star anise-flavored broth.  And I'm still thinking about my dessert: a silky bowl of tofu and sweet beans, doused in coconut milk.
*************************************************
Interested in learning more about food writing? Dianne posts regularly about food writing tips and trends on her blog, and the comments are always lively and informative, too.
Do you write about food? What would you like to improve on?