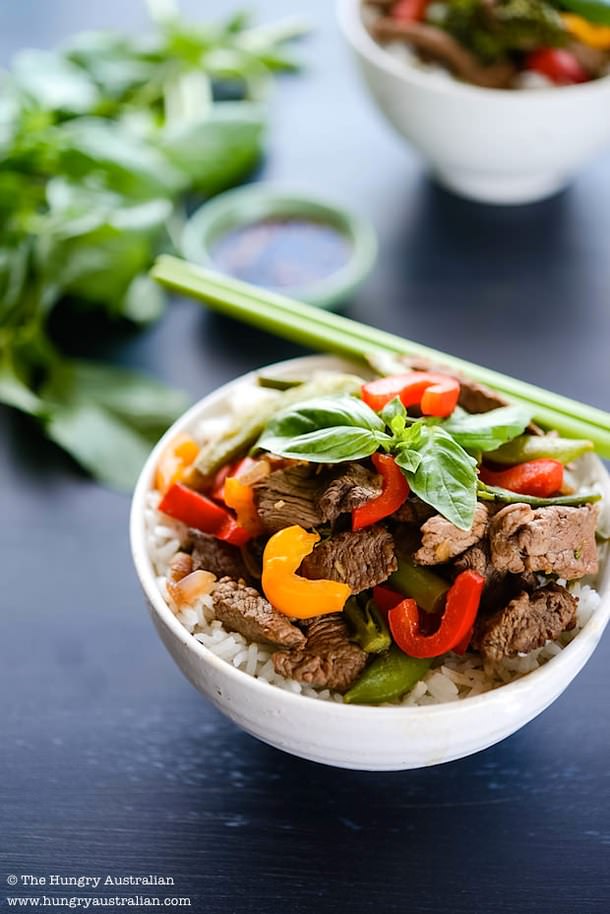 It's funny how you always want what you don't have.
When I was growing up in Australia, I wanted to be Oliva Newton-John in Grease. I practised singing like her in front of the mirror, my t-shirt hoiked down over my shoulders to create an off-the-shoulder top like she wore when she sang 'You're the One That I Want.'
It was the same with food, too. I craved the simple, plain food my Aussie friends typically ate for dinner. Tuna Mornay, in particular, sent shivers of ecstasy running down my spine.
But Tuna Mornay was not held in the same regard by my friend Megan.
"We call it Tuna Flop, Drop or Slop at my house," she said cheerfully. "Because it does one of those when it hits the plate."
Megan and all my Aussie school friends loved having dinner at my house. To them, it was like eating at a Chinese restaurant – they tried all kinds of dishes their parents would never have cooked at home.
Nowadays, most Aussies can manage a simple stir fry or some noodles at home and know the difference between bok choy and bean sprouts.
Still, I love cooking Asian food for people. I love seeing the expression on their face when they try something new and unfamiliar, and fall in love. Or when they discover for themselves how quick and easy a lot of Chinese dishes are to make at home. Best of all, though, is when I get an approving nod from someone who knows what a dish should taste like.
This recipe, Beef Stir Fry, developed recently for Bertolli Olive Oil, is perfect for a quick after-work dinner. Assuming you steam some rice and marinate the beef in advance, dinner can be on the table in ten minutes.
Even my beloved tuna mornay can't compete with that kind of speedy deliciousness.
Tell me, dear reader, what did you eat at home when you were growing up and what type of food did you wish you were eating?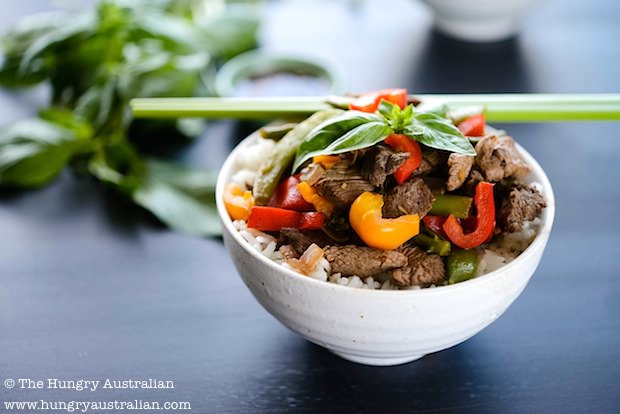 Beef Stir Fry
Author:
Christina Soong-Kroeger
Cuisine:
Australian/Chinese
Prep time:
Cook time:
Total time: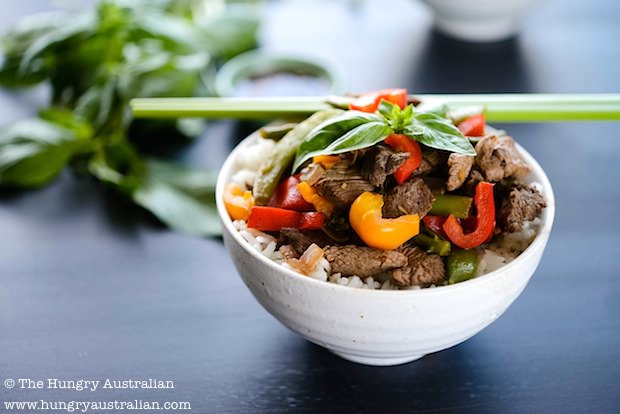 A healthy and delicious meal, perfect for a speedy after-work dinner.
Ingredients
350 grams scotch fillet steak
1 tablespoon Shaoxing wine (substitute with red wine or sherry)
1 tablespoon light soy sauce
½ teaspoon sugar
¼ teaspoon sesame oil
1 tablespoon Bertolli light olive oil, plus another ½ tablespoon
1 onion, chopped finely
1 clove garlic, chopped finely
150 grams sugar snap peas or 1 bunch broccolini or asparagus, washed, trimmed and cut into small pieces
½ red capsicum
½ yellow capsicum
A few fresh basil leaves
Steamed rice, to serve
Instructions
Trim steak of fat and then cut into small slices, against the grain.
Place steak into a small bowl and then mix in Shaoxing wine, soy sauce, sugar and sesame oil.
Stir well to combine.
Cover with clingwrap and then leave in the fridge for at least one hour to marinate.
Heat up a wok or large, non-stick fry pan until it begins to smoke.
Add 1 tablespoon olive oil, then throw onions into pan.
Cook over medium-high heat, stirring continuously, for one minute and then add garlic.
Continue cooking and stirring for another 30 seconds and then add meat.
Turn strove up to high and sear meat on all sides.
Once meat is brown, but still pink, turn off stovetop and remove meat to a plate and set aside.
Turn stovetop back on to medium-high and add extra ½ tablespoon of olive oil to wok.
Add sugar snap peas, broccolini or asparagus and stir-fry for a couple of minutes.
Add two to three tablespoons of water as necessary to avoid burning.
If the vegetables stems are thick you can put a lid on the wok for a couple of minutes and turn the heat down to low to ensure that they are cook through.
Add capsicum and then add reserved beef and basil leaves.
Stir for a further minute or two and then turn out onto a serving plate.
Serve with plain steamed rice and eat immediately.