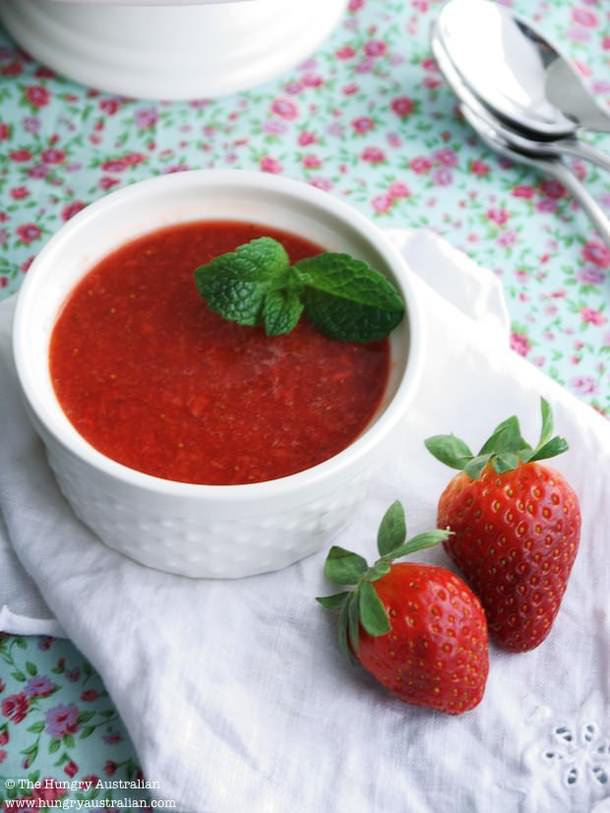 Do you like berries?
You do?
Well, you've come to the right place then. Welcome to Sweet Adventures' Berry Nice to Meet You blog hop!
For those new readers, Sweet Adventures is a group of Aussie foodbloggers – 84th & 3rd, The Capers of the Kitchen Crusader, Delicieux, Dining With a Stud, and I, The Hungry Australian, who host a monthly, dessert-themed blog hop. You can visit the other blogs taking part in our hops via the thumbnails at the bottom of each post.
Previously, we have hosted: Nuts About Sweets (July 2012); Sweet as Pie (June 2012); What's Your Cup of Tea? (May 2012); Lemons (April 2012); Layer upon Layer (March 2012); Love at First Bite (February 2012); Death by Chocolate (January 2012); Festive Favourites (December 2011); and Great Australian Pavlova (November 2011).
This month it was my turn to host again and I opted for beautiful berries.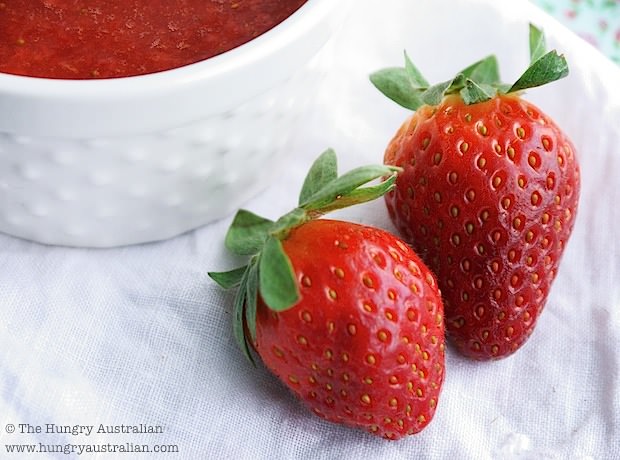 Now I don't know about you but I'm completely over Winter. I'm a hot weather gal — I'm always colder than everybody else — and I've been wearing jumpers to bed lately. It's not a look I recommend.
Moreover, although I am craving berry crumbles, pies and tarts, my skinny jeans are threatening a mutiny. So I'm looking ahead to Spring, which is, after all, a mere two weeks away.
I therefore present you with this Strawberry Soup, inspired by a delightful dessert I enjoyed in Paris many moons ago.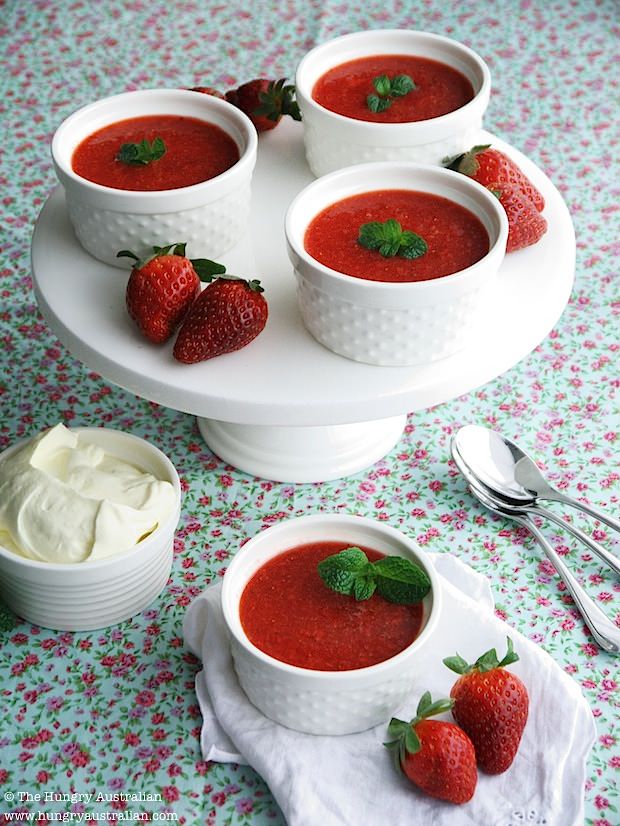 It's a tantalising blend of fresh strawberries, orange and blood orange, sweetened with a soupçon of sugar and intensified with some top quality balsamic vinegar. Pair it with a glass of prosecco or crisp rosé and life is suddenly magnifique.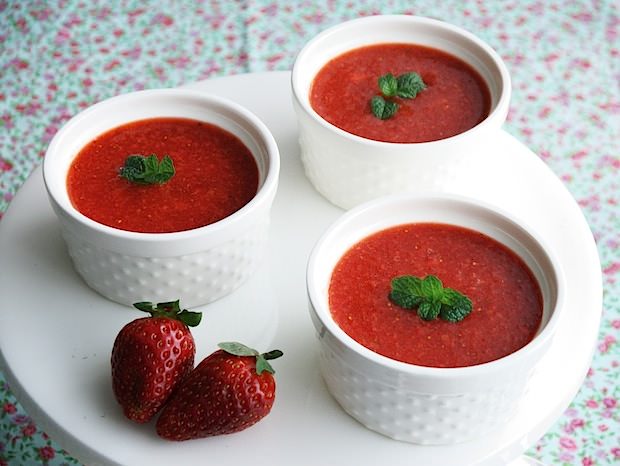 This Strawberry Soup tastes like Spring to me. It tastes like warm, sunny days. Flowers bursting open and new buds reaching for the sky. Puppies gambolling on the lawn. A smile from a handsome stranger. Children laughing in the playground. A new start.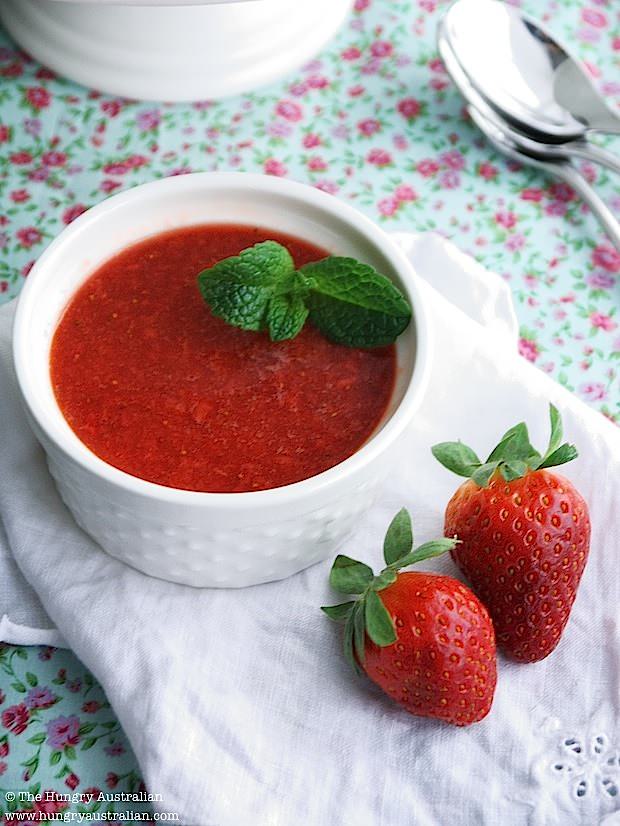 *Sigh*
Roll on Spring!
Forgive my impatience, dear reader. What's the weather like where you are? And what dish best symbolises Spring for you?
PS Don't forget to scroll down to the bottom to check out all the other berry-licious creations.

Author:
Christina Soong-Kroeger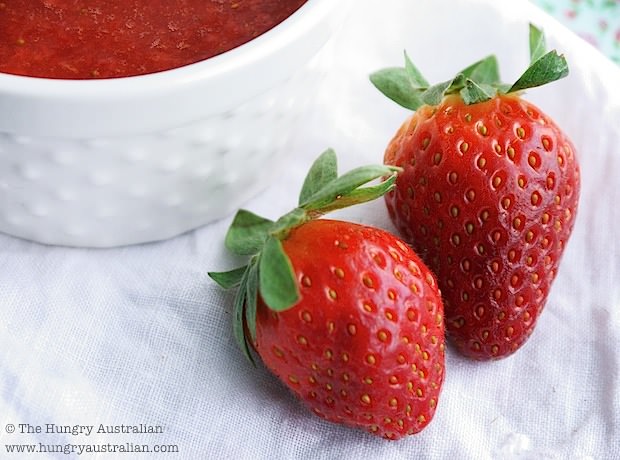 A delightful, fat-free dessert for the warmer months
Ingredients
300 grams strawberries, washed and hulled
Juice of one orange
Juice of one blood orange
25 grams sugar
1 teaspoon top quality balsamic vinegar
Instructions
Blend all ingredients.
Chill for at least one hour before serving with fresh cream and extra strawberries.
Sweet Adventures Blog Hop: Berry Nice to Meet You!
If you blog about food we'd love you to join this hop. Simply follow the steps below and join the fun!
Publish your Berry Nice to Meet You post on your blog sometime between Monday 20th August 2012 (9am Sydney time [AEST]) and Monday 27th August 2012 (11:59pm Sydney time [AEST]). Entries are linked in order of submission and only new recipe posts featuring berries are eligible.
Click here for the Link Code. Copy the code and add it to the bottom of your Berry Nice to Meet You! post (you will need to do this in HTML view). Adding the code will create the thumbnail gallery of all the other entries and let visitors hop from other blogs to your blog and vice versa. If you are on wordpress.com (i.e. not self hosted) the list will not show on your blog so please create a text link back to this post instead.
Grab the SABH Berry Nice to Meet You! badge from the Sweet Adventures site and add it to your post. Just right click on the image, 'save as', upload to your site and add it to your Berry Nice to Meet You! post. Link the badge or a line of text to this page so that others can view the instructions on how to join.
Click here to Enter the Hop. This is really important! The badge and thumbnail list are on your post so make sure to enter the hop so that you appear in the list. For question 1: add the URL of your Berry Nice to Meet You! post, not your homepage. For question 2: for caption/title add the name of your dessert. For question 3: for 'your name' please enter your blog name. For question 4: your entry is automatically submitted when you click 'crop'.
Your linked post WILL NOT appear straight away in the blog hop thumbnail list as this is a moderated hop. Your post will be visible in the list after approval.
Hop around to all the other entries in the blog hop, sharing the comment love.
If you are on Twitter use the #SABH to tell the world about your Berry Nice to Meet You! post. Follow us @SweetAdvBlogHop or like us on Facebook for new hop announcements and general deliciousness.
If you aren't sure how to do something please leave a comment or get in touch.