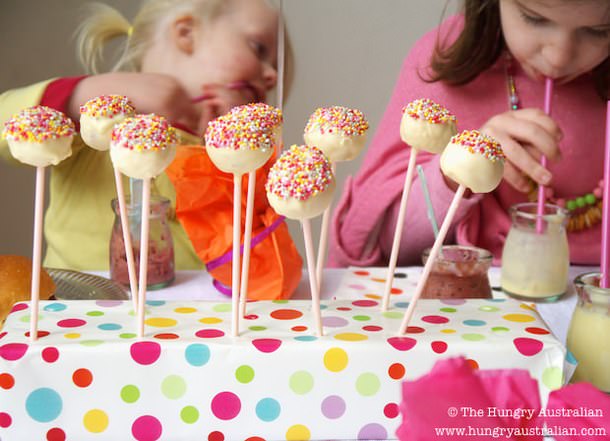 My daughter just turned six (six!) so we threw a little shindig for six of her school friends + family.
Here's what was on the menu:
Ham & Pineapple Pizzas (pita bread, pizza sauce, leg ham, grated cheese, pineapple segments);
Cheerio Necklaces;
Berry & Kiwi 'Ice-Cream', an adaption of my Strawberry Sorbet;
Mango Lassis (mango, mango and apricot yoghurt + milk);
Fruit Plate;
Cake Pops, an adaption of my Red Velvet Cake Balls (I reduced the sugar by 25%);;
Chocolate and Raspberry Meringue Buttercream Cake, an adaption of Sweetapolita's Six Layer Dark Chocolate & Strawberry Buttercream Cake (I reduced the sugar by 25% and used raspberries instead of strawberries); and
Fruit Juice Boxes.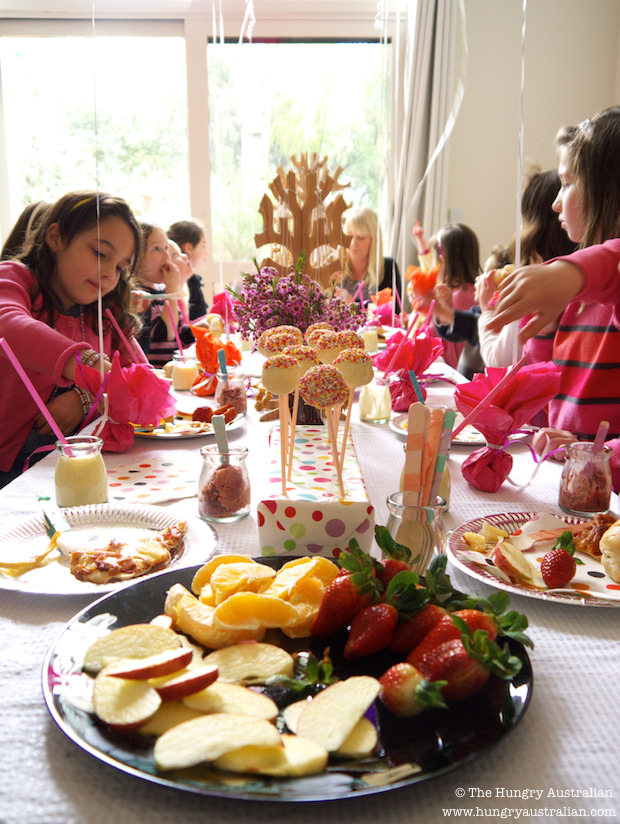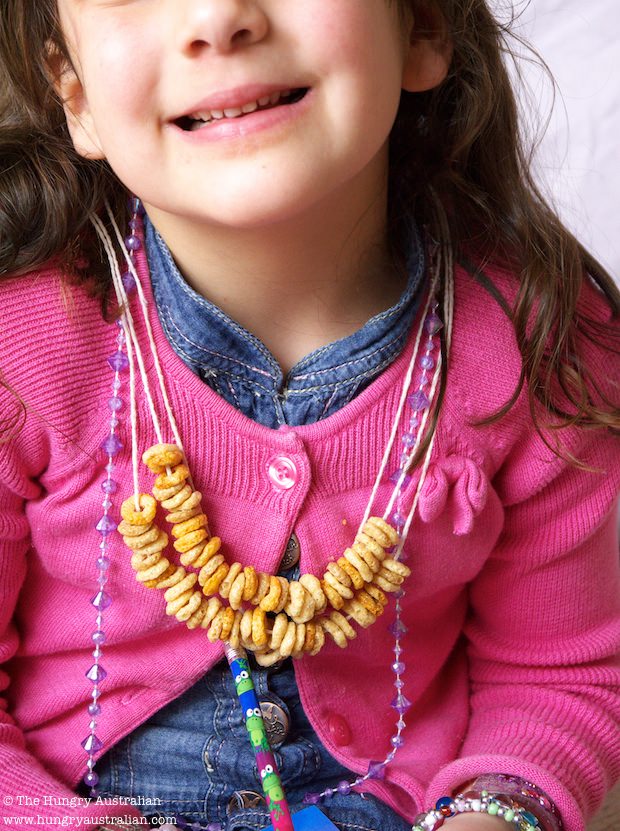 Funnily enough, all of the kids (bar my daughter) turned up their noses at my gorgeous little pork buns. It was only after we made a batch of pork buns without the salad — "meat bun anyone?" — that they eagerly snaffled them up. Parents: kids do NOT want to eat salad at parties!
Oh well, at least my berry & kiwi 'ice cream' was really nothing but frozen bananas, avocado, berries & kiwi fruit. Gotcha!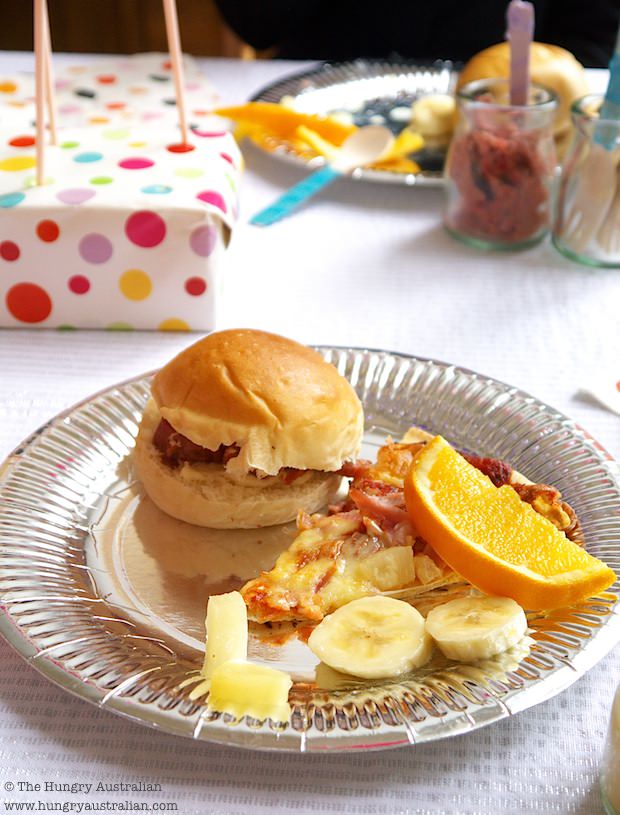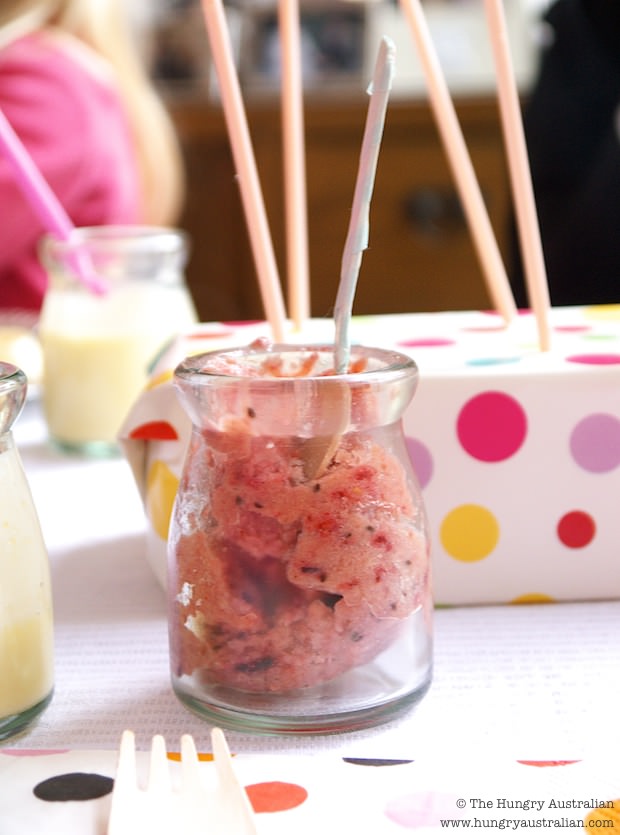 Decoration-wise, we went with:
Helium balloons and home-made tissue-paper weights;
Silver plates,  spotty napkins and wooden cutlery customised with Japanese washi tape;
Wooden jewellery trees to hold the Cheerio necklaces;
Fresh flowers from my parents' garden;
Blue milk glasses to hold the fairy wands;
Glass pots for serving the ice-cream and lassis, borrowed from a friend;
Styrfoam bricks wrapped with bright spotty paper to present the cake pops on;
Pink plastic straws – not as cool as paper ones but these had a little spoon on the end; and
Silver and white tablecloths covering two trestle tables, mounted on boxes (photo sans chairs).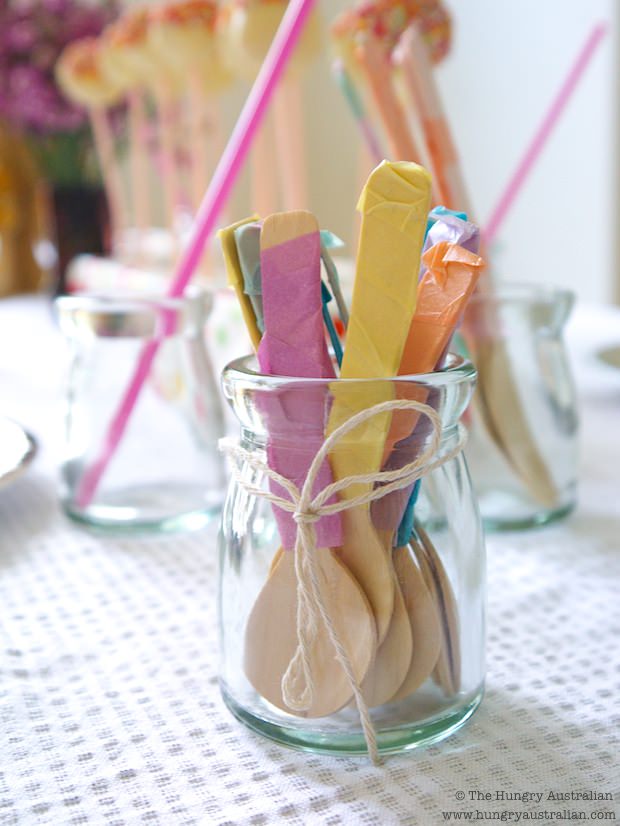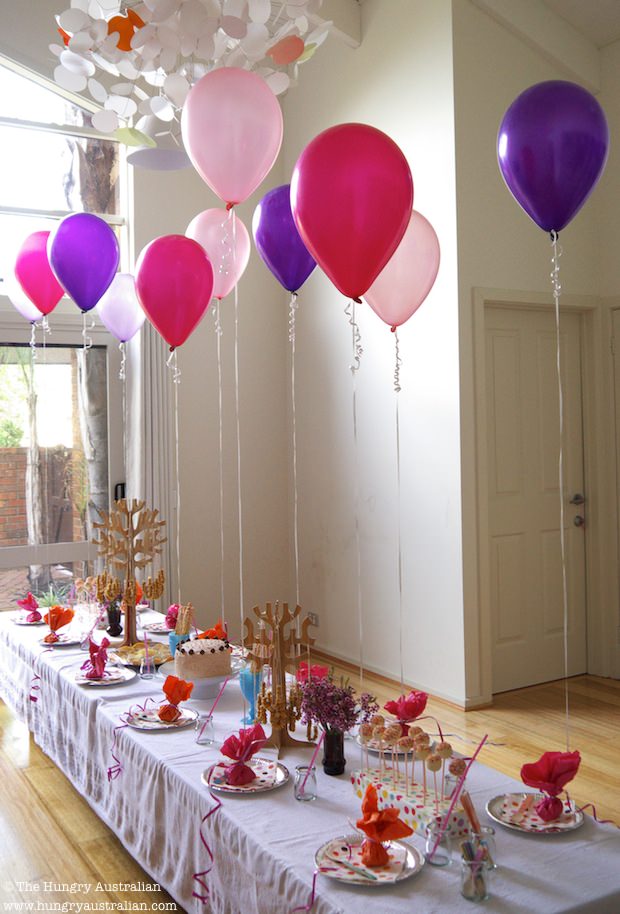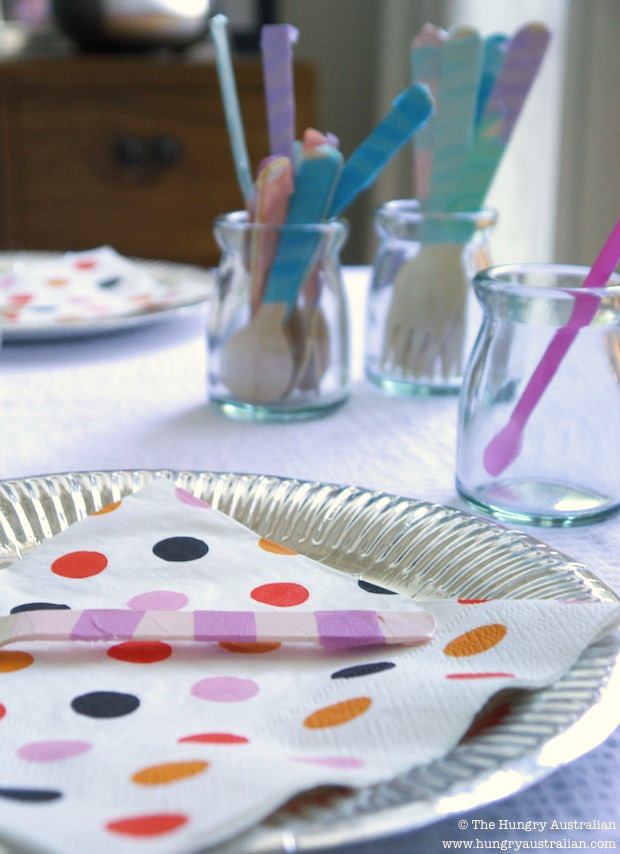 For games we played:
Pass the Parcel;
Musical Bums (when the music stops everybody hits the ground; the last one standing is 'out'); and
Hide & Seek.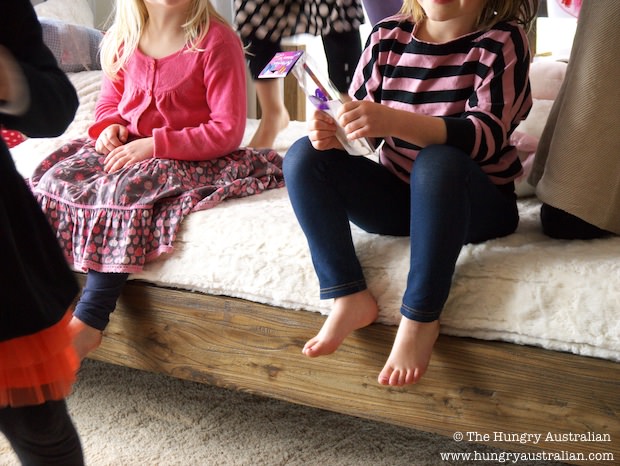 The cake tasted fantastic although the Swiss Meringue buttercream had 'curdled' a little. It was late at night and I couldn't be bothered hanging around but if you ever find yourself in this situation, put the mixture into the fridge for 15 minutes to make it colder, add a few more cubes (cold) butter and then mix it again to make it smooth.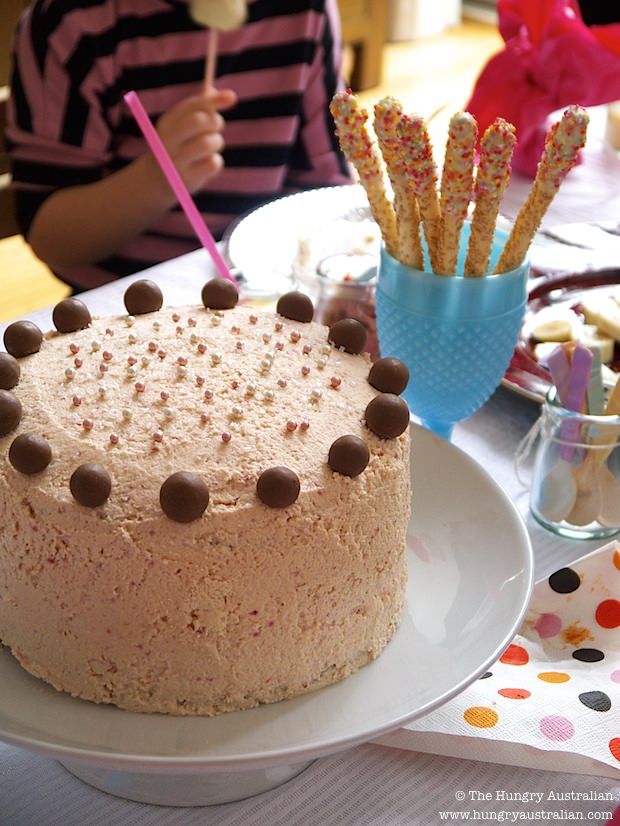 The kids didn't seem to notice though.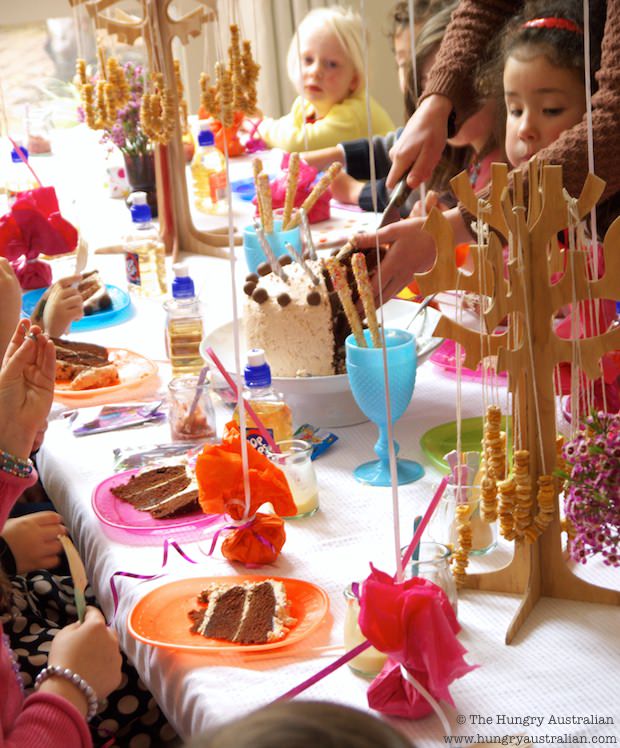 I forgot to take a photo of the party bags but we made up bags with Healtheries Barbecue Rice Wheels, Arnott's Tiny Teddies, Reeces' Peanut Butter Cups (check for nut allergies first), dried sultanas and apricots, some Maltesers and mini bubble bottles. Not 100% healthy but not 100% junk either.
Birthday parties are about celebrating your loved ones and creating happy memories. There's no point throwing a big party at home if  you're going to be tense and miserable during the lead-up and execution – it'd be better to scale back the festivities or pay to have it somewhere else.
My daughter's party took a bit of planning and prep but, just like last year, it was relatively stress-free and we all enjoyed ourselves. And that's what my daughter will remember.
So tell me dear reader, what was your most memorable birthday party? And what would be your favourite birthday cake?