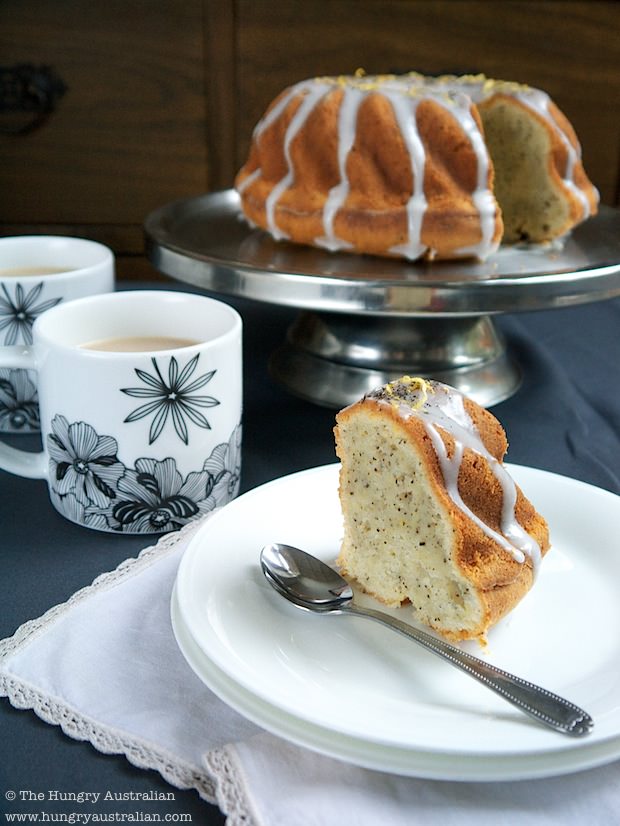 Although I've flirted with coffee over the years I am, at heart, a tea drinker.
I like English Breakfast or Japanese green tea in the morning, Earl Grey or Lady Grey in the afternoon and Rooiboos (African bush tea) or peppermint tea after dinner. Not to mention the endless cups of Gook Bo – a heady mixture of whole chrysanthemum flowers and pu-erh tea – I consume when enjoying yum cha (literal translation: 'drink tea').
So I was quietly thrilled when we decided to go with a tea theme for this month's Sweet Adventures' dessert-themed blog hop hosted by the lovely JJ from 84th & 3rd. Check out JJ's post for all the details of how to join in the fun. We also have a special give-away this month courtesy of Australia's Biggest Morning Tea – scroll to the bottom of this post for all the details.
For those new readers, Sweet Adventures is a group of Aussie foodbloggers – 84th & 3rd, The Capers of the Kitchen Crusader, Delicieux, Dining With a Stud, and me, The Hungry Australian, who host a monthly, dessert-themed blog hop. Previously, we have hosted:
Now I do make a lovely chai rice pudding but last weekend I was in the mood for baking a cake. Specifically, I wanted to do something with Twinings' Lady Grey, an afternoon tea I've always admired for its delicate orange and lemon overtones.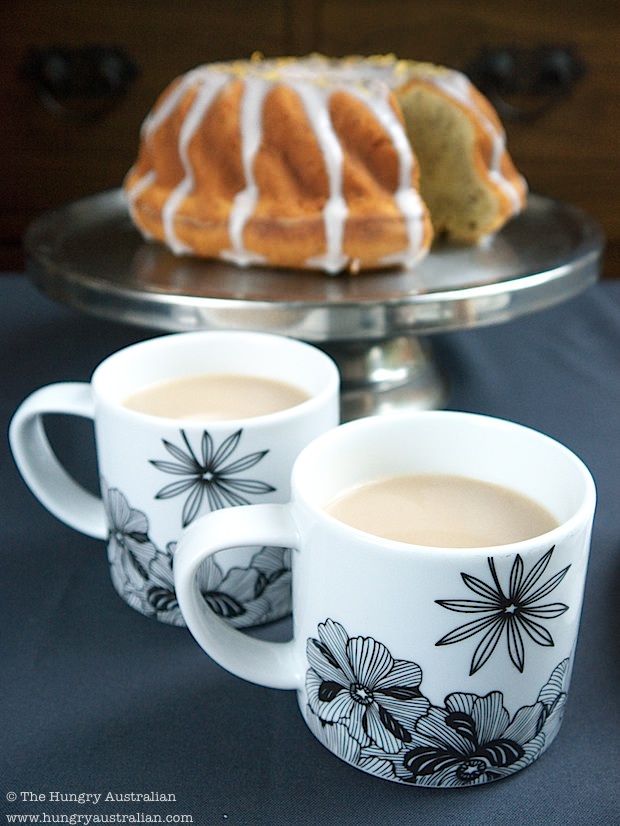 So I adapted this Vanilla Bundt Cake by Rosie of the gorgeous Sweetapolita blog, transforming it into a Lady Grey Bundt Cake by adding Lady Grey tea, lemon zest, rosewater and honey.
Ms 5 Year Old helped me to bake this cake and it was a wonderful way to spend an afternoon – she greased the Bundt tin and mixed the dry ingredients while I creamed the butter and sugar, then she helped me to crack the eggs, beat the mixture, pour it into the tin and lick the beaters.
After the cake has finished baking you need to let it cool down for two hours before you can ice it. This seems like a very long time because your nostrils are being assailed with the delicious scent of vanilla, butter and lemon. I advise you to leave the house if possible, lest you crack and attempt to ice and eat the cake before it's fully cooled down.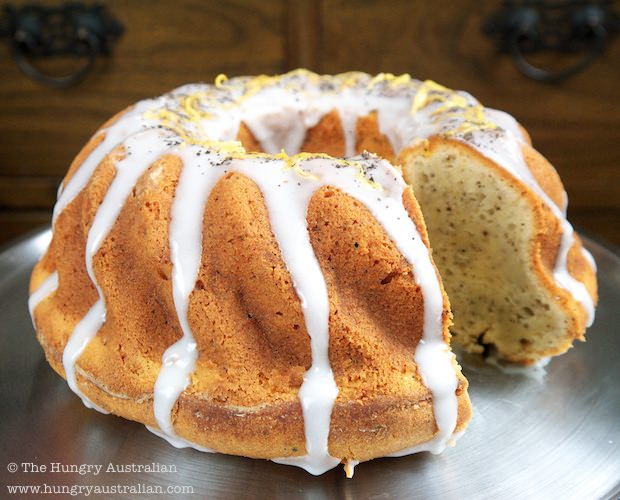 Resist the temptation and you'll be rewarded with a wonderfully dense and aromatic cake, almost like a mud cake in texture, with an icing that will make your eyes roll back in your head.
That's what it did for me, anyway.
So tell me, what's your favourite tea and when do you like to drink it?
And don't forget to scroll down to the end of the post to check out all the other tea-inspired dessert recipes. And if you're a food blogger, then please do join us, too.
PS these photos are not my best but what you can't see, just out of frame, is my cake-greedy toddler impatiently trying to lick the icing off the cake. Usually I try a few different setups and then adjust styling and lighting etc but in this case I had a very narrow window of opportunity to shoot before he managed to successfully lick the cake. I guess I should be teaching him more about self-restraint, right?
********************************************************************************************
Australia's Biggest Morning Tea and a Giveaway!
Australia's Biggest Morning Tea is an annual fundraising event held by the Cancer Council on May 24 – just a few days from now. On this day, or any time in May or June, you can register to have a morning tea at work, school or home and help raise money to continue the Cancer Council's vital work in cancer research, prevention and support. You can even hold a Virtual Morning Tea.
The SABH Tea theme occurring at the same time as Australia's Biggest Morning Tea was a fortuitous coincidence but as a result we have a surprise for our #SABH participants this month! The Cancer Council and Australia's Biggest Morning Tea have offered to donate a prize pack for a giveaway – exclusively for those who link up with SABH.
The prize pack includes an Australia's Biggest Morning Tea apron, tea towel, mug and oven mitt, plus Gwyneth Paltrow's amazing cookbook, Notes from my Kitchen Table. Gwyneth, along with a number of Australian celebrities and chefs, is an ambassador for the event.
To enter the giveaway simply link-up your Sweet Adventures Blog Hop 'What's your cup of Tea' post during the week of the hop.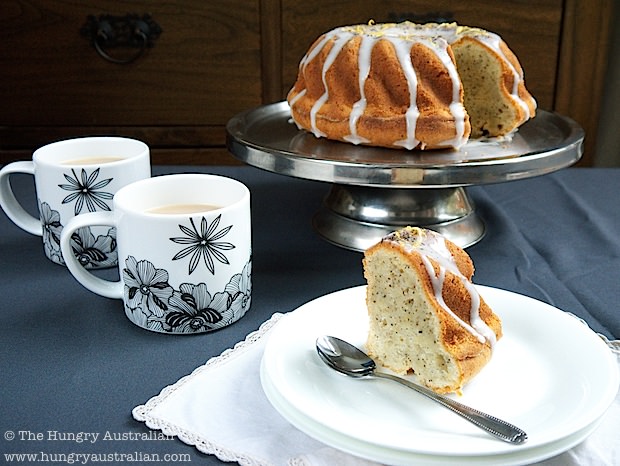 Lady Grey Bundt Cake with Rosewater Icing
Author:
Christina Soong-Kroeger
Prep time:
Cook time:
Total time: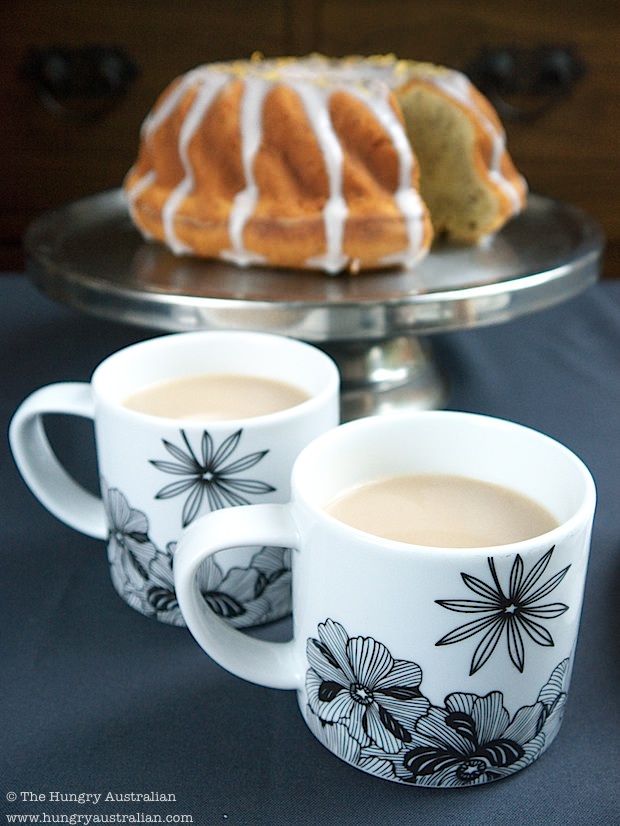 A lovely Lady Grey tea scented Bundt cake with a rosewater and honey glazed icing
Ingredients
Lady Grey Cake
3 cups plain flour (I used organic but regular is fine)
1 teaspoon baking powder
½ teaspoon baking soda (bicarbonate of soda)
½ teaspoon salt
Tea from 2-3 Twinings Lady Grey teabags
Zest from one unwaxed lemon
250 grams unsalted Danish style butter (2¼ sticks)
1.5 cups caster sugar
1 teaspoon vanilla bean paste or vanilla essence
4 large eggs
¾ cup Greek yoghurt + ⅓ cup water (OR ¾ cup normal yoghurt + ¼ cup water OR 1 cup buttermilk)
Rosewater Icing
1 cup icing sugar
1 teaspoon vanilla bean paste or essence
1 tablespoon honey, melted in microwave for 5 seconds
1 teaspoon rosewater essence
1-2 tablespoons milk
Decoration
Zest from one unwaxed lemon
Tea from ½ Twinings Lady Grey teabag
Instructions
Lady Grey Cake
Preheat oven to 180 degrees fan forced (350°F) with rack in middle of oven.
Grease Bundt pan with butter and dust with flour, knocking excess out.
In a small bowl mix together flour, baking powder, baking soda, salt, tea and lemon zest.
In a large bowl, mix together butter and sugar on medium speed for about five minutes, or until pale and airy. Scrape down the sides of the bowl whenever necessary with a silicon spatula.
Add vanilla and beat for another minute.
Add eggs one at a time, beating well after each egg.
In a cup, mix together yoghurt and water so it is a runny consistency.
Add flour and yoghurt mixture to egg and butter mixture in three batches each, alternating between each i.e. add a bit of flour, mix in, then add a bit of yoghurt mixture, mix in, then add some more flour and so on until all is added and combined.
Pour batter evenly into the Bundt pan. Jiggle it around on the kitchen bench to even it out and reduce air bubbles.
Bake for about an hour, until a skewer inserted into the cake comes out clear.
Cool cake in pan for one hour, then invert onto a rack and cool for another hour, until it is completely cold.
Rosewater Icing
To make icing, whisk icing sugar with vanilla bean, honey, rosewater essence and half the milk.
Continue whisking and add the rest of the milk if necessary. If should be quite thick, otherwise it will just run off the cake.
Once cake is completely cool, drizzle glaze on top.
Decoration
Sprinkle with tea and then decorate with lemon zest.
Notes
A note on the ingredients of the Bundt cake: 1) Sweetapolita's recipe called for 1 cup of buttermilk. I didn't have that so wanted to substitute with ¾ cup yoghurt and ¼ cup water. Unfortunately the only yoghurt I had was Greek yoghurt so I had to add extra water to make it liquidy enough. I also think the thicker yoghurt made the cake even denser and richer. Next time I cook this I will try regular yoghurt and milk in the smaller quantity. 2) I used 2 teabags for this cake, which resulted in a delicate tea flavour. You could try 2.5 or even 3 bags for a stronger flavour.